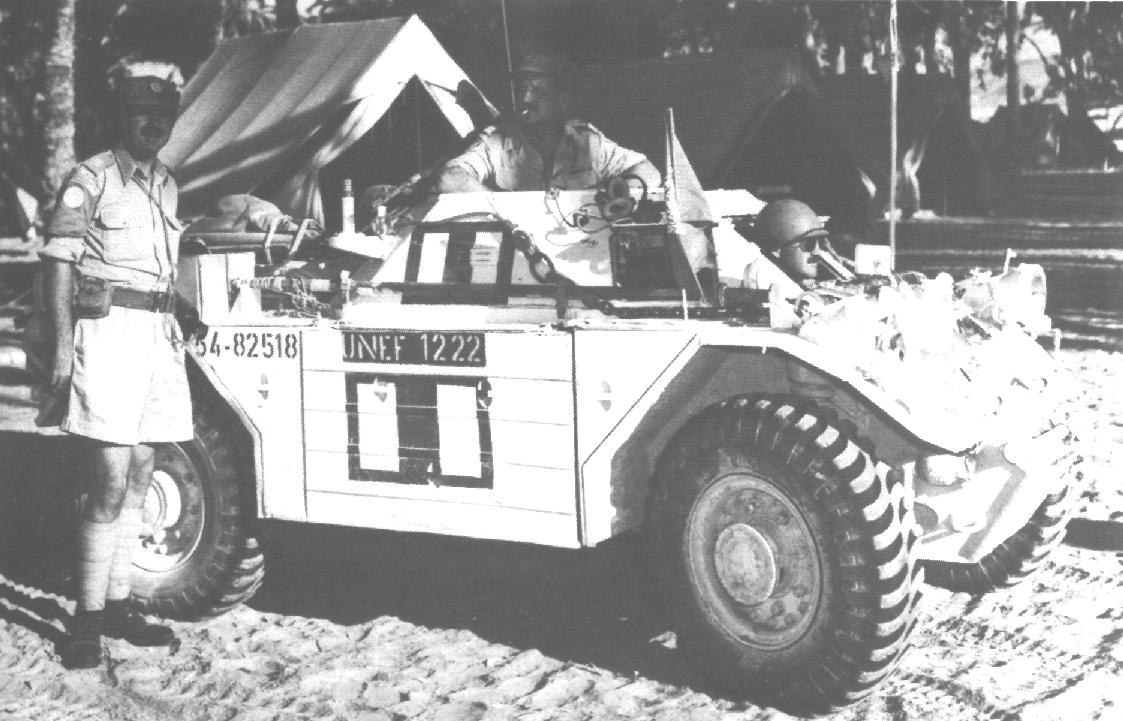 This table below shows all 124 Ferret Scout Cars that were  purchased by Canada. The are listed by Canadian Army Registration Number (CAR) which about 1970 (after the armed forces were integrated) was changed to Canadian Forces Registration Number (CFR). They were all Mark I (i.e. no turret) and were all made in 1954 by Daimler in England.
One Mk. II, with turret, shows up in Canadian markings in Cyprus, but is believed to be a vehicle on loan from the British while a Canadian Ferret was in the British workshop in Cyprus.
The table is long and wide and you may scroll to the right to see more columns of information. 
My apologies as I am having trouble transferring data into this table. Some of it ended up in the wrong fields. I am gradually adding photos. 
The information is as accurate as possible, but I welcome corrections and additions.
Numbers are NOT sequential so one cannot extrapolate to determine a missing number. Vehicles sometimes were selected and unnumbered in sequence, but more often not. As well, Australia was being supplied at the same time as Canada, and there were not solid blocks of numbers allocated. In other words, one Ferret could go to Canada and the next one to Australia. 
# in 124
CAR #
Photos
Hull SN/ Build/Month/1954
British Number (assigned but not used)
UNEF Number
Known service unit(s)
1981 location
Disposal Order
Disposal Date
Comments
Last known owner & location
1
54-82500

54-82500 leading 54-82557 in UNFICYP, Cyprus, DND photo CYP66-302-2




54-82500 leading 54-82557 in UNFICYP, Cyprus, DND photo CYP66-302-2

54-82500 Ferret with UNFICYP in Cyprus with Fort Garry Horse From 1968 Sentinel Oct 1970 p34

54-82500 & 54-82547 Dennis Crocker with Ferrets UNFICYP in Cyprus. Photo courtesy of Dennis Crocker.

283.B.2.4
35 BA 57
UNFICYP
Petawawa
DPSL 357077
Apr 81
54-82500 served with the Fort Garry Horse in Cyprus in 1968. Intended as a hard target? This MIGHT be the restored Ferret at CFB Petawawa as that one has a very low hull serial number.
RCD in Petawawa?
2
54-82501

Ferret 54-82501 via Digger MacDougall

285.B._.4

35 BA 59
Gagetown
DPSL 352223
Jan 80
3
54-82502
NO PHOTOS FOUND YET
286.B._.4
35 BA 60
UNKNOWN
UNFICYP
Valcartier
CADCI 50798
Apr 81
4
54-82503
NO PHOTOS FOUND YET
287.B.2.4
35 BA 61
Valcartier
CADCI 50798
Apr 81
5
54-82504
NO PHOTOS FOUND YET
288.B._.4
35 BA 62

UNKNOWN
Ontario Regiment
SO 402848
Mar 80
Ontario Regiment - 7 of 9 Ontario Regiment. Probably one of the UNEF Ferrets as some white paint were found on undercarriage. The Ontario Regiment apparently runs a Ferret as 54-82504 but the Salaterski one has the correct hull number 288 and CAR/CFR 54-82504 stamped in the hull, so the Salaterski one is the true 54-82504.
Paul Salaterski, NJ, USA
6
54-82505
Photos by seller in Oct. 2007

Ferret 54-82505 left side in 2007




Ferret 54-82505 right side in 2007

Ferret 54-82505 front in 2007

Ferret 54-82505 left side in 2007

289.B.2.4
35 BA 63
Calgary
CADCI 50799
Apr 81
For sale in Florida 2007 Dec. (see Ferrets for Sale page - link button on left side of this page.)As it was sold out of Calgary it almost certainly served in LdSH(RC)
Florida, USA
7
54-82506

Canadian Ferrets lined up upon unloading from the ship in Egypt. 54-82506 is at front of left column. (Detail of larger photo)




Canadian Ferret Scout Cars lined up after being unloaded from the ship in Egypt. Ferret 54-82506 is nearest the camera for the left hand row. (Photo Canadian Forces ME-563 CFJIC)

Canadian Ferret Scout Cars lined up after being unloaded from the ship in Egypt. Ferret 54-82506 is nearest the camera for the left hand row. (Photo Canadian Forces ME-562 CFJIC)

Canadian Ferrets lined up upon unloading from the ship in Egypt. 54-82506 is at front of left column. (Detail of larger photo)

290.B.2.4
35 BA 64
UNKNOWN
Ontario Regiment

SO 402848
Mar 80
Ontario Regiment - 5 of 9
Ontario Regiment Museum, Oshawa, Ontario
8
54-82507

Ferret 54-82507 in Cyprus with UNFICYP. She has two wire-cutter bars fitted. Roadrunner cartoon symbol is unofficially for the Lord Strathcona's Horse (Royal Canadians)

291.B._.4
35 BA 65
UNKNOWN
UNFICYP
Shilo
DPSL 352192
Jan 80
Note the two vertical wire cutter bars. This MAY be unique to 82507.Hard target? Note 3 of the 4 at Shilo were legitimately 'saved' from the ranges.
9
54-82508

54-82508 crewed by the Fort Garry Horse (FGH) in UNFICYP in Cyprus 1966 - 1967. One of the soldiers is Sergeant Bellfefontaine. The driver may be Sergeant To. The civilian is Thomas Waynman-wood, Canadian High Commissioner to Cyprus. [Information from Squadron 2I/C JR "Digger" MacDougall 2018-10-22]




54-82508 undergoing maintenance.

54-82508 crewed by the Fort Garry Horse (FGH) in UNFICYP in Cyprus 1966 – 1967. One of the soldiers is Sergeant Bellfefontaine. The driver may be Sergeant To. The civilian is Thomas Waynman-wood, Canadian High Commissioner to Cyprus. [Information from Squadron 2I/C JR "Digger" MacDougall 2018-10-22]

54-82508 before being stripped for use on the target ranges at Canadian Forces Base Petawawa – Ed Storey photo.

292.B._.4
35 BA 66
UNKNOWN
UNFICYP (RCD & FGH?) LdSH(RC)
Petawawa
DPSL 352221
Jan 80
Hard target? Fort Garry Horse photo in 1960-1 http://www.putfile.com/pic.php?img=5463539 Taken 1966-7 in Cyprus and donated to the Fort Garry Horse Museum. Another photo is athttp://www.putfile.com/centurion124/images/87124
10
54-82509
No photos found yet.
294.B._.4
35 BA 68
Petawawa
DPSL 352221
Jan 80
Hard target?
11
54-82510

Ferret 54-82510 at Sarcee AB 1974 port side.




54-82510 in parade (whole photo)

54-82510 in parade (detail)

Ferret 54-82510 starboard side. Sarcee Alberta 1974.

Ferret 54-82510 at Sarcee AB 1974 rear view.

Ferret 54-82510 at Sarcee AB 1974 port side.

295.B.2.4
35 BA 69
LdSH(RC)
Calgary
CADCI 50799
Apr 81
Colour photos taken at Sarcee, Alberta (near Calgary) in 1974 by Tom H.
12
54-82511

Ferret MK> I CAR / CFR 54-82511 CAR showing CAR/CFR stamped into the hull.

296.B.2.4
35 BA 70
Valcartier
CADCI 50798
Apr 81
Rob Love says it was sent to Shilo c. 2000 from CFB Valcartier. It is awaiting restoration right now at Rob Love's and is owned by the RHA Museum in Shilo. It had been a monument at some point with everything welded including the wheel nuts. The DND disposal list shows 54-82511 was disposed of from Valcartier. The 4 Ferrets sent to Shilo in 1980-1 when they were taken out of service were 54-82507, 560, 566 and 611. 566 is apparently still on the ranges.
13
54-82512
NO PHOTOS FOUND YET
297.B._.4
35 BA 71
Valcartier
CADCI 50798
Apr 81
14
54-82513

Ferret Mk. I CAR/CFR 54-82513 in 1971 on a winter road. (CFJIC IS71-13-18)




Ferret Mk. I CAR/CFR 54-82513 in 1971 on a winter road. (CFJIC IS71-13-18)

Ferret 54-82513 in ad in REX-TEX Gold Dirt Vol 83-3 p21



298.B.2.4
35 BA 72
Ont Reg't
Ont Reg't
SO 402848
Apr 81 ???
Ontario Regiment – 2 of 9. Although the photo is from a US dealer's 1983 ad, it shows one of the Ferrets bought directly by the Ontario Regiment.
Ontario Regiment, Oshawa, Ontario
15
54-82514
NO PHOTOS FOUND YET
299.B.2.4
35 BA 73
Valcartier
CADCI 50798
Apr 81
Owner is not sure if it is ex-Cdn. CAR number thought to be 54-83514 but that was not a Canadian number, so it MAY be 54-82514. Has a turret now. In 1992 MVPA D-5 it is listed as owned by Michael Clarke, Prescoult (Prescott?), AZ USA SN 299http://www.planesoffame.org/menu.php
RR, Planes of Fame Museum, AZ, USA
16
54-82515
NO PHOTOS FOUND YET
300.B._.4
35 BA 74
UNKNOWN
Det Dundurn
DPSL 352193
Jan 80
Hard target?
17
54-82516

54-82516 Car 104 in SHORT CIRCUIT movie

301.B.2.4
35 BA 75
UNKNOWN
Valcartier
CADCI 50798
Apr 81
Security Armoured Car # 104 in the movie SHORT CIRCUIT
18
54-82517
NO PHOTOS FOUND YET
302.B._.4
35 BA 76
UNKNOWN
Calgary
CADCI 50799
Apr 81
19
54-82518

Ferret 54-82518 UNEF 1222 (RCD Museum)




Ferret 54-82518 UNEF 1222 1957 July

Ferret 54-82518 UNEF 1222 (RCD Museum)

Canadian Ferret 54-82518 UNEF 1222 rear view (Photo DND ME-1197)

Canadian Ferret 54-82518 UNEF 1221 rear view (detail) Photo ME-1197

304.B._.4
35 BA 78
UNEF 1222
UNEF
Calgary
CADCI 50799
Apr 81
54-82518 UNEF 1222 in Canadian Army United Nations Peacekeeping service in July 1957 near El Quasima. This Ferret was serving with No. 56 Canadian Reconnaissance Squadron Photo 85 p. 41 of Tanks Illustrated No. 3 Israeli Tanks and Combat Vehicles – Steven J. Zaloga
20
54-82519

Ferret 54-82519 in UNEF enroute to Gaza. (ME-566 CFJIC)




Ferret 54-82519 in UNEF enroute to Gaza. (ME-566 CFJIC)

Ferret in Germany 1967 54-82519 maybe see ammo can. (CFIL EF67-91 )

411.B._.4
36 BA 85
UNEF 1225
Ont Reg't
SO 402848
Mar 80
Ontario Regiment – 3 of 9. Oshawa Military and Industrial Museum
21
54-82520

Ferret 54-82520, possibly in Germany.

326 B.3.4
36 BA 00
LdSH(RC) in
Germany?
Calgary
CADCI 50799
Apr 81
LdSH photo. Appears to be in Germany.
LdSH photo. Appears to be in Germany. Jim G. Michigan (MVPA # 5843)
22
54-82521

Ferret 54-82521 owner Paul Zachary

334.B._.4
36 BA 08
Calgary
CADCI 50799
Apr 81
23
54-82522

Ferret 54-82522 returning fire when ambushed during a patrol in Cyprus, 1964. (ref. CYP64-56-1 CFJIC CD No 1 ) Detail.



284.B._.4
35 BA 58
UNFICYP ; 12 RBC
12 RBC Valc
DPSL 352220
Jan 80
Monument at Valcartier? The "22" shows up in an RCD photo as painted on shoulder armour of hull. CAR only painted in last three digits in small (1″?) numbers over driver's hatch.
DND Mionument. CFB Valcartier, Quebec
????
24
54-82523
NO PHOTOS FOUND YET
293.B._.4
35 BA 67
Calgary
CADCI 50799
Apr 81
25
54-82524

Ferret 54-82524 in the USA just before it was acquired by the Lord Strathcona's Horse (Royal Canadians)




Ferret 54-82524 in the USA just before it was acquired by the Lord Strathcona's Horse (Royal Canadians)

Ferret 54-82524 in the USA just before it was acquired by the Lord Strathcona's Horse (Royal Canadians)

Ferret 54-82524 in the USA just before it was acquired by the Lord Strathcona's Horse (Royal Canadians)

Ferret 54-82524 in the USA just before it was acquired by the Lord Strathcona's Horse (Royal Canadians)

303 B.2.4 ?
35 BA 77
LdSH(RC)?
UNEF?
Calgary
CADCI 50799
Apr 81
Likely 303.B.2.4 Has North American M Series lights as was often fitted to Canadian Ferrets. seaforth72 (at) gmail.com Bought by LdSH(RC) in 2007 and it is now back in Canada.
LdSH(RC), Edmonton, Alberta
26
54-82525

54-82525 on review with UNFICYP




54-82525 and 54-82604 identifiable. Ferrets in Cyprus. Lead vehicle 54-82575 has white Snoopy dog symbol (RCD) on Port sloped upper armour (below right knee of man seated on top.)

54-82525 on review with UNFICYP

UNKNOWN
UNKNOWN
UNFICYP RCD
Gagetown
DPSL?
1975
Scrapped in 1975. After a fire apparently.
NONE ASS WAS SCRAPPED AFTER FIRE.
27
54-82526

56 Canadian Reconnaissance Squadron UNEF Egypt at Mitla Pass 1957 enroute to Gaza. 54-82526 UNEF__17 in the lead and then UNEF1209 (crop) (DND Photo ME-603)




56 Canadian Reconnaissance Squadron UNEF Egypt at Mitla Pass 1957 enroute to Gaza. 54-82526 UNEF__17 in the lead and then UNEF1209 (crop) (DND Photo ME-603)

307.B._.4
35 BA 81
UNKNOWN
Petawawa
DPSL 352221
Jan 80
Hard target?
28
54-82527

Ferret 54-82527 UNEF 1223 56 Recce Sqn CAJ Jul 58 p33




Ferret 54-82527 UNEF1231, still in green paint, alongside an M38 jeep with a young goat herder and goats in foreground. Photo ME-732

Ferret 54-82527 UNEF 1223 56 Recce Sqn CAJ Jul 58 p33

308.B._.4
35 BA 82
UNEF 1223
Valcartier
CADCI 50798
Apr 81
29
54-82528
NO PHOTOS FOUND YET
309.B._.4
35 BA 83
Valcartier
CADCI 50798
Apr 81
30
54-82529
NO PHOTOS FOUND YET
310.B.2.4
Valcartier
CADCI 50798
Apr 81
31
54-82530
NO PHOTOS FOUND YET
311.B._.4
Valcartier
CADCI 50798
Apr 81
32
54-82531

Canadian Army Ferret 54-82531 at Fort Beausejour, Iserlohn, Germany in 1961. Detail.




Canadian Army Ferret 54-82531 at Fort Beausejour, Iserlohn, Germany in 1961.

Canadian Army Ferret 54-82531 at Fort Beausejour, Iserlohn, Germany in 1961. Detail.

312.B.3.4
35 BA 86
Valcartier
CADCI 50798
Apr 81
Neil Smith, Florida
33
54-82532
NO PHOTOS FOUND YET
313.B._.4
35 BA 84
Gagetown
DPSL 352223
Jan 80
Hard target?
34
54-82533

Ferret 54-82533 rear view during a display - detail (CAL-573 CFJIC CD No 1 )




Ferret 54-82533 rear view during a display -(CAL-573 CFJIC CD No 1 )

Ferret 54-82533 rear view during a display – detail (CAL-573 CFJIC CD No 1 )

54-82533 Rear view in the field. It is in the background. The number of the ferret in the foreground is not known.

54-82533 Rear view in the field. – Detail

314.B._.4
35 BA 85
LdSH(RC)
Valcartier
CADCI 50798
Apr 81
35
54-82534

54-82534 aka UNEF 1207 with Padre on left and 34 ft antenna mount on the starboard side with Bren crop (Photo DND ME-1290 )




54-82534 aka UNEF 1207 with Padre on left and 34 ft antenna mount on the starboard side with Bren crop (Photo DND ME-1290 )

Ferret 54-82534 (on right) in the hanger deck of HMCS Bonaventure, enroute to Cyprus.

Ferret 54-82534 (on right) in the hanger deck of HMCS Bonaventure, enroute to Cyprus. (detail)

Ferret 54-82534 on patrol in Cyprus with UNFICYP.

Les Branson's Ferret as found in the surplus yard of RAPCO in Texas. He identified it as 54-82534.

Les Branson's Ferret restored. He identified it as 54-824534.

315.B._.4
NOT 310 B.2.4?
35 BA 89
UNEF 1207
UNEF; UNFICYP RCD
Calgary
CADCI 50799
Apr 81
An in-service photo of a vehicle matched up to the current owner! Special thanks to Cpl. Kevin Langille of the Archives and Collection, Royal Canadian Dragoons, CFB Petawawa. In service photo taken on Cyprus courtesy of RCD Archives. As found in the RAPCO yard in Texas and restored photos courtesy of Les Branson. http://news.webshots.com/photo/2295716230031780957PIbU
Les Branson in Texas, USA
36
54-82535
NO PHOTOS YET
316.B.3.4
35 BA 90
Ontario Regiment
SO 402848
Mar 80
Ontario Regiment – 4 of 9
37
54-82536
NO PHOTOS FOUND YET
317.B._.4
35 BA 91
Valcartier
CADCI 50798
Apr 81
38
54-82537

Ferret Germany On left 54-82537 now at CWM ex-UNEF - detail (NBA62-324-1 CFJIL # 4 )




Ferret Germany On left 54-82537 now at CWM ex-UNEF – detail (NBA62-324-1 CFJIL # 4 )

Ferret 54-82537 at CWM c1985 (Barry Gillis photo)

Ferret 54-82537 at CWM c1985 (Barry Gillis photo)

Ferret 54-82537 at CWM c1985 (Barry Gillis photo)

Ferret 54-82537 at CWM c1985 (Barry Gillis photo)

Ferret 54-82537 at Canadian War Museum in 2007. Incorrect markings. Starboard rear. (Colin M Stevens photo)

Ferret 54-82537 at Canadian War Museum in 2007. Incorrect markings. Starboard front. (Colin M Stevens photo)

318.B.3.4
35 BA 92
UNKNOWN
39
54-82538
NO PHOTOS FOUND YET
319.B._.4
35 BA 93
UNKNOWN
UNEF
Canadian War Museum
DPSL 352227
Jan 80
Transferred from the Canadian Army to the Canadian War Museum in January 1980. This Ferret was in camouflage colours when the CWM obtained it. The vehicle was repainted for CWM in white with UNEF RCEME markings for display.The CWM has the correct UNEF UN decal on the front right fender but the other markings are unusual. (see top photo on this page for normal paint scheme). MWO Ross Pettit wrote on 2008-03-11 " I rebuilt that FSC [Ferret Scout Car] when I was posted in Trenton. I painted exactly from a picture of a ferret crossing a sand dune in Egypt. So it is painted correctly according to the picture." This vehicle also has the later modification for the Browning 1919A4 (not used when the vehicles were white) which replaced the Bren Gun and a much later model antenna base. Probably by coincidence, this vehicle actually served in UNEF.
Canadian War Museum, Ottawa, Ontario.
40
54-82539
NO PHOTOS FOUND YET
320.B._.4
35 BA 94
Valcartier
CADCI 50798
Apr 81
41
54-82540

CAR 54-82540 - location where it is stamped into the hull.

321.B.3.4
35 BA 95
Valcartier
CADCI 50798
Apr 81
Info: 2006 June 03. Under restoration 2006. Tactical Sign 22A The only other marks I have found on it are a 22A in large black figures [THIS IS A TACTICAL SIGN – Colin Stevens] on the side of the hull near the top that I assume are radio call symbols. Also on the right front storage bin there is stencilled in white figures LV9-ASC 2540-99 815-7449 CAR 54-82540 also found painted on hull.
B McW, Valley Station (near Truro), Nova Scotia
42
54-82541
NO PHOTOS FOUND YET
322.B._.4
35 BA 96
UNKNOWN
Valcartier
CADCI 50798
Apr 81
43
54-82542

Canadian Army Ferret Scout Car 54-82542 shown in Germany with Canadian Army helicopter hovering overhead. Cdn Army Journal 1963 Vol XVII No2 p69




Ferret 54-82542 with the 12RBC in 1976. Vehicle on far right.

Canadian Army Ferret Scout Car 54-82542 shown in Germany with Canadian Army helicopter hovering overhead. Cdn Army Journal 1963 Vol XVII No2 p69

323.B._.4
35 BA 97
UNKNOWN
NATO in Germany
Valcartier
CADCI 50798
Apr 81
44
54-82543

Ferret 54-82543 in 1963 Fort Garry Horse (Photo courtesy of veteran Ferret Crewmember "Digger" McDougall)

324.B._.4
35 BA 98 ?
Calgary
CADCI 50799
Apr 81
45
54-82544

Ferret 54-82544 with the LdSH in Canada. (LdSH Archives)

325.B._.4
35 BA 99
Her huk
Detachment Dundurn, Saskatchewan
DPSL 352193
Jan 80
Hard target?
DND, Detachment Dundurn, Saskatchewan
46
54-82545
NO PHOTOS FOUND YET
328.B._.4
36 BA 02
Valcartier
CADCI 50798
Apr 81
47
54-82546
NO PHOTOS FOUND YET
332.B.4.4
36 BA 06
Valcartier
CADCI 50798
Apr 81
48
54-82547

Canadian Army Ferret MK. I UNEF 1218 (MIGHT be CAR 54-82547) DND photo ME-378




54-82500 & 54-82547 Dennis Crocker with Ferrets UNFICYP in Cyprus. Photo courtesy of Dennis Crocker.

Canadian Army Ferret MK. I UNEF 1218 (MIGHT be CAR 54-82547) DND photo ME-378

335.B._.4
36 BA 09
UNKNOWN
UNFICYP RCD
Valcartier
CADCI 50798
Apr 81
49
54-82548
NO PHOTOS FOUND YET
339.B._.4
36 BA 13
Valcartier
CADCI 50798
Apr 81
50
54-82549

54-82549-UNFICYP-RCD-close-up-of-CAR painted on front

341.B._.4
36 BA 15
UNFICYP RCD
Valcartier
DPSL 352223
Jan 80
Hard target ?
51
54-82550

Ferret 54-82550 that went from Flower Mound TX to Finland. 2008




Ferret 54-82550 that went from Flower Mound TX to Finland. 2008

Ferret 54-82550 that went from Flower Mound TX to Finland. 2008

Ferret 54-82550 that went from Flower Mound TX to Finland. 2008

Ferret 54-82550 that went from Flower Mound TX to Finland. 2008

Ferret 54-82550 that went from Flower Mound TX to Finland. 2008

Ferret 54-82550 that went from Flower Mound TX to Finland. 2008

Ferret 54-82550 that went from Flower Mound TX to Finland. 2008

Ferret 54-82550 that went from Flower Mound TX to Finland. 2008

344.B.4.4

36 BA 18
Petawawa
CADCI 50800
May 81
In 2008 this one sold out of Flower Mound, Texas to collector in Finland! Incomplete.
Finland
52
54-82551
NO PHOTOS FOUND YET
346.B.4.4
36 BA 20
Petawawa
CADCI 50800
May 81
53
54-82552
NO PHOTOS FOUND YET
347.B.4.4
36 BA 21
Petawawa
CADCI 50800
May 81
54
54-82553
NO PHOTOS FOUND YET
348.B._.4
36 BA 22
Petawawa
CADCI 50800
May 81
55
54-82554

Ferret 54-82554 -with the British Columbia Dragoons 1954-1956 period before they were recalled from the Milita for use by the Regular Force in Suez UNEF etc. (Okanagan Military Museum photo colelction OMM)

349.B._.4
36 BA 23
BCD UNFICYP
Petawawa
CADCI 50800
May 81
BC Dragoons had it on issue in the mid-1950s.
56
54-82555
NO PHOTOS FOUND YET
350.B._.4
36 BA 24
Belgium
DPSL 355683
Jan 81
Monument in Belgium. (NATO HQ?)
BATO HQ?, Brussells?, Belgium
57
54-82556

Ferret 54-82556 escorting a convoy in Cyprus 1968 (CYP68-149)




Ferret 54-82556 escorting a convoy in Cyprus 1968 (CYP68-149)

Ferret 54-82556 escorting a convoy in Cyprus 1968 -detail (CYP68-149)

352.B._.4
36 BA 26
UNFICYP
Valcartier
CADCI 50798
Apr 81
58
54-82557

54-82500 leading 54-82557 in UNFICYP, Cyprus, DND photo CYP66-302-2

353.B._.4
36 BA 27
UNFICYP
Valcartier
CADCI 50798
Apr 81
59
54-82558
NO PHOTOS FOUND YET
357.B._.4
36 BA 31
Calgary
CADCI 50799
Apr 81
60
54-82559
NO PHOTOS FOUND YET
359.B._.4
36 BA 33
Valcartier
CADCI 50798
Apr 81
There is confusion over the identity of this Ferret. Hull 464.B.8.4 seems to be marked 54-82559 on latches but as far as I know, 54-82559 was hull 359. Hull 464 was one of at least two converted into police armoured car response vehicles.
Paul Salaterski, NJ, USA ? (ower of 464.B.8.4 but is it 54-82559?
61
54-82560
NO PHOTO AT THE MOMENT. There may be one of it with Browning MK. II MG fitted.
360.B.4.4
36 BA 34
Shilo
DPSL 352192
Jan 80
Salvaged from the target ranges at CFB Shilo with permission by substituting an ex-British Army (BATUS?) ferret hull. Restored by Rob Love. Photo via Dan Sicotte. Was for sale in 2007 Spring. WHO OWNS IT NOW?
John H ex-Rob L, Manitoba
62
54-82561

3 Troop, A Squadron, 8th Canadian Hussars, at CFB Petawawa July 28, 1977. Ferret 54-82561 is on the left. - Photo courtesy of Thomas Skelding




DETAIL: Ferret 54-82561. 3 Troop, A Squadron, 8th Canadian Hussars,at CFB Petawawa July 28, 1977 - Photo courtesy of Thomas Skelding

362.B._.4 (362.B.5.4 ?)
36 BA 36
Petawawa
CADCI 50800
May 81
63
54-82562

Ferret 54-82562 on right

363.B.5.4
36 BA 37
Petawawa
CADCI 50800
May 81
64
54-82563

Ferret 54-82563. in Remembrance Day Parade 1956. Major General Chris Vokes is taking the salute. Marching troops are Royal Canadian Army Cadets or Milita, not Regular Force. In the right foreground is 54-82563. [LdSH(RC) Archives]





Ferret 54-82563. in Remembrance Day Parade 1956. Major General Chris Vokes is taking the salute. Marching troops are Royal Canadian Army Cadets or Milita, not Regular Force. Detail showing 54-82563. [LdSH(RC) Archives]




Ferret 54-82563. in Remembrance Day Parade 1956. Major General Chris Vokes is taking the salute. Marching troops are Royal Canadian Army Cadets or Milita, not Regular Force. In the right foreground is 54-82563. [LdSH(RC) Archives]

Ferret 54-82563. in Remembrance Day Parade 1956. Major General Chris Vokes is taking the salute. Marching troops are Royal Canadian Army Cadets or Milita, not Regular Force. Detail showing 54-82563. [LdSH(RC) Archives]

365.B.5.4
36 BA 39
LdSH(RC)
Ont Reg't
SO 402848
Mar 80
Ontario Regiment – 6 of 9
Ontario Regiment, Oshawa, Ontario
65
54-82564
NO PHOTOS FOUND YET
367.B._.4
36 BA 41
Ont Reg't
SO 402848
Mar 80
Ontario Regiment – 9 of 9
Ontario Regiment, Oshawa, Ontario
66
54-82565

54-82565 owner Robin Ross photo via Q R

329.B._.4
36 BA 03
Valcartier
CADCI 50798
Apr 81
67
54-82566
//
LdSH photo

FERRET 54-82566. LdSH. The man with the cane might be the RSM. The name of the car is above the driver's head. It is not quite legible. A guess is CHILLIWACK. (LdSH Archives)




FERRET 54-82566. LdSH. The man with the cane might be the RSM. The name of the car is above the driver's head. It is not quite legible. A guess is CHILLIWACK. (LdSH Archives)

FERRET 54-82566. LdSH. The man with the cane might be the RSM. The name of the car is above the driver's head. It is not quite legible. A guess is CHILLIWACK. (LdSH Archives)

330.B._.4
36 BA 04
LdSH(RC)
Shilo
DPSL 352192
Jan 80
Hard target. Note 3 of the 4 Cdn Ferrets at Shilo were saved from the ranges. 54-82566 is apparently the one remaining of the 4 which actually was shot up. (Ref. Rob Love, Shilo, MB) He wrote: "The last target one is still laying in the Round Plain area of the training area here, and has suffered some fair blast damage."
Shilo ?
68
54-82567

Ferret 54-82637 in Cyprus with UNFICYP. Detail cropped view. About to leave Cyprus to return to Canada.




Ferrets in Cyprus. 54- 82508 54-82567 54-82522 probably then 01 Snoopy (RCD Archives photo)

Ferret 54-82637 in Cyprus with UNFICYP. Detail cropped view. About to leave Cyprus to return to Canada.

333.B._.4
36 BA 07
UNKNOWN
UNFICYP
Petawawa
CADCI 50800
May 81
69
54-82568

54-82568 LdSh Stuck in snow. (LdSH Archives?)




54-82568 LdSh Stuck in snow. (LdSH Archives?)

Ferret 54-82568 at CFB Petawawa Museum, November 2007 (Colin M. Stevens photo)

Ferret 54-82568 at CFB Petawawa Museum, November 2007 (Colin M. Stevens photo)

Ferret 54-82568at CFB Petawawa Museum, November 2007 (Colin M. Stevens photo)

Ferret 54-82568 at CFB Petawawa Museum, November 2007 (Colin M. Stevens photo)

Ferret 54-82568 at CFB Petawawa Museum, November 2007 (Colin M. Stevens photo)

Ferret 54-82568 at CFB Petawawa Museum, November 2007 (Colin M. Stevens photo)

Ferret 54-82568 at CFB Petawawa Museum, November 2007 (Colin M. Stevens photo)

Ferret 54-82568 at CFB Petawawa Museum, November 2007 (Colin M. Stevens photo)

Ferret 54-82568 at CFB Petawawa Museum, November 2007 (Colin M. Stevens photo)

336.B._.4
36 BA 10
UNFICYP
Petawawa
DPSL 357077
Apr 81
Hard target?
Ranges, Petawawa, Ontario ?
70
54-82569
RCD photo. Identified as 54-82569 by Darrell Zinck

Ferret 54-82569 with RCD in UNFICYP, Cyprus. (Photo ID via Darrell Zinck)





Ferret 54-82569 with unique (?) twin wire cutter bars with UNFICYP, Cyprus in 1965. "569" is painted in tiny (1"?) numbers above the driver's head. (DND photo CYP65-194-7)




Ferret 54-82569 with unique (?) twin wire cutter bars with UNFICYP, Cyprus in 1965. "569" is painted in tiny (1″?) numbers above the driver's head. (DND photo CYP65-194-7)

Ferret 54-82569 with RCD in UNFICYP, Cyprus. (Photo ID via Darrell Zinck)

337.B.4.4
36 BA 11
UNFICYP
Valcartier
CADCI 50800
May 81
71
54-82570
NO PHOTOS FOUND YET
338.B.4.4
36 BA 12
FMC HQ
DPSL 352224
Jan 80
Monument?
DND ?
72
54-82571
NO PHOTOS FOUND YET
340.B._.4
36 BA 14
UNKNOWN
UNFICYP
Calgary
CADCI 50799
Apr 81
73
54-82572

54-82572 LdSH Driver Training towing stuck Ferret out in snow




54-82572 LdSH Driver Training towing stuck Ferret out in snow

Three Ferrets at Western Resources in USA including 54-82572 at upper right.

Ferret 54-82572 at Western Resources in USA. Photo by James McNeely NC USA.

Ferret 54-82572 at Western Resources in USA. Photo by James McNeely NC USA.

Ferret 54-82572 at Western Resources in USA. Photo by James McNeely NC USA.

Ferret 54-82572 at Western Resources in USA. Possibly unique steel roof. Photo by James McNeely NC USA.

54-82572 CAR number inside compartment James McNeely NC USA

342.B._.4
36 BA 16
Calgary
CADCI 50799
Apr 81
Ferret is now derelict in a yard in Tennessee, USA. Note CAR/CFR number painted inside the fighting compartment. This one has a unique (?) armoured roof. NOT for sale.
74
54-82573

Major-General G. P. Vanier, DSO, MC, CD, Inspects the Escort. Photo via WO II McKay to __ Archives)




Major-General G. P. Vanier, DSO, MC, CD, Inspects the Escort. Photo via WO II McKay to __ Archives)

Major-General G. P. Vanier, DSO, MC, CD, Inspects the Escort. Photo via WO II McKay to __ Archives)

Ferret 54-82573 UNFICYP by Ragge Jagero via Leif Hellstrom Photo a bit blurry, believed to be 54-82573.

343.B._.4
36 BA 17
UNFICYP
Valcartier
CADCI 50798
Apr 81
75
54-82574
NO PHOTOS FOUND YET
355.B._.4
36 BA 29
Calgary
CADCI 50799
Apr 81
76
54-82575

Ferret 54-82575 UNEF 1206 detail (DND ME-1068 CFJIC)




Squadron photo. On right – Ferret 54-82575 UNEF 1206 (DND ME-1068 CFJIC)

Ferret 54-82575 UNEF 1206 detail (DND ME-1068 CFJIC)

54-82575 maybe or 578 Cyprus 1966 Note the Fort Garry Horse's white cowboy hat on the side bin. DND photo PCN67-103

54-82525 and 54-82604 identifiable. Ferrets in Cyprus. Lead vehicle 54-82575 has white Snoopy dog symbol (RCD) on Port sloped upper armour (below right knee of man seated on top.)

54-82575 shown here in Cyprus in 1964. (DND photo CYP64-27-1)

Ferret 54-82575 nicknamed "BIG JOE" by her crew. (DND photo ZK-1974-2)

Ferret 54-82575 plaque as it was in General Radley Walters' Collection. (CWM photo for appraisal by Colin Stevens)

Ferret 54-82575 as it was in General Radley Walters' Collection. (CWM photo for appraisal by Colin Stevens)

Ferret 54-82575 ex-General Radley Waters in front of building F104 Royal Canadian Dragoons at CFB Petawawa (Colin M. Stevens' photo 2007)

Ferret 54-82575 ex-General Radley Waters in front of building F104 Royal Canadian Dragoons at CFB Petawawa (Colin M. Stevens' photo 2007)

UNKNOWN
UNKNOWN
UNEF 1206
UNEF & UNFICYP 8 CH; RCD
8 CH Petawawa
DPSL 242285
Sep 77
Monument at CFB Petawawa in front of RCD HQ uilding. F104 (Confirmed by CMS 2007 Dec) This is the Ferret that was presented to General Radley-Waters and it has the plaque on it.This Ferret was presented to this esteemed war-time armoured officer. He was also presented with A Sherman and a Lynx (tracked). CFR and SN of his Ferret are not known at this time. Note vehicle has Canadian retrofitted lights, a cable reel on carrier on left side, and on rear are two loops. presumably for top strap of Jerricans when stowage rack was mounted on the rear – suggesting that this vehicle served in Germany or in Sinai. The vehicle was donated to the Canadian War Museum. It went back to CFB Petawawa and is outside on display.
Canadian War Museum (or DND?), RCD HQ, CFB Petawawa, Ontario
77
54-82576
NO PHOTOS FOUND YET
331.B._.4
36 BA 05
UNFICYP
Valcartier
CADCI 50798
Apr 81
78
54-82577
NO PHOTOS FOUND YET
345.B._.4
36 BA 19
1 CBG Calg
DPSL 352194
Jan 80
Monument?
79
54-82578

Ferret 54-82578 after destruction in a hanger firer - rear view





Ferret 54-82578 after destruction in a hanger firer – to right of a Centurion tank that was also burnt I believe.

Ferret 54-82578 after destruction in a hanger firer – engine compartment.

Ferret 54-82578 after destruction in a hanger firer – front.

Ferret 54-82578 after destruction in a hanger firer – rear view

UNKNOWN
UNKNOWN
Petawawa
DPSL ?
1976
Sold. Burned in a hanger fire at Petawawa"burnt in Petawawa mid 70's? Duty Cpl must have missed checking the hanger that weekend ;). Black as a coal mine in the hanger Mon morn. …I have some pics of the Ferret after they hauled it out back. … (some are in rough shape, got wet before I could scan them)" "I was posted to Petawawa fall 74 until spring 78. … Quality of the pics is poor, but you can see the steel belts, all that's left of the tires.I remember it took a week or so to clean the hanger. "
"I guess if they sold that Ferret, it would have been sold by the pound :). The final word was it had an electrical short sometime on the weekend, and the duty Cpl missed the hanger on his weekend rounds. We found it Monday morning. No other vehicles went up with it, though lots of cleaning needed on others. The Centurion was the last one the regiment had, I think its the one on display in front of the 8CH barracks (might be RCD now) in Petawawa. An old REME ('Burpy" Heinz) kept the centurion running (parts snuck up from Gagetown) until Ottawa found out we had it running. It sat there parked until after I left for Germany. The only veh destroyed in the fire was the Ferret. I think the part to the right in the last photo was the side bin (escape hatch/spare tire carrier) with an ammo box on top. I think they wanted to scavenge some parts, but not much left. Anyway, I hope this helps with your research.
………….Rob"
Photos and story courtesy of Tpr SMITH, RS 8 CH (PL) 2007 Nov. 27 Now of Courtice, Ont.
SCRAPPED
80
54-82579
NO PHOTOS FOUND YET
324.B.4.4
35 BA 98 ?
CTC Gagetown
DPSL?
Apr 78
DND, Museum, CFB Gagetown, New Brunswick
81
54-82580








Ferret 54-82580 with the Royal Canadian Dragoons at Camp Gagetown inspection - detail image (RCD Archives)








Ferret 54-82580 at a Royal Canadian Dragoons inspection at Camp Gagetown, New Brunswick. (RCD Archives)

356.B._.4
36 BA 30
UNFICYP
Valcartier
CADCI 50800
May 81
82
54-82581
NO PHOTOS FOUND YET.
358.B._.4
36 BA 32
Valcartier
CADCI 50798
Apr 81
Jim C, Kansas City, Missouri USA (MVPA Member)
84
54-82582
NO PHOTOS FOUND YET
361.B.4.4 ?
36 BA 35
Ont Reg't
SO 402848
Jan 80
Ontario Regiment – 8 of 9
Ontario Regiment Museum, Oshawa, Ontario
84
54-82583

Ferret 54-82583 as a monument in Moncton, NB. Photo by Darrell Zinck




Ferret 54-82583 as a monument in Moncton, NB. Photo by Darrell Zinck

Ferret 54-82583 as a monument in Moncton, NB. Photo by Darrell Zinck

364.B._.4
36 BA 38
Aldershot, NS
DPSL 352222
Jan 80
Was designated as a hard target at Aldershot (Nova Scotia) but has survived as a monument at the Canadian Forces Detachment in Moncton, New Brunswick. The condition is described as "hurting." Photos of her as she is now are from WO Darrell Zinck, Regt'l Ops WO, 8th Canadian Hussars (Princess Louise's) Det Moncton. His office is 200 yards from the Ferret. 2007 November 06.
Ranges at Aldershot, NS ?
85
54-82584
NO PHOTOS FOUND YET
366.B.5.4
36 BA 40
Valcartier
CADCI 50798
Apr 81
86
54-82585

Ferret 54-82585 UNEF 1215 (ME-751 CFJIC CD No 1 )




54-82585 Ferret in Cyprus with UNFICYP DND CYP67-29-2

54-82585 54-82585 Ferrets with UNFICYP in Cyprus. RCD troops.

Ferret 54-82585 UNEF 1215 (ME-751 CFJIC CD No 1 )

369.B._.4
36 BA 43
UNEF 1215
UNFICYP RCD?
Valcartier
CADCI 50798
Apr 81
87
54-82586

Ferret 54-82586 owner Andrew via Q R

373.B.5.4
36 BA 46
UNKNOWN
UNFICYP RCD
Valcartier
CADCI 50798
Apr 81
88
54-82587

Ferret 54-82587 fitted with ENTAC anti-tank wire-guided missiles. (CAJ 1956 Vol XIX No 1 p6)




Ferret 54-82587 with ENTAC

Ferret 54-82587 fitted with ENTAC anti-tank wire-guided missiles. (CAJ 1956 Vol XIX No 1 p6)

383.B.5.4
36 BA 57
UNEF 1208
Calgary
CADCI 50799
Apr 81
Ferret 54-82587 fitted with four ENTAC anti-tank missiles. In 3/4 view, the CAR is painted above the starboard driver's window. In side view photo the CAR is in the normal location on the side of the hull. Photo appeared in Canadian Army Journal 1965 Vol XIX No 1 p 6.Were any others so converted or just this one? Did it go to West Germany with the ENTAC equipped jeeps? Reference Canadian manuals, this appears to have been the only one so converted.
89
54-82588
NO PHOTOS FOUND YET
384.B._.4
36 BA 58
UNKNOWN
Det Dundurn
DPSL 352193
Jan 80
Hard target?
Believed to have been destroyed as a hard target. http://www.mapleleafup.net/forums/showthread.php?t=26137 http://www.mapleleafup.net/forums/showthread.php?t=26136 A Jerrican numbered to this Ferret survives in the Robin Craig Collection in Ontario, Canada.
90
54-82589

Ferret 54-82589 owner Q R

386.B._.4
36 BA 60
UNKNOWN
UNFICYP
Valcartier
CADCI 50798
Apr 81
91
54-82590

Ferret 54-82575 UNEF 1206 detail (DND ME-1068 CFJIC)




Ferret 54-82590 UNEF (ME-1068 CFJIC CD No 1 )

Ferret 54-82575 UNEF 1206 detail (DND ME-1068 CFJIC)

Squadron photo. On right – Ferret 54-82575 UNEF 1206 (DND ME-1068 CFJIC)

387.B.5.4
36 BA 61
UNKNOWN
Ont Reg't
SO 402848
Mar 80
Ontario Regiment – 1 of 9
92
54-82591

54-82591 UNFICYP Cyprus 1968. Cartoon on side of vehiocle may be Popeye but I am not certain. Photo courtesy of Tom Beatty




54-82591 UNFICYP Cyprus 1968. Cartoon on side of vehiocle may be Popeye but I am not certain. Photo courtesy of Tom Beatty

Ferret 54-81591 COYOTE LdSH(RC) as purchasedr from Allen Kerrr of Edmonton to had it in front of his store. The turret was added to keep vandals out.

Ferret 54-81591 COYOTE LdSH(RC) as purchasedr from Allen Kerrr of Edmonton to had it in front of his store. The turret was added to keep vandals out.

Ferret 54-81591 COYOTE LdSH(RC) as purchasedr from Allen Kerrr of Edmonton to had it in front of his store. The turret was added to keep vandals out.

Ferret 54-81591 COYOTE LdSH(RC) as purchasedr from Allen Kerrr of Edmonton to had it in front of his store. The turret was added to keep vandals out.

Ferret 54-81591 COYOTE LdSH(RC) as purchasedr from Allen Kerrr of Edmonton to had it in front of his store. The turret was added to keep vandals out.

Ferret 54-81591 COYOTE LdSH(RC) as purchasedr from Allen Kerrr of Edmonton to had it in front of his store. The turret was added to keep vandals out.

Ferret 54-81591 COYOTE LdSH(RC) as purchasedr from Allen Kerrr of Edmonton to had it in front of his store. The turret was added to keep vandals out.

Ferret 54-81591 COYOTE LdSH(RC) as purchasedr from Allen Kerrr of Edmonton to had it in front of his store. The turret was added to keep vandals out.

Ferret 54-81591 COYOTE LdSH(RC) as purchasedr from Allen Kerrr of Edmonton to had it in front of his store. The turret was added to keep vandals out.

Ferret 54-81591 COYOTE LdSH(RC) as purchasedr from Allen Kerrr of Edmonton to had it in front of his store. The turret was added to keep vandals out.

Ferret 54-81591 COYOTE LdSH(RC) as purchasedr from Allen Kerrr of Edmonton to had it in front of his store. The turret was added to keep vandals out.

Ferret 54-81591 COYOTE LdSH(RC) as purchasedr from Allen Kerrr of Edmonton to had it in front of his store. The turret was added to keep vandals out.

Ferret 54-81591 COYOTE LdSH(RC) as purchasedr from Allen Kerrr of Edmonton to had it in front of his store. The turret was added to keep vandals out.

Ferret 54-81591 COYOTE LdSH(RC) as purchasedr from Allen Kerrr of Edmonton to had it in front of his store. The turret was added to keep vandals out.

Ferret 54-81591 COYOTE LdSH(RC) as purchasedr from Allen Kerrr of Edmonton to had it in front of his store. The turret was added to keep vandals out.

Ferret 54-81591 COYOTE LdSH(RC) as purchasedr from Allen Kerrr of Edmonton to had it in front of his store. The turret was added to keep vandals out.

Ferret 54-81591 COYOTE LdSH(RC) as purchasedr from Allen Kerrr of Edmonton to had it in front of his store. The turret was added to keep vandals out.

Ferret 54-81591 COYOTE LdSH(RC) as purchasedr from Allen Kerrr of Edmonton to had it in front of his store. The turret was added to keep vandals out.

Ferret 54-81591 COYOTE LdSH(RC) as purchasedr from Allen Kerrr of Edmonton to had it in front of his store. The turret was added to keep vandals out.

Ferret 54-81591 COYOTE LdSH(RC) as purchasedr from Allen Kerrr of Edmonton to had it in front of his store. The turret was added to keep vandals out.

Ferret 54-81591 COYOTE LdSH(RC) as purchasedr from Allen Kerrr of Edmonton to had it in front of his store. The turret was added to keep vandals out.

Ferret 54-81591 COYOTE LdSH(RC) as purchasedr from Allen Kerrr of Edmonton to had it in front of his store. The turret was added to keep vandals out.

Ferret 54-81591 COYOTE LdSH(RC) as purchasedr from Allen Kerrr of Edmonton to had it in front of his store. The turret was added to keep vandals out. HARDNESS TESTING SPOT.

Ferret 54-81591 COYOTE LdSH(RC) as purchasedr from Allen Kerrr of Edmonton to had it in front of his store. The turret was added to keep vandals out.

Ferret 54-81591 COYOTE LdSH(RC) as purchasedr from Allen Kerrr of Edmonton to had it in front of his store. The turret was added to keep vandals out.

Ferret 54-81591 COYOTE LdSH(RC) as purchasedr from Allen Kerrr of Edmonton to had it in front of his store. The turret was added to keep vandals out.

Ferret 54-81591 COYOTE LdSH(RC) as purchasedr from Allen Kerrr of Edmonton to had it in front of his store. The turret was added to keep vandals out.

Ferret 54-81591 COYOTE LdSH(RC) as purchasedr from Allen Kerrr of Edmonton to had it in front of his store. The turret was added to keep vandals out.

Ferret 54-81591 COYOTE LdSH(RC) as purchasedr from Allen Kerrr of Edmonton to had it in front of his store. The turret was added to keep vandals out.

Ferret 54-81591 COYOTE LdSH(RC) as purchasedr from Allen Kerrr of Edmonton to had it in front of his store. The turret was added to keep vandals out.

Ferret 54-81591 COYOTE LdSH(RC) as purchasedr from Allen Kerrr of Edmonton to had it in front of his store. The turret was added to keep vandals out.

Ferret 54-81591 COYOTE LdSH(RC) as purchasedr from Allen Kerrr of Edmonton to had it in front of his store. The turret was added to keep vandals out.

Ferret 54-81591 COYOTE LdSH(RC) as purchasedr from Allen Kerrr of Edmonton to had it in front of his store. The turret was added to keep vandals out.

Ferret 54-81591 COYOTE LdSH(RC) as purchasedr from Allen Kerrr of Edmonton to had it in front of his store. The turret was added to keep vandals out.

Ferret 54-81591 COYOTE LdSH(RC) as purchasedr from Allen Kerrr of Edmonton to had it in front of his store. The turret was added to keep vandals out.

Ferret 54-82591 after restoration.

Ferret 54-82591 after restoration.

Ferret 54-82591 after restoration.

Ferret 54-82591 after restoration.

Ferret 54-82591 after restoration.

388.B.5.4
36 BA 62
UNFICYP
Calgary
CADCI 50799
Apr 81
Sold by Allan Kerr of Edmonton to Grant McAvoy of Abbotsford, BC. Then to Doug McAvoy in Edmonton?
UNKNOWN, Edmonton? May still be in Chilliwack, BC area. Ex-gate guardian at Allan Kerr's shop in Edmonton for about 20 years. Allan had acquired it in trade from Gord Cumming at Crown Surplus in Calgary. Kerr fitted an NOS British Mk. II turret so he could lock up the Ferret. Ex-"COYOTE" (name found painted on front top edge which shows it was C Squadron) with Lord Strathcona's Horse. UNITED NATIONS yellow decal on green painted hull found on starboard upper hull. This type marking was used in Cyprus. Inside vehicle during cleanup  Grant found West German money, French match covers, and about 150 - .30 cal links. No CAR (CFR) found painted on hull, but found stamped into hull.
93
54-82592

54-82592 CAPRI with Lord Stathcona's Horse at Milcon 74 at Shilo, Manitoba. (LdSH Archives)




54-82592 CAPRI Lord Stathcona's Horse (LdSH Archives)

54-82592 CAPRI Lord Stathcona's Horse (LdSH Archives) Detail

54-82592 CAPRI with Lord Stathcona's Horse at Milcon 74 at Shilo, Manitoba. (LdSH Archives)

54-82592 CAPRI at CFB Gagetown as a monument.

54-82592 CAPRI at CFB Gagetown as a monument.

54-82592 CAPRI at CFB Gagetown as a monument. Photo 2007 by Jason Meade.

54-82592 CAPRI with Lord Stathcona's Horse at Milcon 74 at Shilo, Manitoba. (LdSH Archives)




54-82592 CAPRI Lord Stathcona's Horse (LdSH Archives)

54-82592 CAPRI Lord Stathcona's Horse (LdSH Archives) Detail

54-82592 CAPRI with Lord Stathcona's Horse at Milcon 74 at Shilo, Manitoba. (LdSH Archives)

54-82592 CAPRI at CFB Gagetown as a monument.

54-82592 CAPRI at CFB Gagetown as a monument.

54-82592 CAPRI at CFB Gagetown as a monument. Photo 2007 by Jason Meade.

389.B._.4
36 BA 63
LdSH(RC)
Det Wain
DPSL 352192
Jan 80
Intended as a hard target in Wainwright. Now a museum display at CFB Gagetown Museum, New Brunswick. Was called CAPRI while in LdSH(RC). In 2007 has unit sign 35 painted on left front fender.
Museum, CFB Gagetown, New Brunswick
94
54-82593

Ferret 54-82593 as a monument in Truro Nova Scotia. Starboard side. (May 2005 Brad Mills)




Ferret 54-82593 as a monument in Truro Nova Scotia.. Front view. (May 2005 Brad Mills)

Ferret 54-82593 as a monument in Truro Nova Scotia. Rear vision hatches in closed position. (May 2005 Brad Mills)

Ferret 54-82593 as a monument in Truro Nova Scotia. Antenna mount base. (May 2005 Brad Mills)

Ferret 54-82593 as a monument in Truro Nova Scotia. Port side front 3/4 view. (May 2005 Brad Mills)

Ferret 54-82593 as a monument in Truro Nova Scotia. Cable bracket. (May 2005 Brad Mills)

Ferret 54-82593 as a monument in Truro Nova Scotia. Starboard side. (May 2005 Brad Mills)

390.B._.4
36 BA 64
UNFICYP
DPSL 352222
Jan 80
Designated as a hard target in Aldershot, Nova Scotia but fortunately saved as a gate guardian in Truro, NS. Bins are rusting through (Dec 2007). CAR/CFR number stamped into metal, confirmed by Brad Mills 2007 Dec.
DND Ranges ?
95
54-82594
NO PHOTOS FOUND YET
391.B._.4
36 BA 65
Lahr
DPSL 355125
Nov 80
Lahr, Germany ???
96
54-82595

Ferret 54-82595 now restored and named "DAGGER" by the LdSH(RC). Hull number 379-B-5-4 . A seen at the Calgary Gun Show 2018 March. (Ian Newby photo)




Ferret 54-82595 now restored and named "DAGGER" by the LdSH(RC). Hull number 379-B-5-4 . A seen at the Calgary Gun Show 2018 March. (Ian Newby photo)

Ferret 54-82595 now restored and named "DAGGER" by the LdSH(RC). Hull number 379-B-5-4 . A seen at the Calgary Gun Show 2018 March. (Ian Newby photo)

Ferret 54-82595 now restored and named "DAGGER" by the LdSH(RC). Hull number 379-B-5-4 . A seen at the Calgary Gun Show 2018 March. (Ian Newby photo)

Ferret 54-82595 now restored and named "DAGGER" by the LdSH(RC). Hull number 379-B-5-4 . A seen at the Calgary Gun Show 2018 March. (Colin Stevens photo)

379.B.5.4
36 BA 53
LDSH Calgary
DPSL 352195
Jan 80
Funeral Vehicle. MAY be the one in the LdSH Historical Troop, fitted with a pintle hook.
97
54-82596

Ferret 54-82596 UNEF 1210 on parade Gaza. Swedish photo via Leif Hellstrom (cropped)




Ferret 54-82596 UNEF 1210 after being recovered after mine strike. Three-quarter front right view. Investigation report photo.




Ferret 54-82596 UNEF 1210 on parade Gaza. Swedish photo via Leif Hellstrom

Ferret 54-82596 UNEF 1210 on parade Gaza. Swedish photo via Leif Hellstrom (cropped)

Ferret 54-82596 UNEF 1210 after being recovered after mine strike. Three-quarter front right view. Investigation report photo.

Ferret 54-82596 UNEF 1210 blown up by mine Rafah, Egypt Apr. Blown up tire rim being examined by a soldier. 1959

Ferret 54-82596 UNEF 1210 after mine strike Apr 1959 Investigation report photo. CROPPED FROM REPORT

Ferret 54-82596 UNEF 1210 after being recovered after mine strike. Three-quarter front right view. Investigation report photo.

UNKNOWN
UNKNOWN
UNEF 1210

N/A
Mid 1960s
Apparently burned at Petawawa, Ontario in between 1959 and Dec 1965.
98
54-82597

54-82597 I believe [LdSH(RC) Archives]

385.B._.4
36 BA 59
Det Wain
DPSL 352194
Jan 80
Monument
Monument at CFB Wainwright, Alberta?
99
54-82598

Ferret Scout Car Mark I, CAR 54-82598 - Left side, as found at Mill Bay, British Columbia, Canada.




Ferret MK. I 54-82598 – Potential buyer Paul Loerke sitting at the Driver's Controls in 2005.

Ferret MK. I 54-82598 – Gorf Cumming, owner of Crown Surplus Stores in Calgary looking on as Paul Loerke examines the Ferret in 2005.

Ferret MK. I 54-82598 – Bob Carter, owner, with the Ferret at Mill Bay, B.C. Bob was a Ferret crewmember in the Canadian Army.

Ferret Scout Car Mark I, CAR 54-82598 – Left side, as found at Mill Bay, British Columbia, Canada.

Ferret Scout Car Mark I, CAR 54-82598 – front, as found at Mill Bay, British Columbia, Canada.

Ferret 54-82598 original Canadian Army Registration Number (CAR) on the side.

OLYMPUS DIGITAL CAMERA

OLYMPUS DIGITAL CAMERA

OLYMPUS DIGITAL CAMERA

Ferret 54-82598 as found 2007 – 1

Ferret 54-82598 as found 2007 – 2

Ferret MK. I 54-82598 looking down onto the Browning MG base mount brace arm used when the gun was securing for driving.

Ferret MK. I 54-82598 looking down onto the Browning MG base mount.

Ferret MK. I 54-82598 – Front glacis plate – Starboard. Painted over marking partly visible.

Ferret MK. I 54-82598 – Front glacis plate

Ferret MK. I 54-82598 – Front

OLYMPUS DIGITAL CAMERA

OLYMPUS DIGITAL CAMERA

OLYMPUS DIGITAL CAMERA

OLYMPUS DIGITAL CAMERA

OLYMPUS DIGITAL CAMERA

OLYMPUS DIGITAL CAMERA

CAR on side of Ferret

Ferret MK I 54-82598 Port engine cover open showing the 4 reinforcing bars added by the Canadian Army to protect the delicate fins of the radiator..

Ferret MK. I 54-82598 showing the drive belts for the alternator in the engine compartment.

OLYMPUS DIGITAL CAMERA

OLYMPUS DIGITAL CAMERA

OLYMPUS DIGITAL CAMERA

OLYMPUS DIGITAL CAMERA

CAR number over the driver's hatch on 54-82598

Ferret MK. I 54-82598 leaving Mission, B.C. to return to Edmonton, Alberta in April 2015. My wife is looking on. Interestingly she did not insist that it go.



392.B.5.4
36 BA 66
Combat Arms School, Gagetown, NB, then LdSH(RC)
Calgary
DPSL 352194
Jan 80
Served with Lord Strathcona's Horse (Royal Canadians) at time of surplus. Old Combat Arms School (CFB Gagetown, New Brunswick) Several CAS decals (2 designs, and large and small of later pattern) found under paint, as well as colour Canada Flag decals front ant rear, and Mobile Command decal was on starboard front. Also found on the front glacis (slope) down on dark green semi-gloss paint is what appears to be shipping information to "25 CANADIAN FORCES SUPPLY DEPOT 6363 NOTRE DAME ST. MONTREAL QUE. CANADA" This paint however appears to be Canadian, not the British factory colour. Was this Ferret sandblasted and rebuilt way back in its service? Could it have been UN white at some point? Usually the army simply painted over old markings and paint jobs, but what did they do for white UN Ferrets? Were they painted over or were some or all sandblasted?Traded by the LdSH to Crown Surplus for a T-16 Universal Carrier. Sold by Crown Surplus to Bob Carter, who then sold it to Colin Stevens. WD # 36 BA 66 54-82592 CAPRI also had tower lights but had antenna mount stbd rear and different camo pattern. Gord Cumming of Crown Surplus Stores in Calgary kept it as his last one. ____ of Mill Bay, BC bought it. He was an ex-Ferret crew member. Colin Stevens bought it from him. Sold to ___ of Emdonton. He removed and dispoed of the smoke dischargers. Sold to ___ of Edmonton.
//
This is possibly my old Ferret, 54-82598. It is with LdSH(RC) in Calgary, and has two features rarely found on Cdn Ferrets. As in photo, 598 has the first aid box on the right rear upper hull and the late (c.1969) British "Tower" lights. The camouflage pattern does not match however. // 2005 in Crown Surplus Stores' yard in Calgary.// 2007-04-01 ////
As received by Colin Stevens, 2007 April 1.
Private owner, Edmonton, Alberta
100
54-82599

Ferret 54-82599 Hull number 396 B 6 4 CFB Borden Museum. Colin Stevens checking it out, with permission.




Ferret 54-82599 Hull number 396 B 6 4 CFB Borden Museum. Hull serial number plate.

Ferret 54-82599 Hull number 396 B 6 4 CFB Borden Museum. Colin Stevens checking it out, with permission.

396.B.6.4
36 BA 70
RCAC Borden
DPSL 352197
Jan 80
Museum at CFB Borden
101
54-82600
NO PHOTOS FOUND YET
398.B._.4
36 BA 72
Aldershot, NS
DPSL 352222
Jan 80
Hard target?
102
54-82601

54-82601 - Canadian Army Ferret MK. I CAR 54-82601 with UNFICYP in Cyprus in 1964

399.B._.4
36 BA 73
UNKNOWN
UNFICYP
Valcartier
CADCI 50798
Apr 81
An RCD photo "Canada Here We Come" with 54-82508 in the foreground shows appears to be "01" at far end in Cyprus line-up. 501 was not in UNFICYP so it has to be 601.
103
54-82602
NO PHOTOS FOUND YET
348.B.4.4
ERROR not 410 as listed
36 BA 84
UNKNOWN
Aldershot, NS
DPSL 352222
Jan 80
Hard target?
104
54-82603

Ferret 54-82603 likely in Germany with NATO (DND EF65-9755-17 CFJIC )




Ferret 54-82603 likely in Germany with NATO (DND EF65-9755-17 CFJIC )

417.B.6.4
ERROR not 405 as listed
36 BA 79
UNKNOWN
Valcartier
CADCI 50798
Apr 81
105
54-82604

54-82525 and 54-82604 identifiable. Ferrets in Cyprus. Lead vehicle 54-82575 has white Snoopy dog symbol (RCD) on Port sloped upper armour (below right knee of man seated on top.)

417.B._.4
ERROR That number was 54-82603 ??
36 BA 91
UNFICYP RCD
Fort Knox
DPSL 355982
Feb 81
Patton Museum
Patton Museum in USA. Photo of it in Snoopy Patrol of RCD in Cyprus with UNFICYP. (RCD Archives)
106
54-82605

Ferret 54-82605 with the Lord Strahcona's Horse (Royal Canadians). (LdSH Archives photo)

381.B._.4
36 BA 55
LdSH
Calgary
CADCI 50799
Apr 81
107
54-82606

Ferret 54-82606 painted as 110292 .

406.B._.4
36 BA 80
Calgary
CADCI 50799
Apr 81
108
54-82607

Ferret 54-82607 on the left with STUDENT DRIVER sign. Upper windscreen fitted and tow cable in use.

409.B._.4
36 BA 83
Det Wain
DPSL 352192
Jan 80
DND?
Hard target? MIGHT have been saved. 
109
54-82608
NO PHOTOS FOUND YET
414.B._.4
36 BA 88
Calgary
CADCI 50799
Apr 81
110
54-82609

Ferret 54-82609 in Royal Canadian Dragoons' (RCD) Tank Park 2007-11-30 (Photo by Colin Stevens)




Ferret 54-82609 in Royal Canadian Dragoons' (RCD) Tank Park 2007-11-30 CAR number stamped into the hull. (Photo by Colin Stevens)

Ferret 54-82609 in Royal Canadian Dragoons' (RCD) Tank Park 2007-11-30 (Photo by Colin Stevens)

UNKNOWN
UNKNOWN
8 CH
8 CH Petawawa
DPSL 242285 May
May 81
DND
Sat as a monument from 1997 to c.2002. Still had correct DND licence plate 82609 fitted.  Now sitting in RCD tank park opposite Building F-16 at CFB Petawawa.
111
54-82610
NO PHOTOS FOUND YET
439.B._.4
37 BA 13
Calgary
CADCI 50799
Apr 81
112
54-82611

Ferret 54-82611 in 1973 (DND EE73-1603)




Ferret 54-82611 in 1973 (DND EE73-1604)

Ferret 54-82611 in 1973 (DND EE73-1603)

Ferret 54-82611 in 1973 (DND EE73-1600)

Ferret 54-82611 in 1973 (DND EE73-1605)

441.B._.4
37 BA 15
Shilo
DPSL 352192
Jan 80
Hard target?
113
54-82612

Ferret 54-82612 in Germany (Credit: CMP magazine #2) Via Jason Ginn

448.B.7.4
37 BA 22
Germany; Valcartier
DPSL 352223
Jan 80
DND?
It was in Germany in 1958.

The image is captioned  "Peacekeeping- 1958 A Ferret in Germany. Note the 19 set B aerial mount"
Hard target?
114
54-82613
NO PHOTOS FOUND YET.
451.B._.4
37 BA 25
Valcartier
CADCI 50798
Apr 81
115
54-82614

Ferret 54-82614 (Source unknown)

454.B._.4
37 BA 28
FGH Germany; Valcartier
CADCI 50798
Apr 81
116
54-82615

Ferret 54-82615 ? - C Sqadron one of last gun camps before converting from Ferrets to tracked vehicles.

UNKNOWN
UNKNOWN
Calgary
CADCI 50799
Apr 81
117
54-82616
NO PHOTOS FOUND YET
455.B._.4
37 BA 29
Calgary
CADCI 50799
Apr 81
118
54-82617



54-82617 owned by husband of Tara Hoppe USA Photo via Facebook 2022 May




54-82617 of husband of Tara Hoppe USA via Facebook 2022 May





54-82617 of husband of Tara Hoppe USA via Facebook 2022 May

Ferret 54-82617 former owner Q R

450.B._.4 according to a list BUT that CAR 54-82617 was stamped on the hull of 457.B.7.4
37 BA 24 but it may be 37 BA 31
Calgary
CADCI 50799
Apr 81
Private owner. Purchased from SECO by David Cussins who later sold it. He found hull # 457.B.7.4 but stamped in hull was CAR 54-82617. Current owner not known to me.
119
54-82618
NO PHOTOS FOUND YET
453.B._.4
37 BA 27
Calgary
CADCI 50799
Apr 81
120
54-82619
NO PHOTOS FOUND YET
445.B._.4
37 BA 19
Det. Wain
DPSL 352194
Jan 80
DND? Monument?
121
54-82620

Mechanics at work on Ferret 54-82620 (EF60-9205-1 CFJIC CD No 1 )

452.B._.4
37 BA 26
Petawawa
CADCI 50800
May 81
122
54-82621
NO PHOTOS FOUND YET
446.B.7.4
37 BA 20
Calgary
CADCI 50799
Apr 81
123
54-82622
NO PHOTOS FOUND YET
MAY be Hull 450.B.7.4 457.B.7.4 BUT that Hull # was marked 54-82617
37 BA 31 MAY be 37 BA 24
Calgary
CADCI 50799
Apr 81
124
54-82623
NO PHOTOS FOUND YET
460.B._.4
37 BA 34
Calgary
CADCI 50799
Apr 81
# in 124
CAR #
Photos
Hull SN
British Number (assigned but not used)
UNEF Number
Known service unit(s)
1981 location
Disposal Order
Disposal Date
Comments
Last Known Owner & location