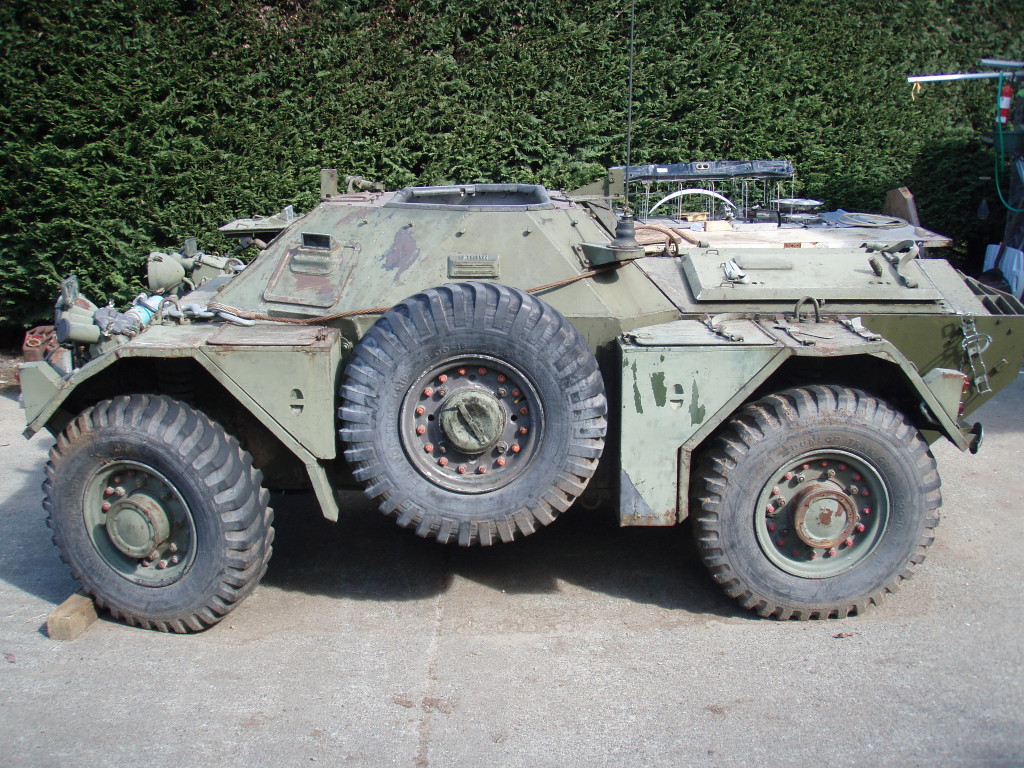 I would usually have one ex-military vehicle at a time, but had to sell one in order to get one.

I have no military vehicles now

and am selling off reference books etc. I still retain a lot on knowledge of these vehicles as I was in the hobby for 40 years. 
Photo
Year
Description
1942
BSA Airborne Bicycle, First Pattern SN R4154 Sold to Colin Kirsch in UK.
1942
BSA Airborne Bicycle, First Pattern SN R6387 sold to Colin Kirsch in UK.
1943?
BSA Airborne Bicycle, Second Pattern sold to Colin Kirsch in UK
1943?
BSA Airborne Bicycle, Second Pattern
1943?
BSA Airborne Bicycle, Second Pattern R34203 sold to a collector in Brazil.
1943?
BSA Airborne Bicycle, Second Pattern
1943?
BSA Airborne Bicycle, Second Pattern
1943?
BSA Airborne Bicycle, Second Pattern
1943?
BSA Airborne Bicycle, Second Pattern
1943?
BSA Airborne Bicycle, Second Pattern
1943
Welbike MK. II
Serial number 1253. WD number not known. Used by Shriners in California after WWII and painted blue.

1943
Welbike MK. II
1943
Welbike MK. II SN 2348 I STILL OWN THIS ONE.
1942
Willys W-LU 440-M-PERS-1 SN MB119021



1942
Willys W-LU 440-M-PERS-1 SN MB155796 Last reported to be in California.
1942
Willys W-LU 440-M-PERS-1 SN 119446

1942 Willys BRT

1942
Willys MB-BRT MB127345 British contract jeep. Purchased in 2007 from Grant Hopkins of Saanich, BC. He bought it from a fellow on Goudge Island, near where the ferry comes in from Vancouver to Schwartz Bay. Rusty but very original. Has all three seats, radio filter, original gas tank complete with rubber insert to keep items from falling into gas tank well at front edge. Hood is a later one (no wind deflector under the leading edge) and has a hole at the front and centre which suggest that it had a General officer's flag staff fitted. Vehicle had original green paint underneath but is typical of those sent to North Africa in 1942 - some of which were used by the LRDG, SAS and PPA.

Willys MB 1121 as it arrived in Canada, exactly as it left the Norwegian Army in 1985.





Colin Stevens with this MB jeep at a Battle of Britain Parade.

1944
Willys MB USA Reg. # 20737814, British WD census number not known; Norwegian Registration Number 5583. VIN VDN-1121 (renumbered by the Norwegians.) Served in Norwegian army Engineers and Haerens Vapenstekniske Korps (Aermy Weapons and Technical Corps) in Oslo. Sold surplus at Voss in 1985. Sold to Atlantic Automotive in UK, then to Brian Wood in Vancouver. I bought it in 1996.
1943
Ford GPW


1943
1943 GPW109582 used at Suffield Experimental Station, Defence Research Board in Alberta.



1942
1942 GPA amphibious jeep, SN GPA4545, one of only two then known to be in Canada. Like "Half-Safe" it had been modified for world travel. It travelled from Toronto to Panama, stopping at the Alamo in Texas and the pyramids at Tikal, Guatemala.
194?
MBT trailer
1953
M100CDN trailer ex-Seaforth Highlanders of Canada
1951?
M100 trailer U.S.
1940
Ford F-8
1941
Ford F-8 found in a junk yard, Surrey, B.C.
1941
Ford F-8 found on one of the Gulf Islands, B.C.
1941
Ford F-8 Found in a farmer's field in Estevan, SK
1943
Chevrolet C-15 ex-British Army ORIGINAL WD census number Z5453378
1943
Chevrolet C-15A
194_
Chevrolet C-60L One-third ownership.

Frrrt Scout Car MK. I CAR 54-82598

1954
Ferret Scout Car Canadian Army Registration Number 54-82598. This Ferret had served at Combat Arms School. It is now in Edmonton.
1952
M38CDN 52-30934 ex-Seaforth Highlanders of Canada
1952
M38 CDN


1967
M38A1 CDN2 67-__995