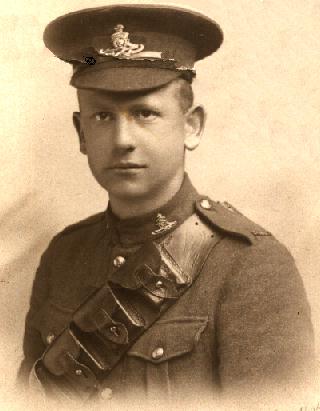 The first thing you try to do is identify the person. I shall use my mother's father as an example, Harold Harty HEAKES.  As it is a rare name, I can just type in

HEAKES

. The search brings up a list of people of that name – Result: Personnel Records of the First World War. Only three HEAKES people show up, all related, and Harold's brother Francis Vernon is listed in two files. 
Click on the person's name in the list, in this case HEAKES, HAROLD HARTY You need to check the given names, birth date, regimental number and home towns to be sure that you have the right " Harold Harty HEAKES." World War I medals usually have the regimental number, rank, initials, name and unit on the edge or occasionally on the back. You can search quickly if you know the regimental number and it should be unique or nearly so.  His regimental number was 2341470.
Then see the first of two pages of their attestation record. This was the document that everyone signed when they joined up. You may click on and view the front and back images. Here you can verify if it is the right "Harold Harty HEAKES"
Then do not miss at the bottom centre where it says "Digitized service file – PDF format:" Click on the number to the right of the download icon. It may take a few minutes, but it will download PDF showing a scan of EVERY single document in that person's military record!  In his case the number is B4207-S004