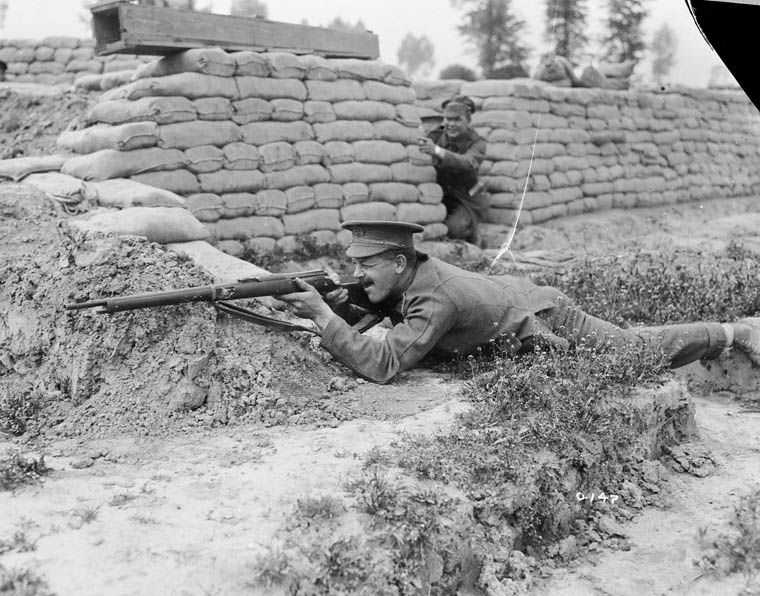 Canadian Official War Photographs of the Great War, now known as World War I (WWI), provide an important resource in studying this part of history.
Although the images are often reused in books and web sites, the original file number and original caption are often omitted or changed. As well, if one finds the photo with a file number in a bottom corner, there is often no caption or a caption which could not be verified easily. The images below of the INDEX link the original photo numbers to the original captions.
INDEX TO MOST OF THE CANADIAN OFFICIAL WAR PHOTOGRAPHS
Here are scans of the CANADIAN OFFICIAL WAR PHOTOGRAPHS as published in 1928 by the Canadian Infantry Association. As they explained on page 3, there were several "Series" of photos
"O" series (for Overseas presumably although Library and Archivesw Canada says is stands for "Official") in France, Belgium and Germany.
"M" series (for Miscellaneous presumably) taken in England, Canada, and crossing the Atlantic. This includes Royal Flying Corps and Royal Air Force, aircraft photos etc.
"N" Series Naval
"S" series Sports at Inter-Allied Games, Pershing Stadium, Paris, July 1919.
Note that as of 1928, some of the photos were still "CENSORED". Wartime secrecy was not likely a concern, so I suspect that it was photos that showed Allied dead.
The photos had the serial number added in a bottom corner e.g. 0.4704 and the captions are listed numerically within each series in this index.
There are minor errors in the descriptions. For example photo O.3035 shows Brig.-General Odlum examining an "automatic rifle." He and the officers with him ere actually examining a German MP-18 I which was one of the first sub-machine guns. Note the Series number on the lower left hand corner.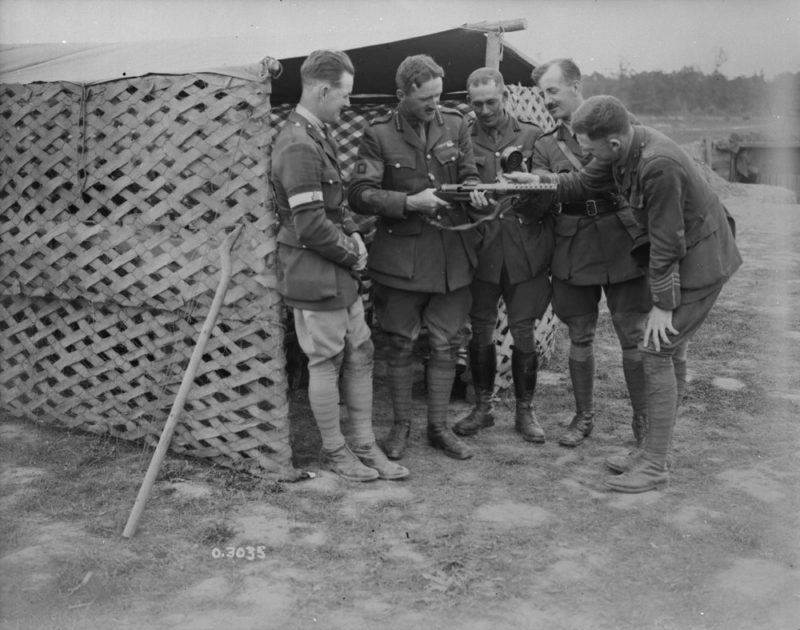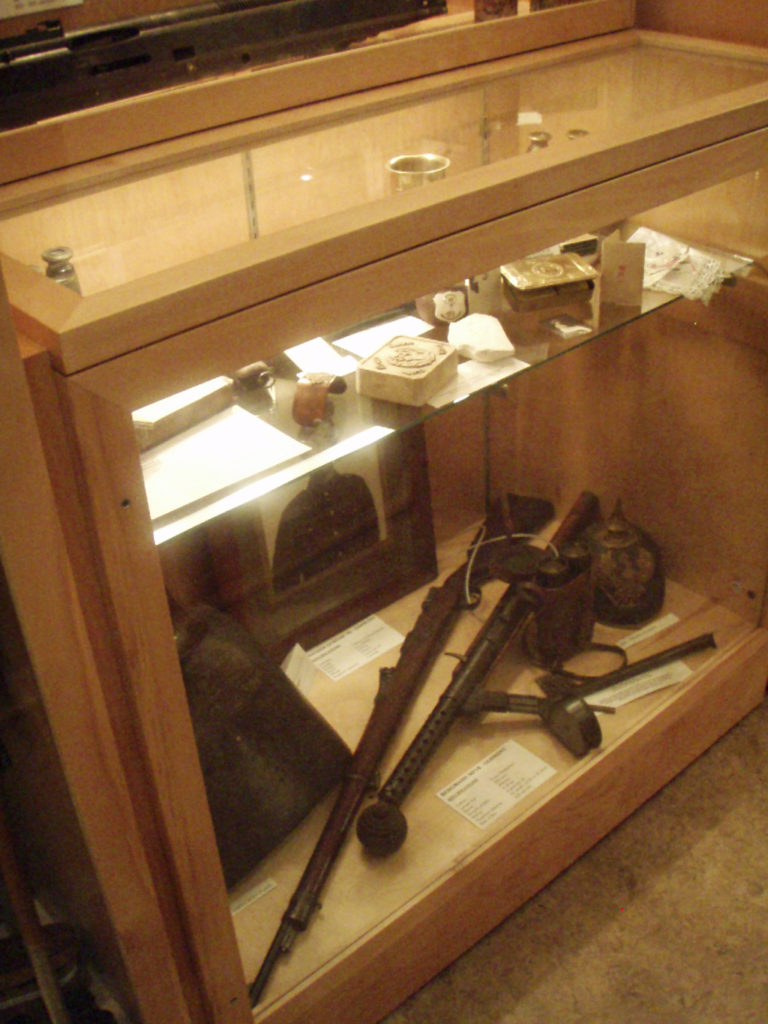 Although the "O" Series are roughly chronological, there are exceptions. If researching a topic or person, check ALL pages. For example the bombing of the Canadian hospital in Etaples, France in May 1918 which resulted in the death of my Great Uncle Private Charles Gordon McKAY of the Canadian Army Medical Corps is represented by photos of bomb damage and of the subsequent funerals. The special interest by photographers there was due to propaganda purposes and general outrage. The hospital was far "behind the lines" and was clearly marked. There were female nurses killed as well as injured soldiers and male hospital staff. e.g. O.4457, O.4704, O.4705 and elsewhere.
p. 001 Canadian Official War Photographs of WWI INDEX – Publisher's information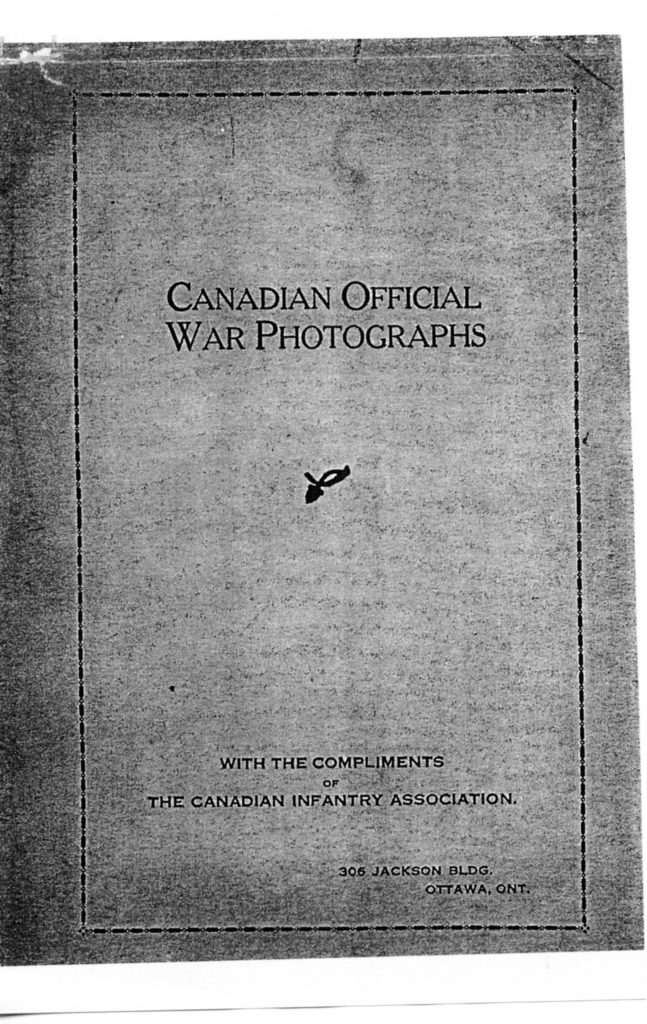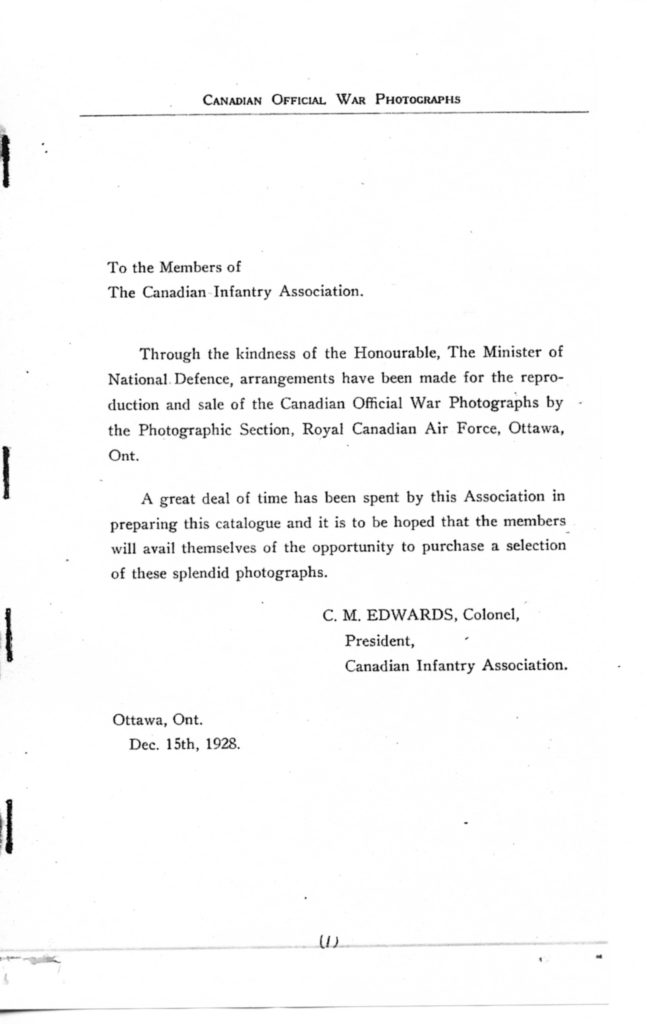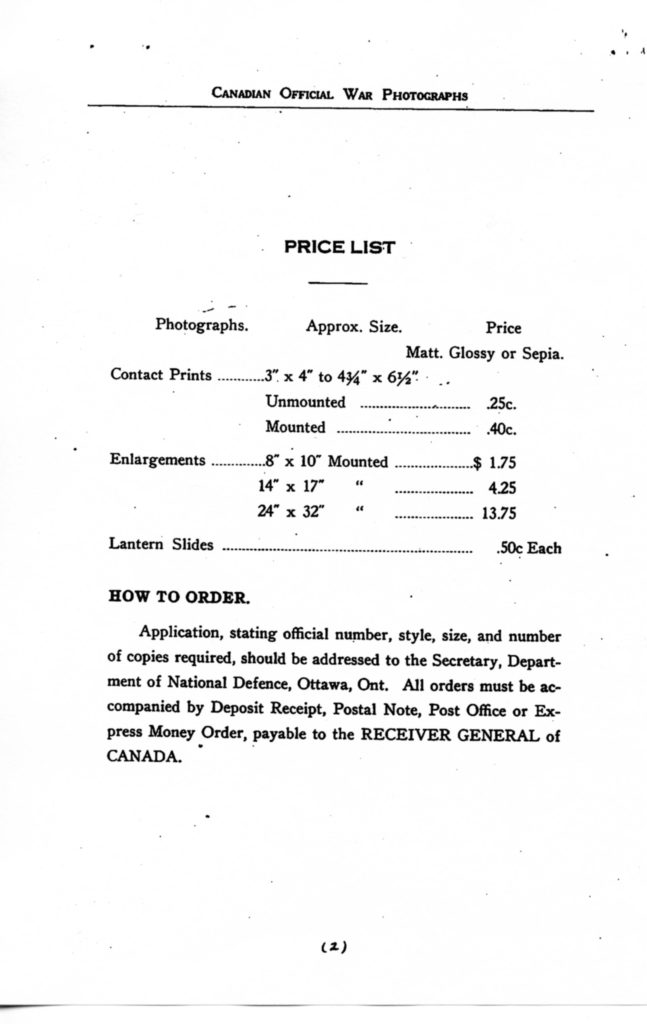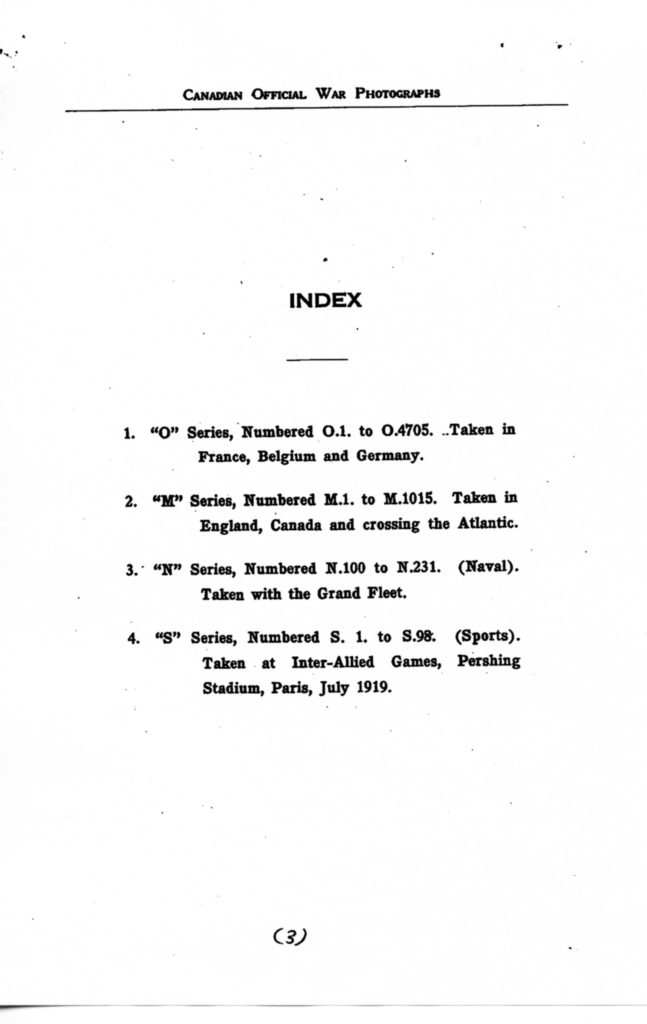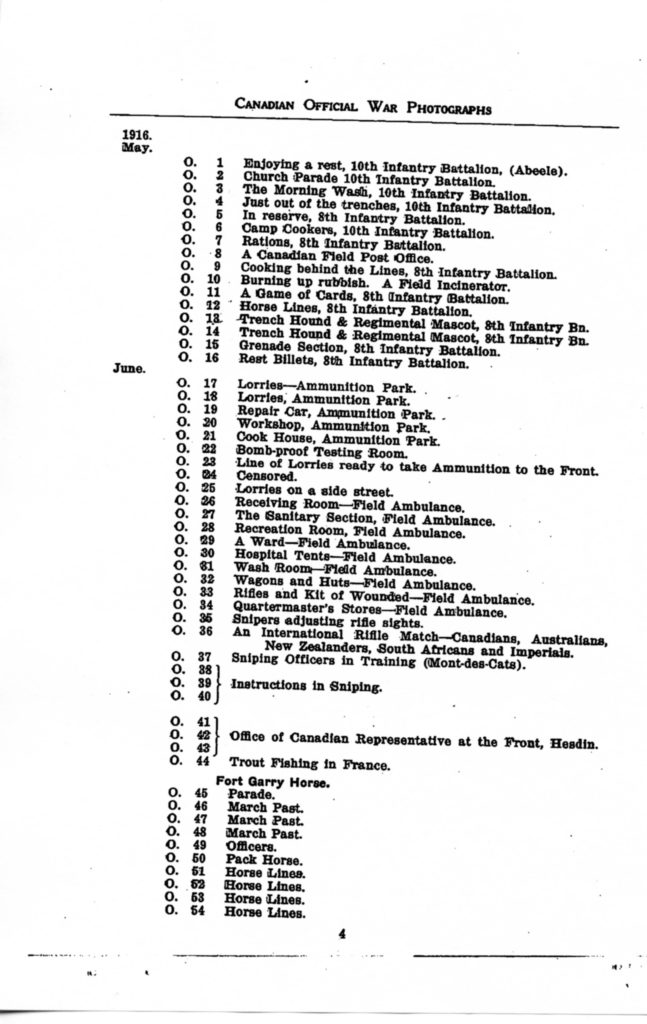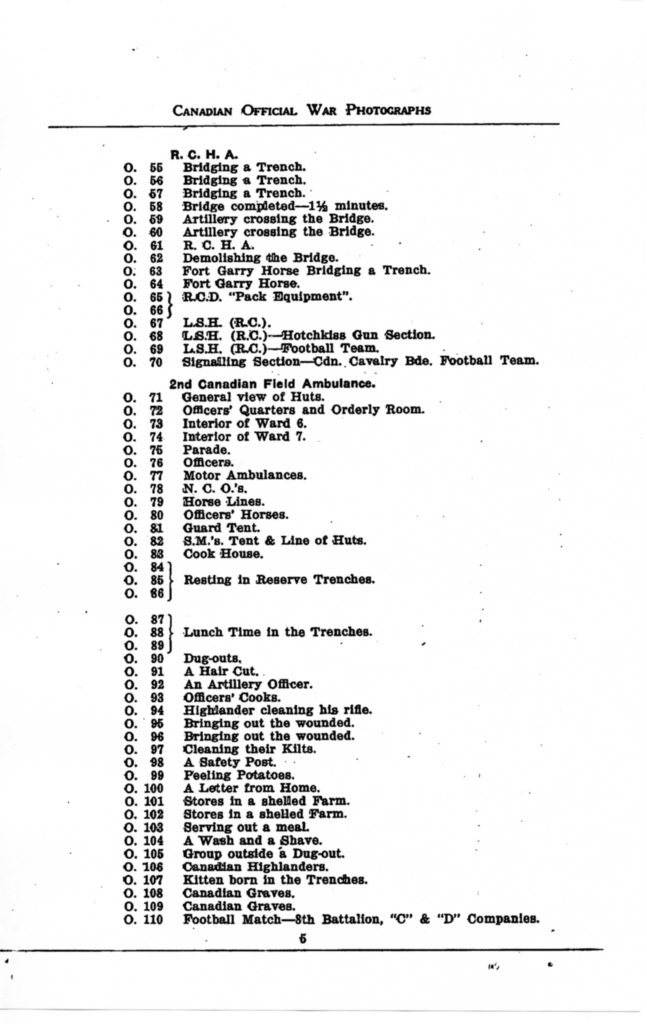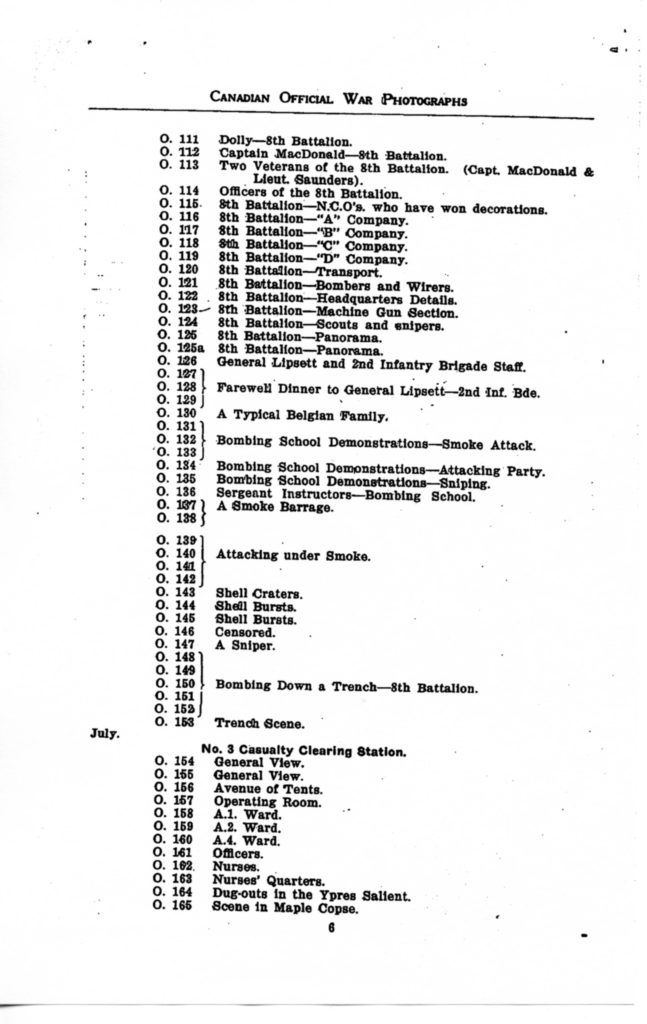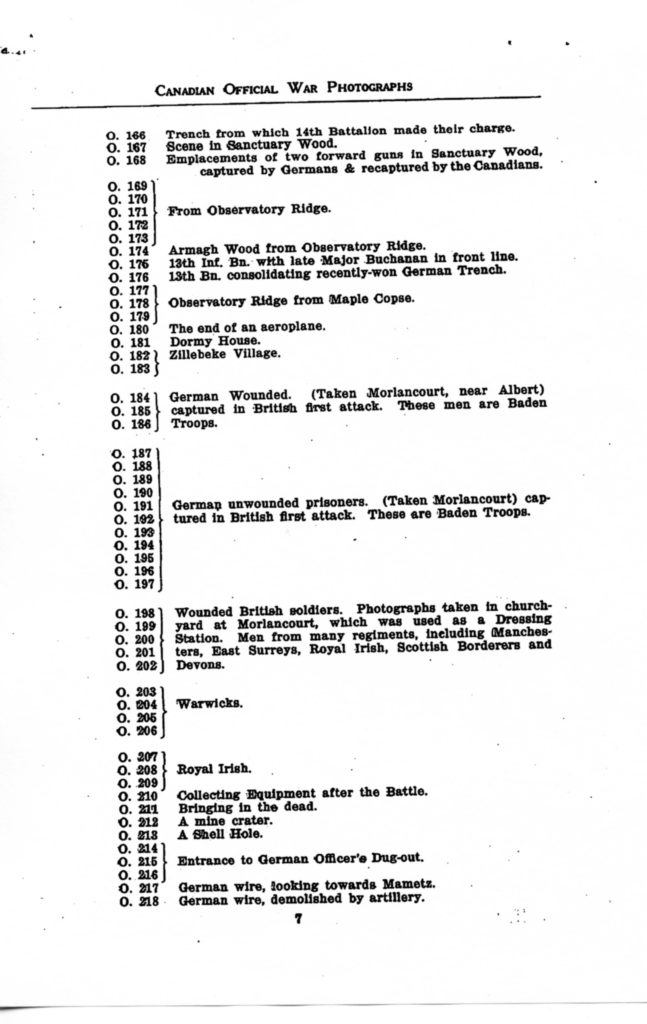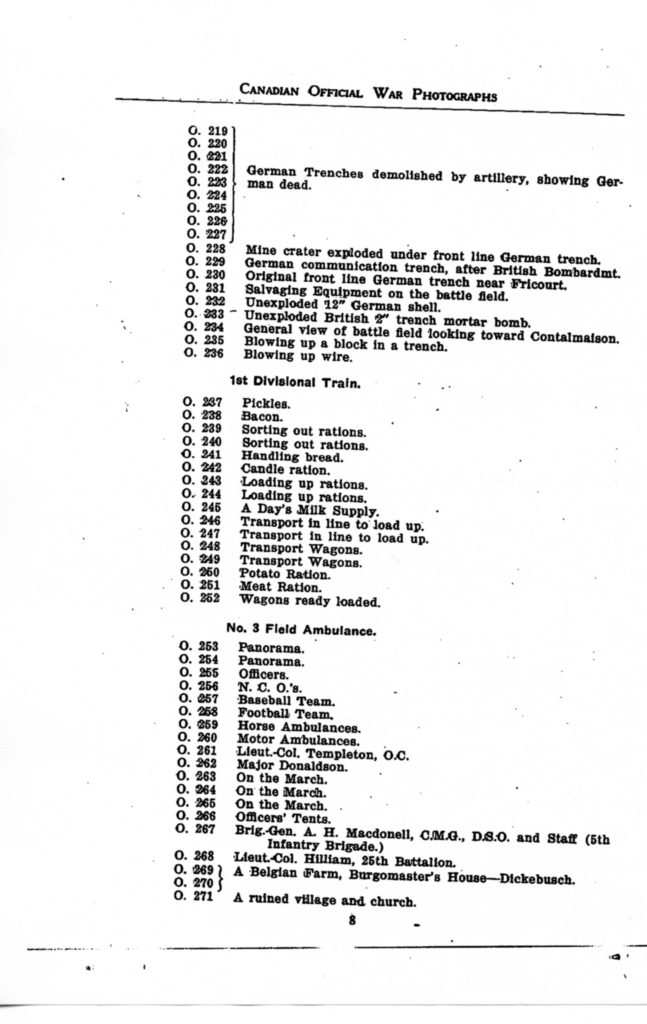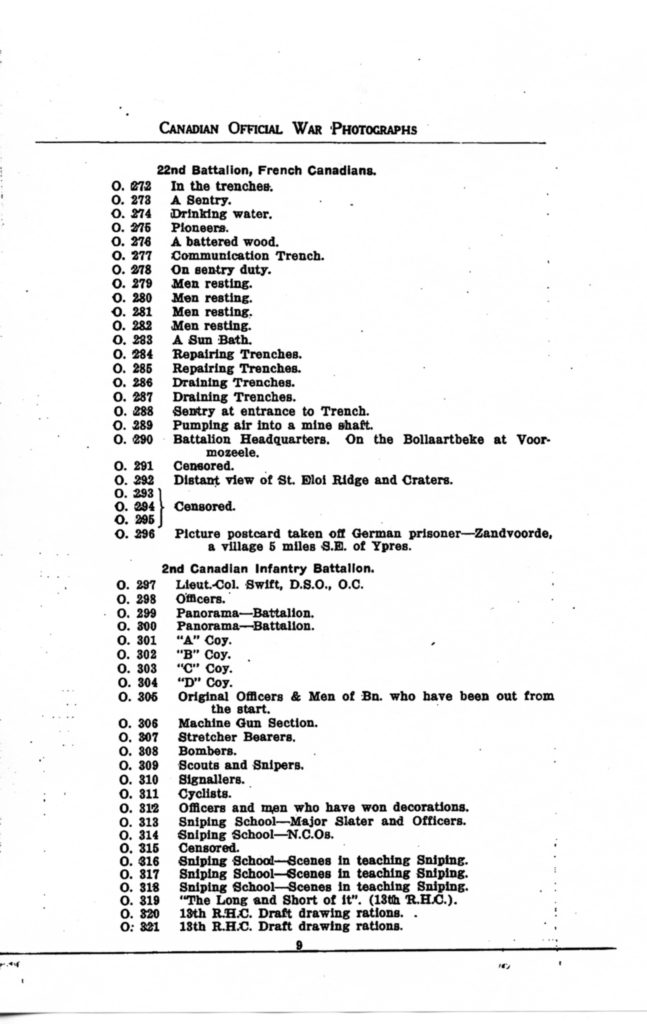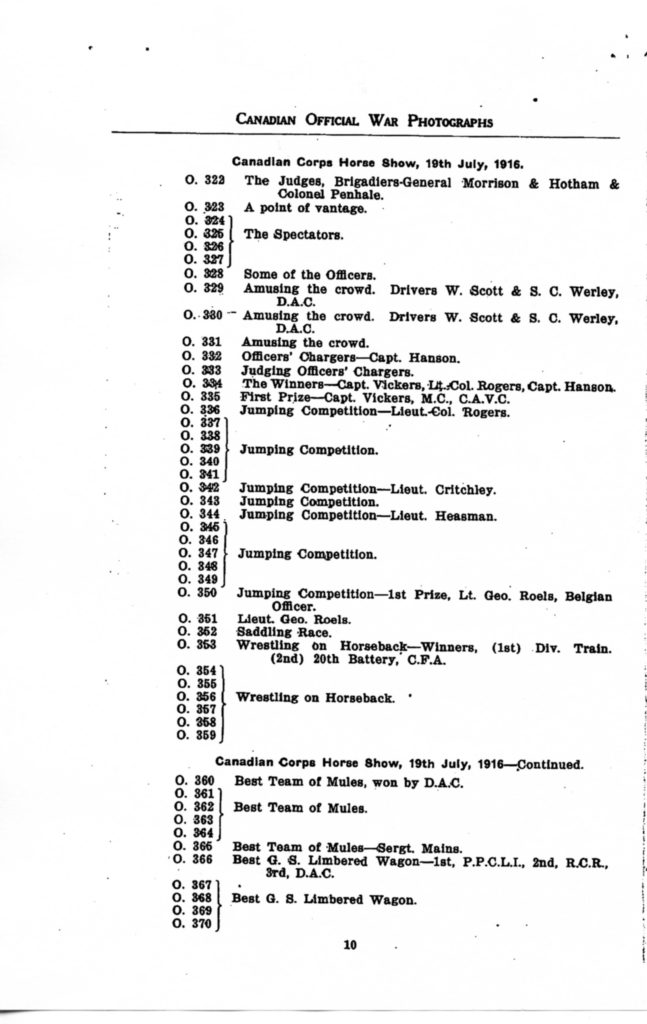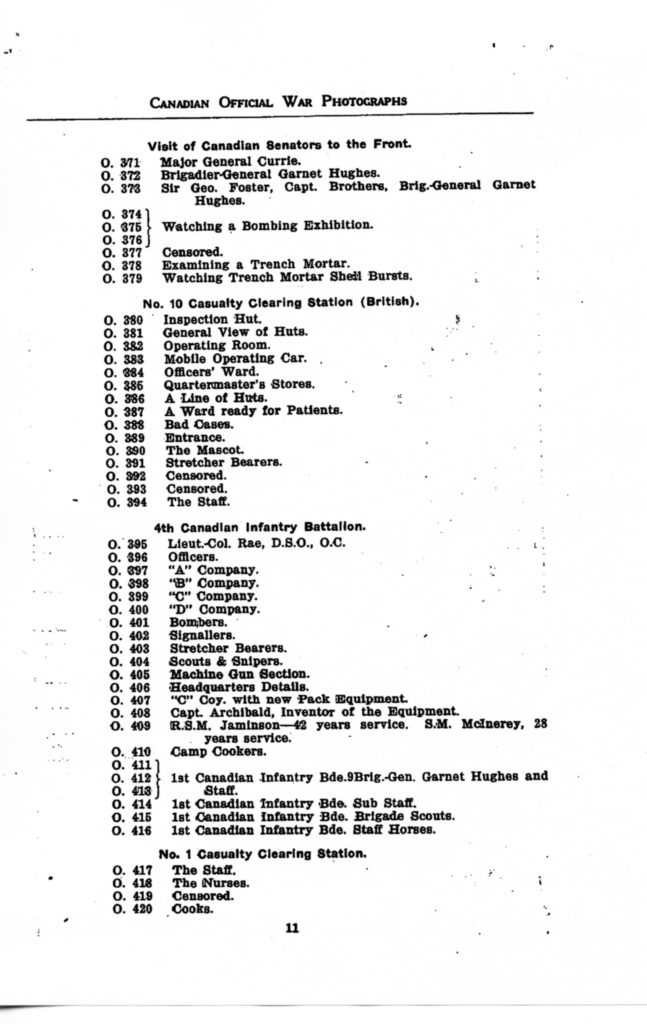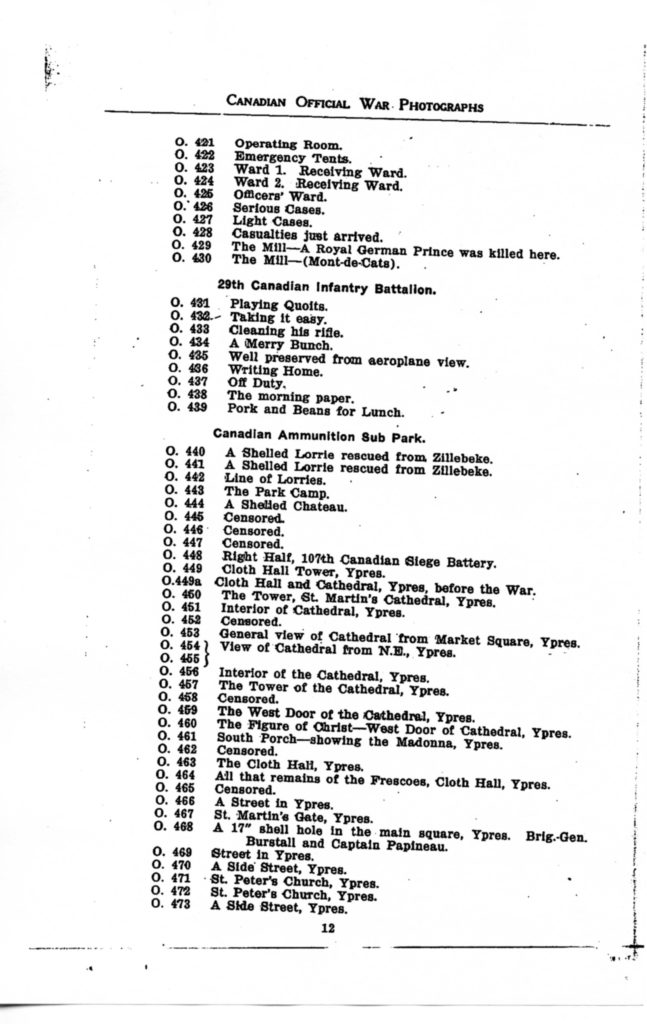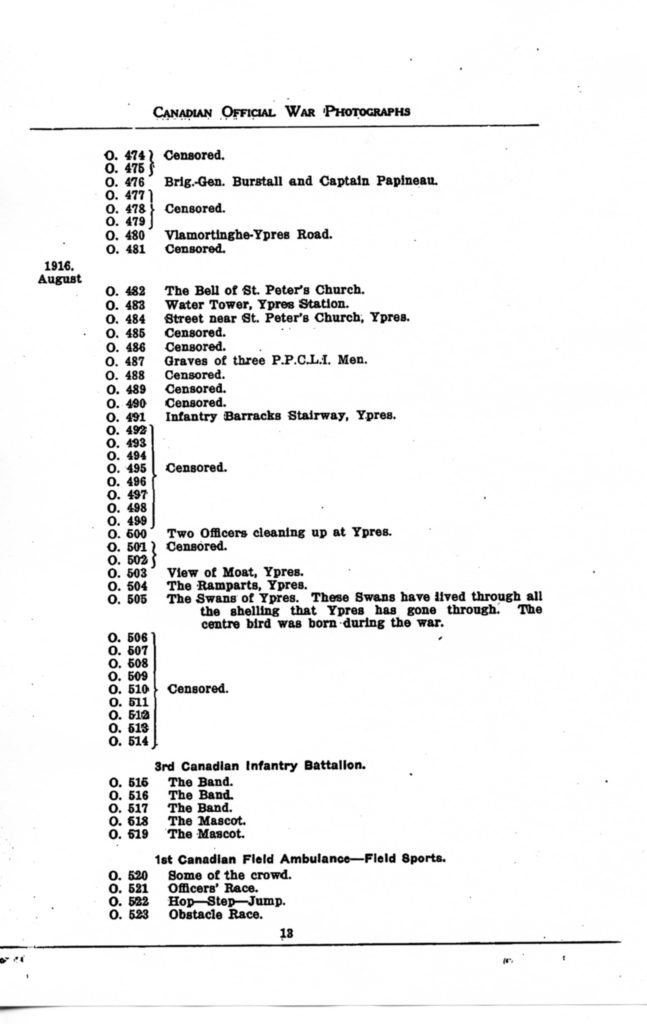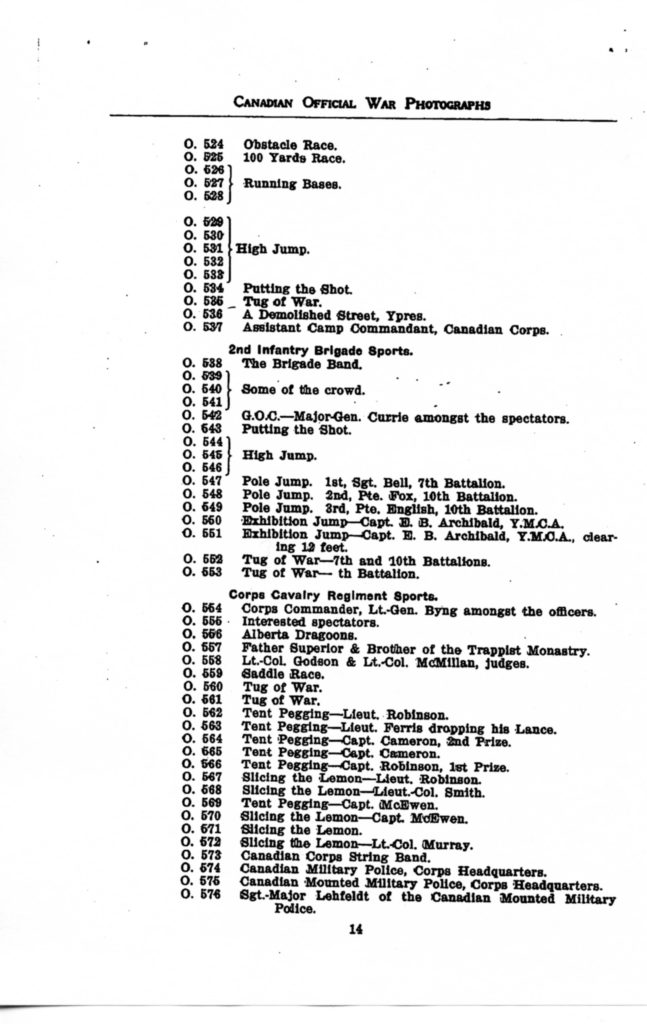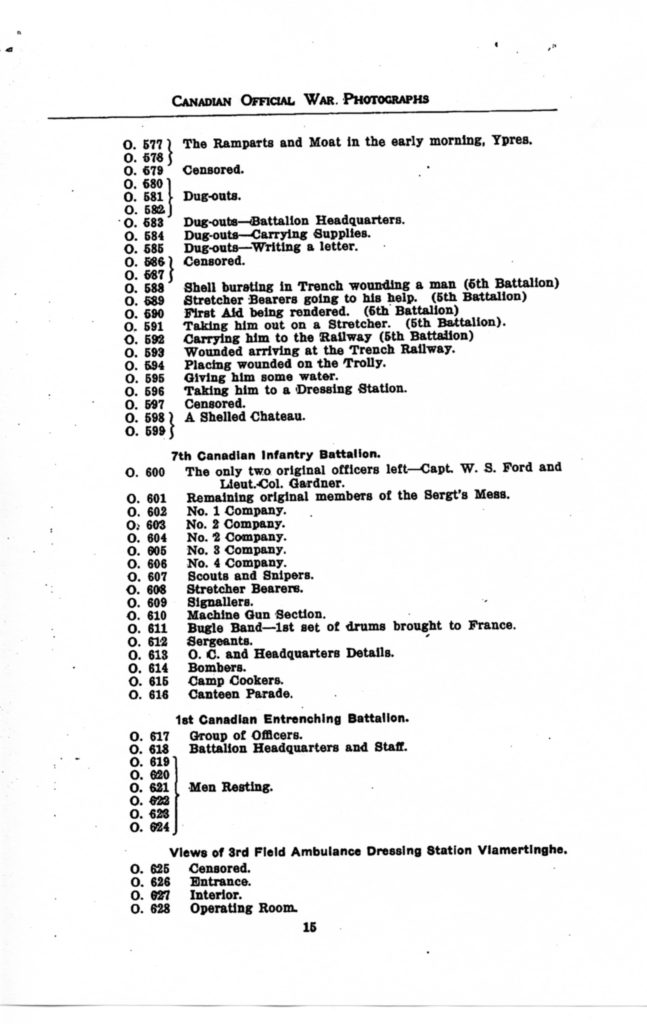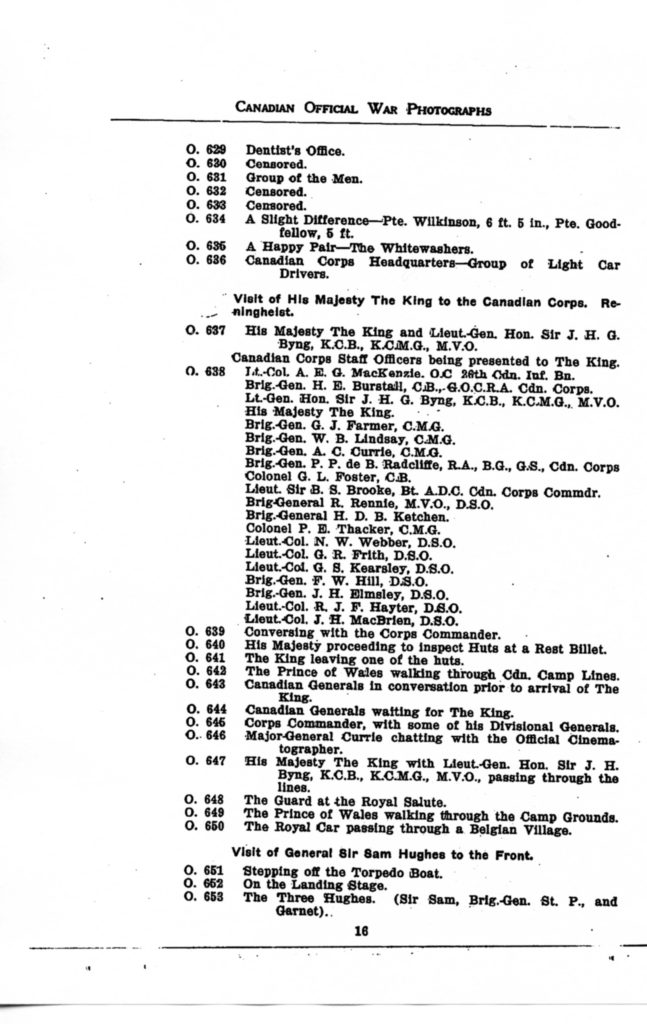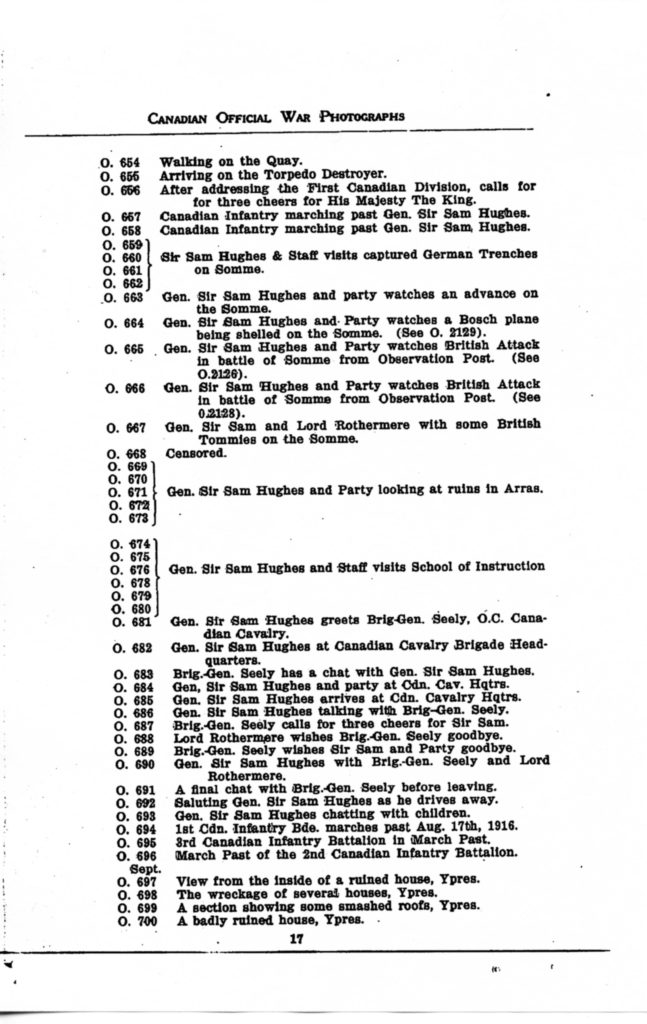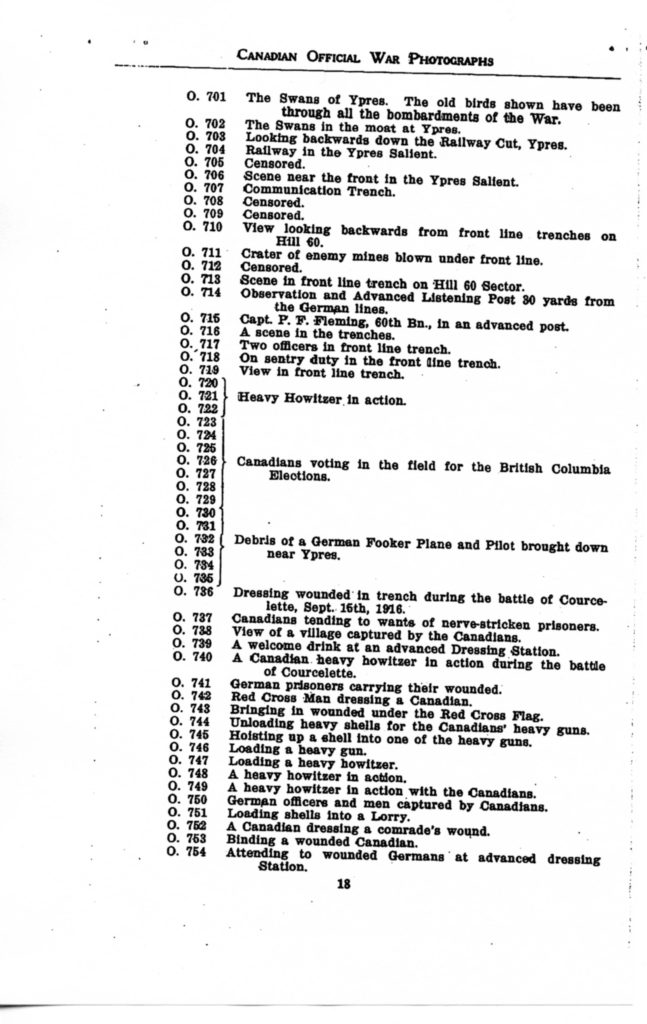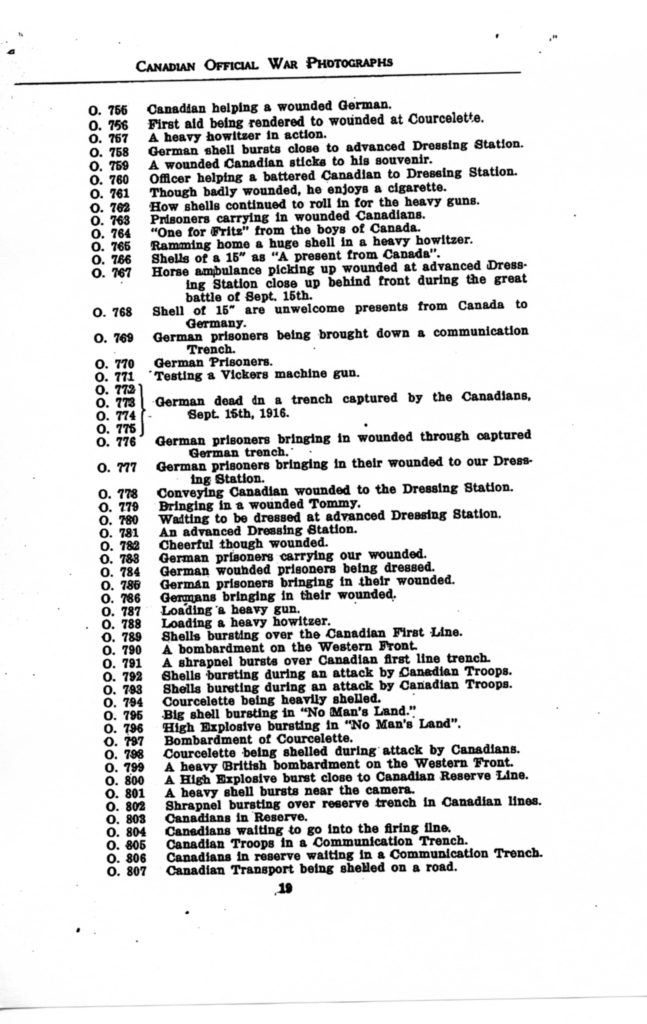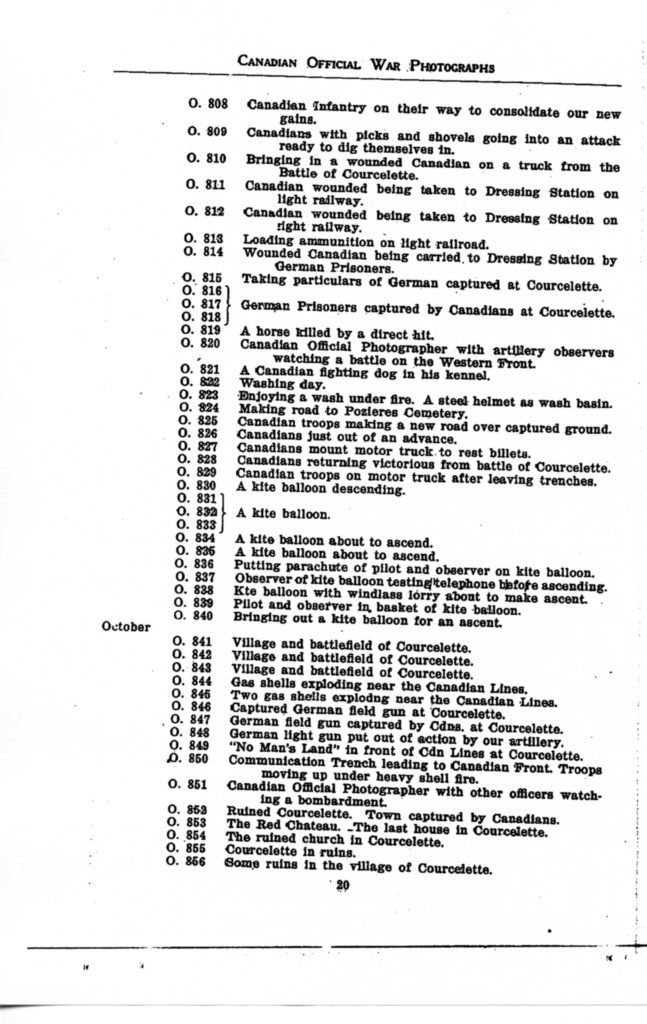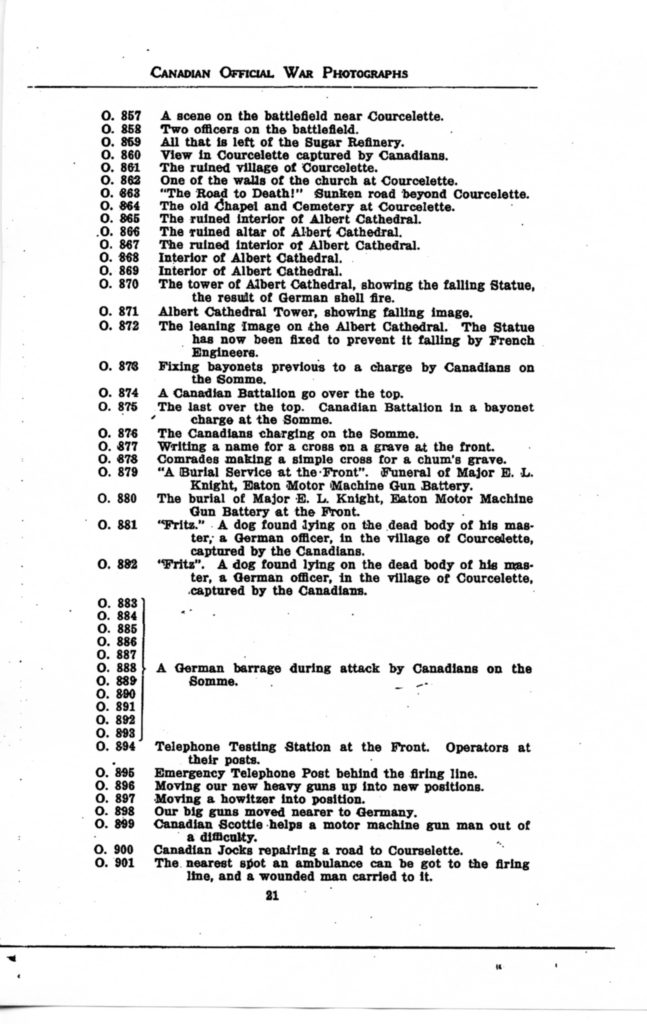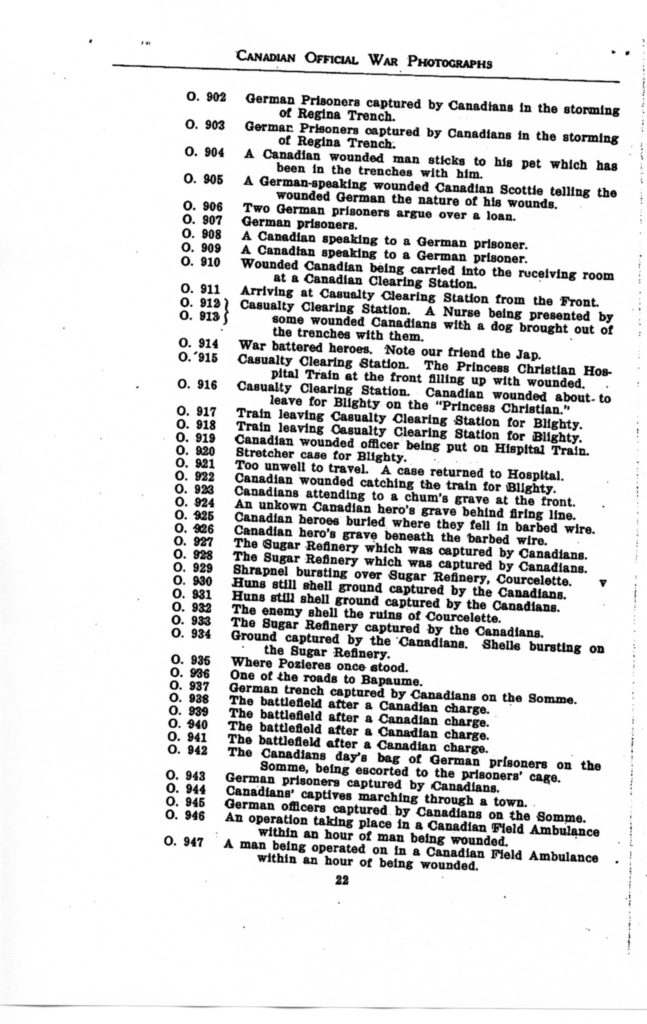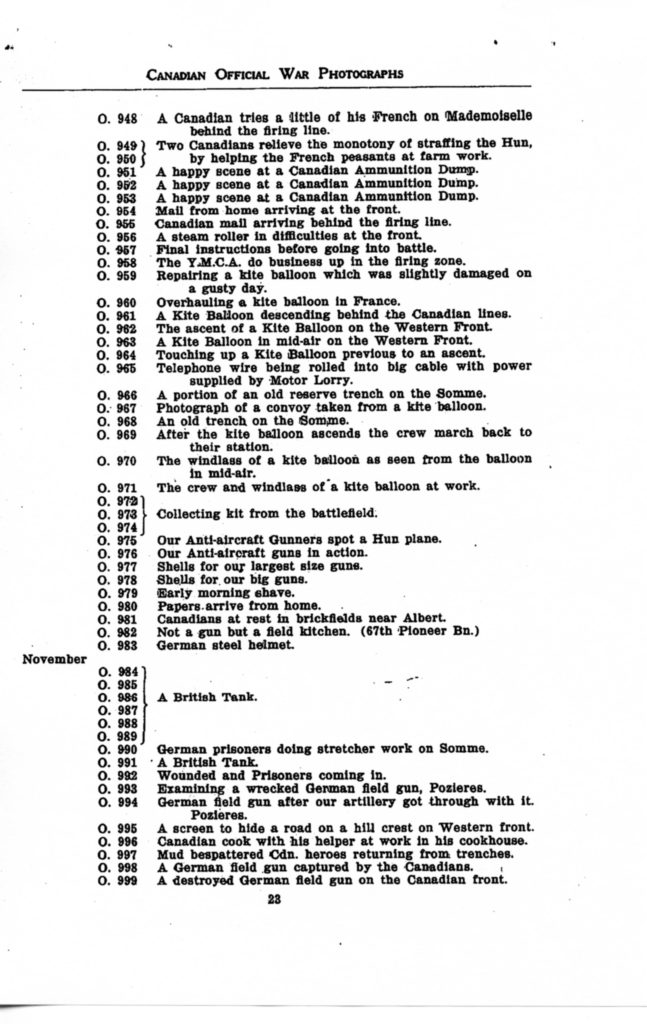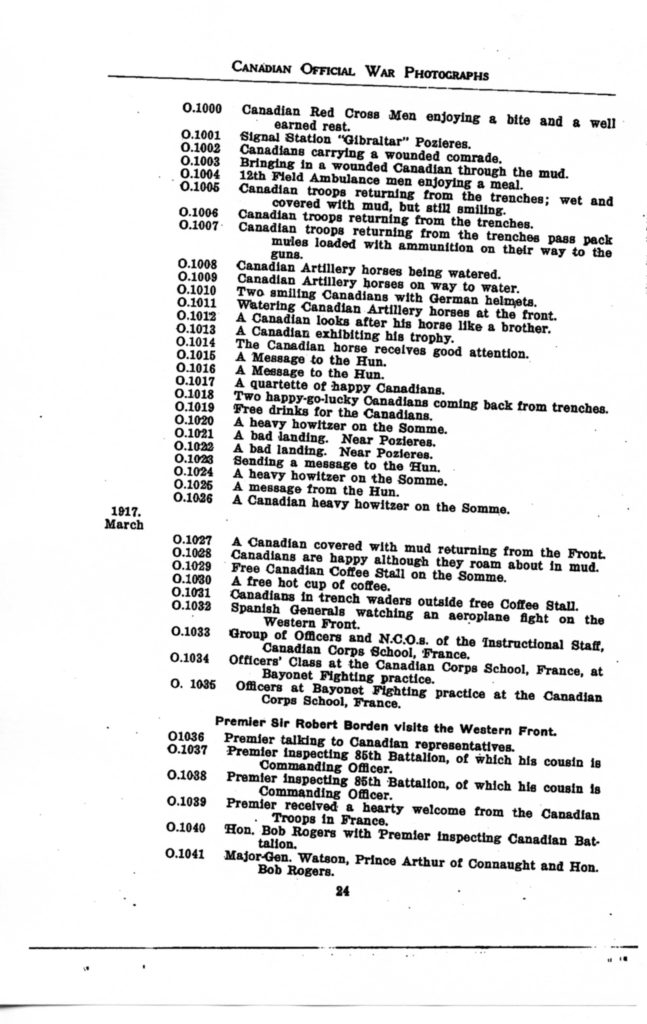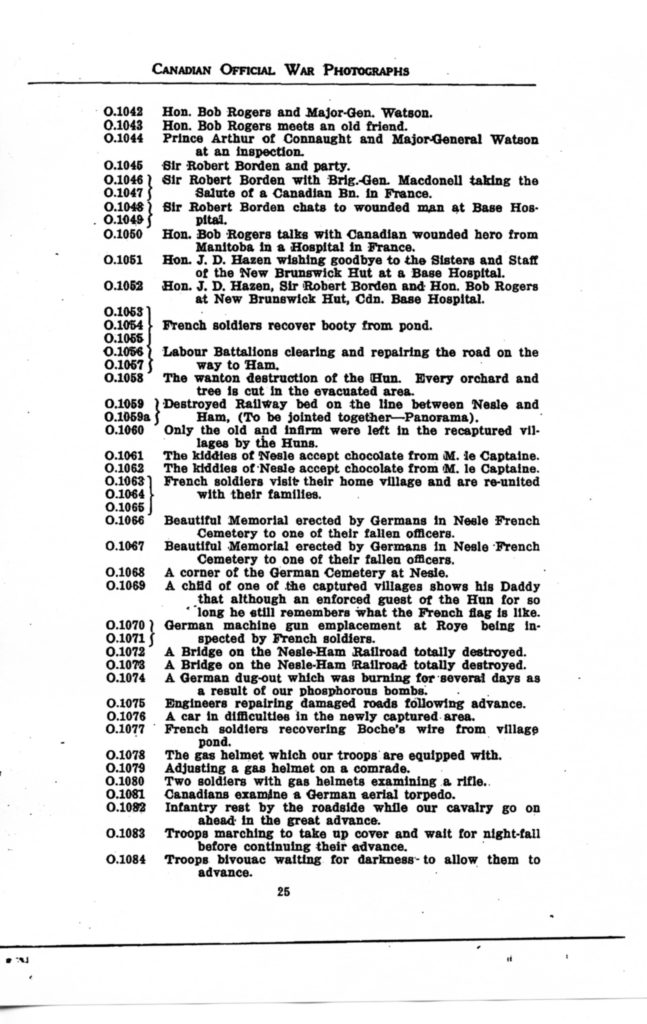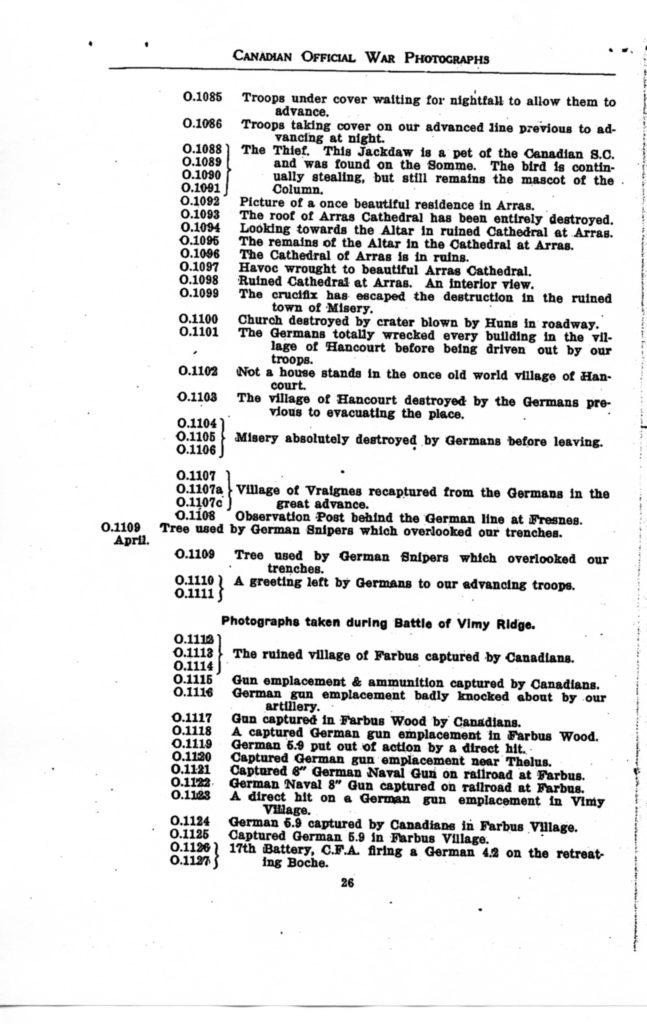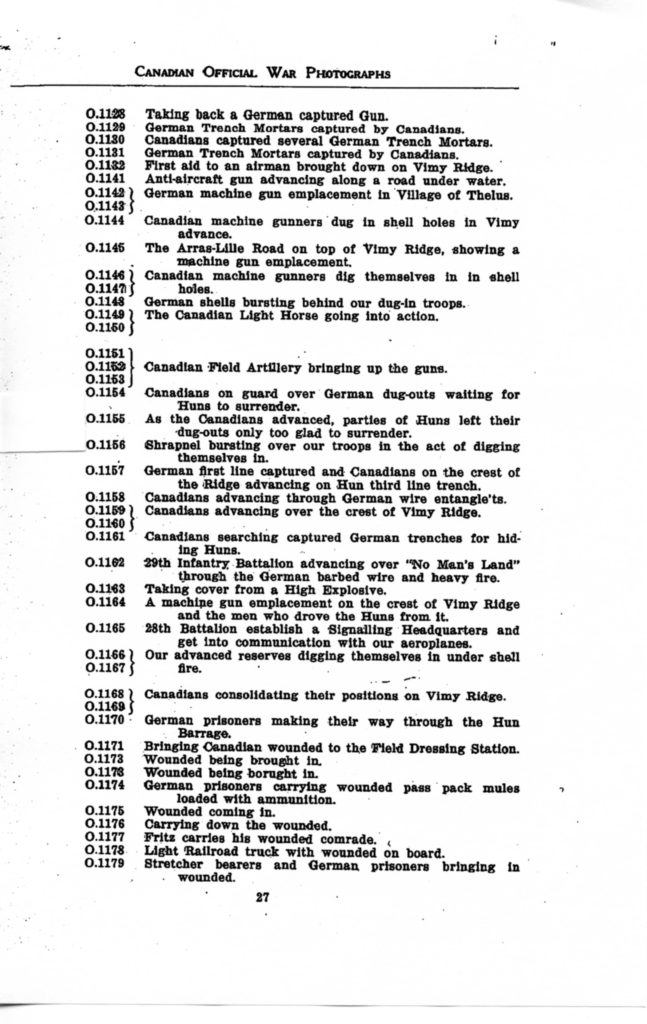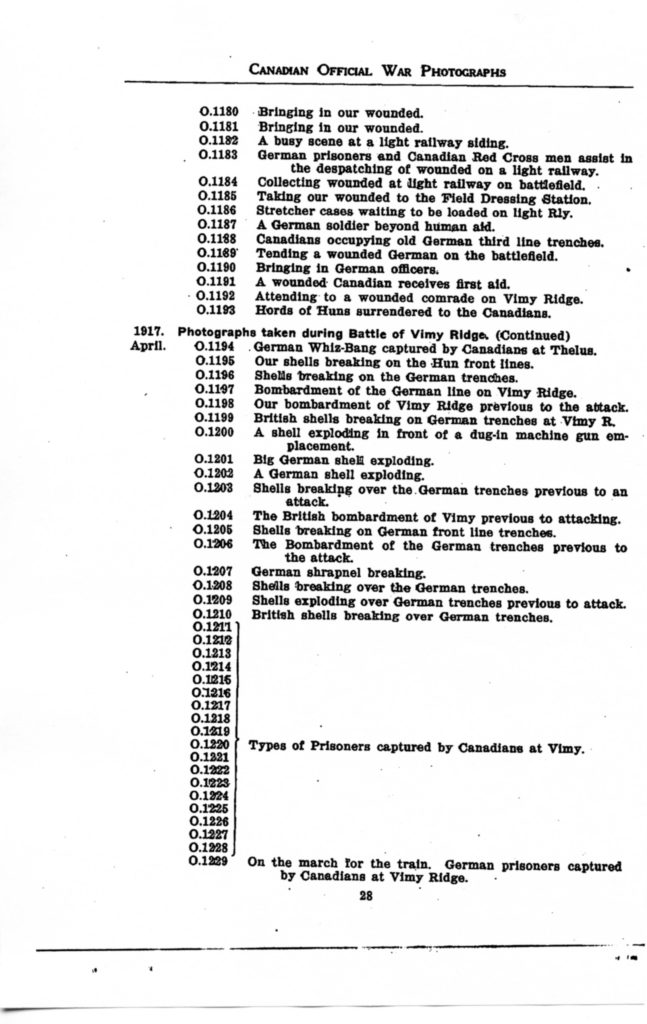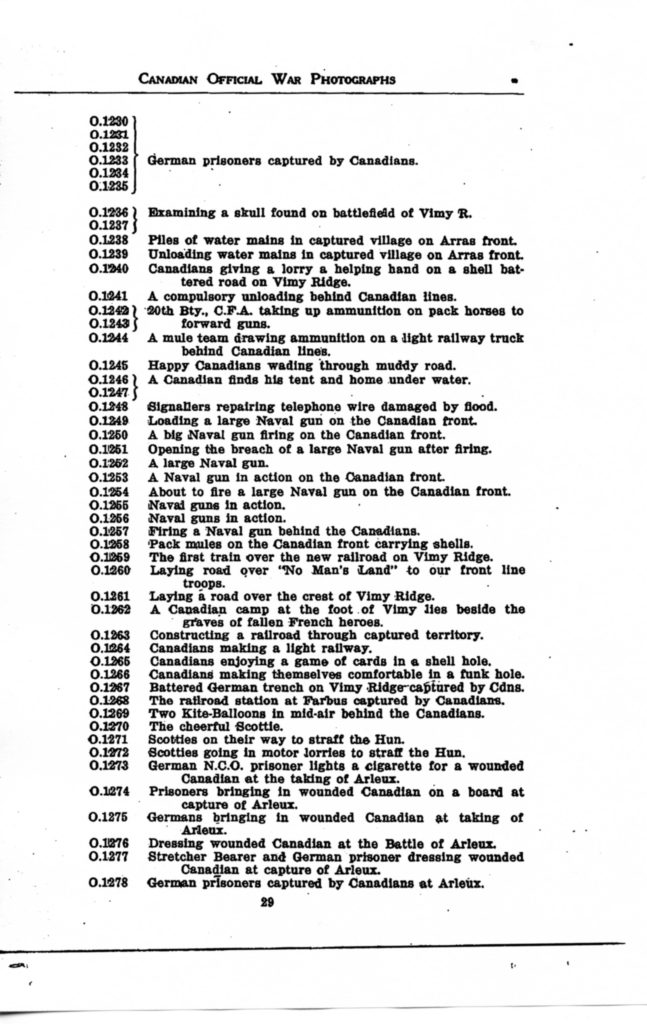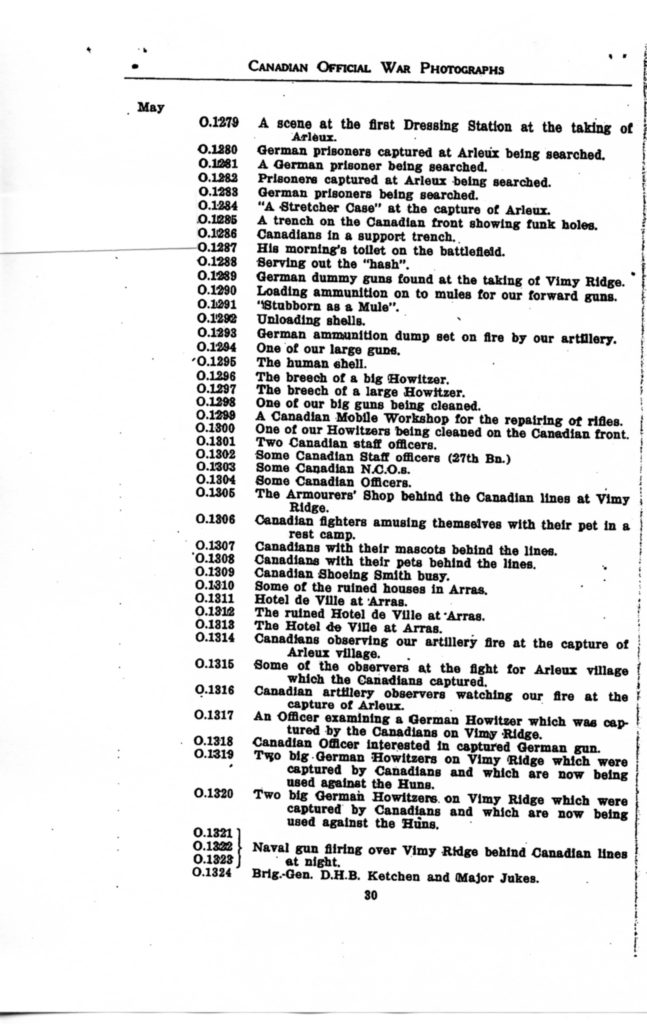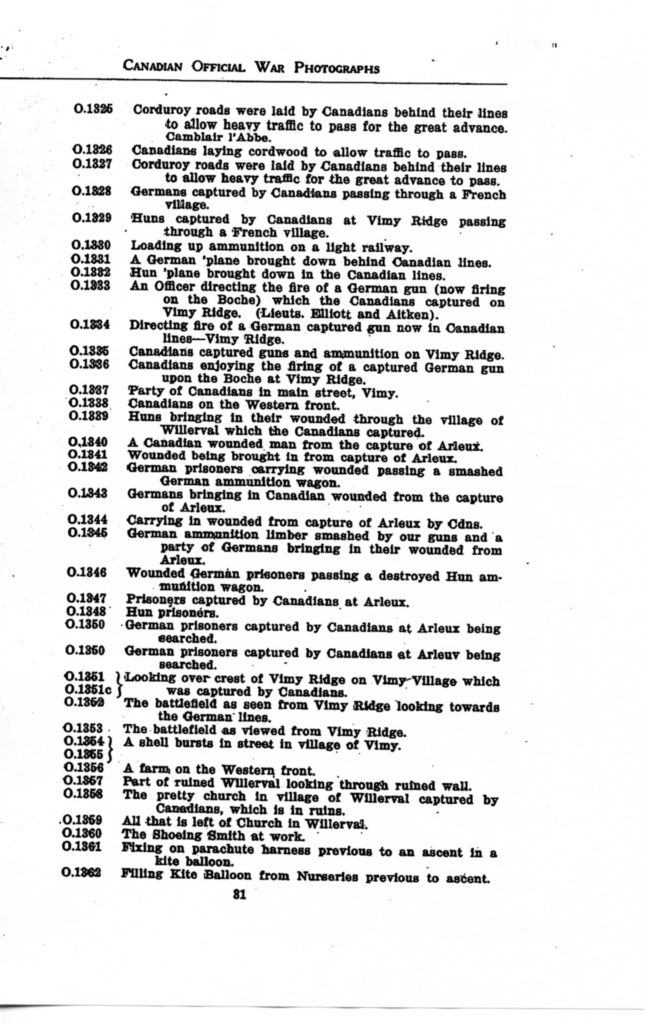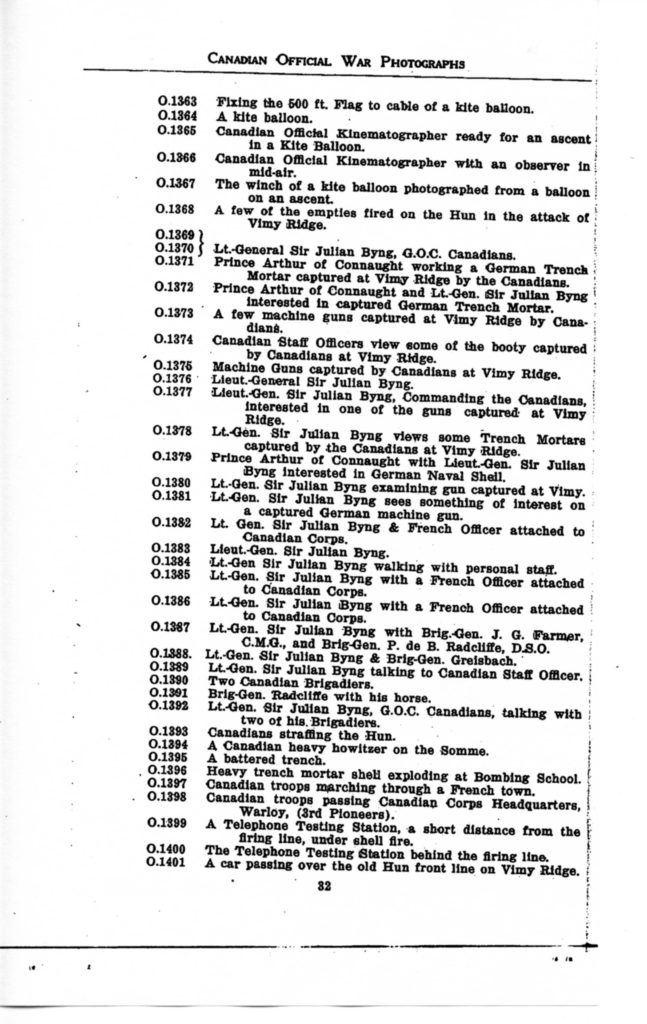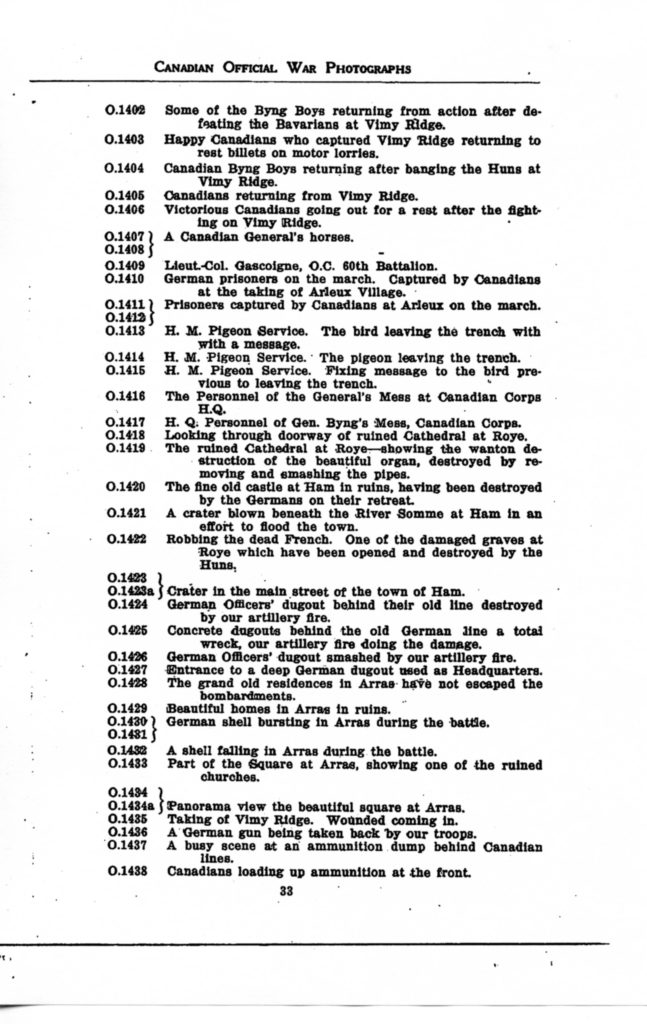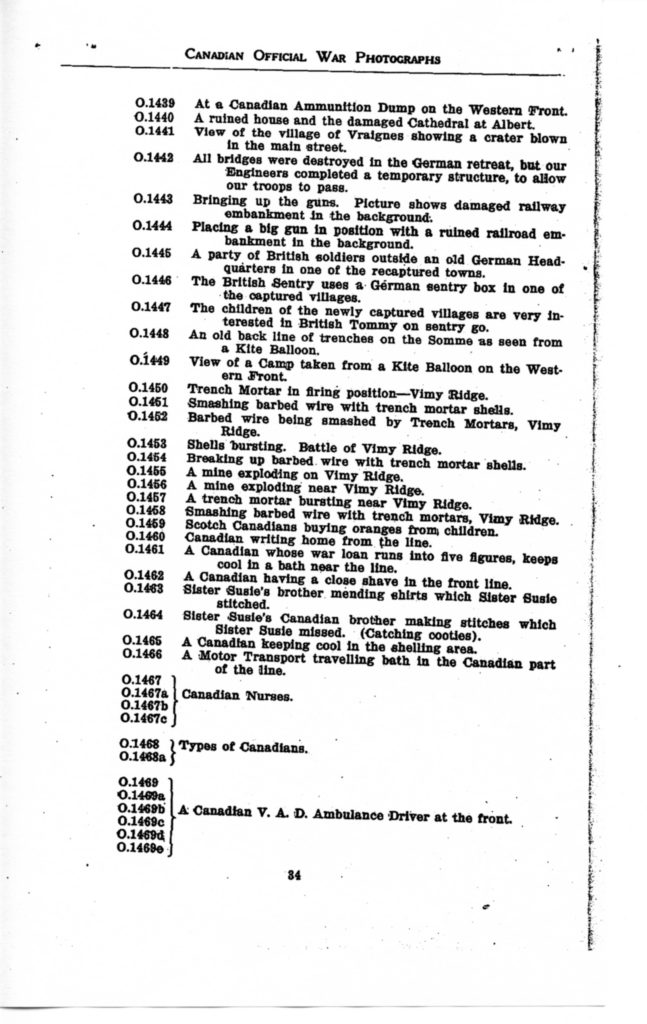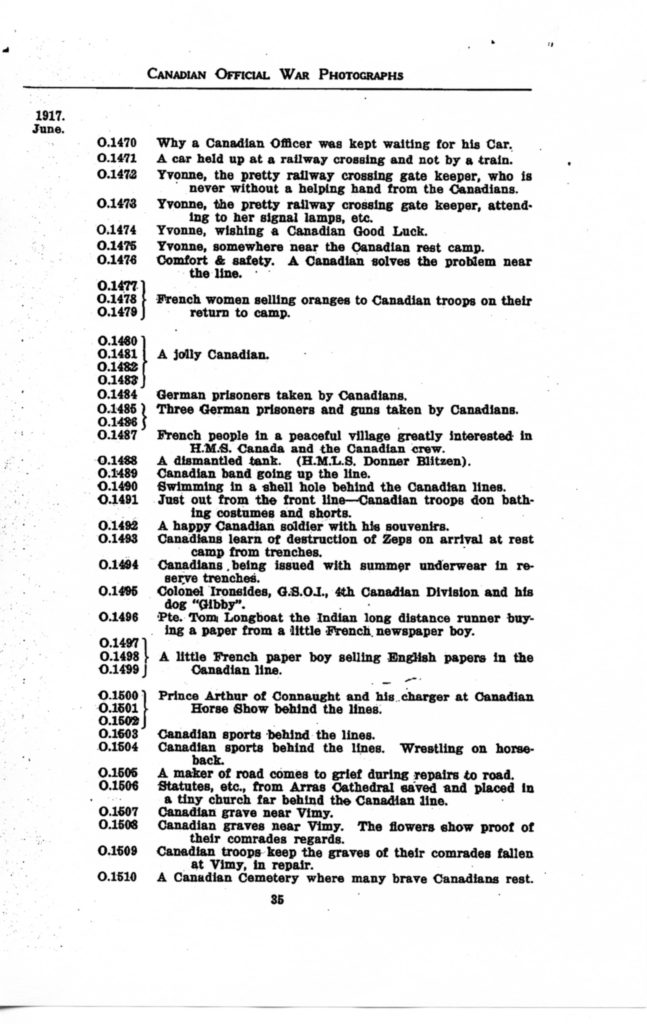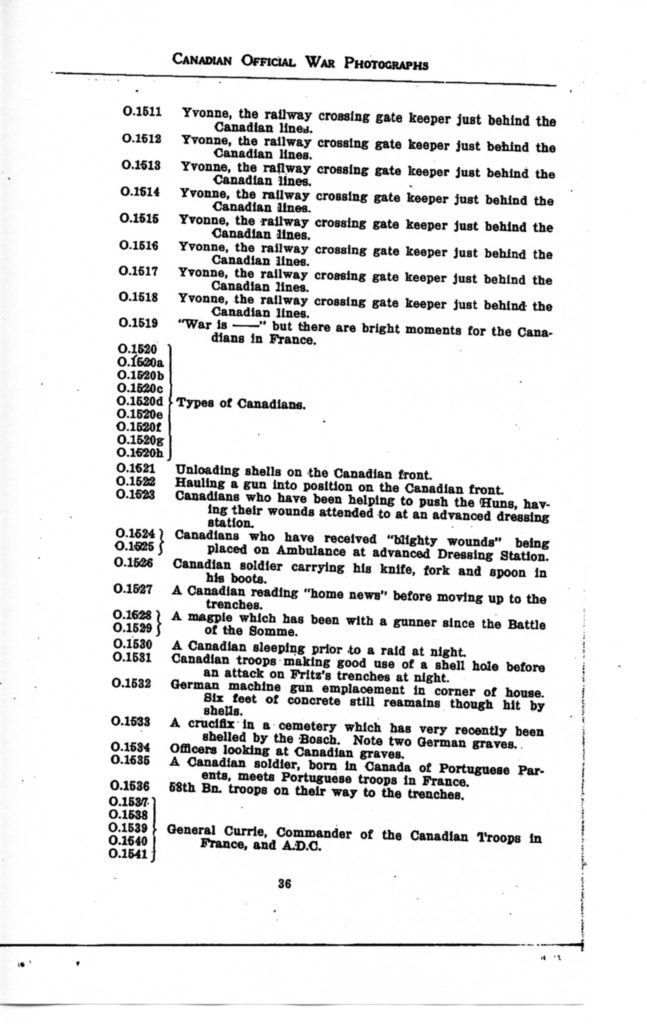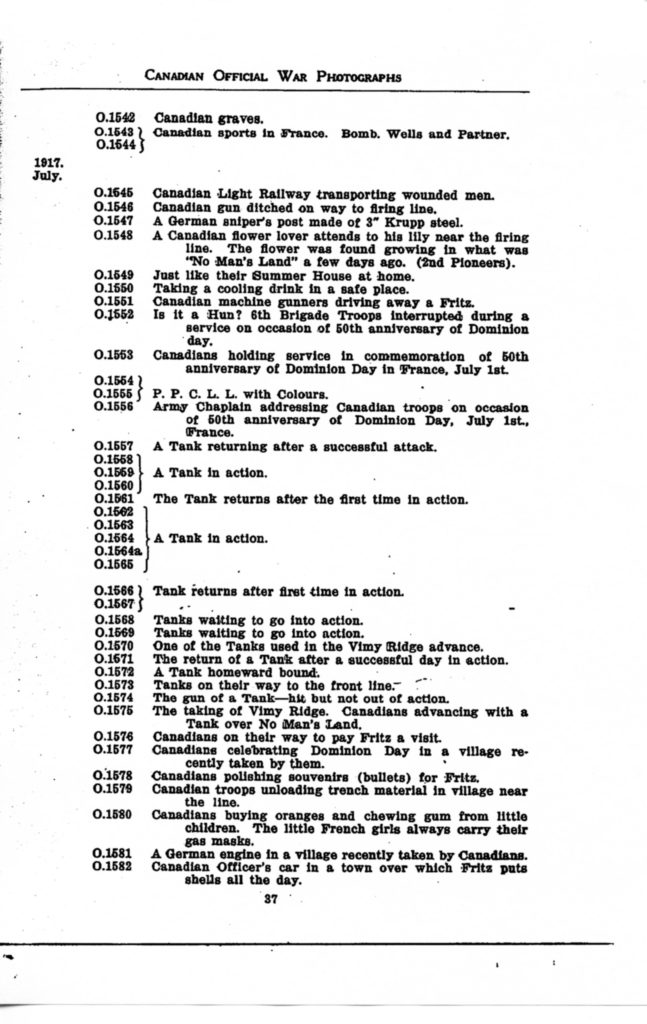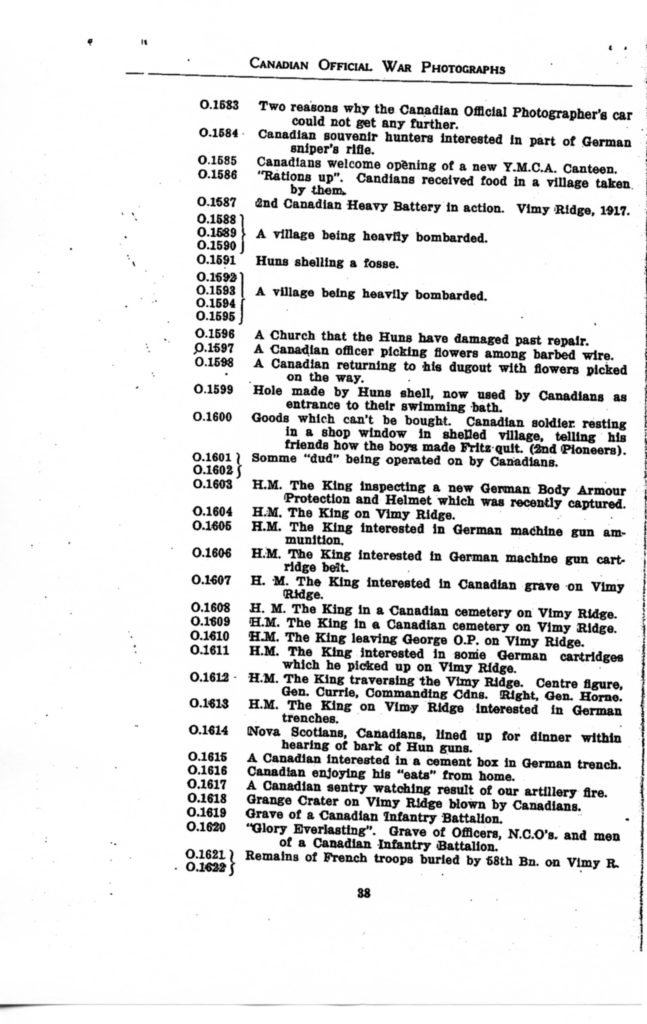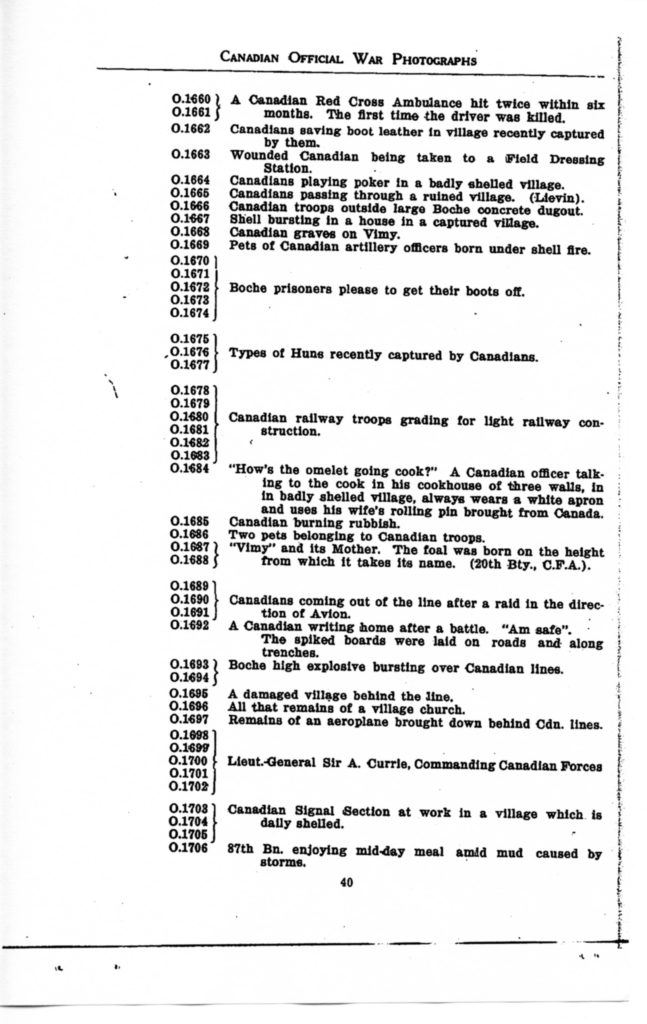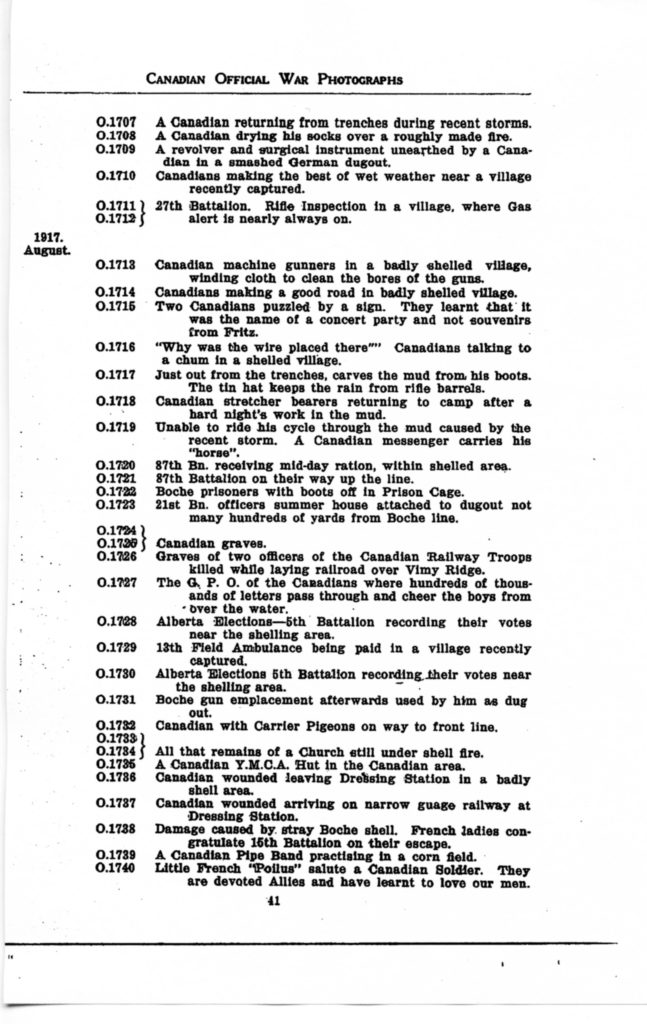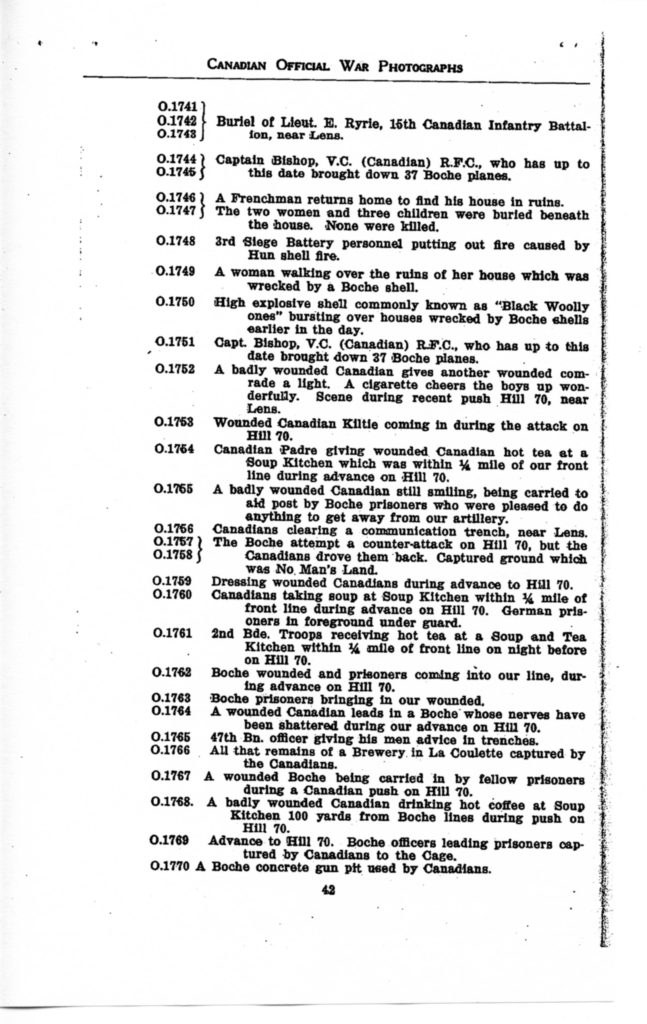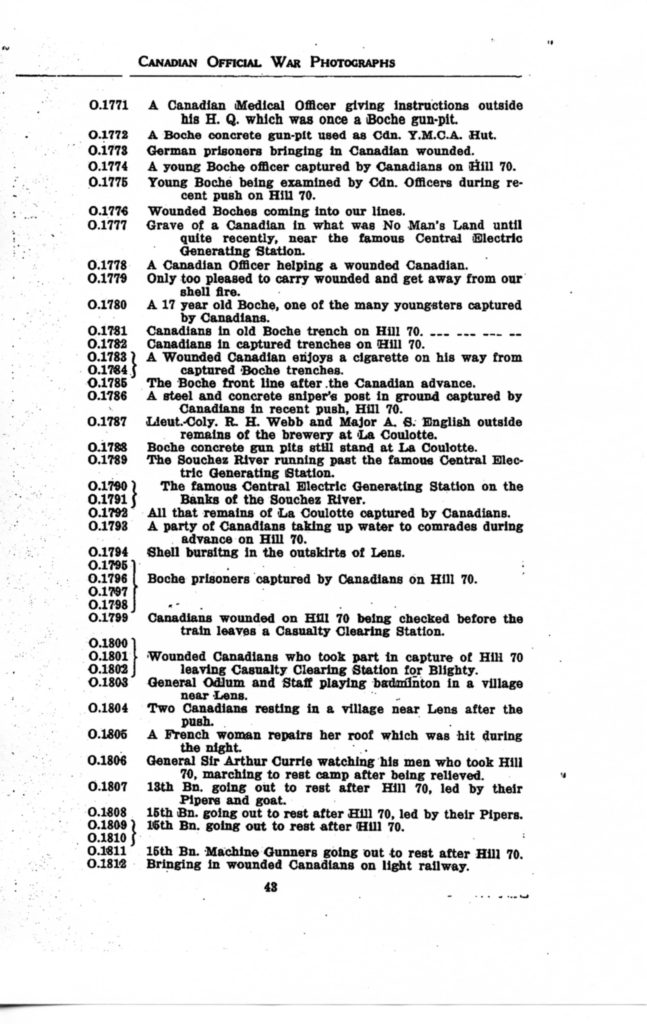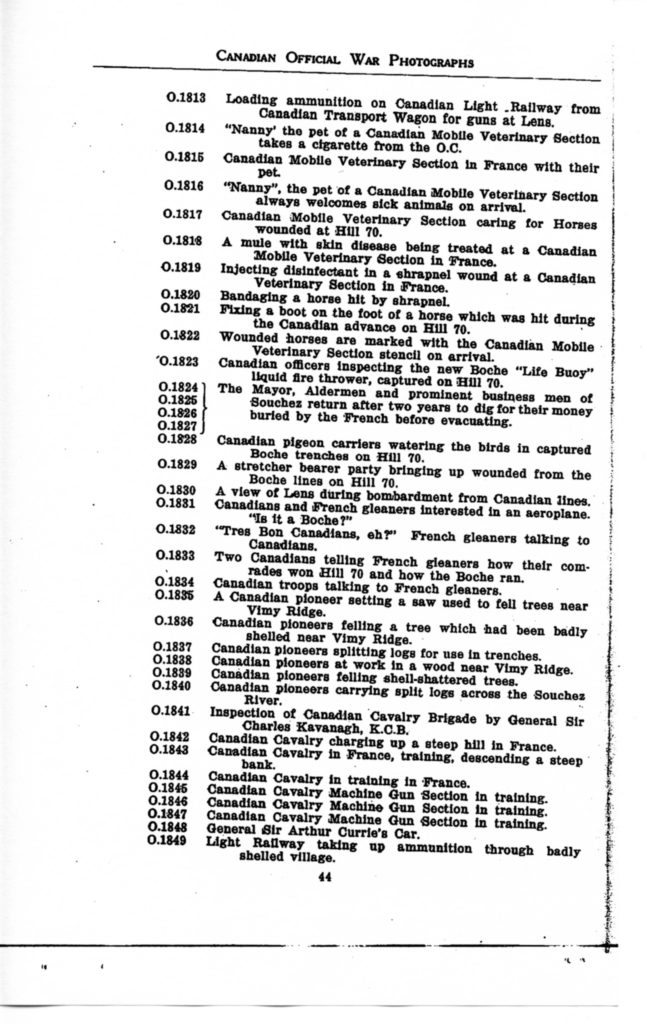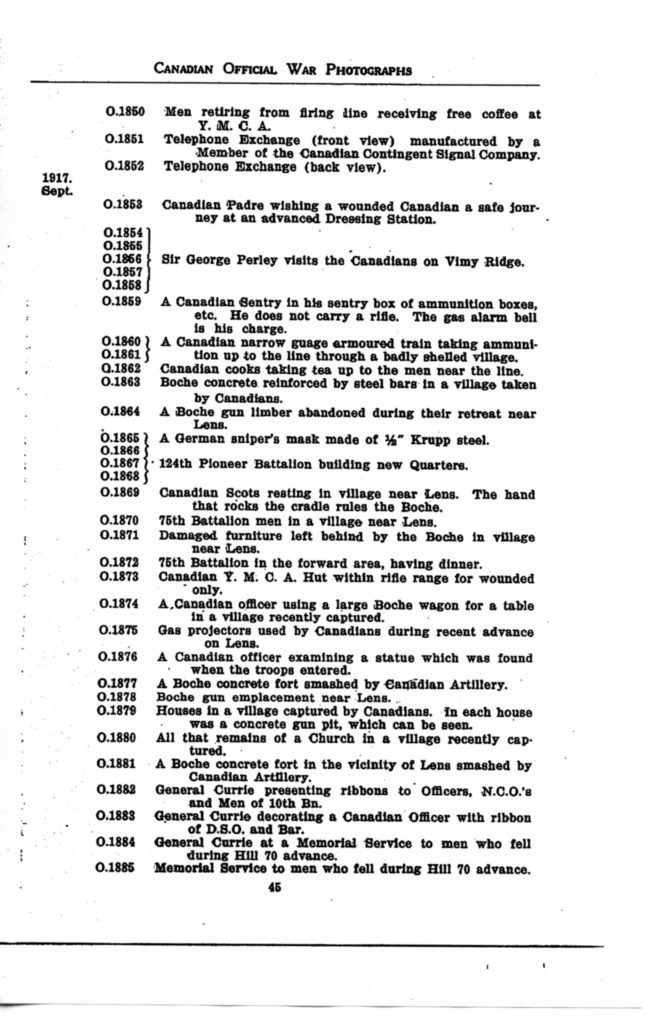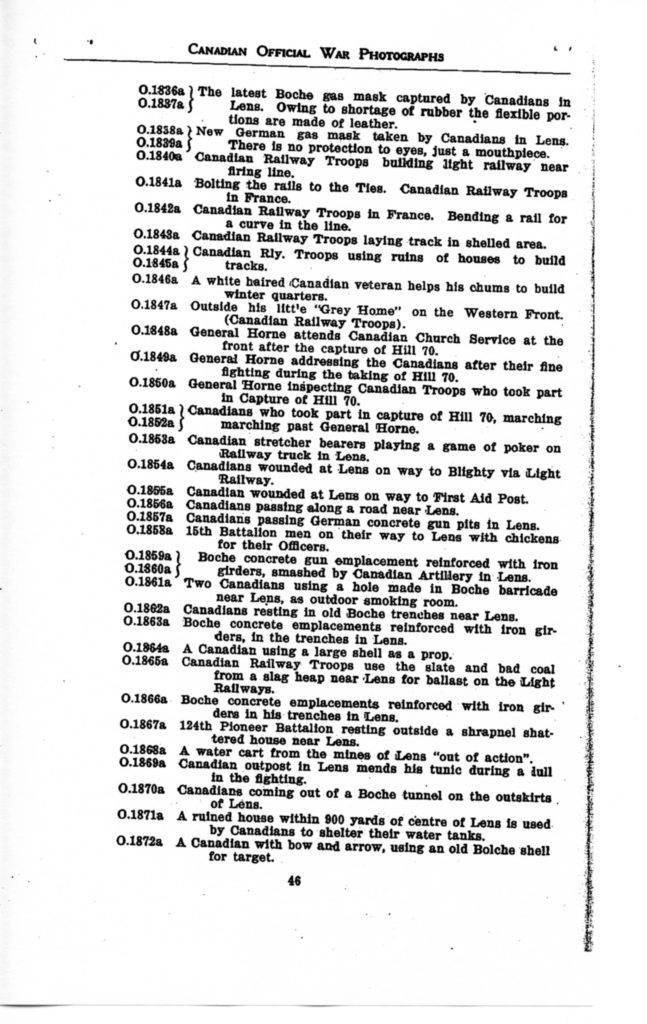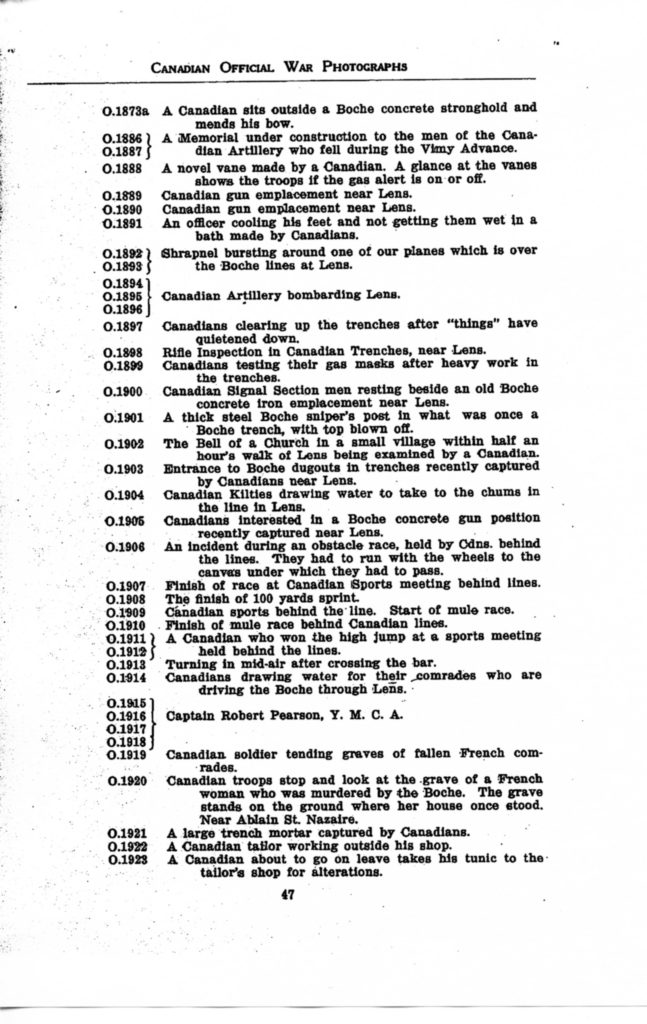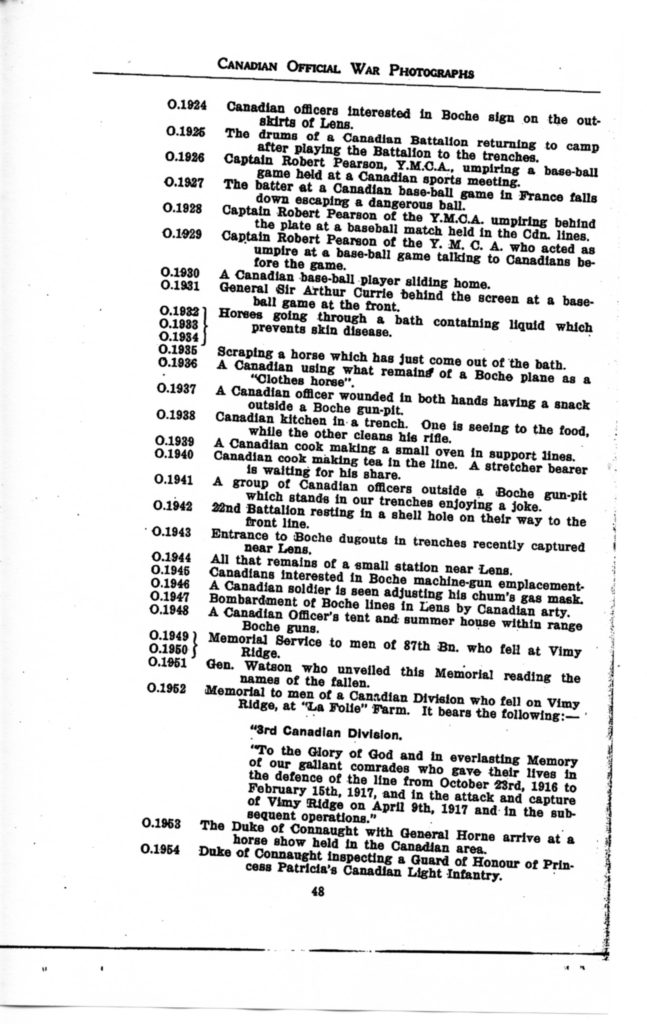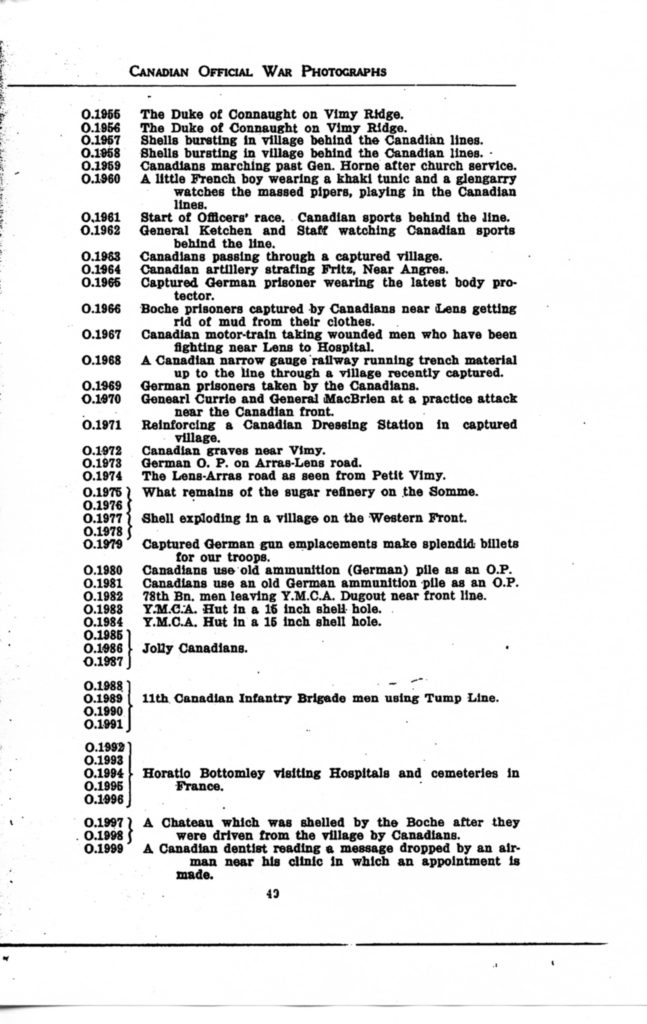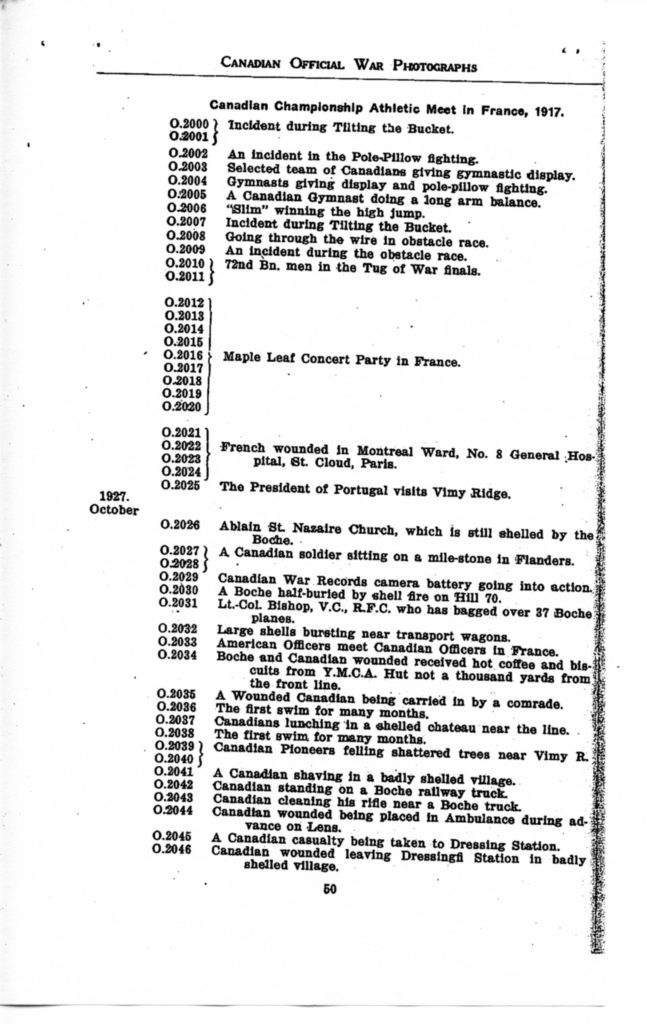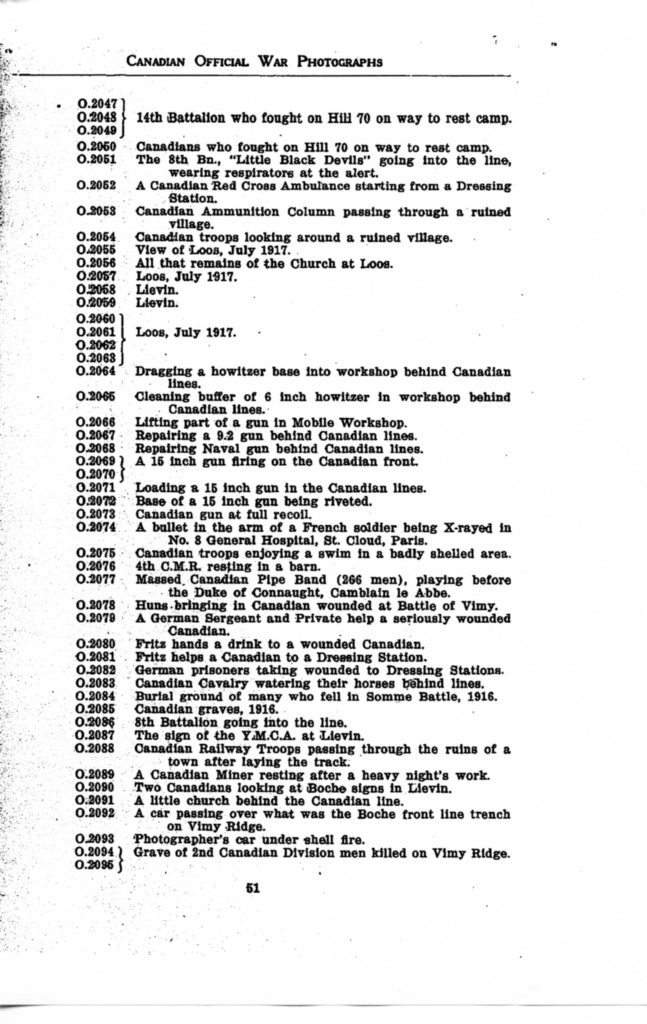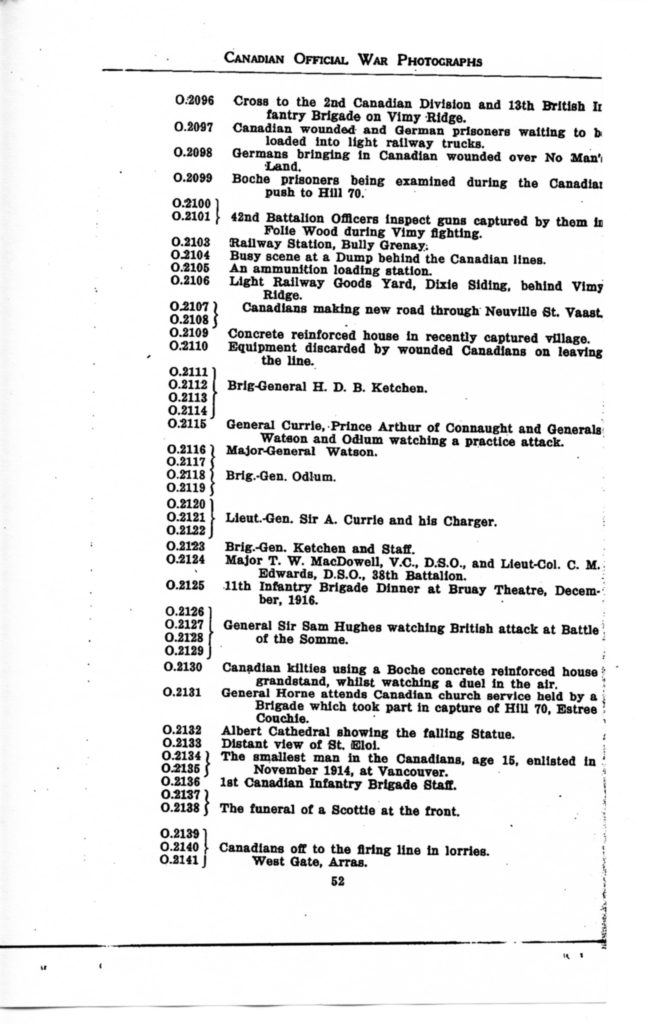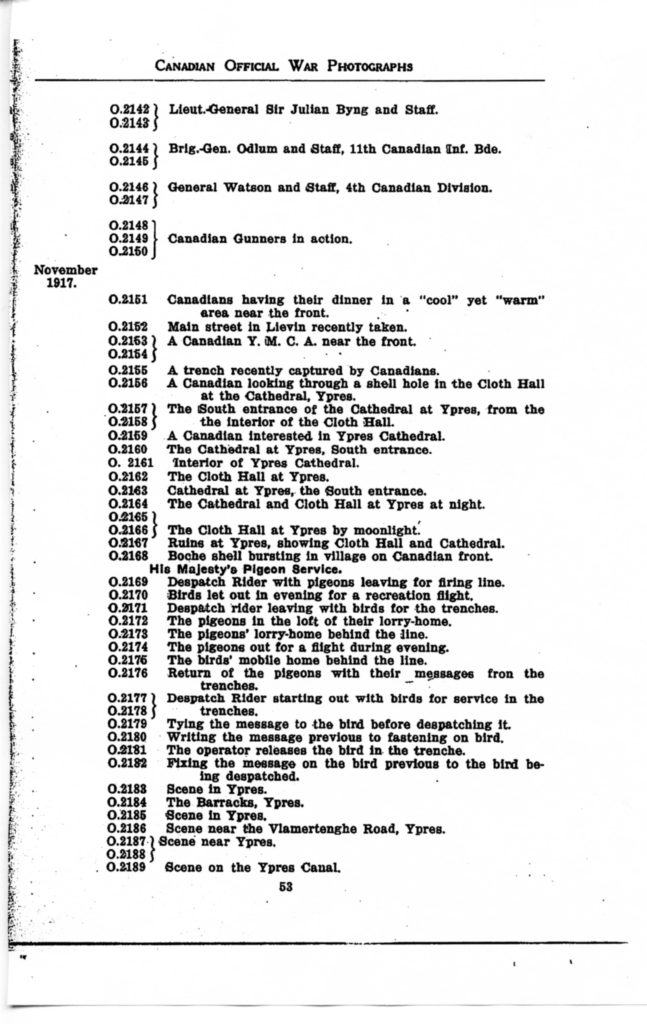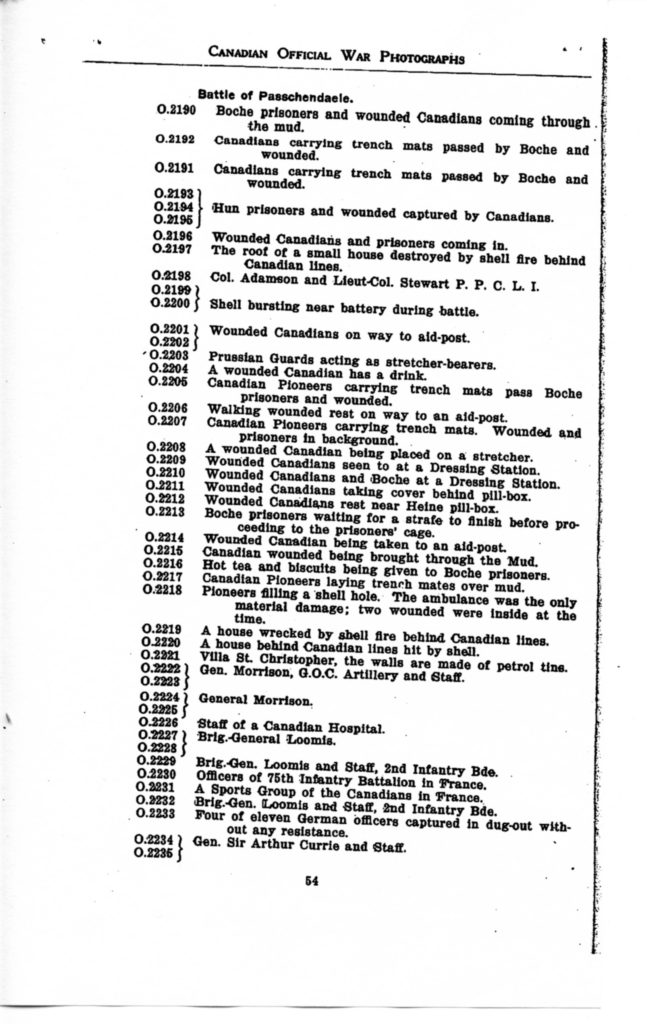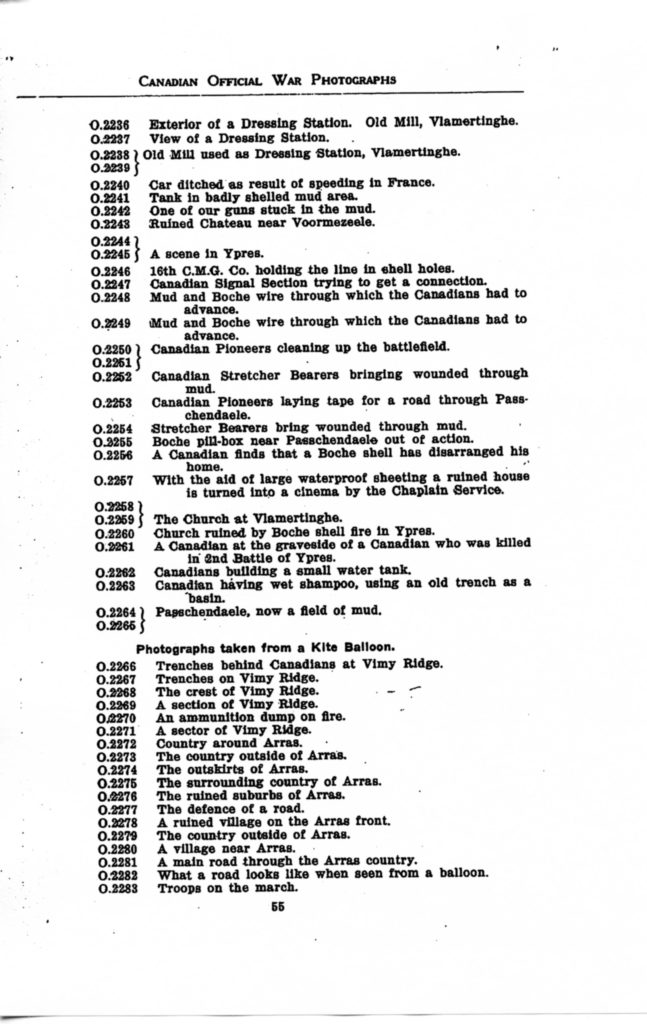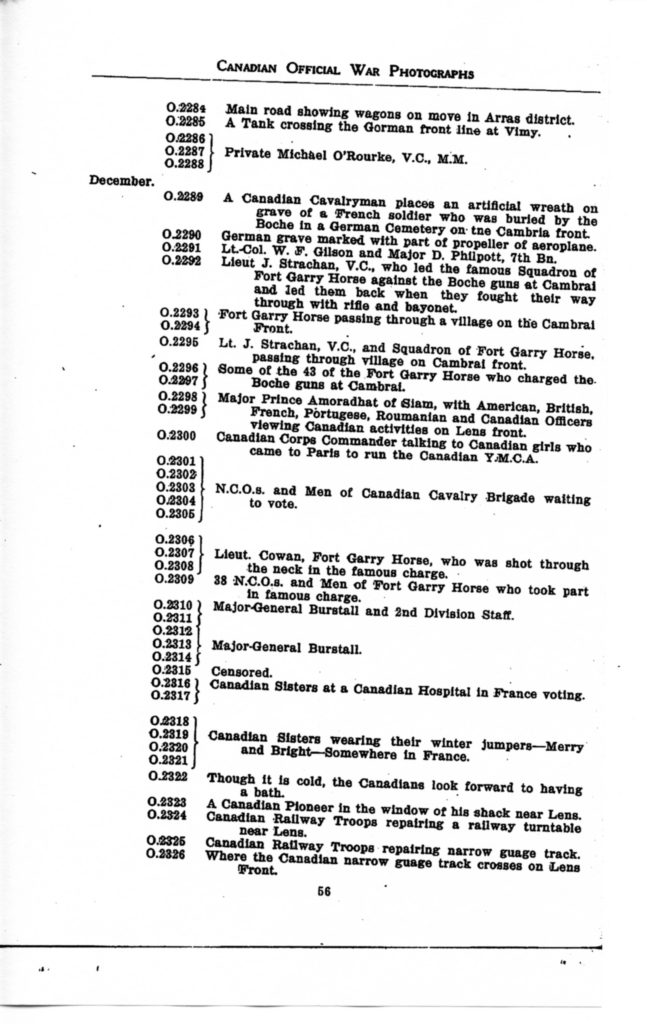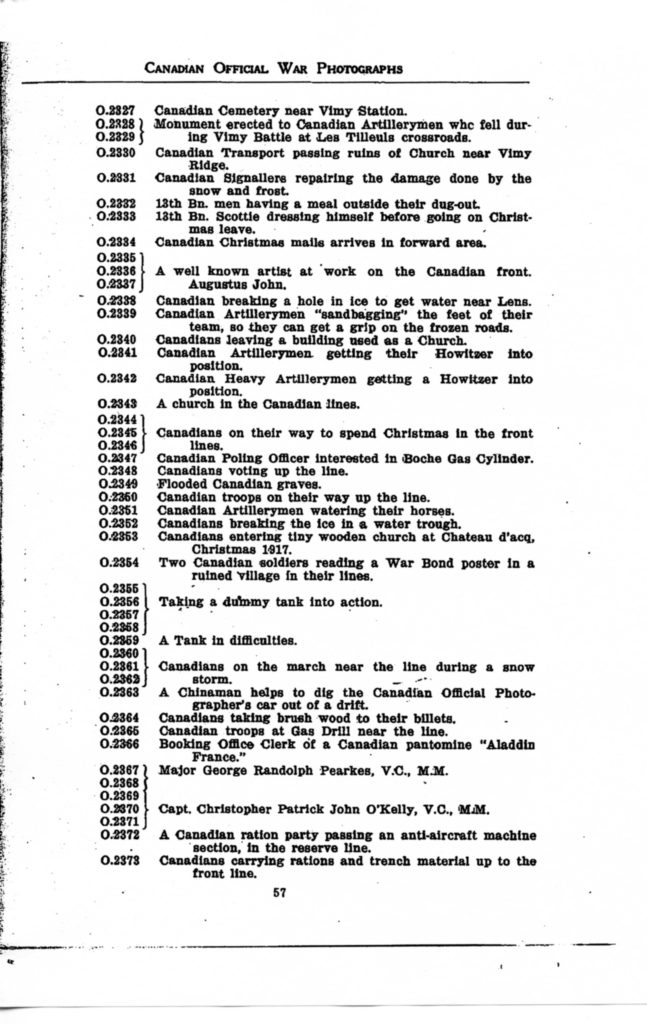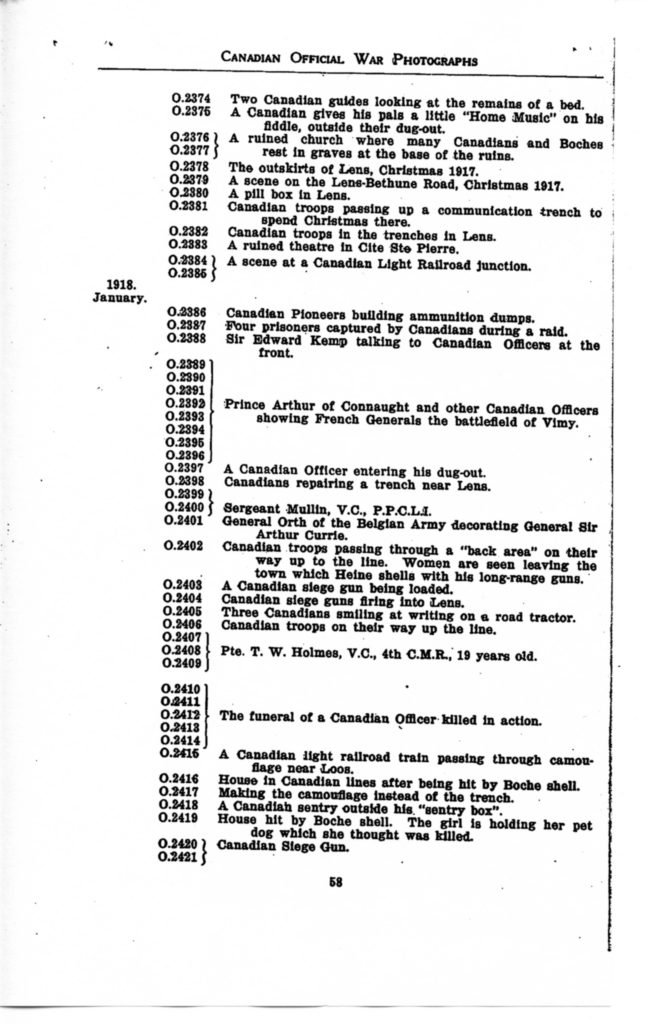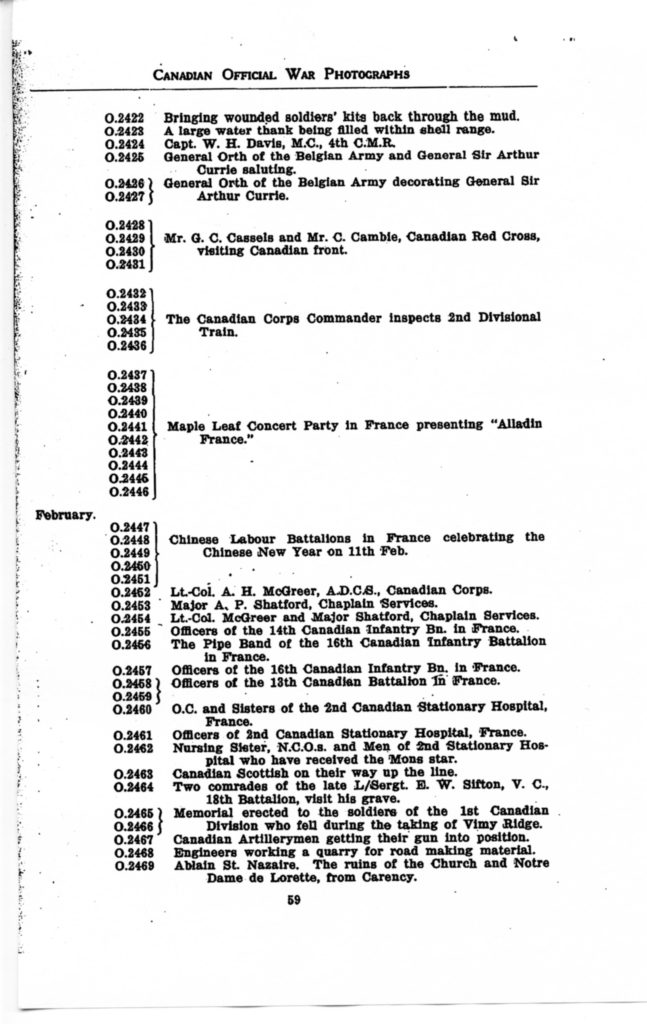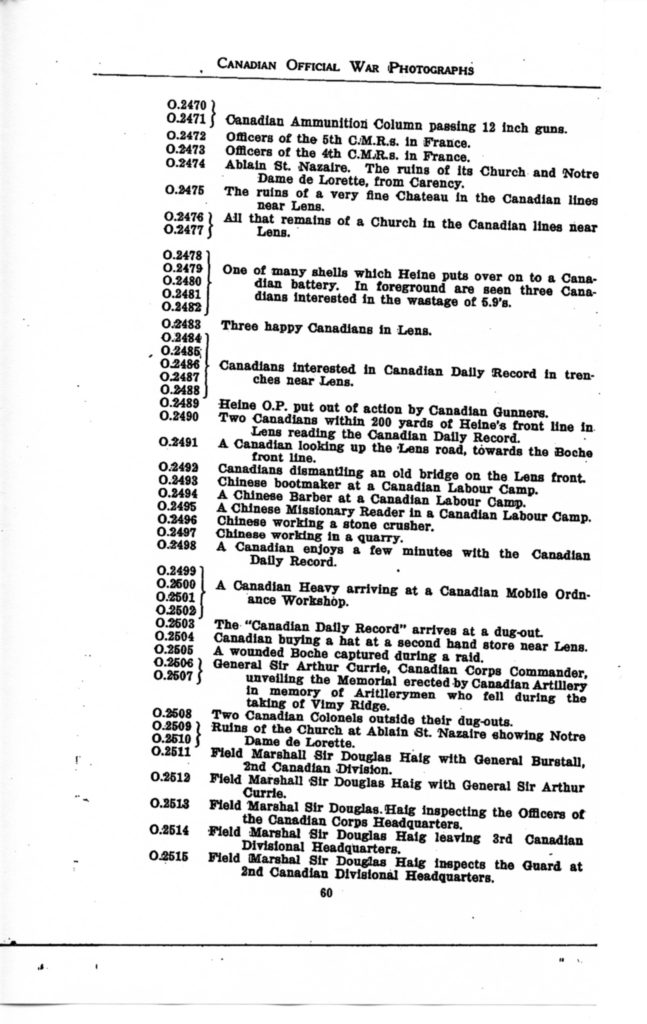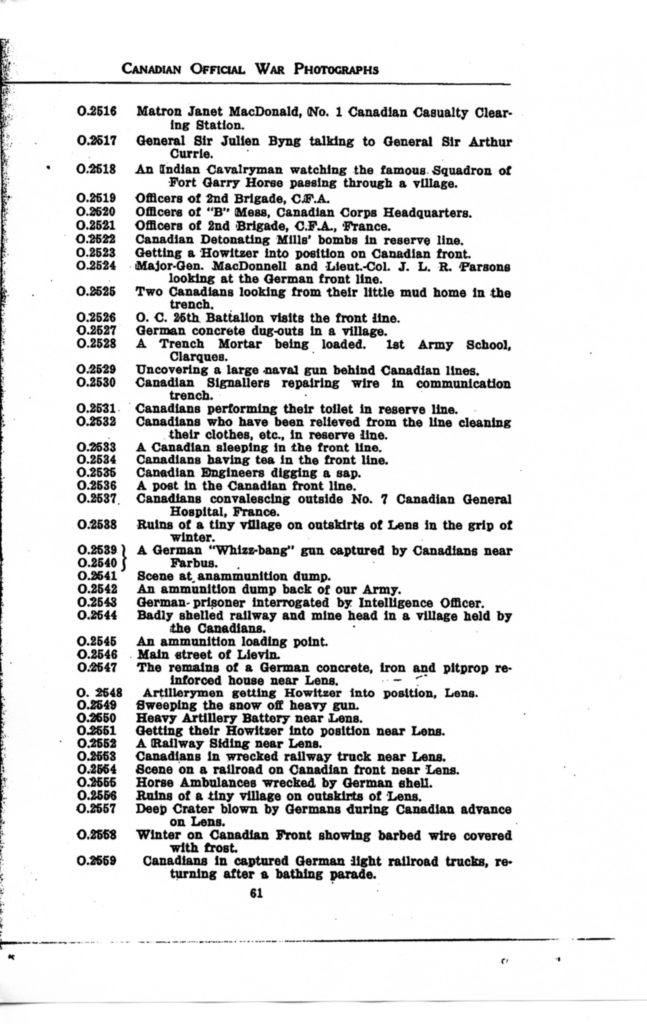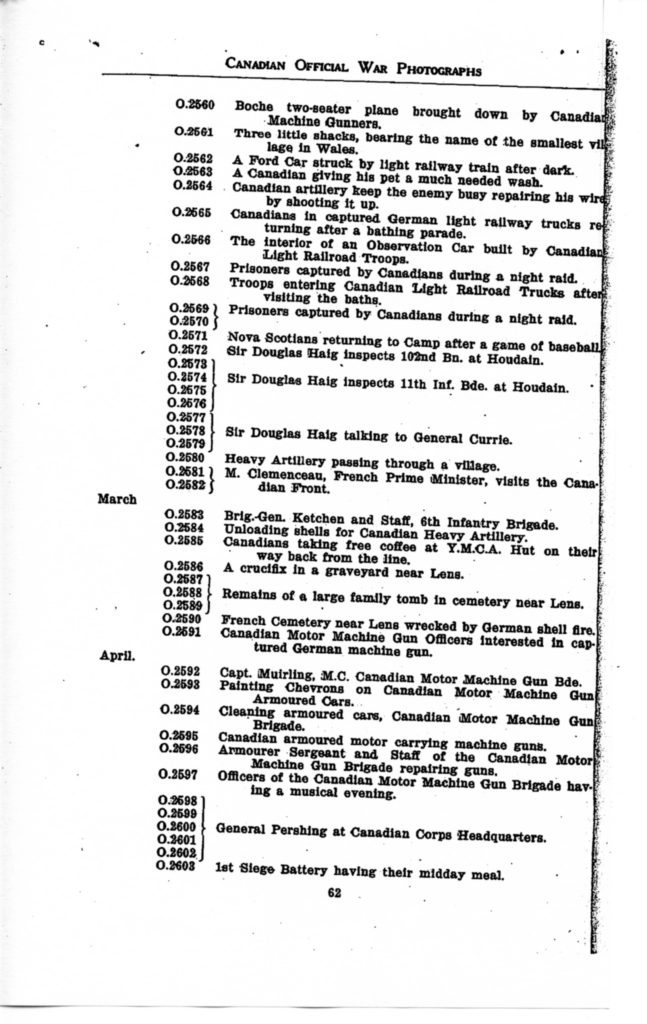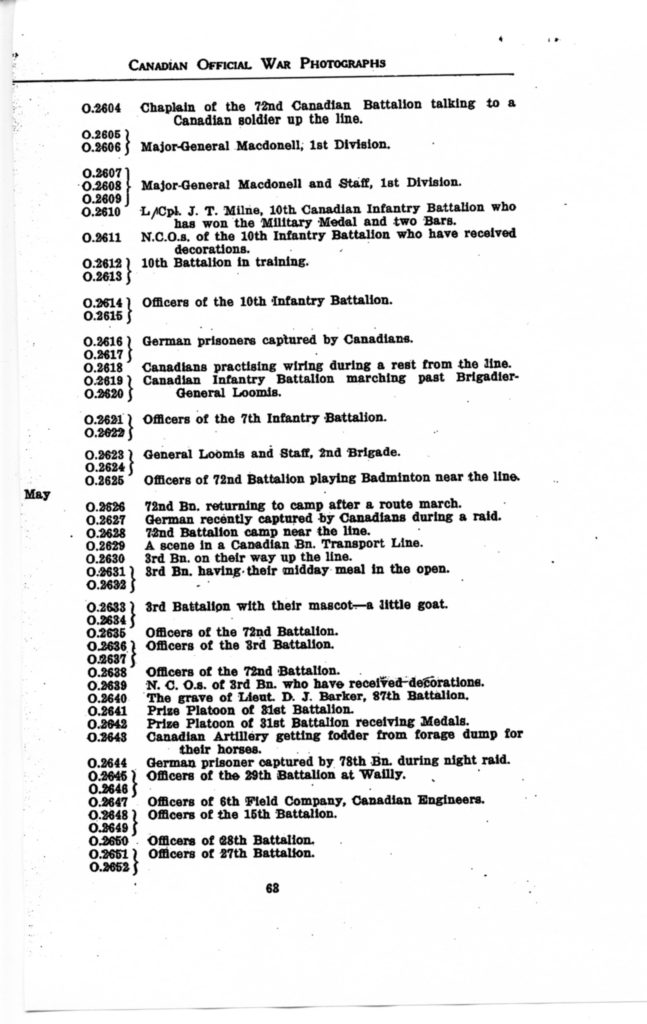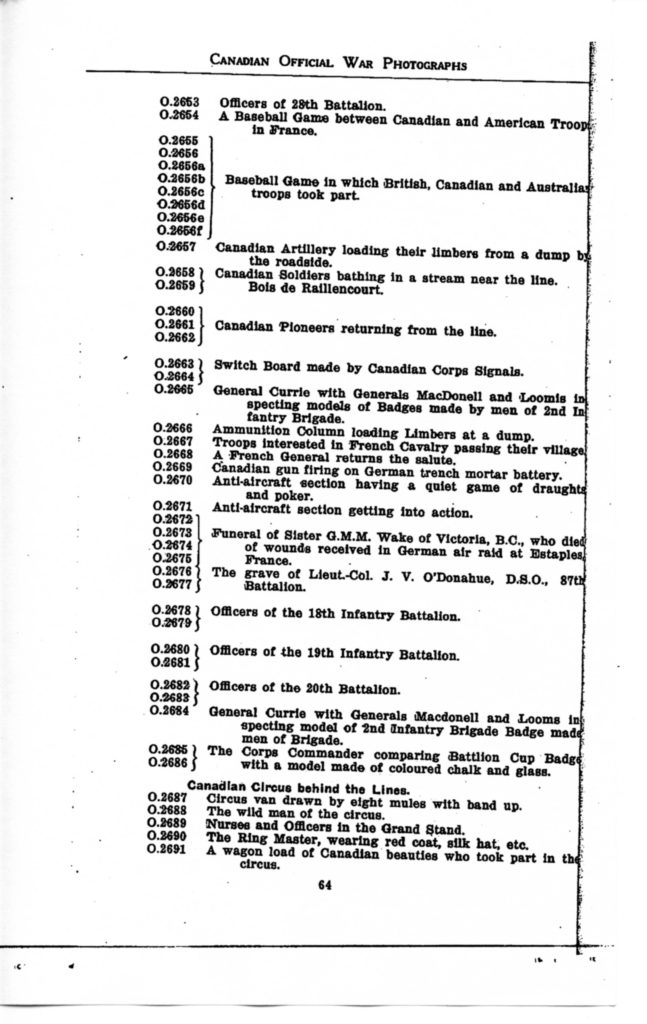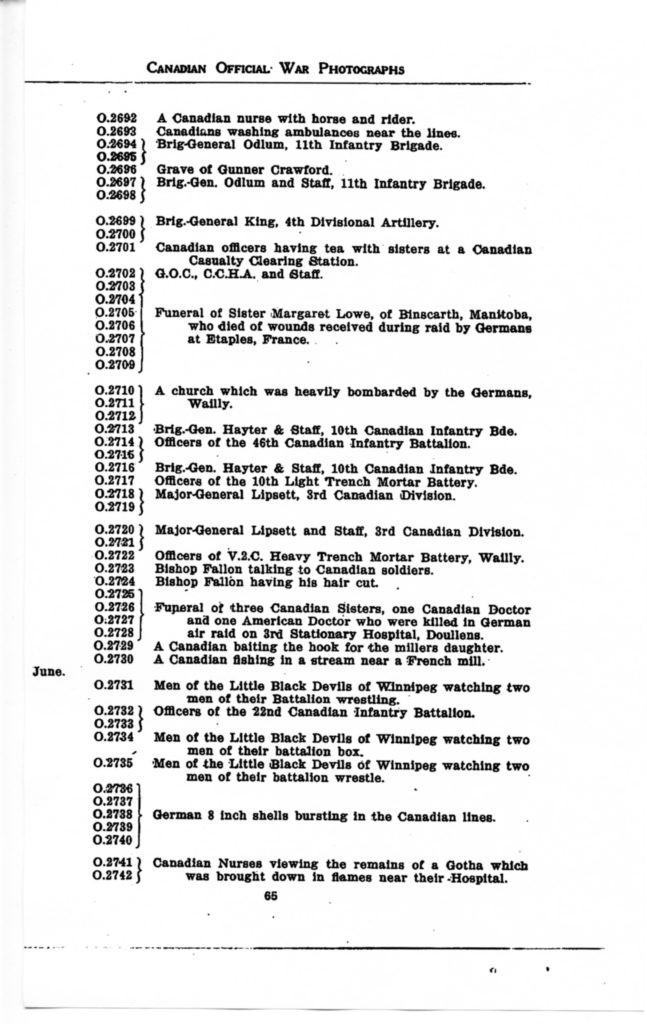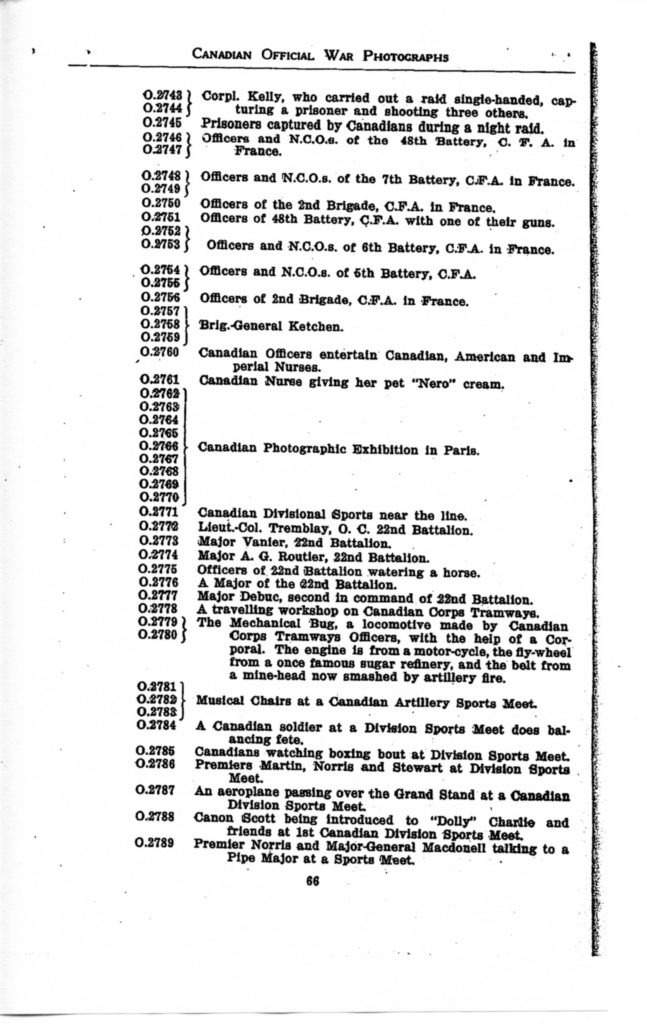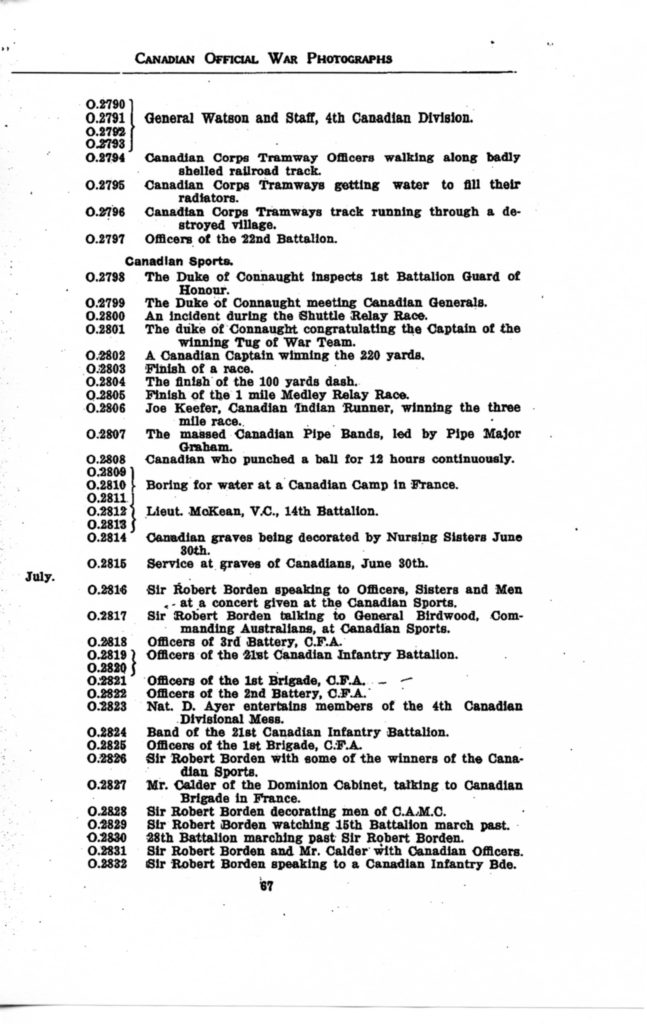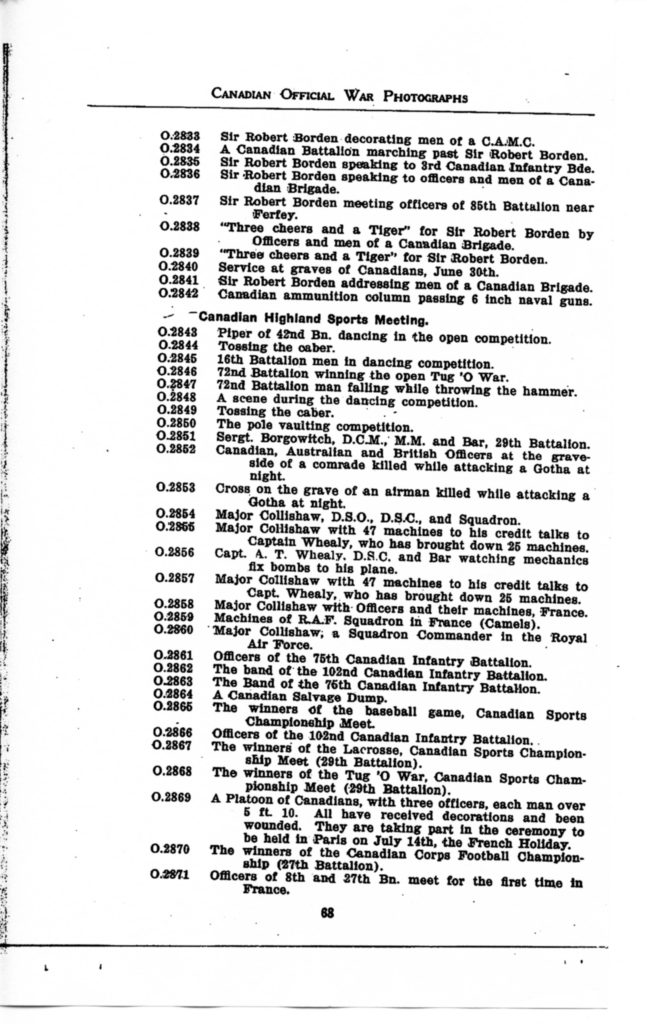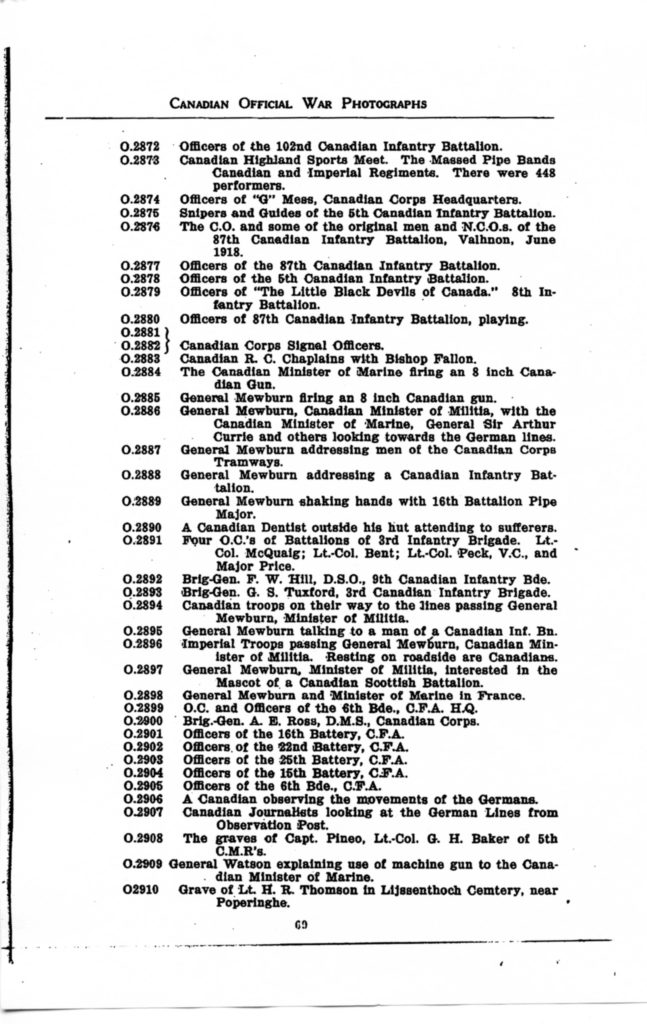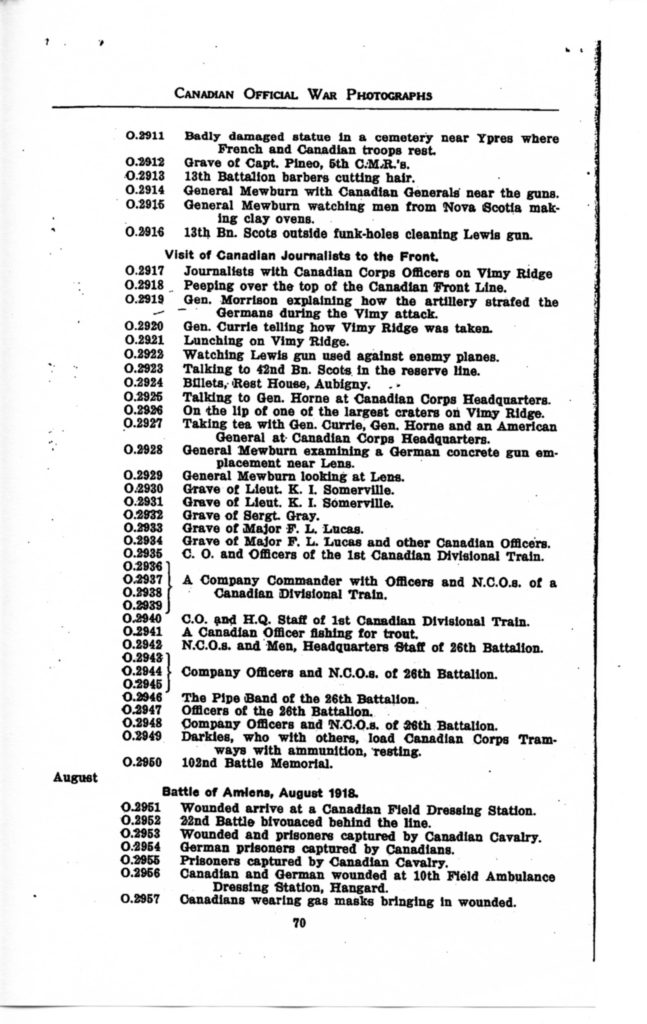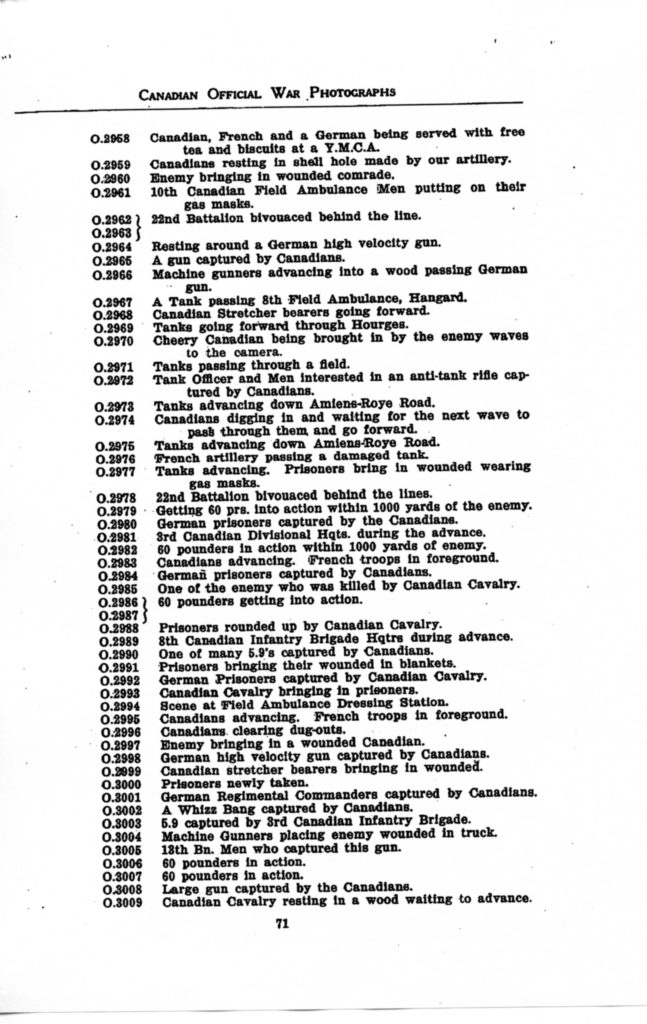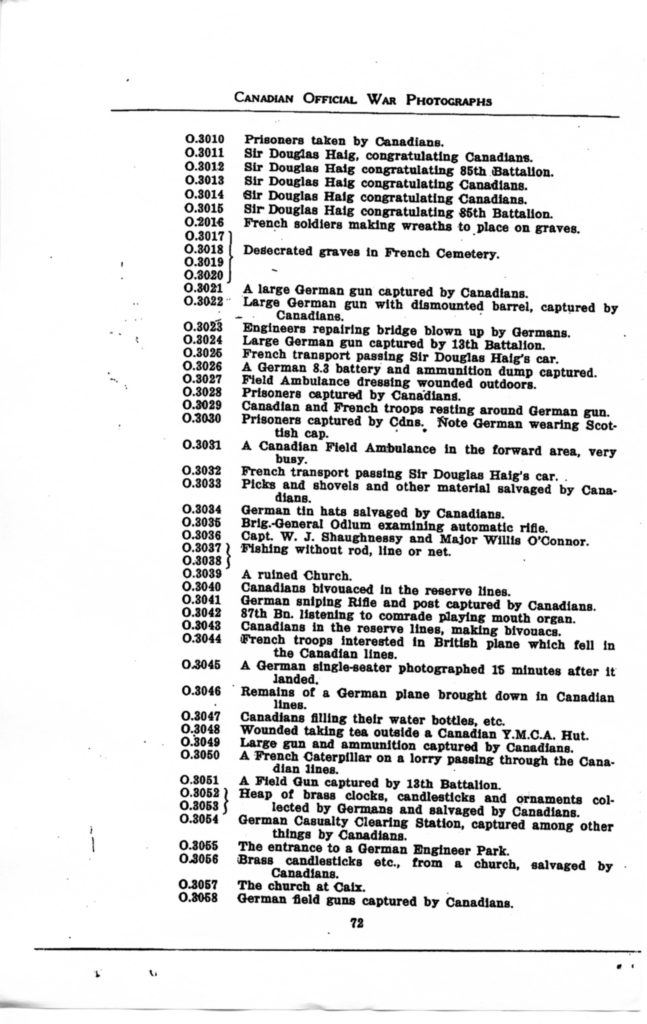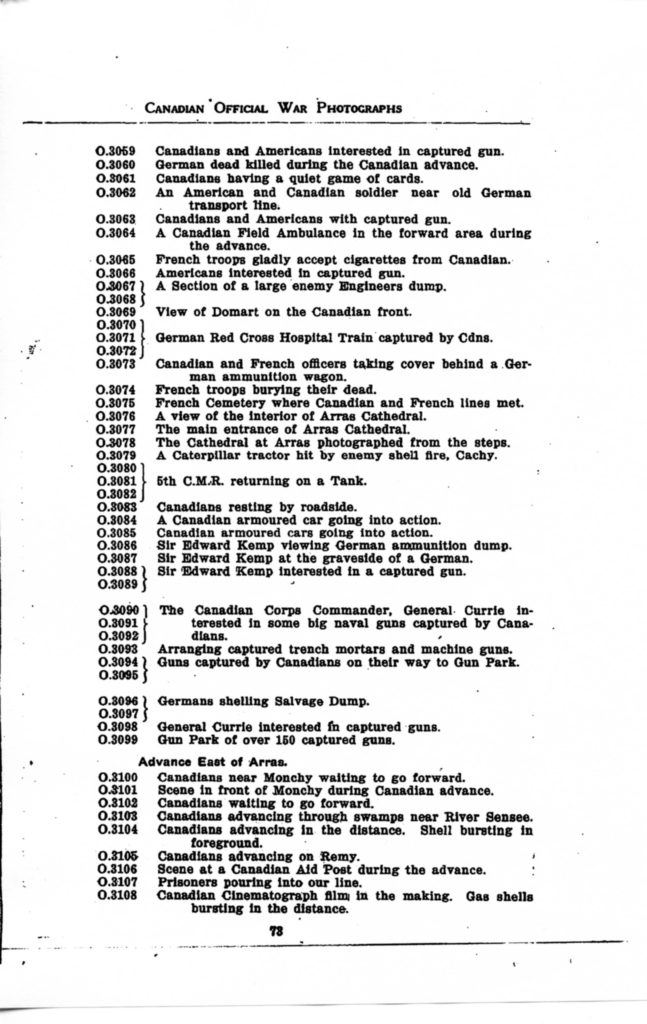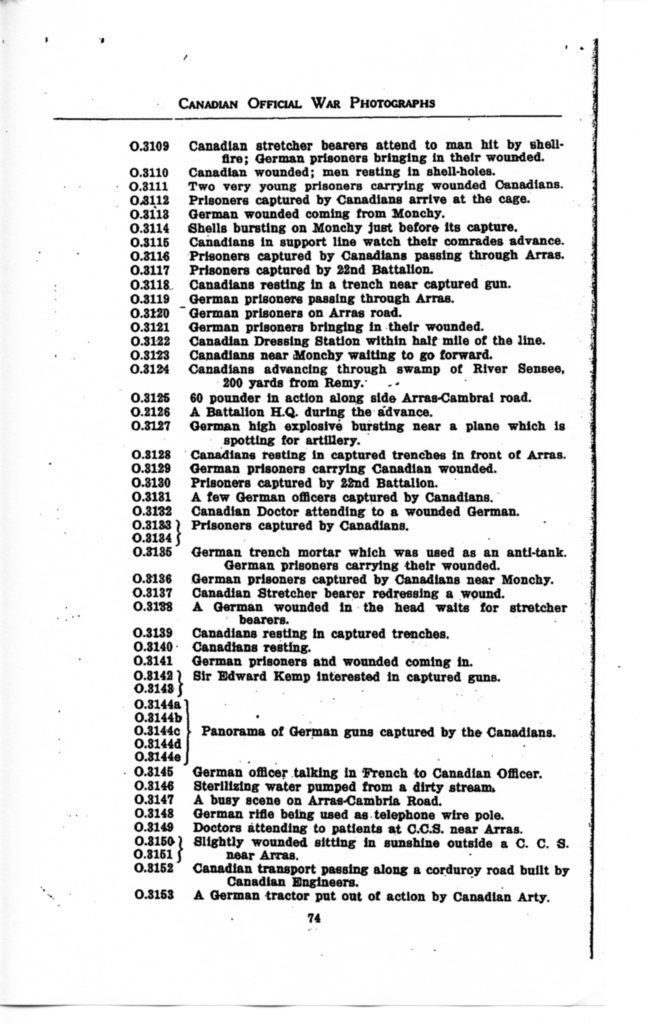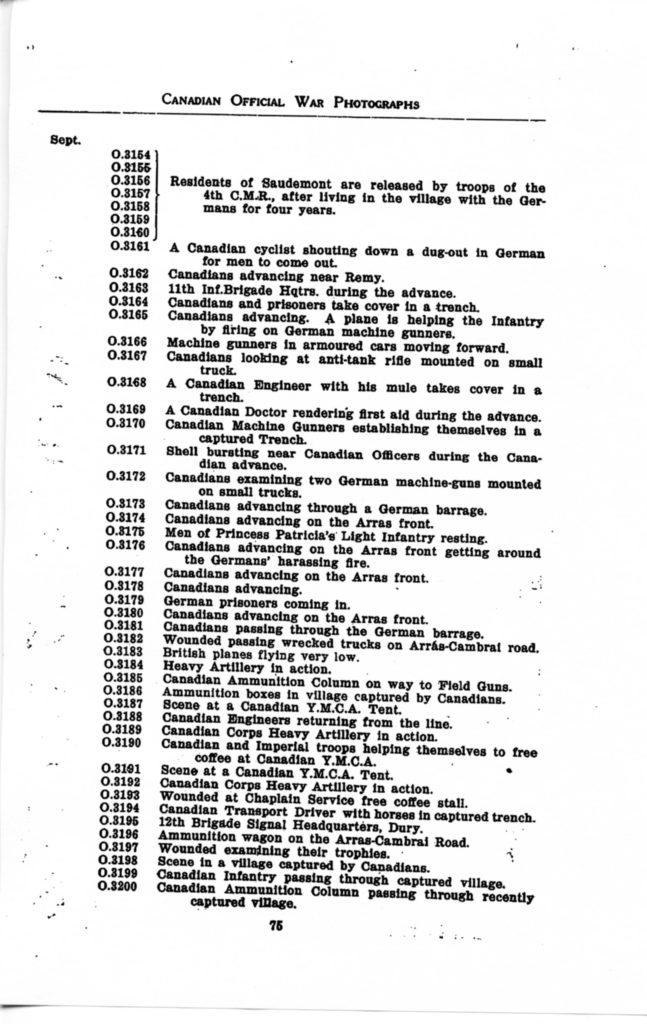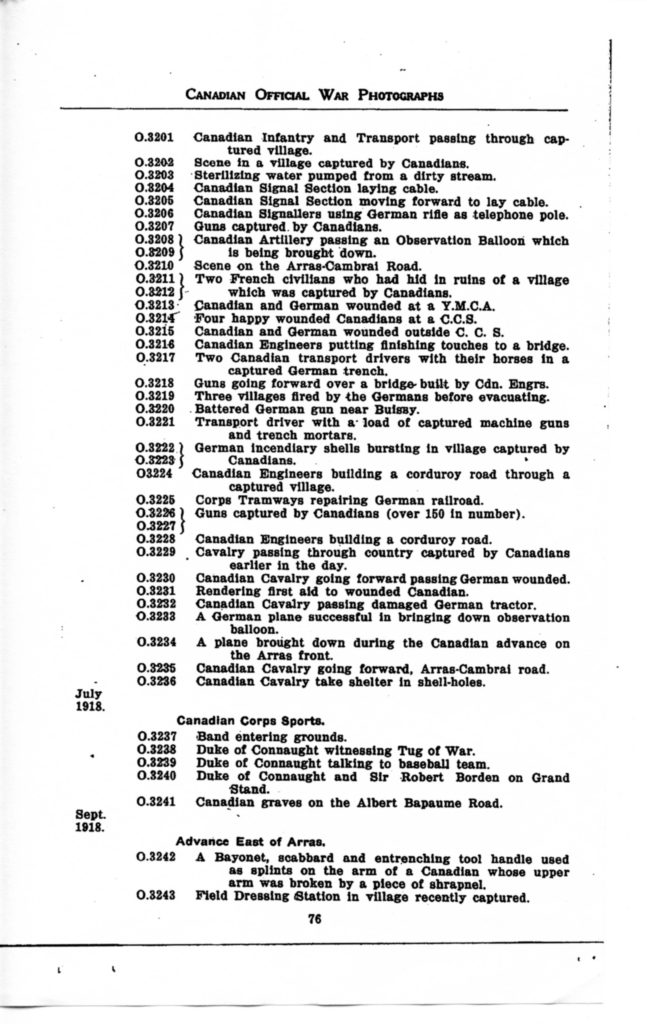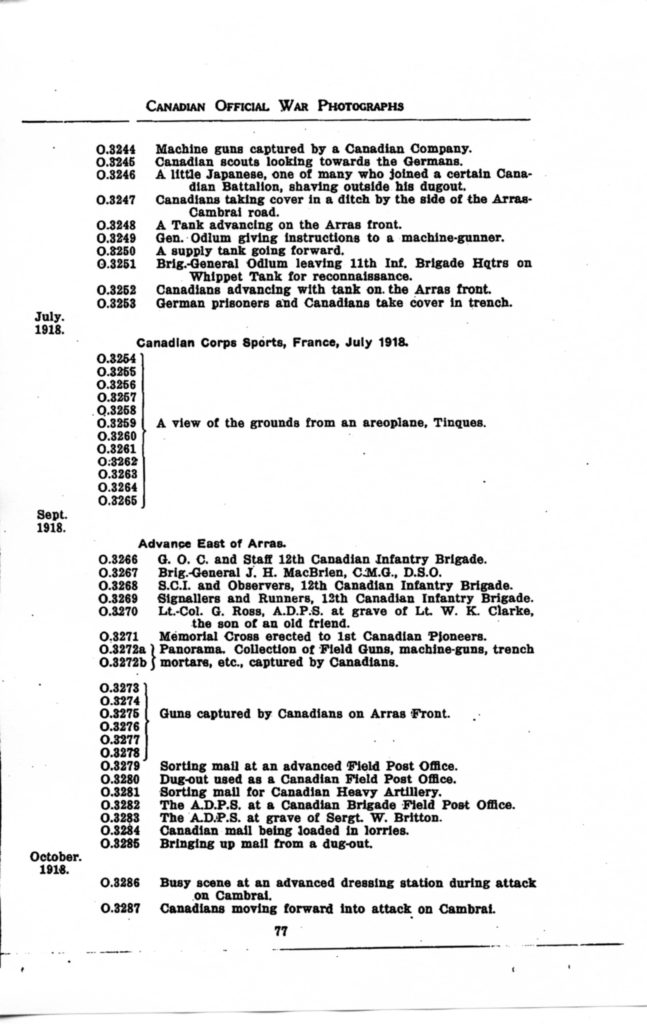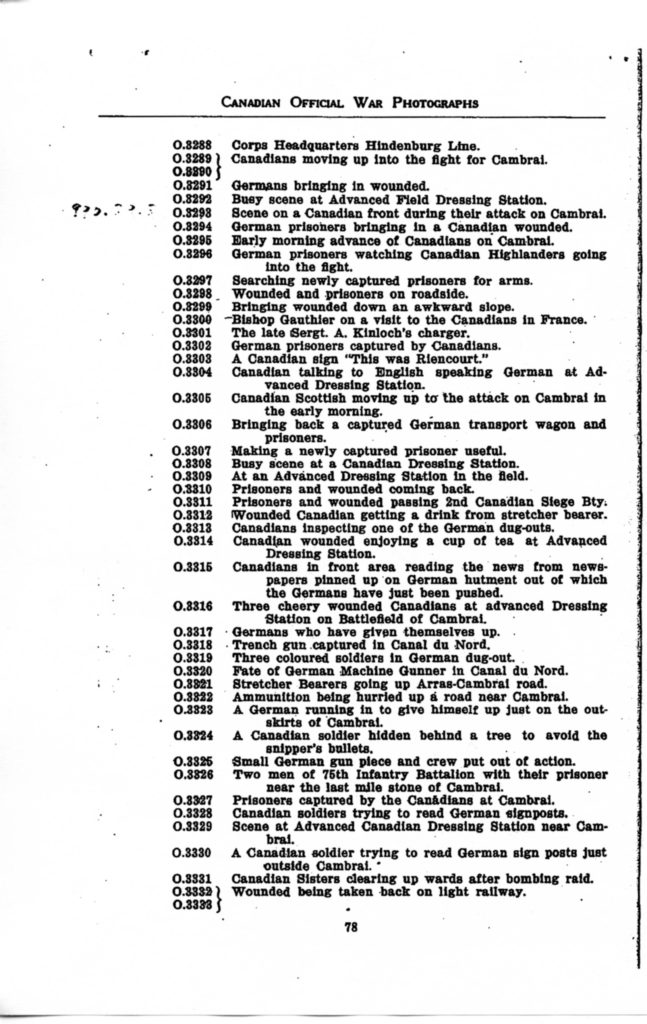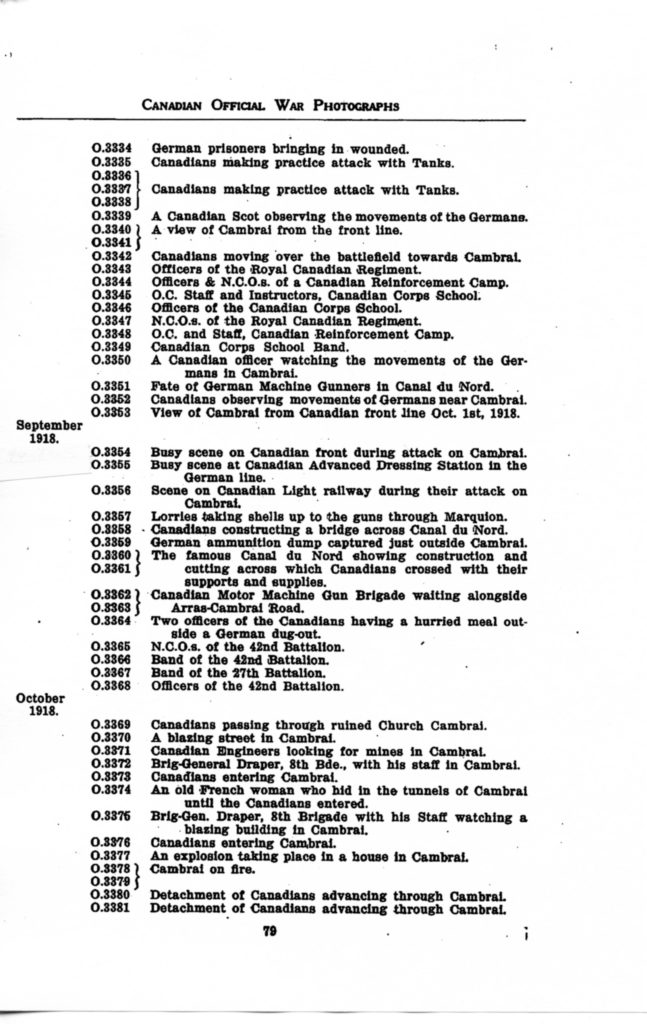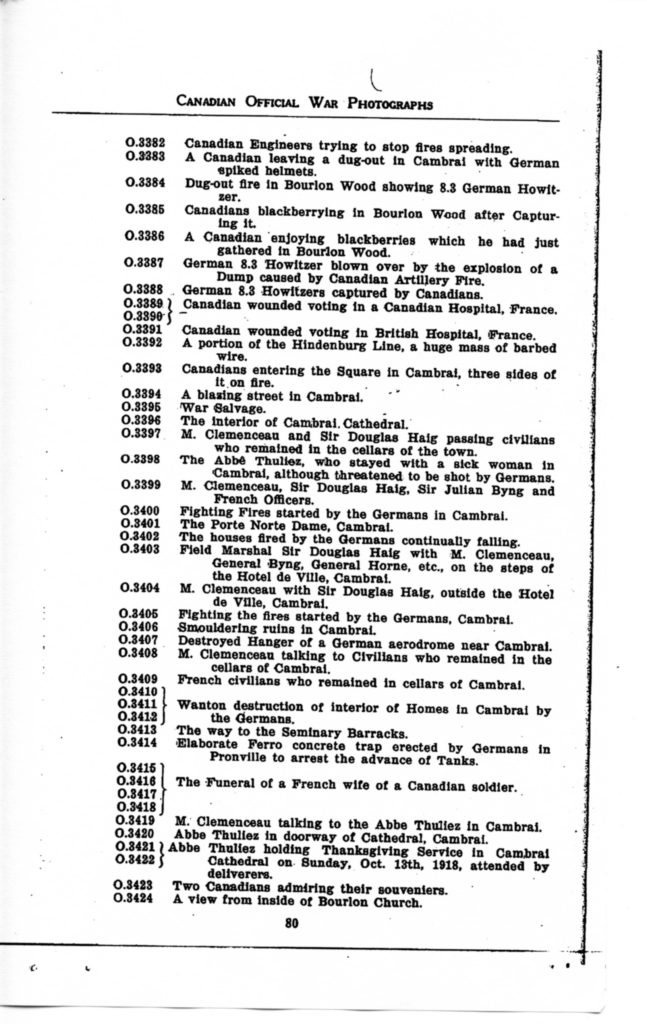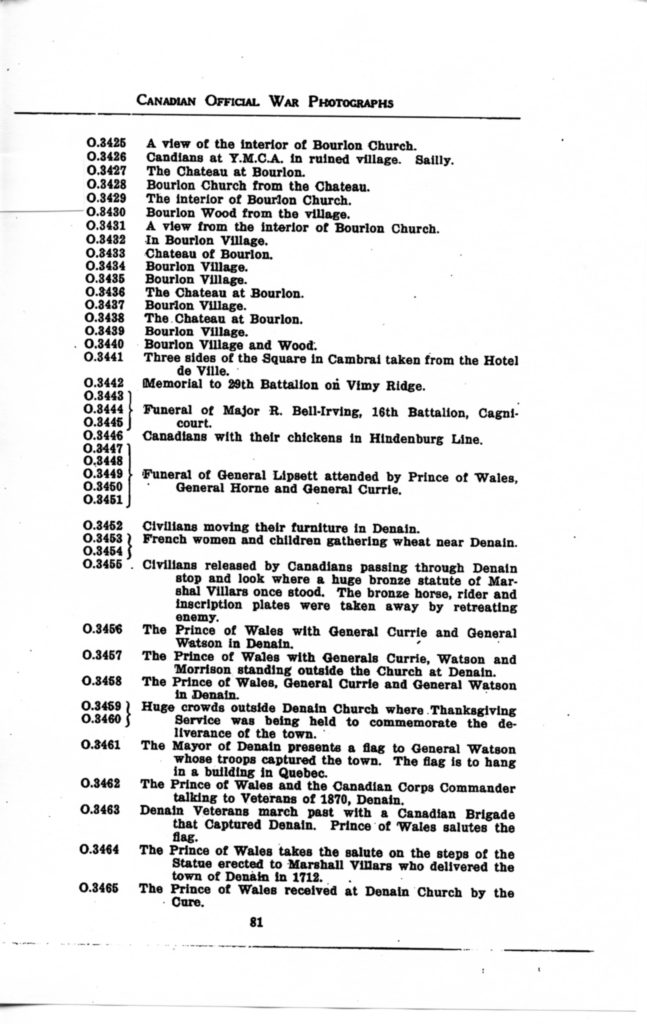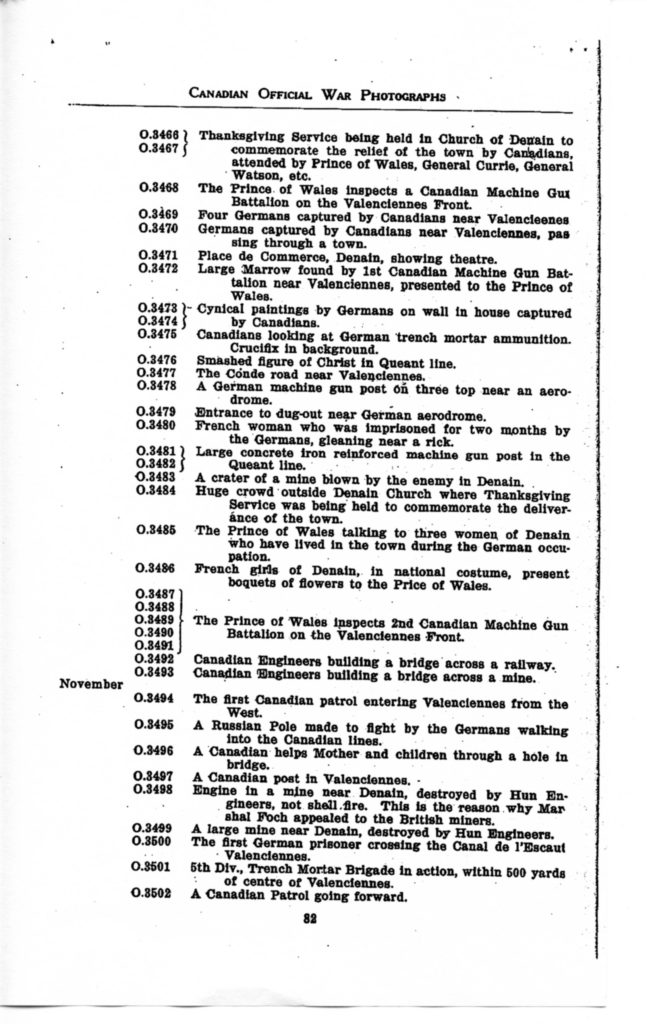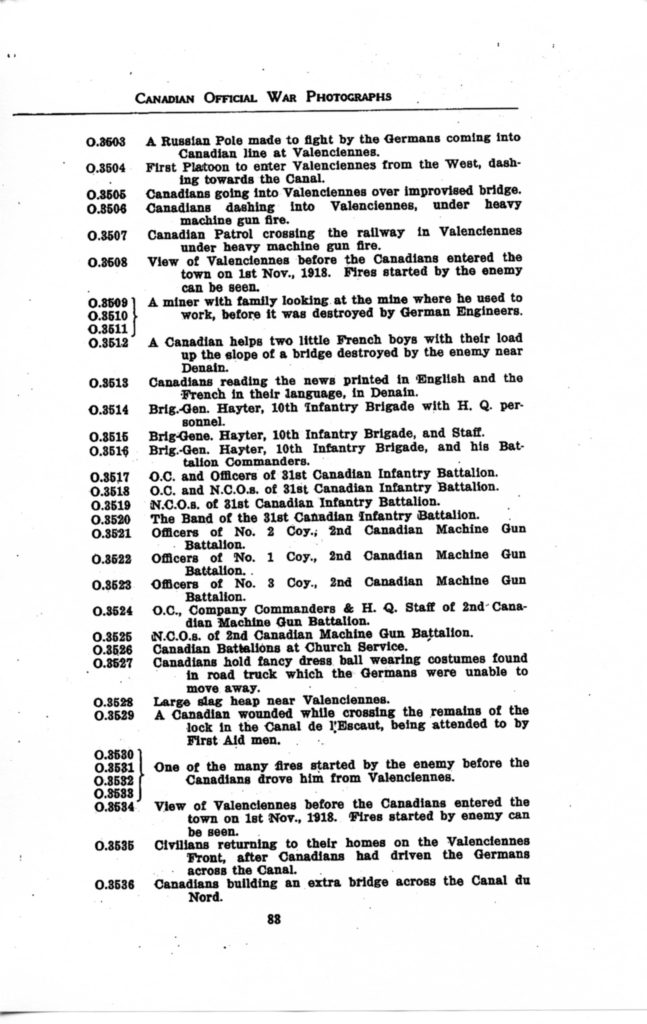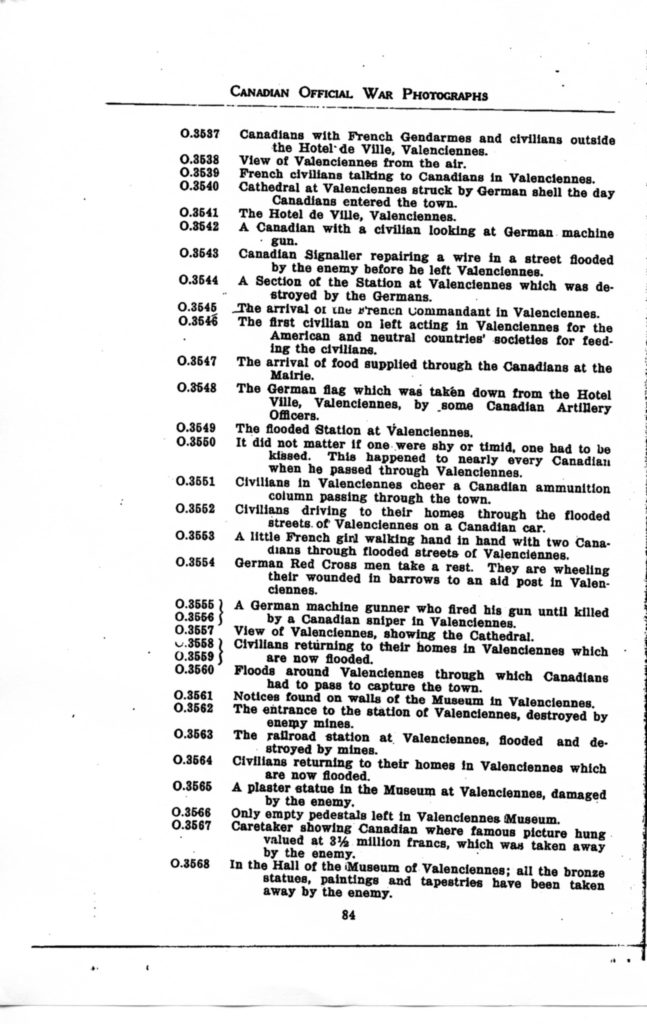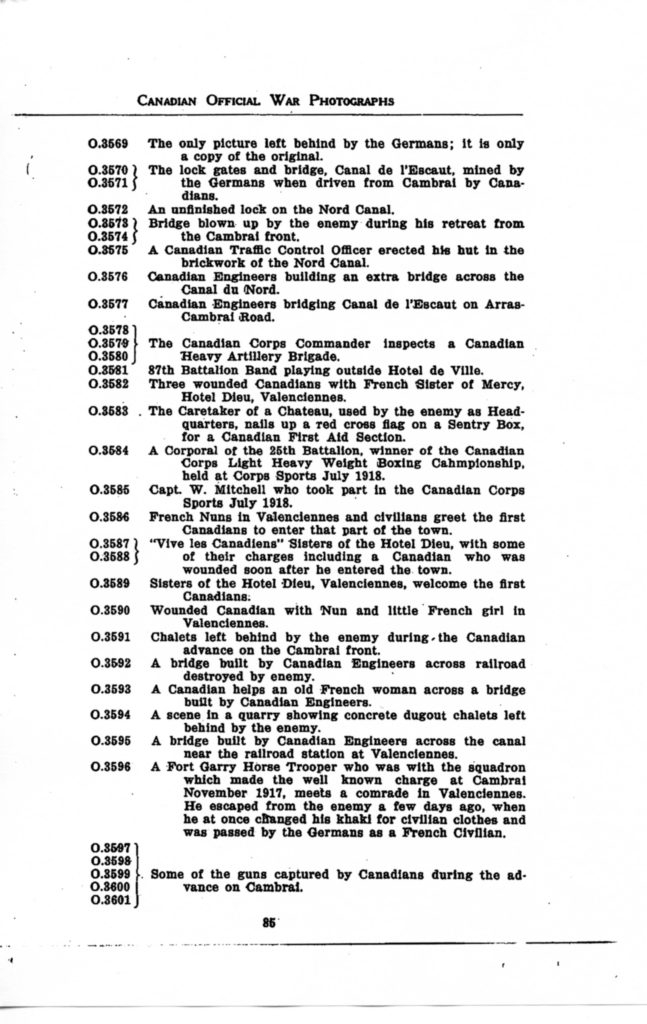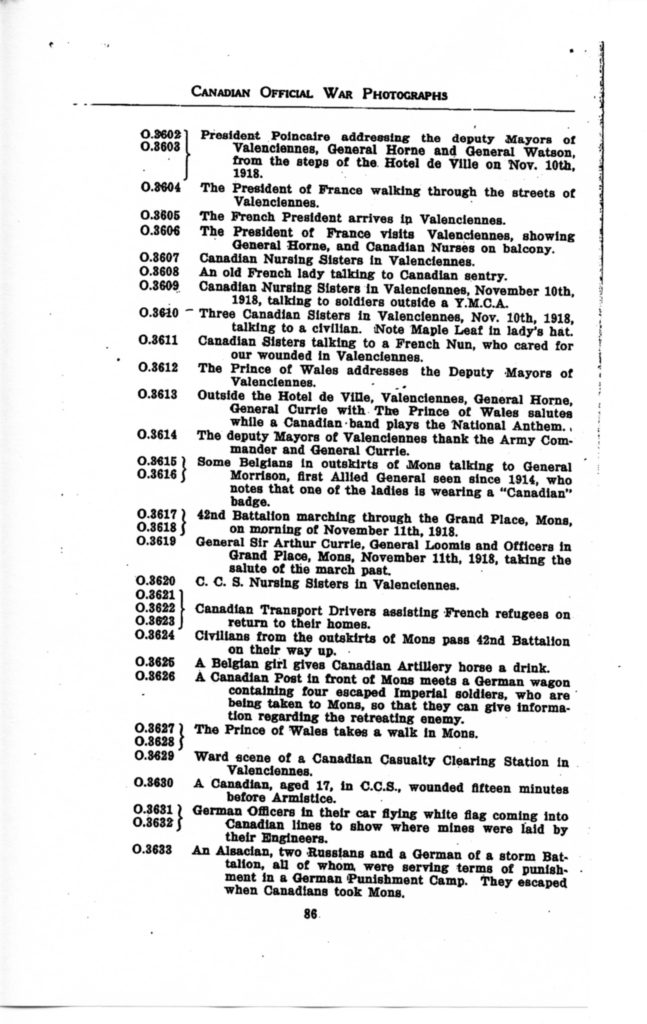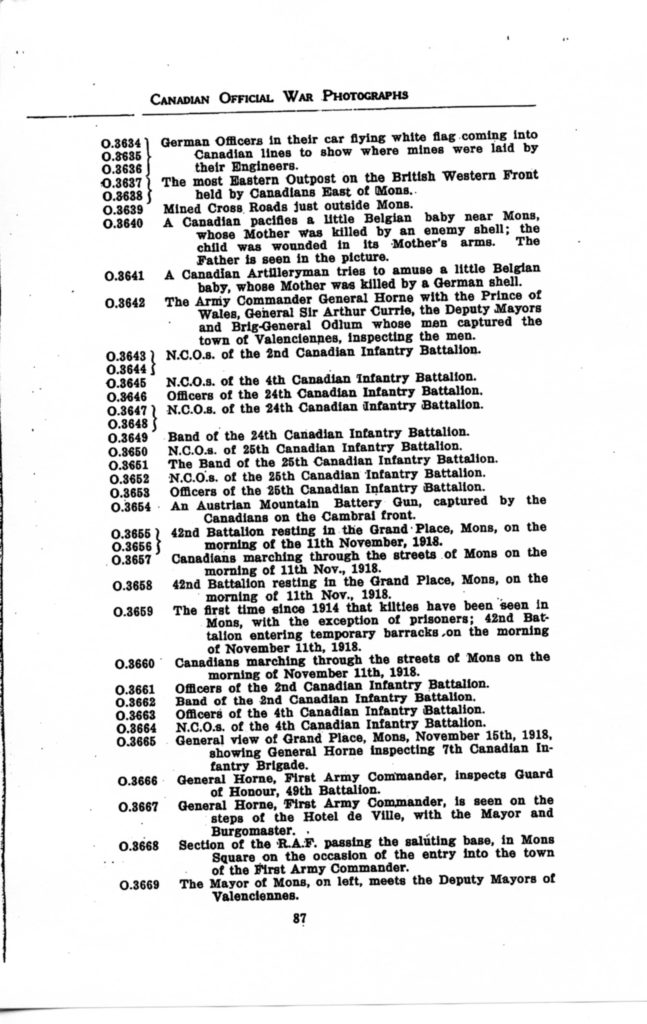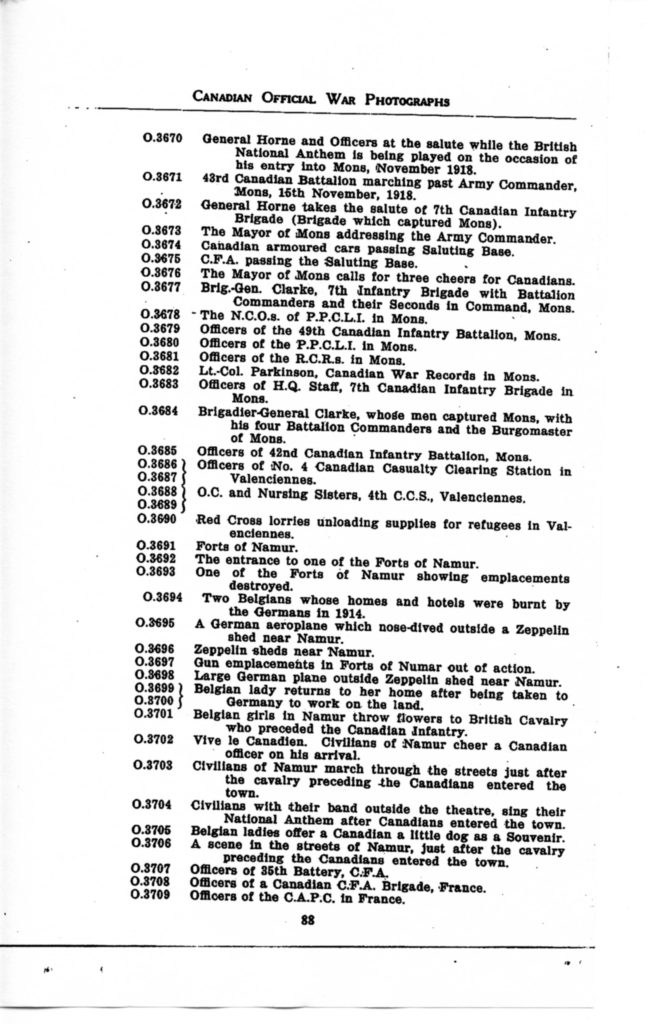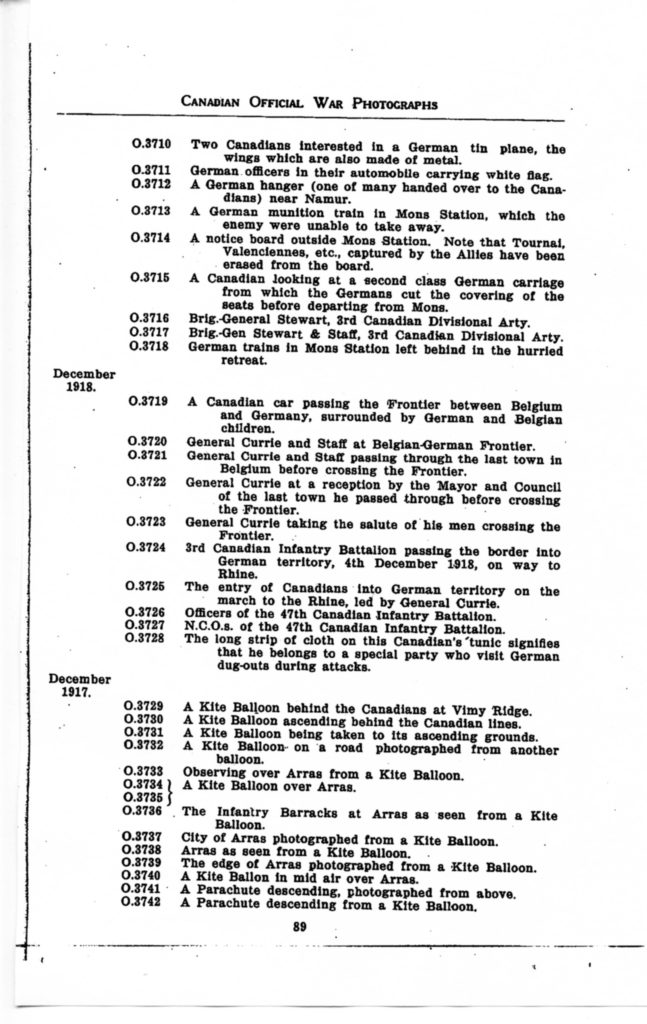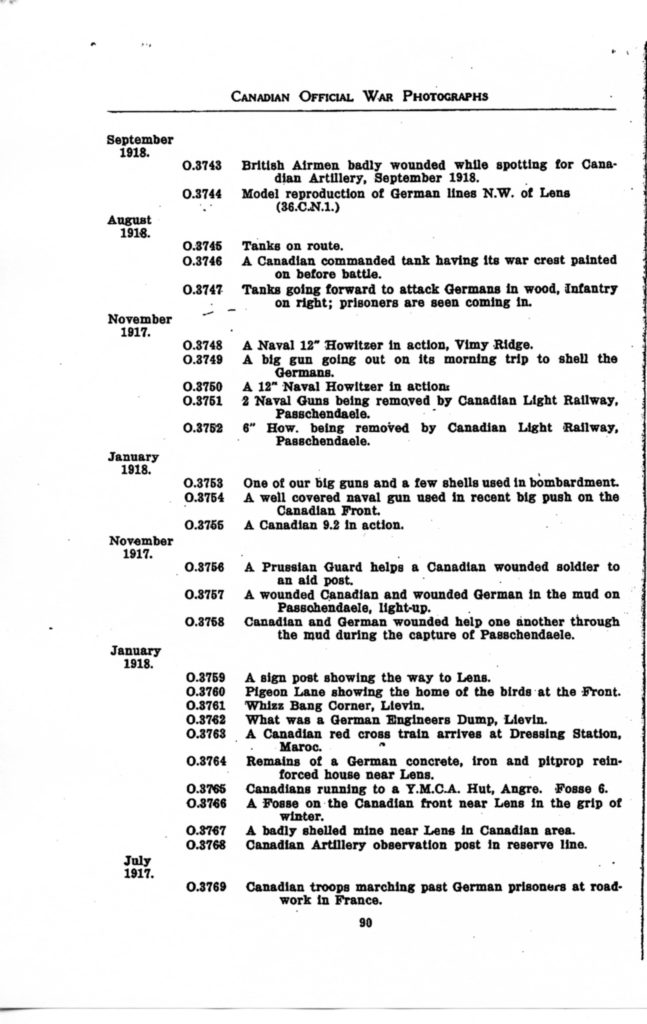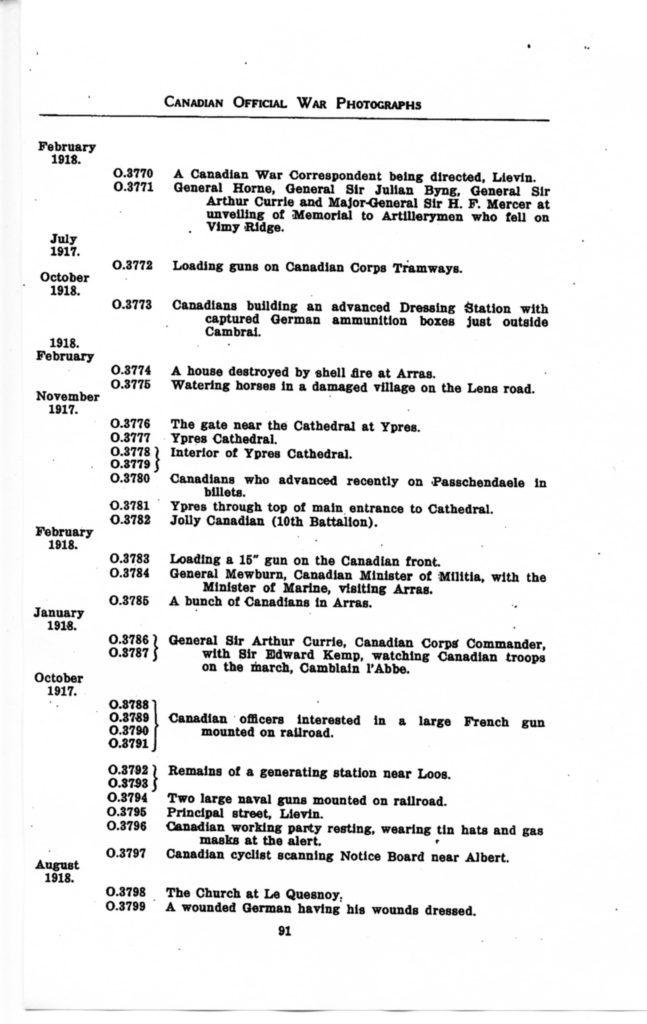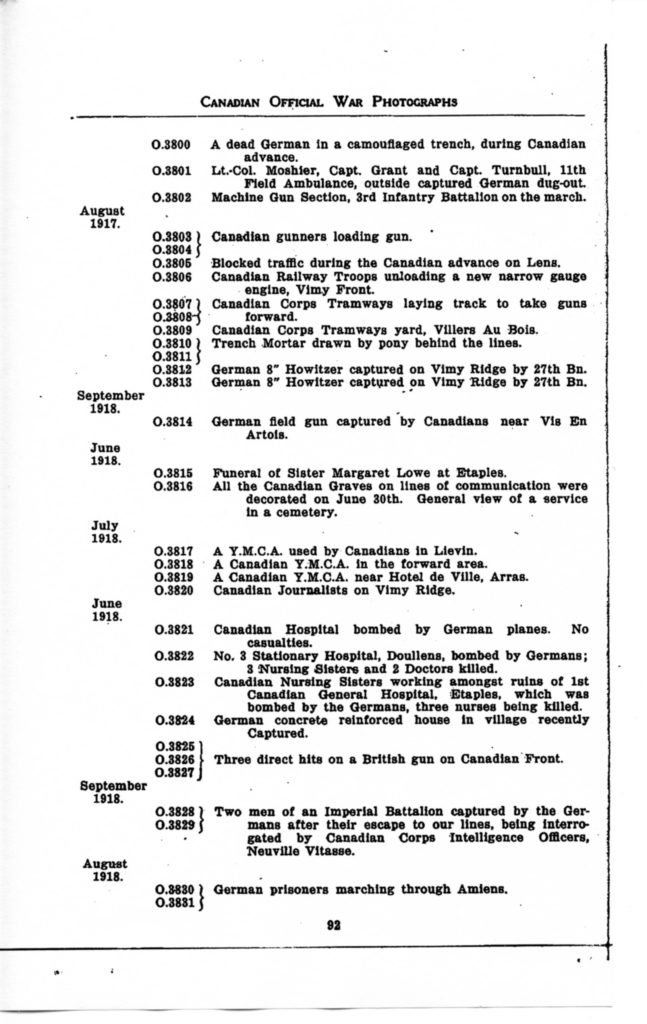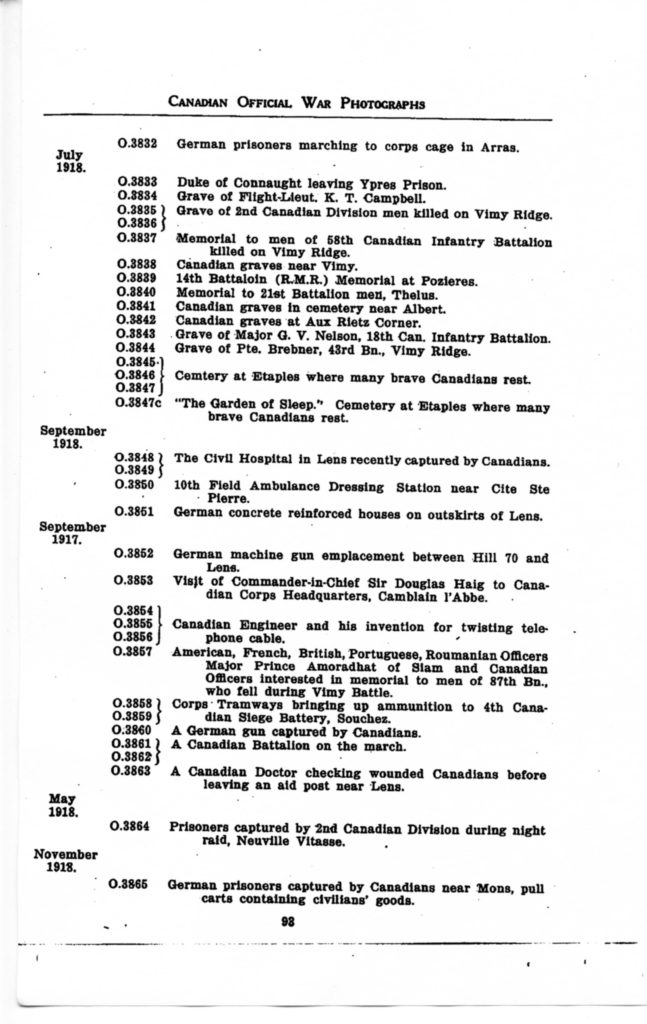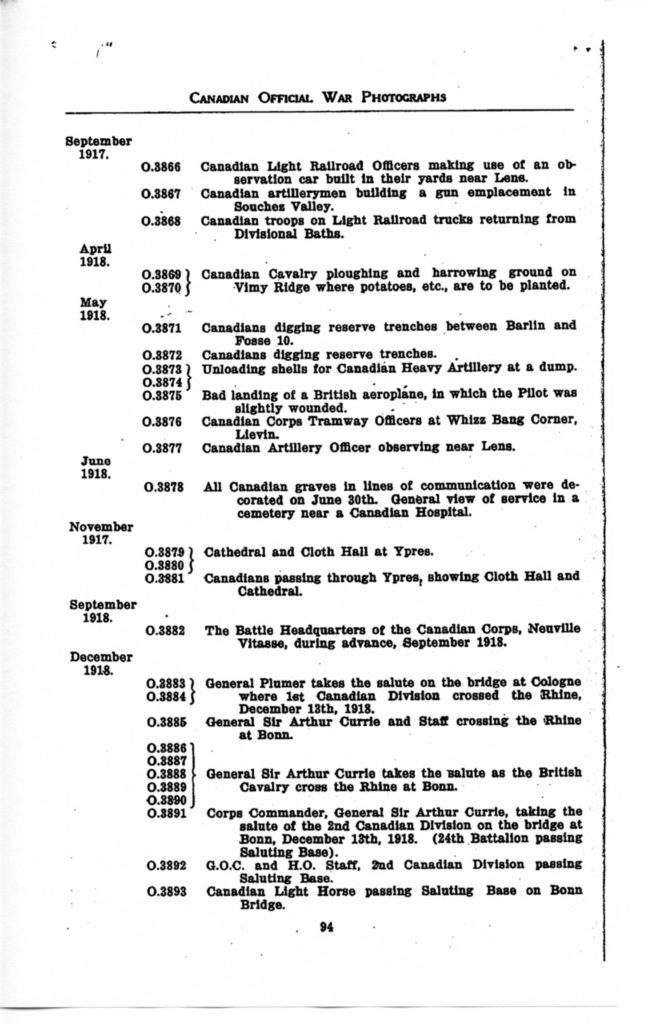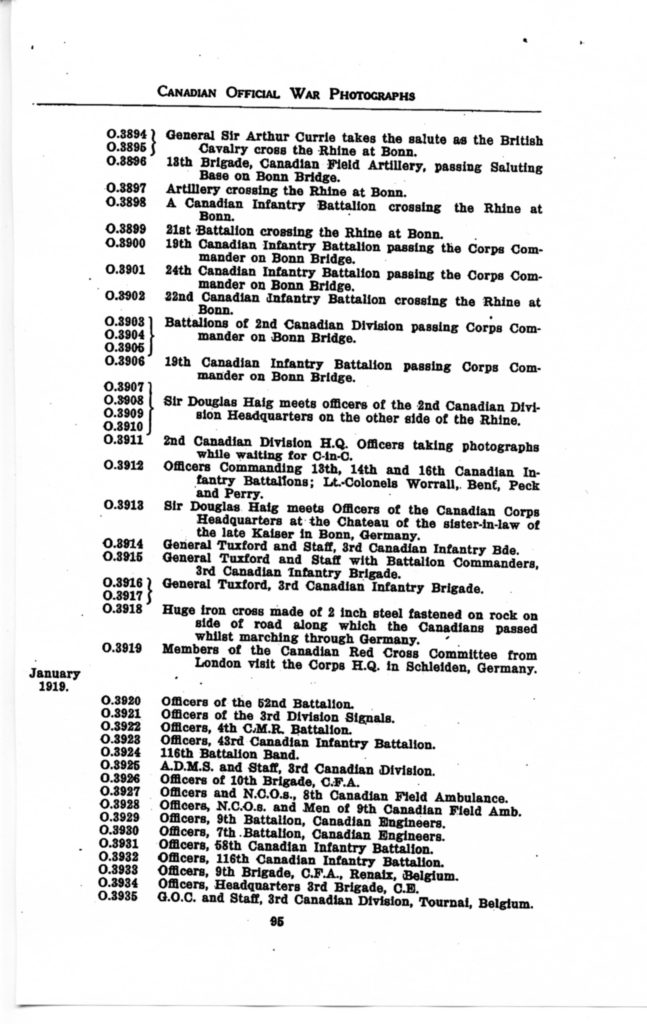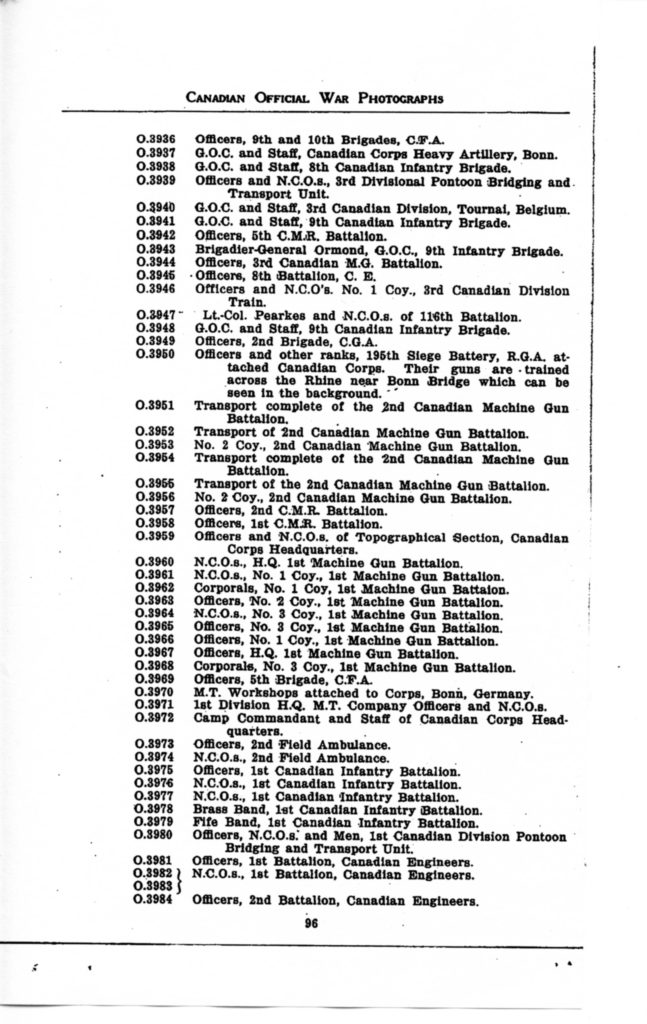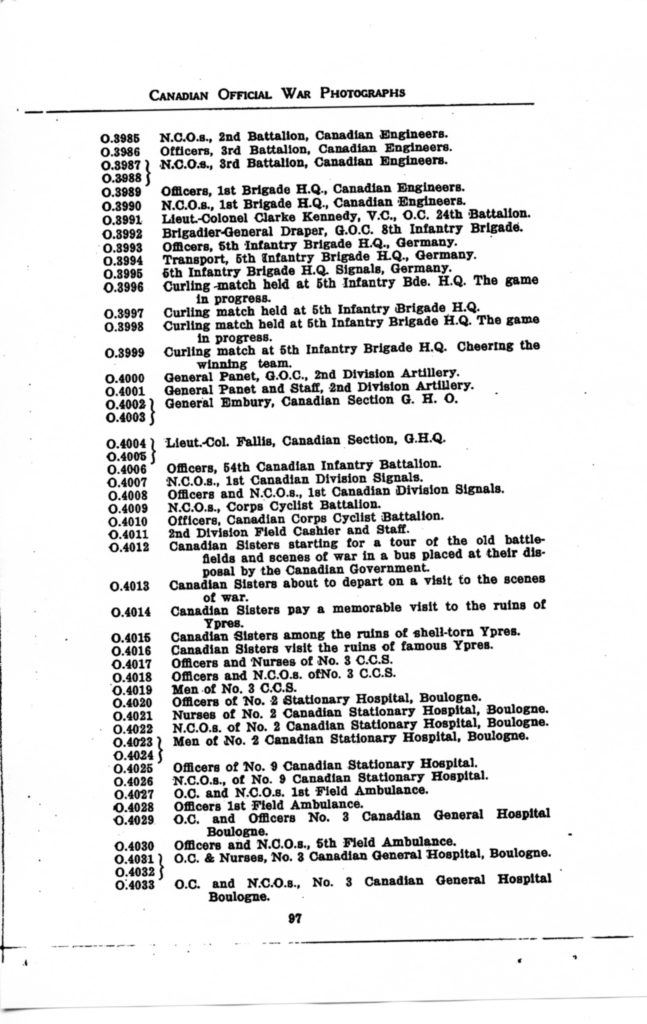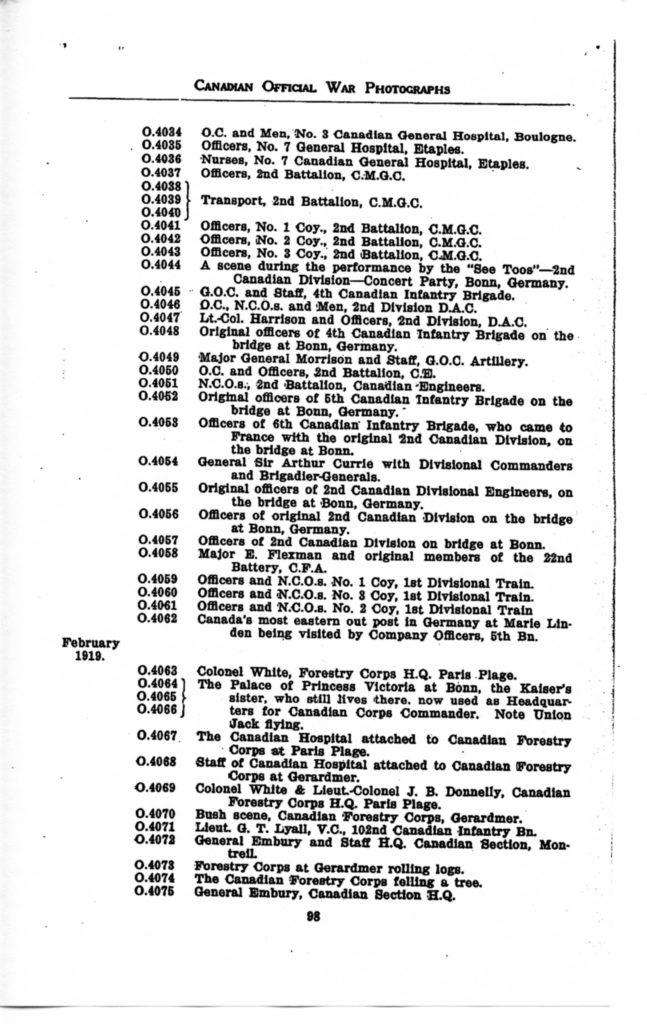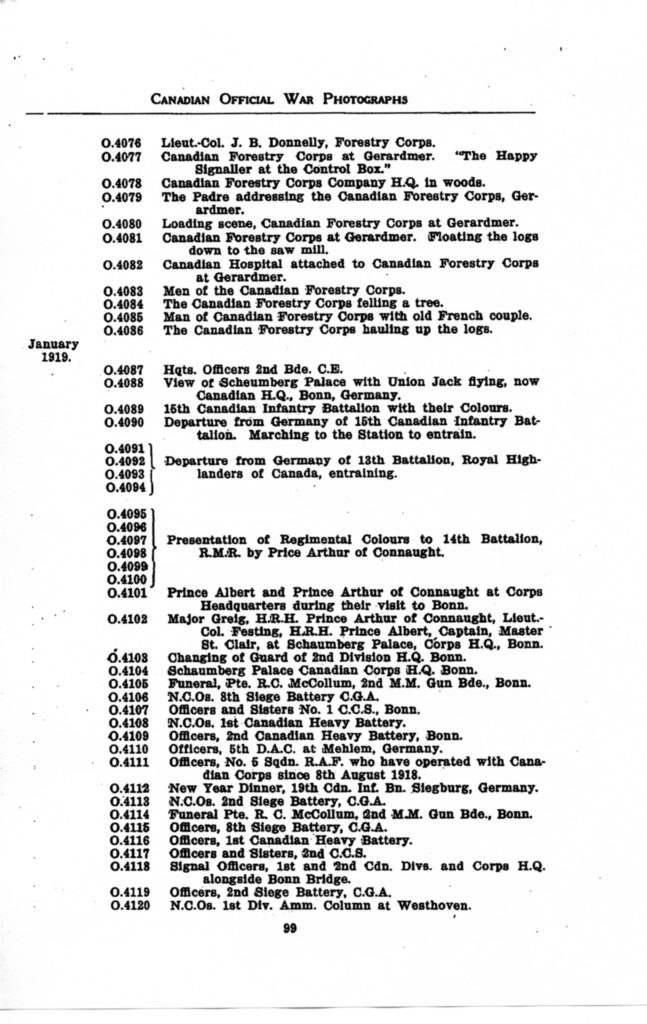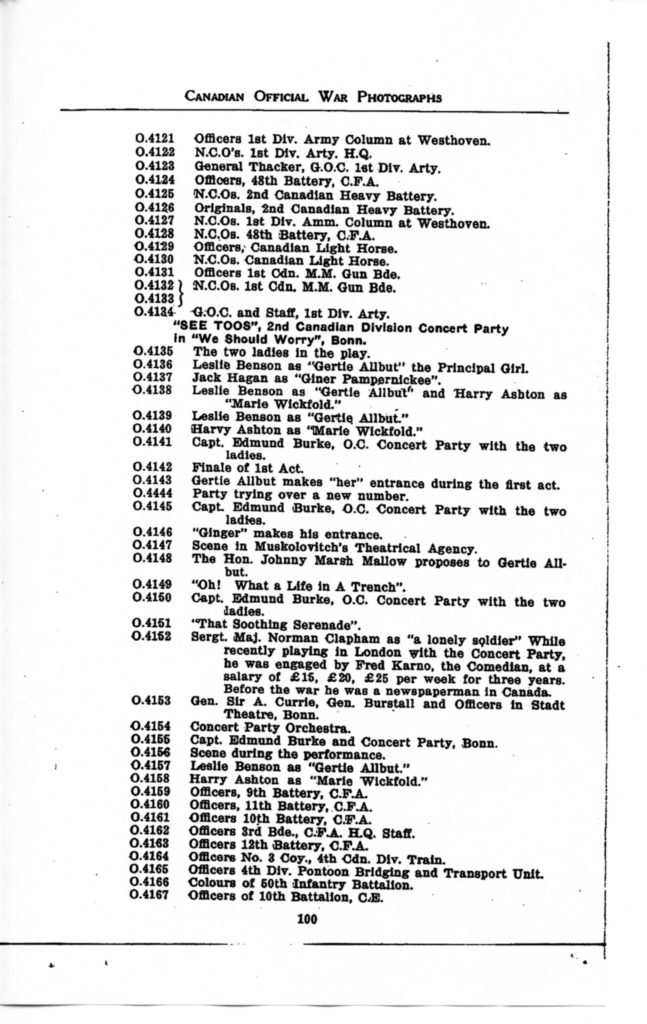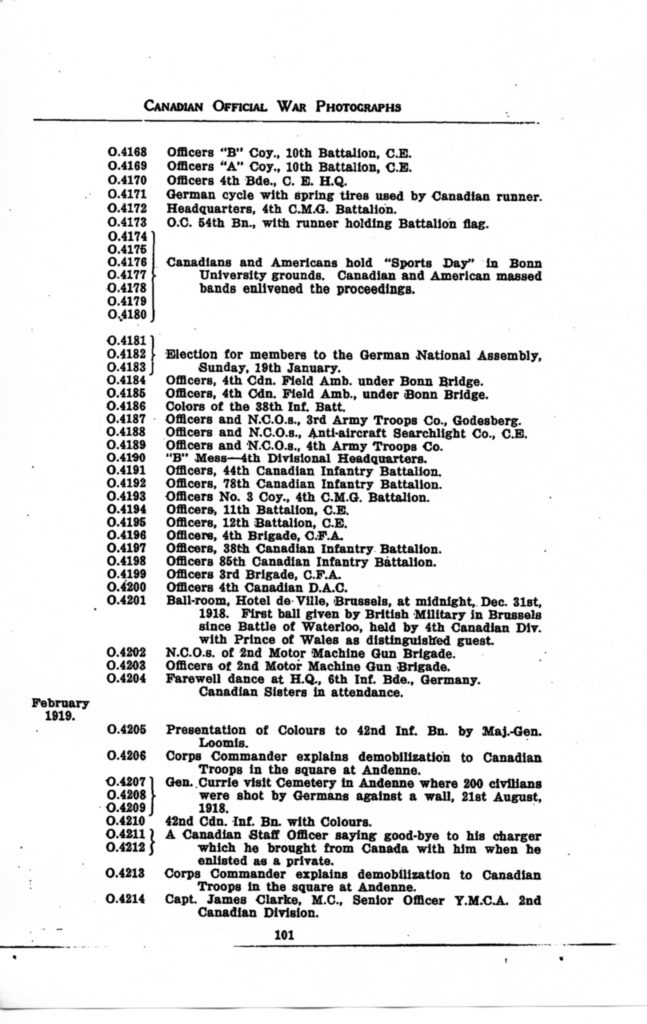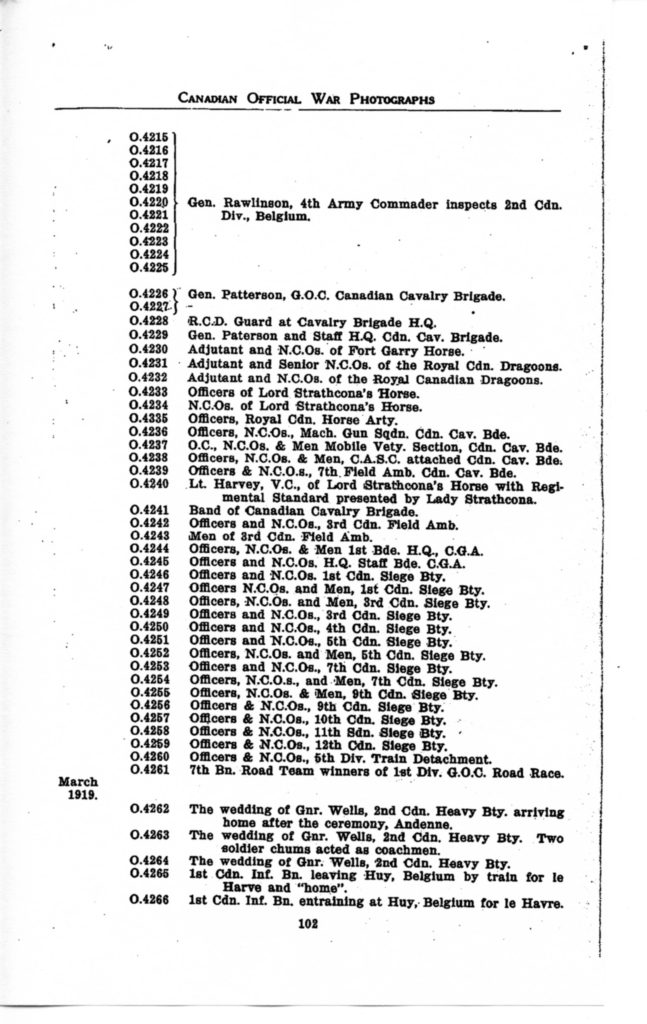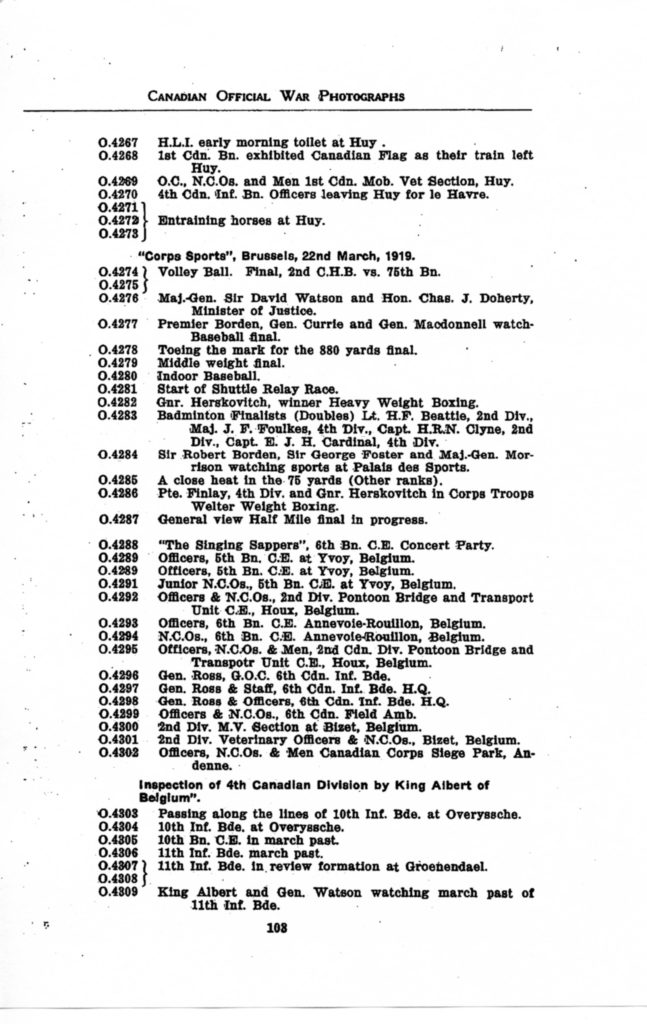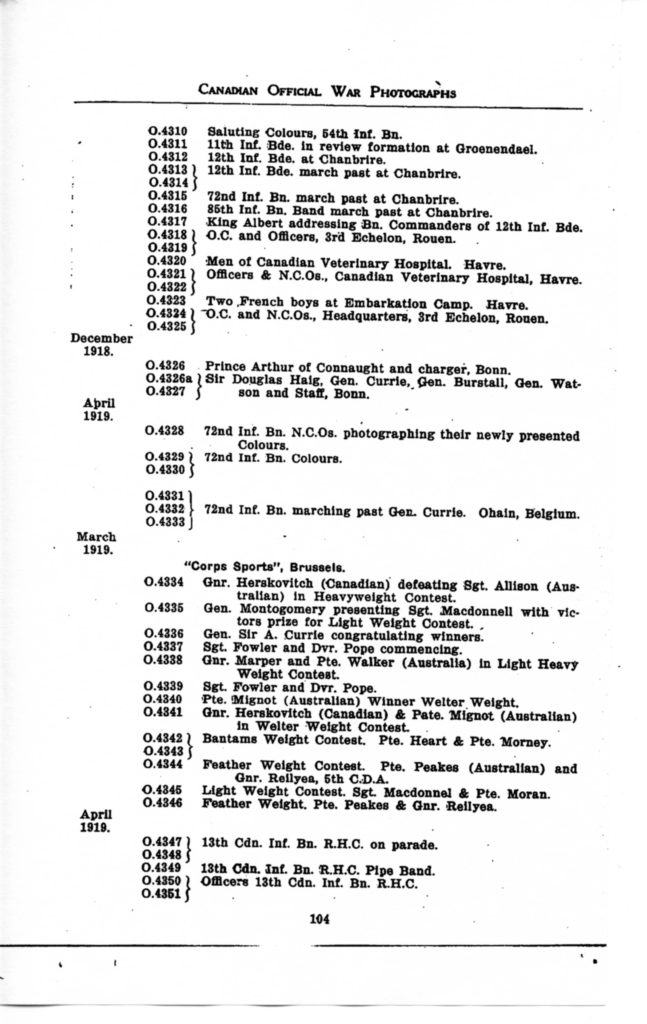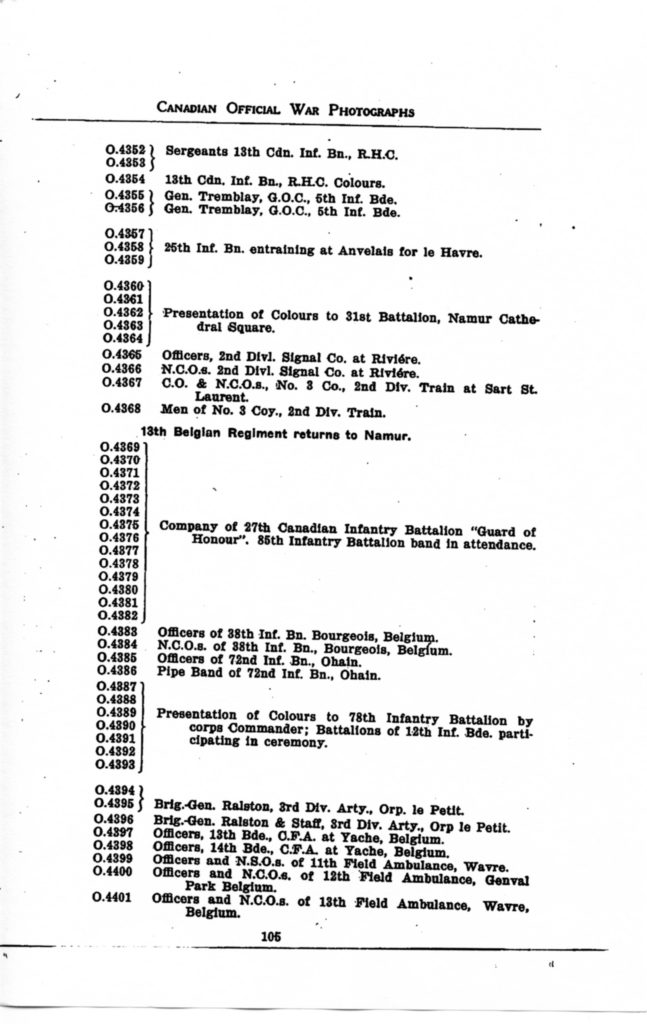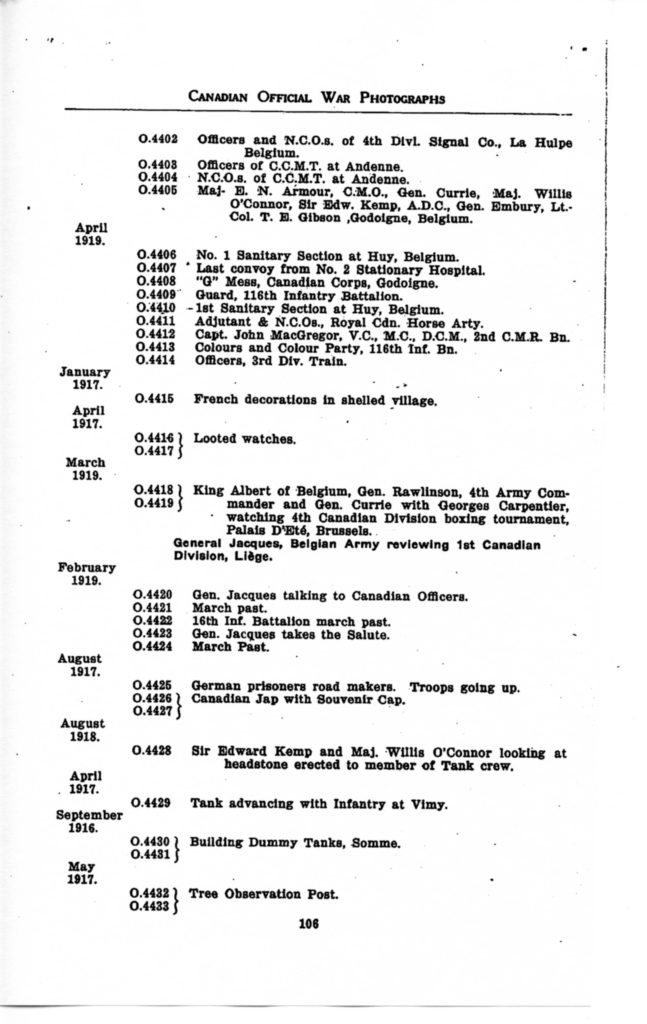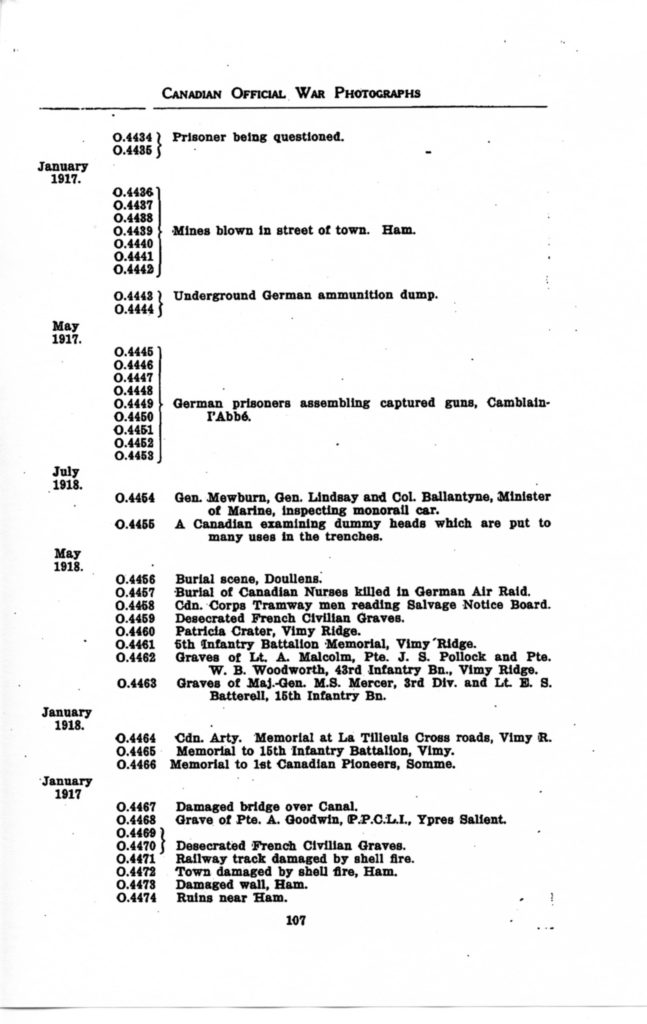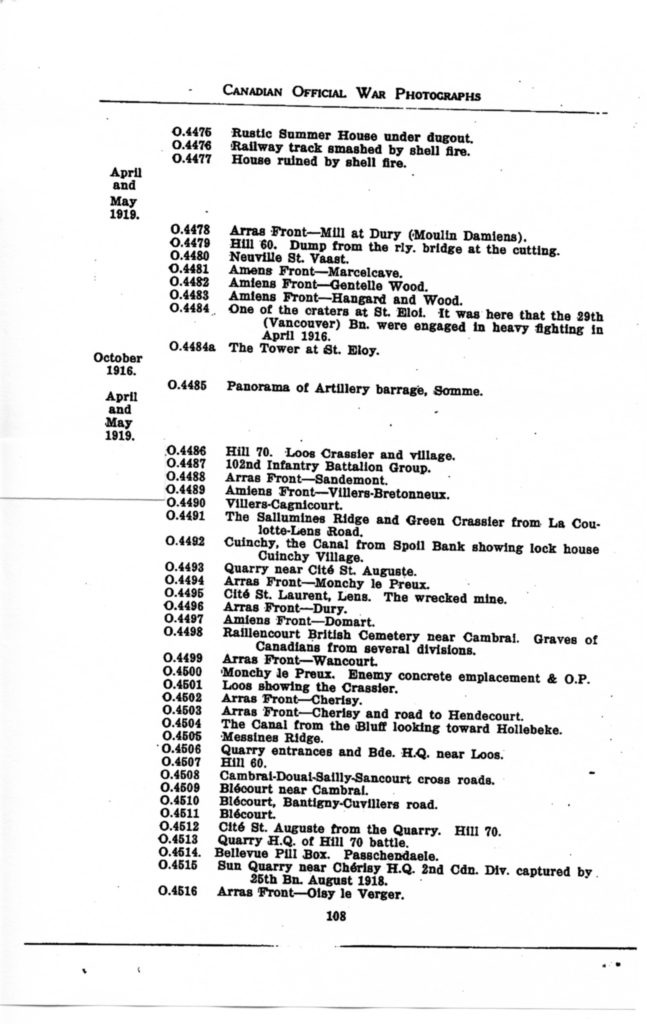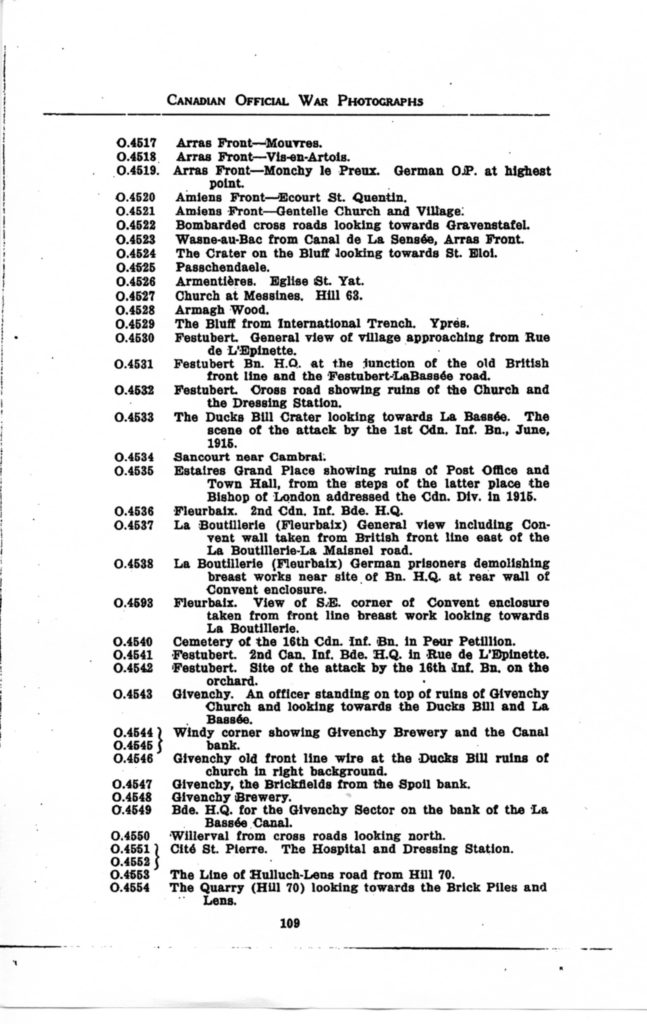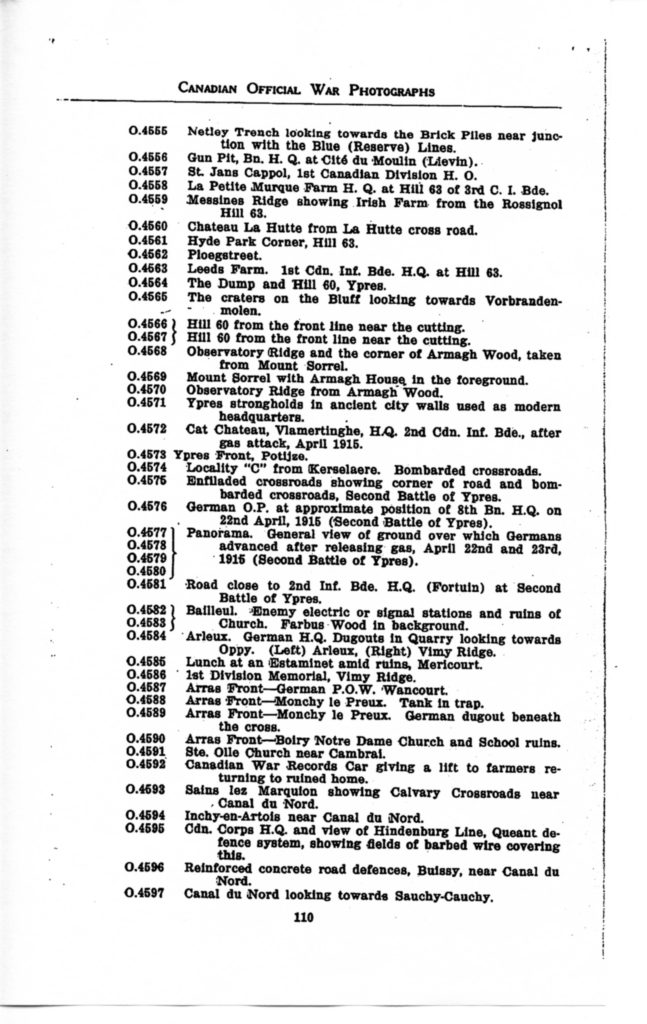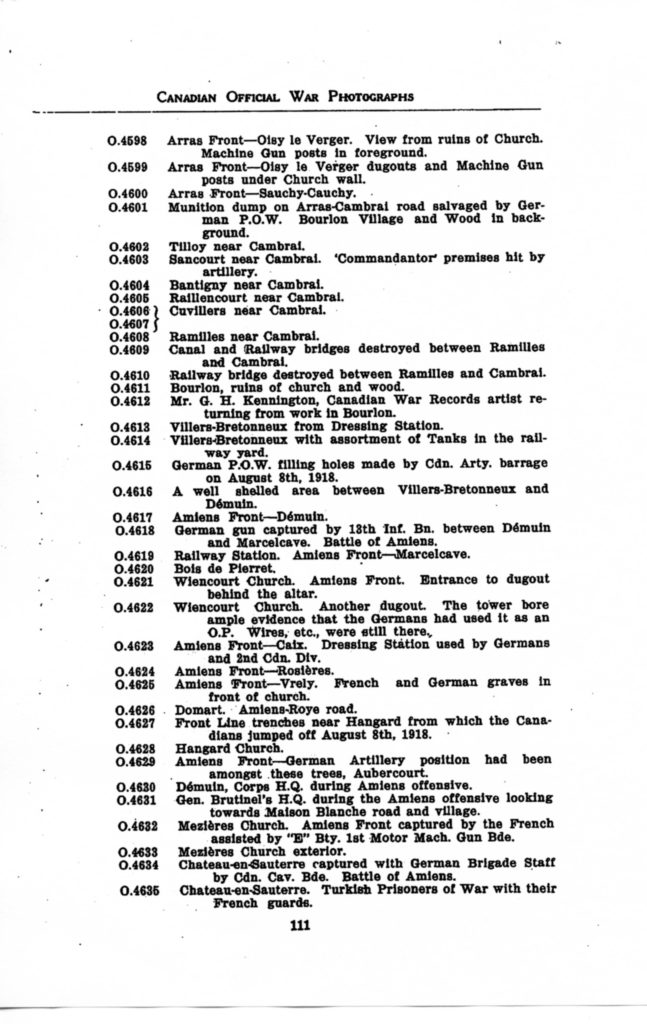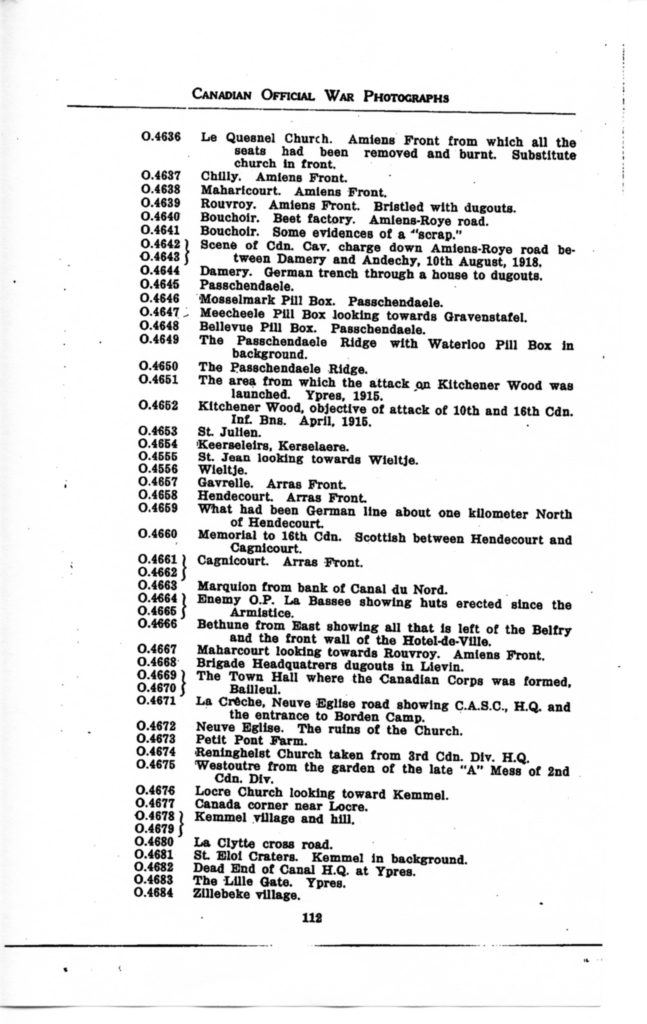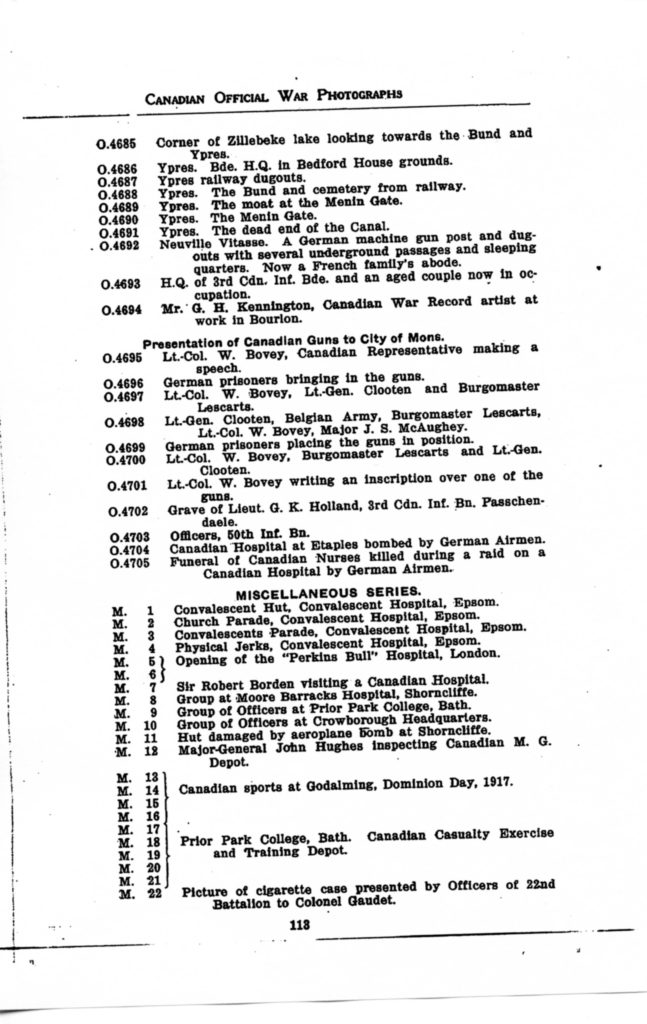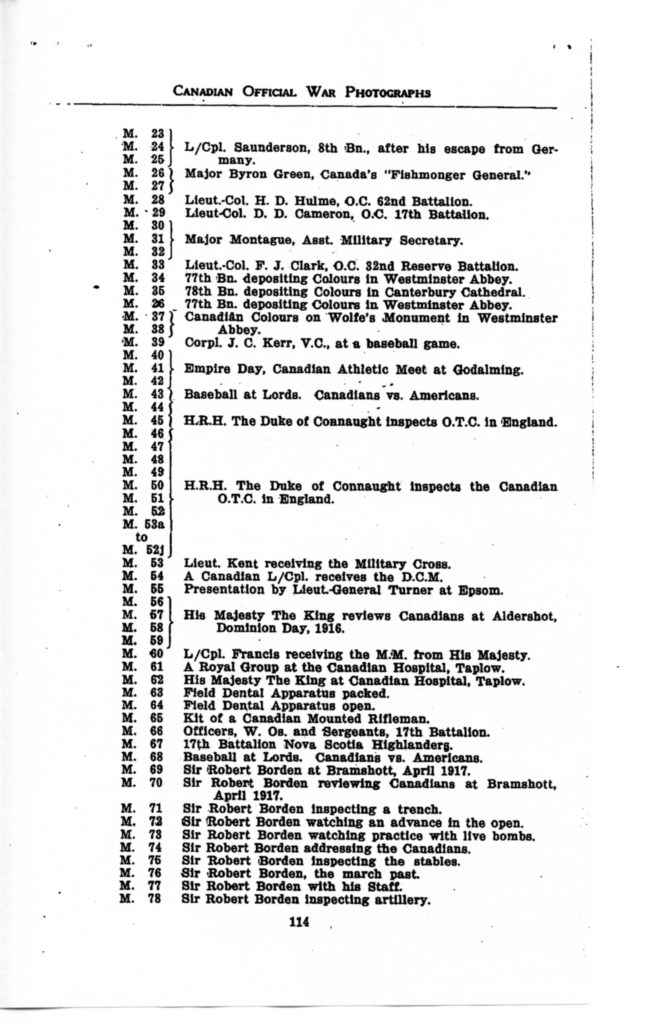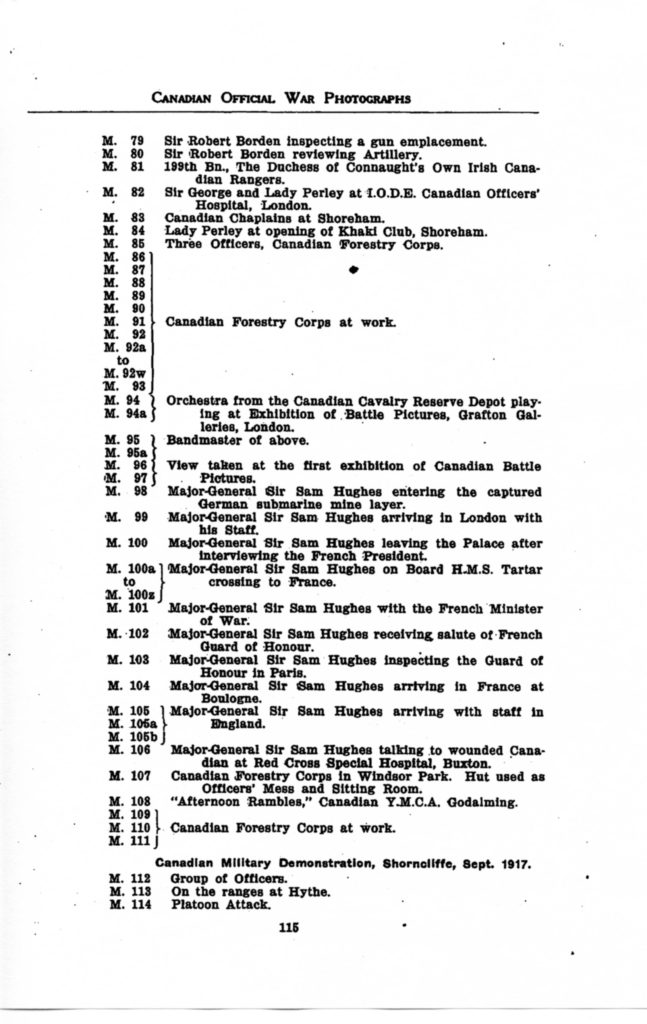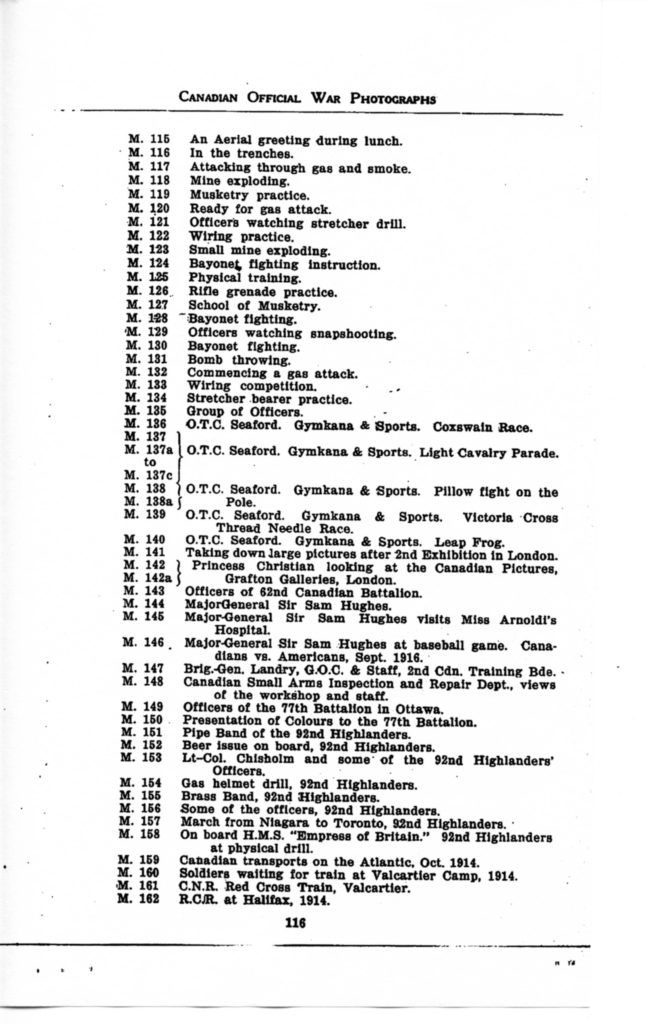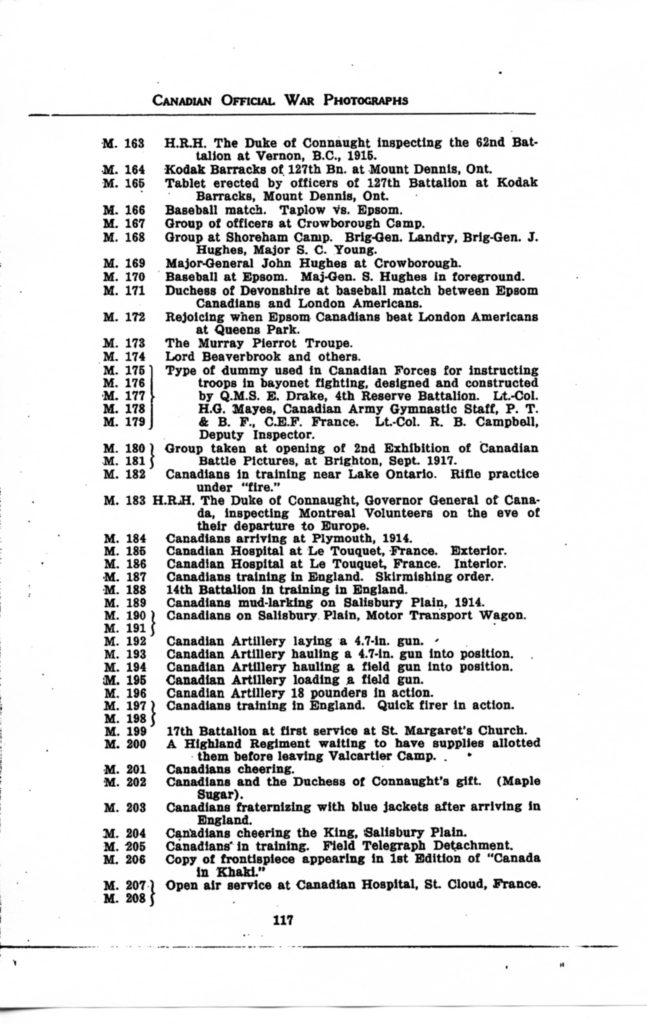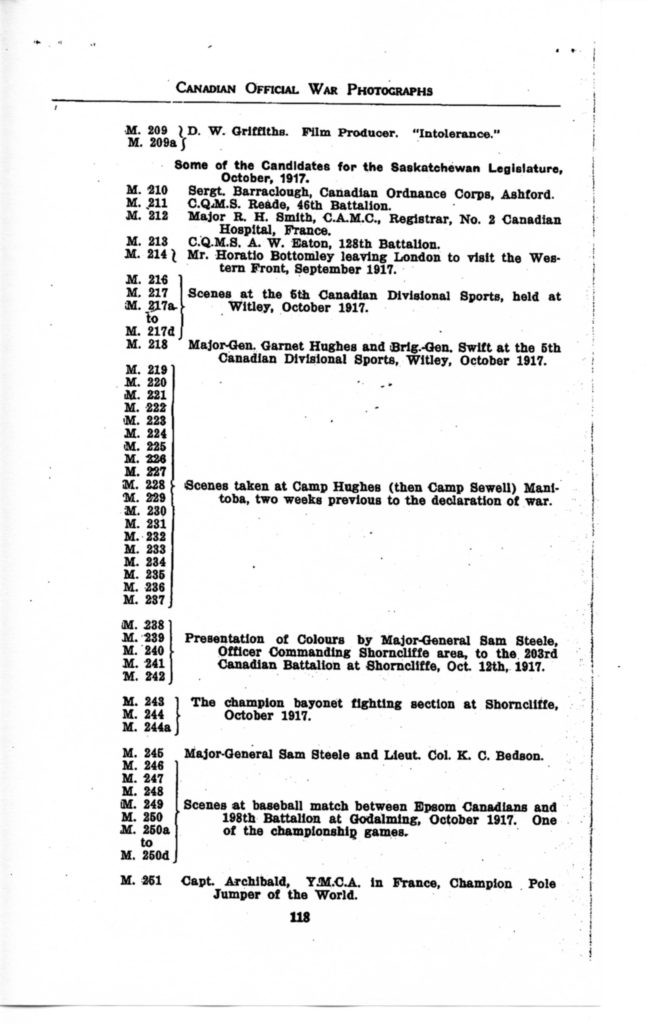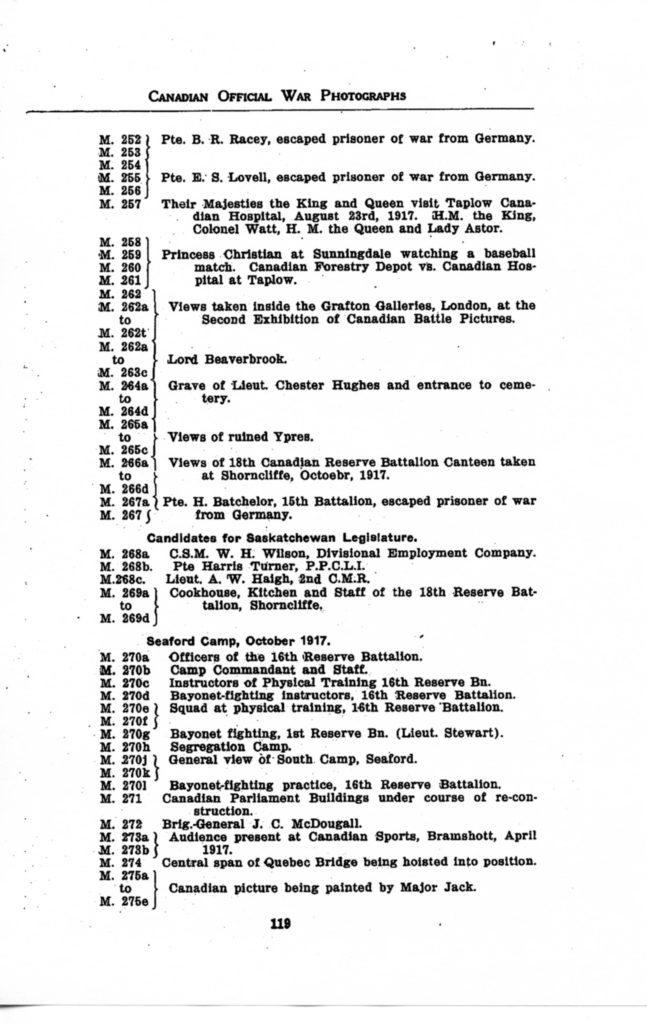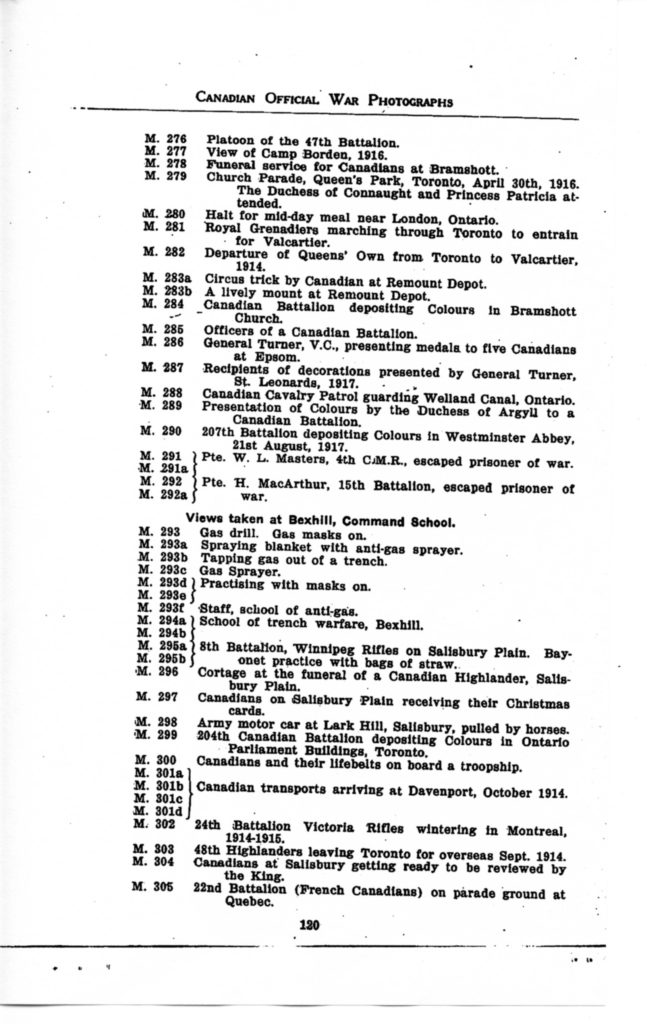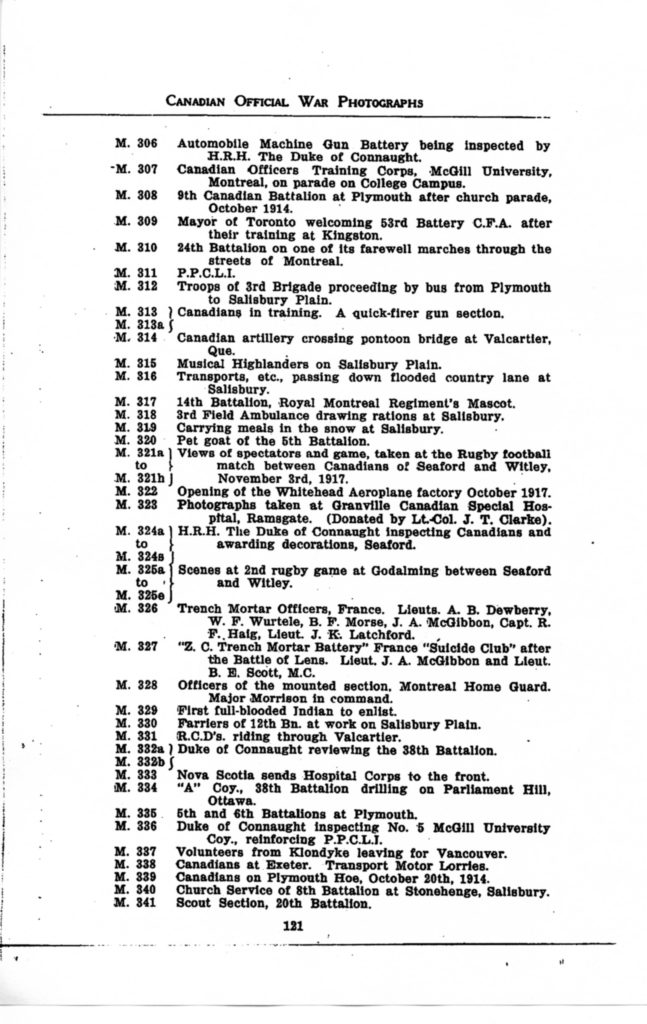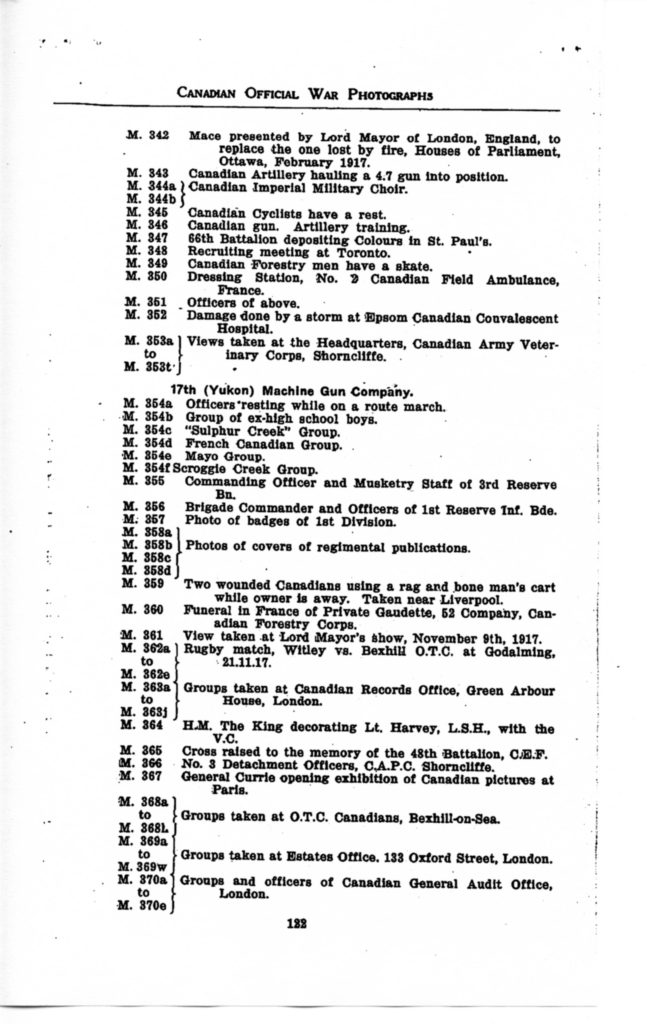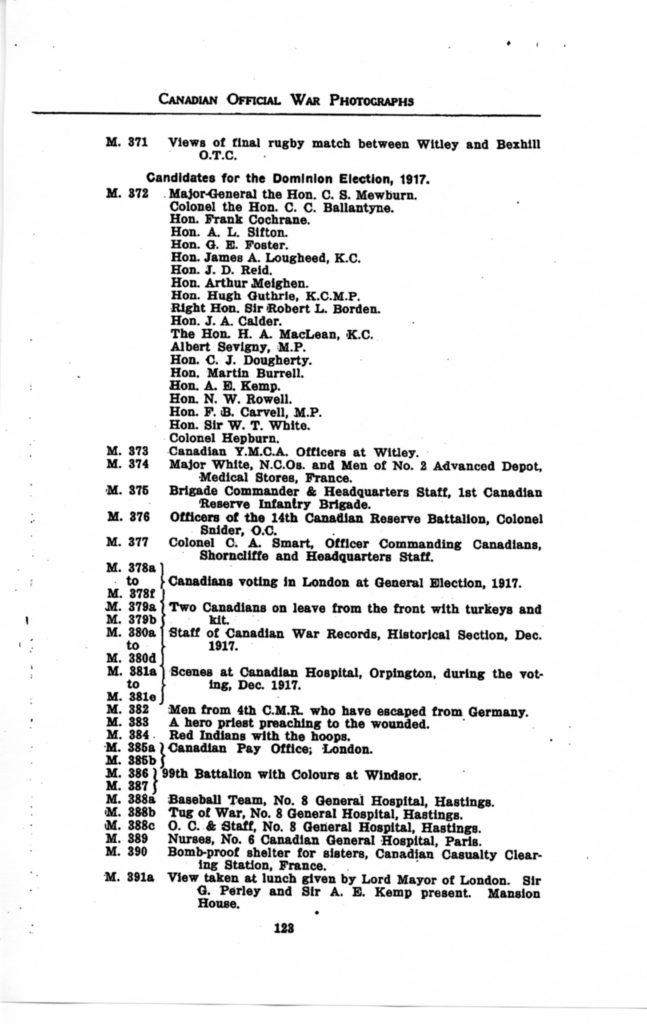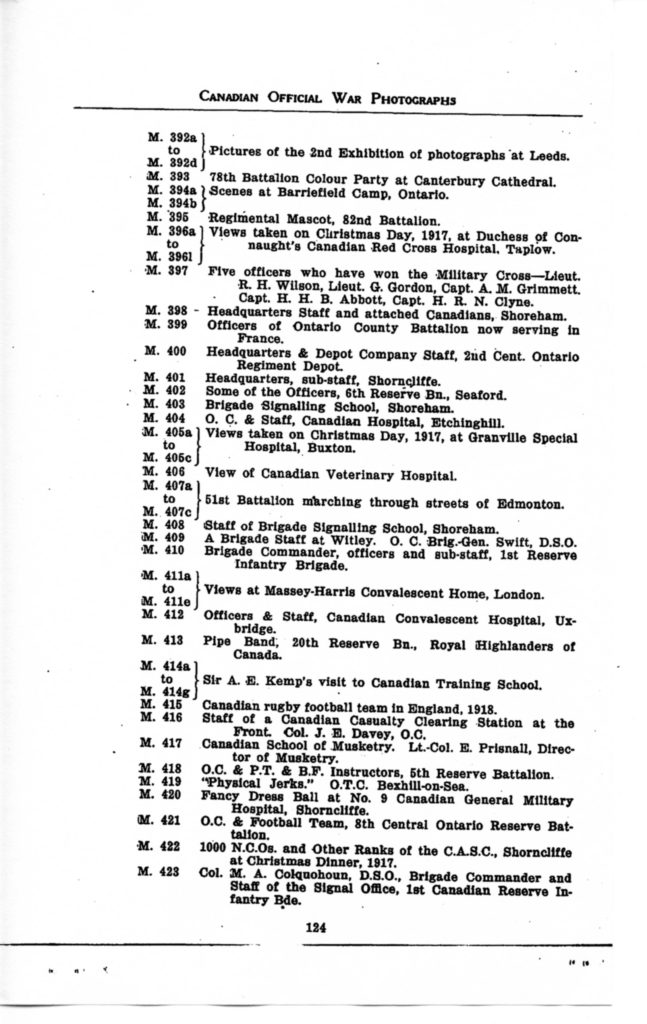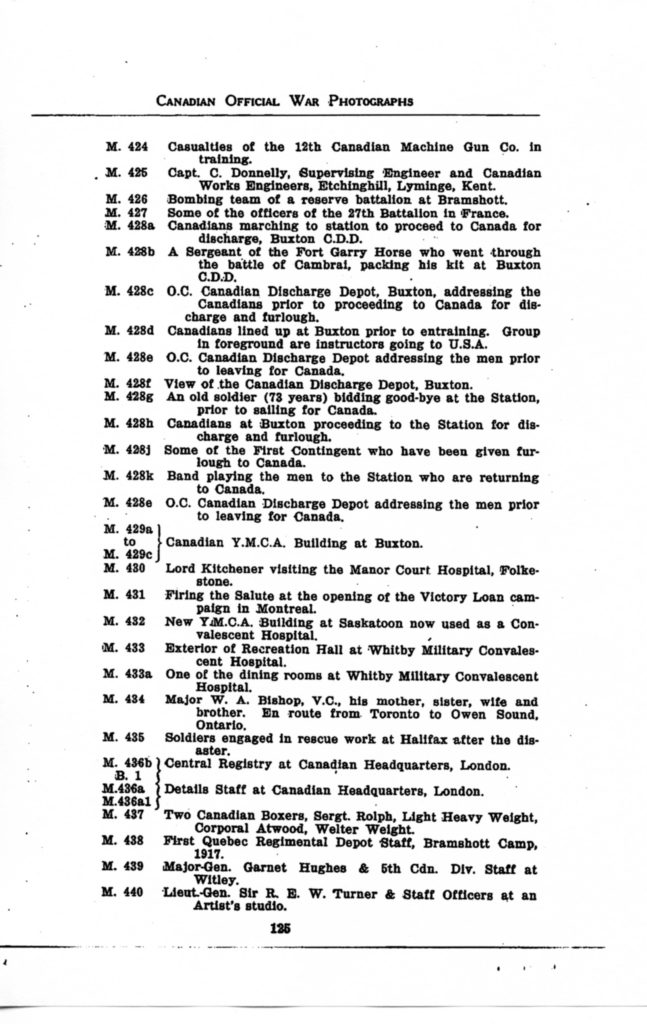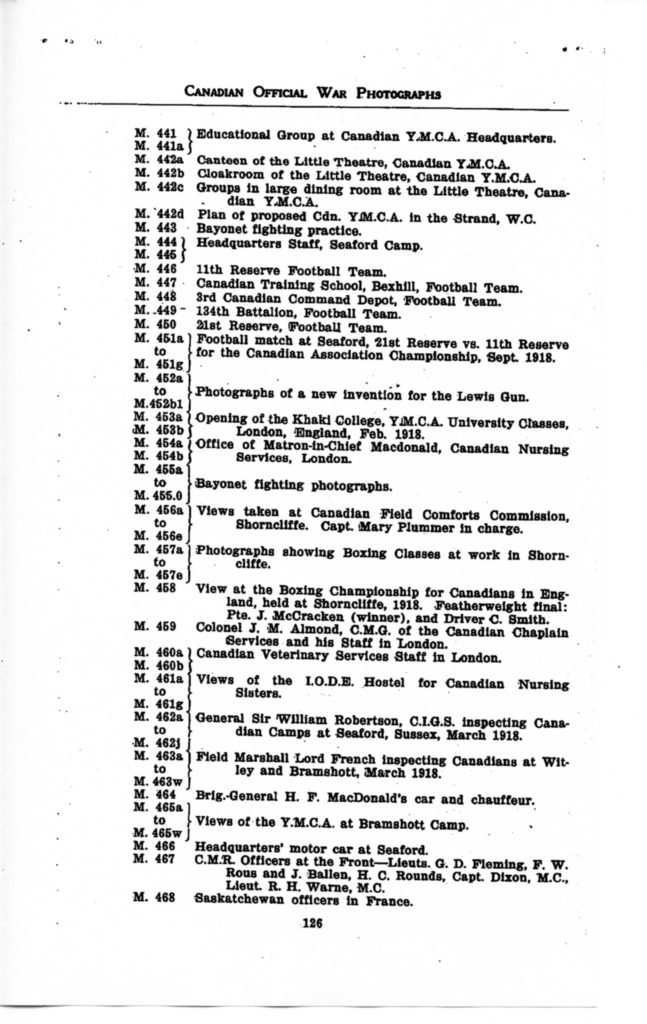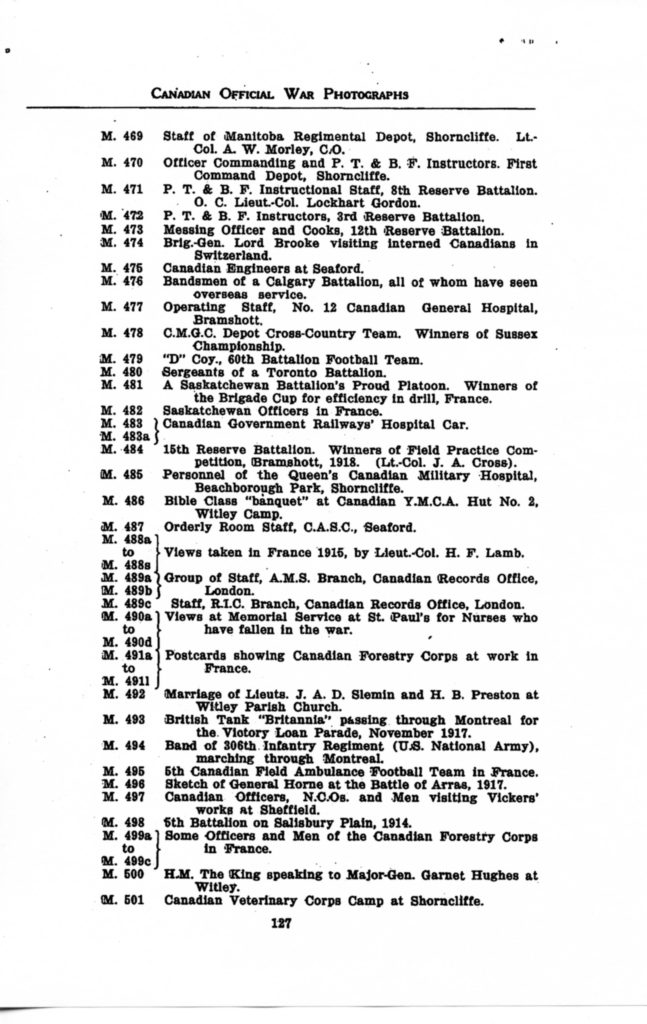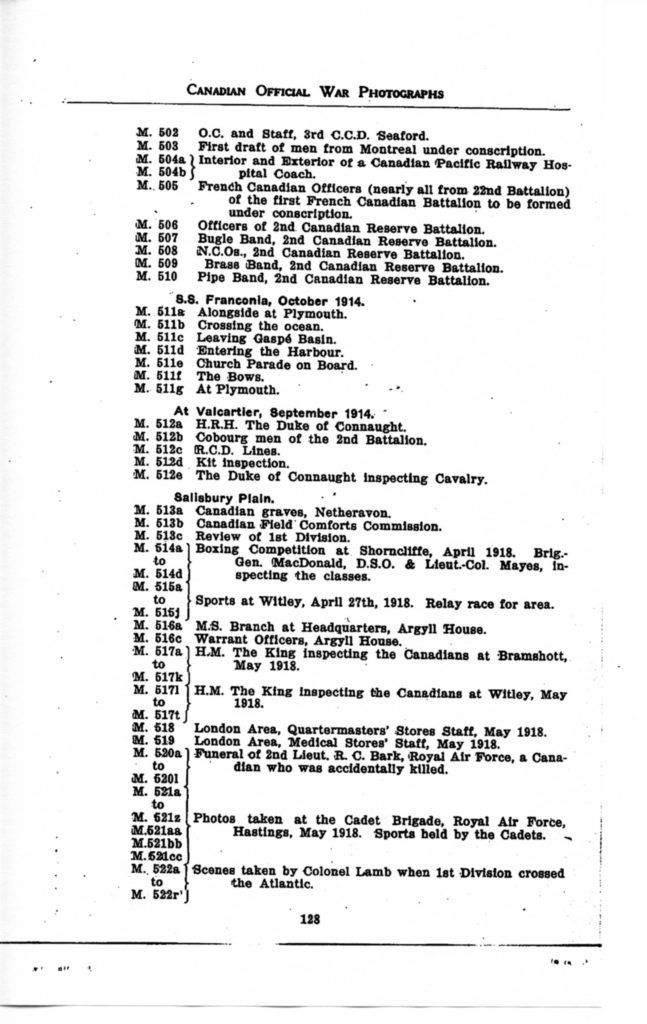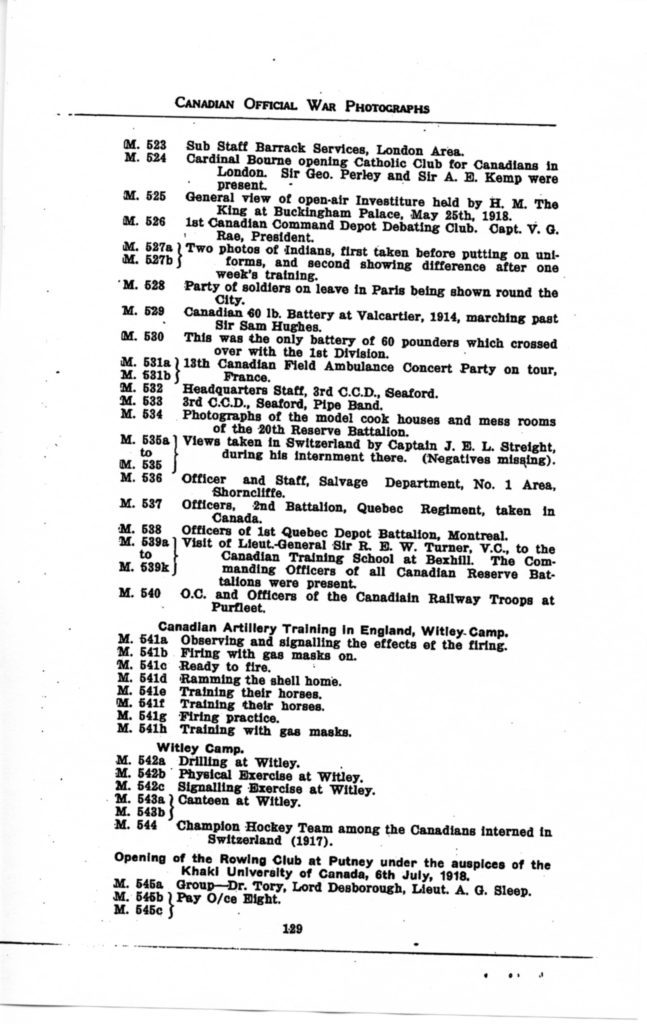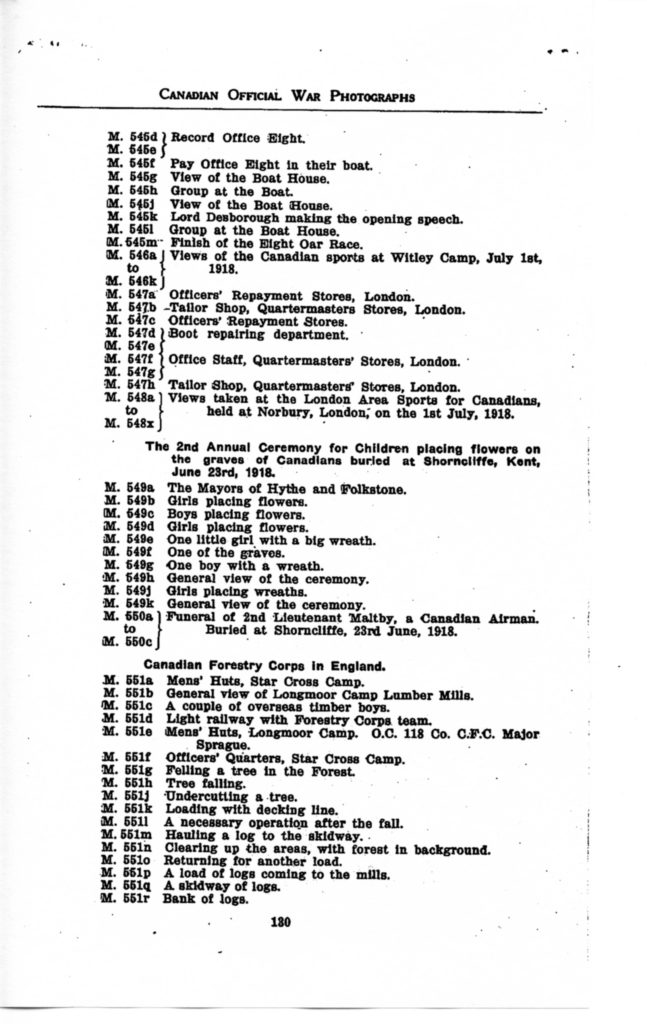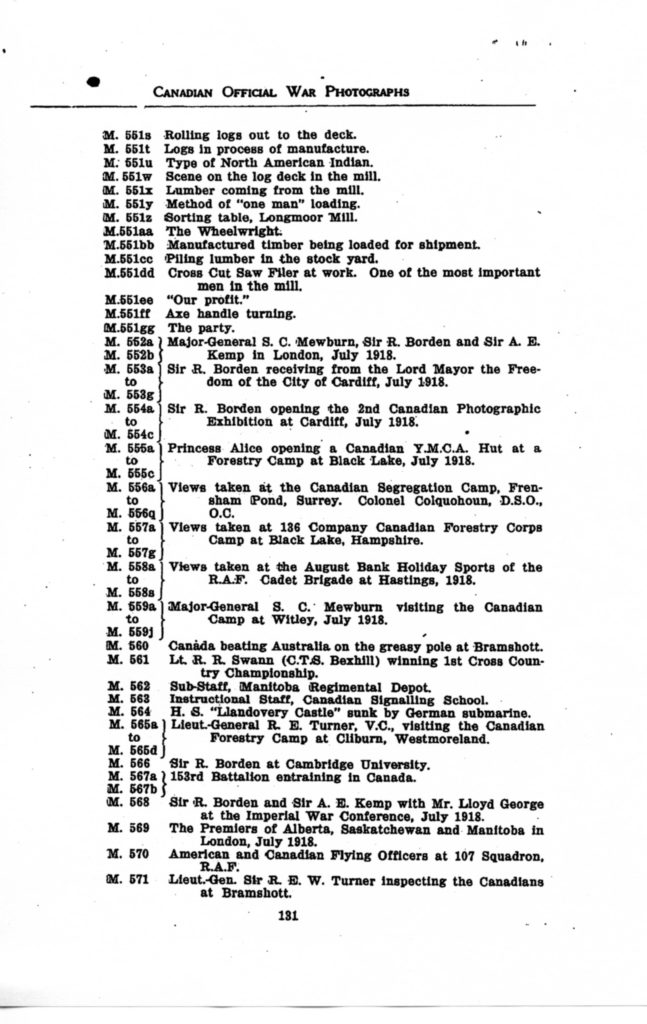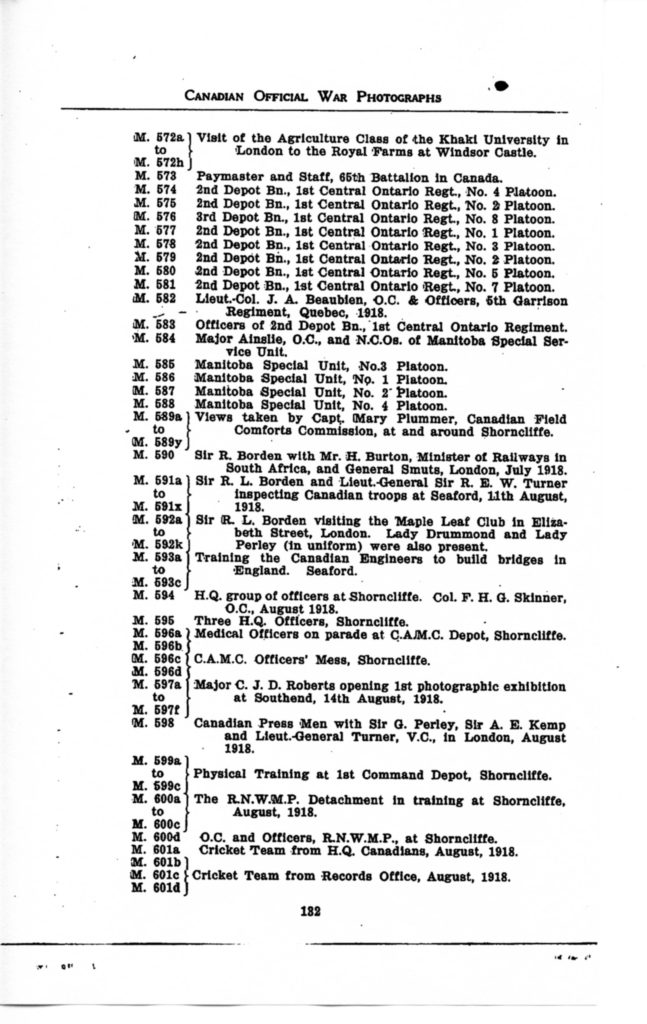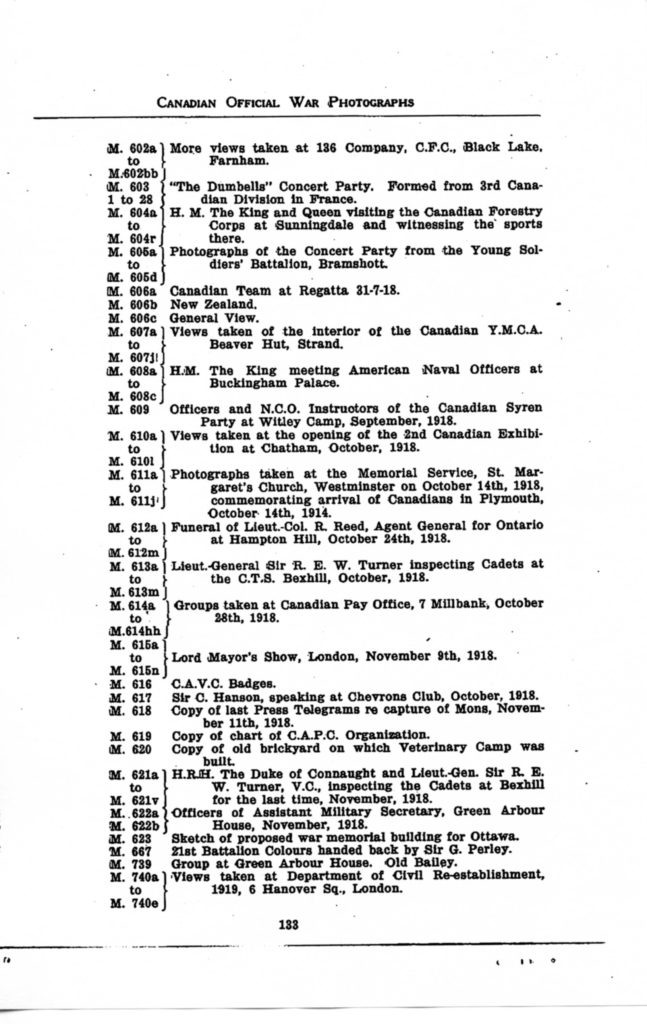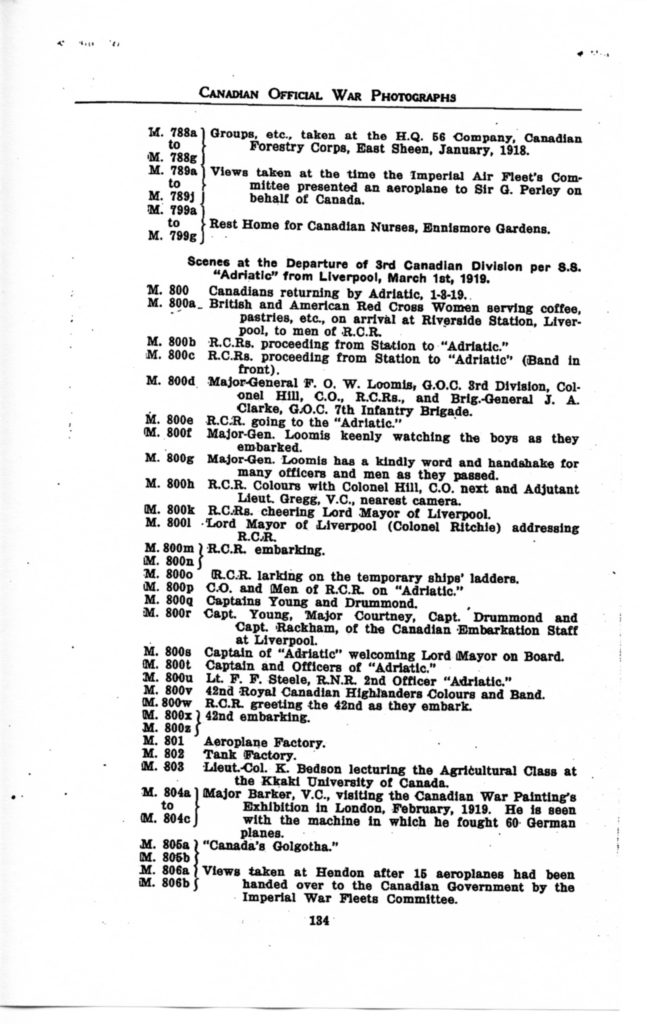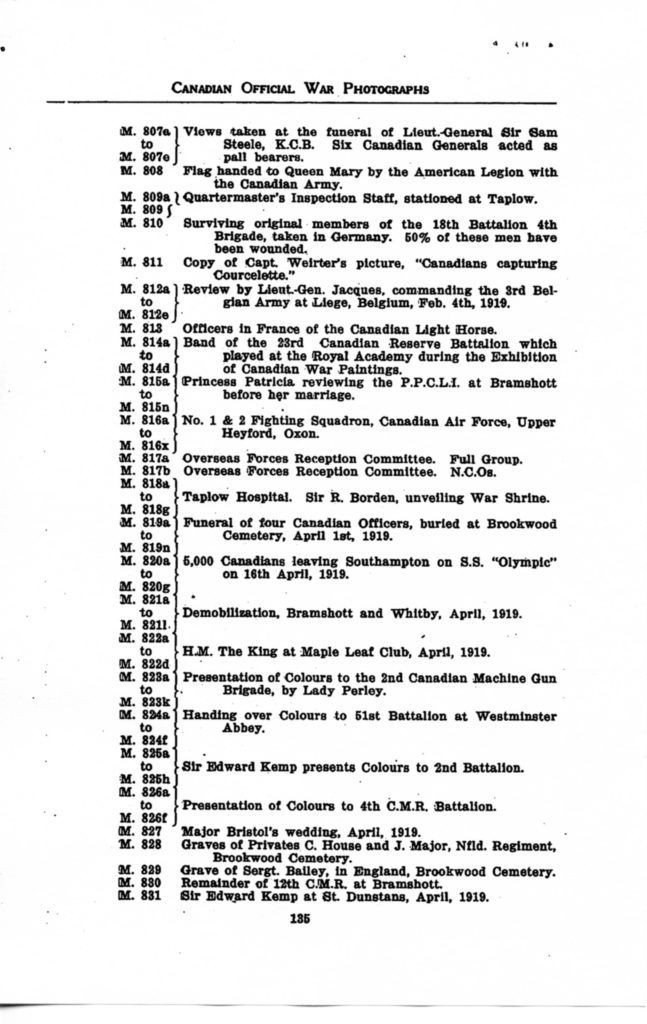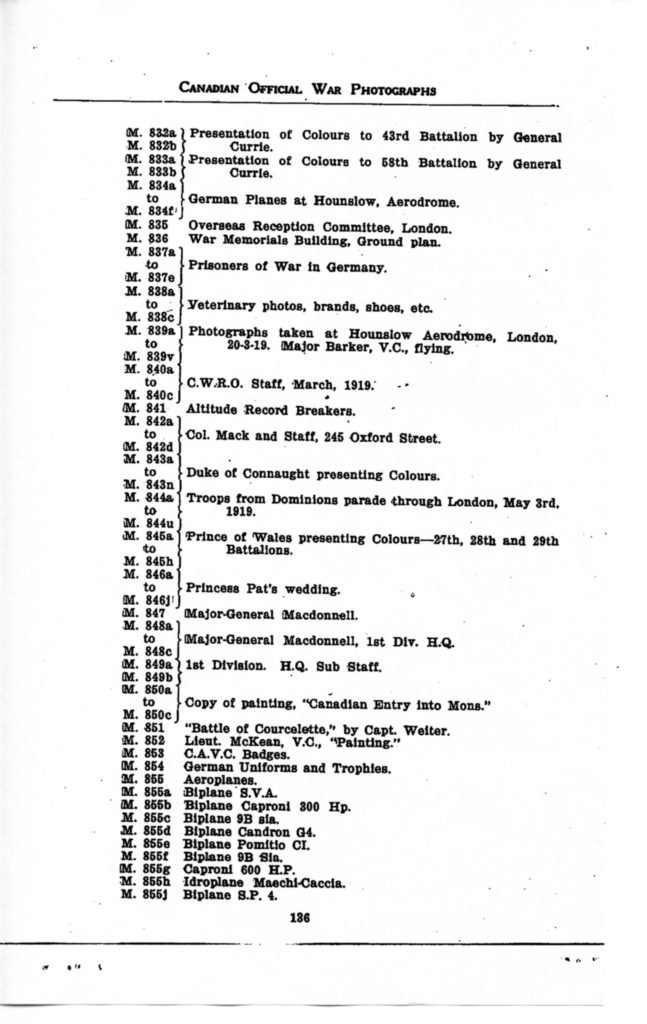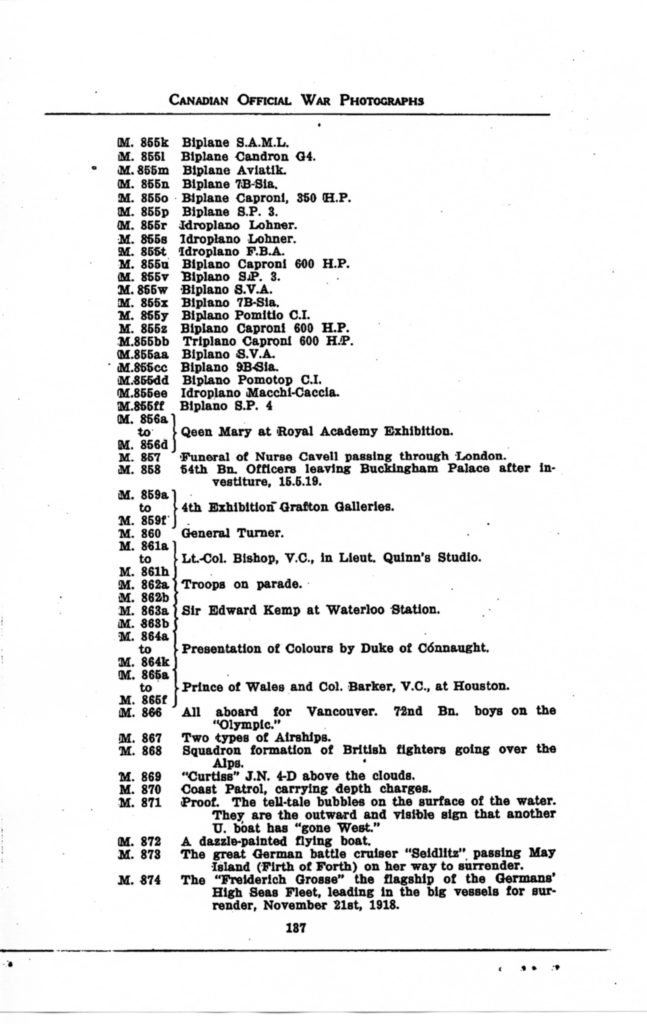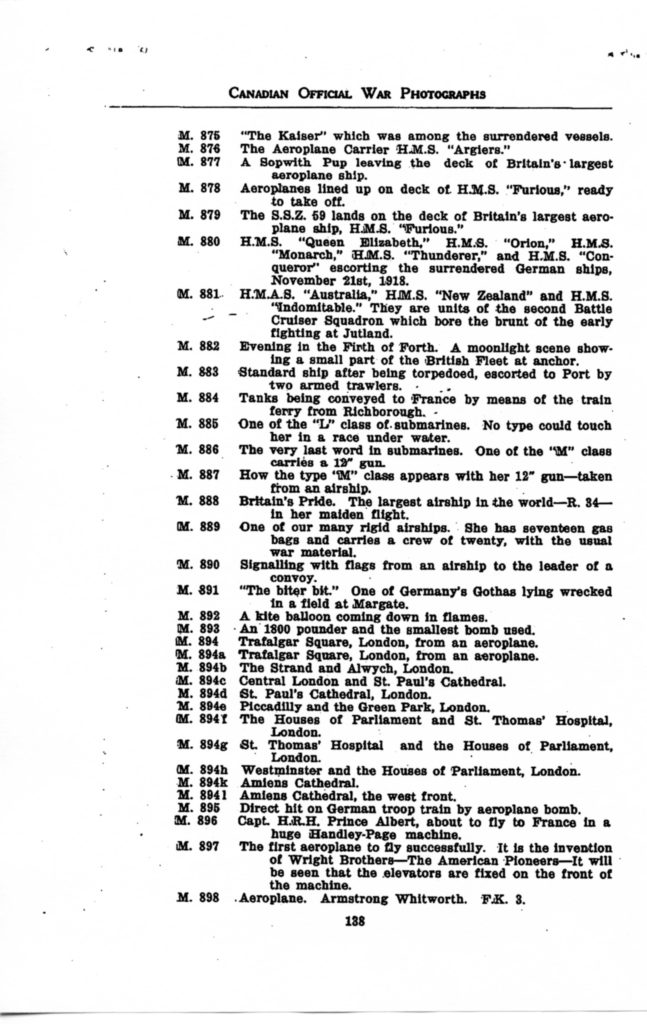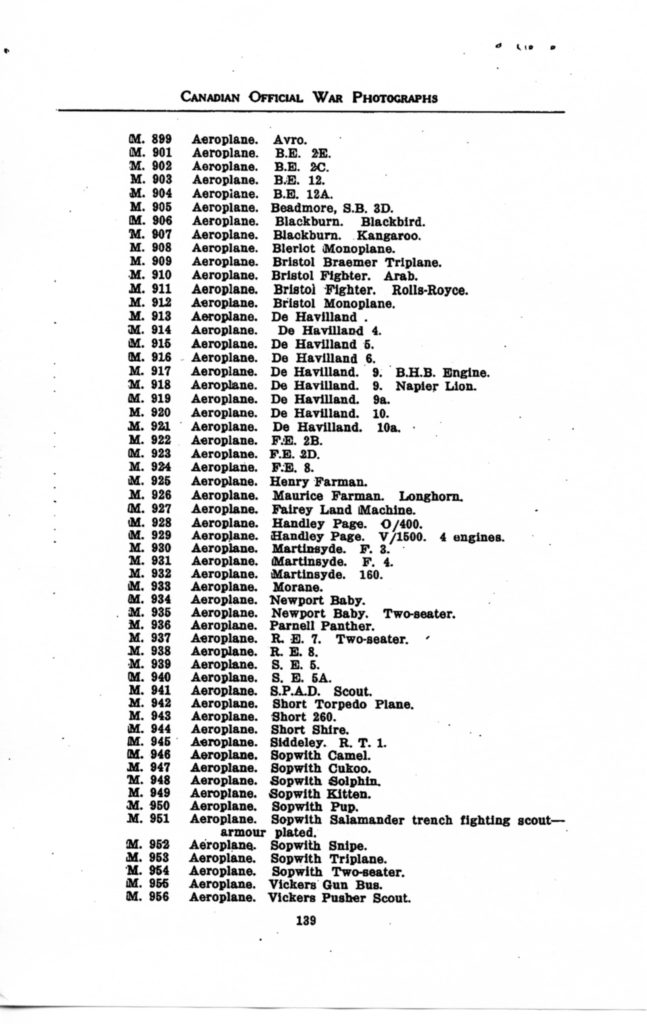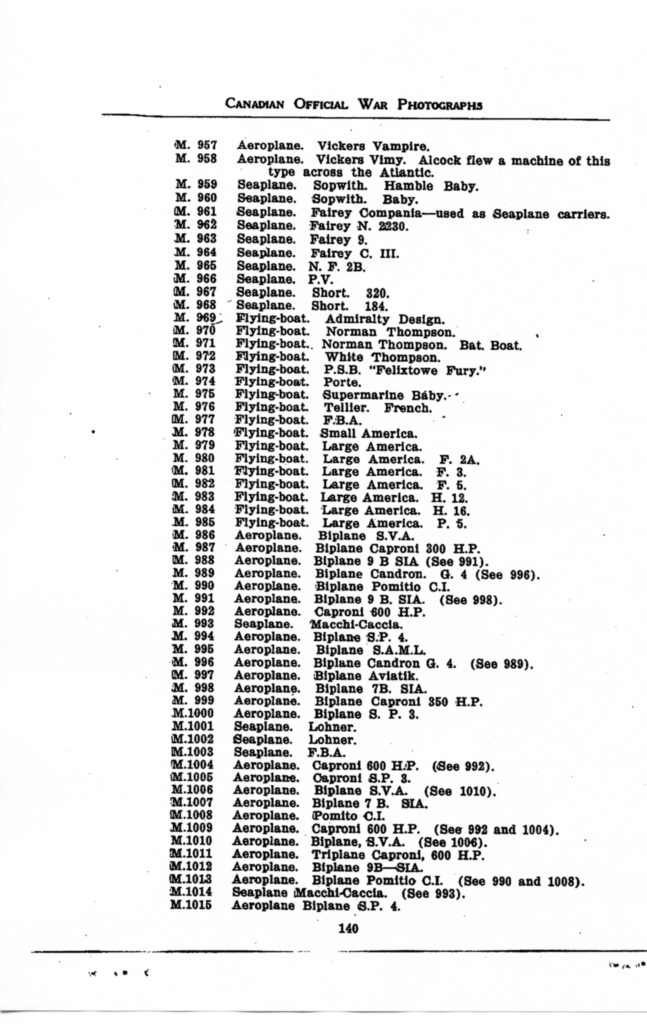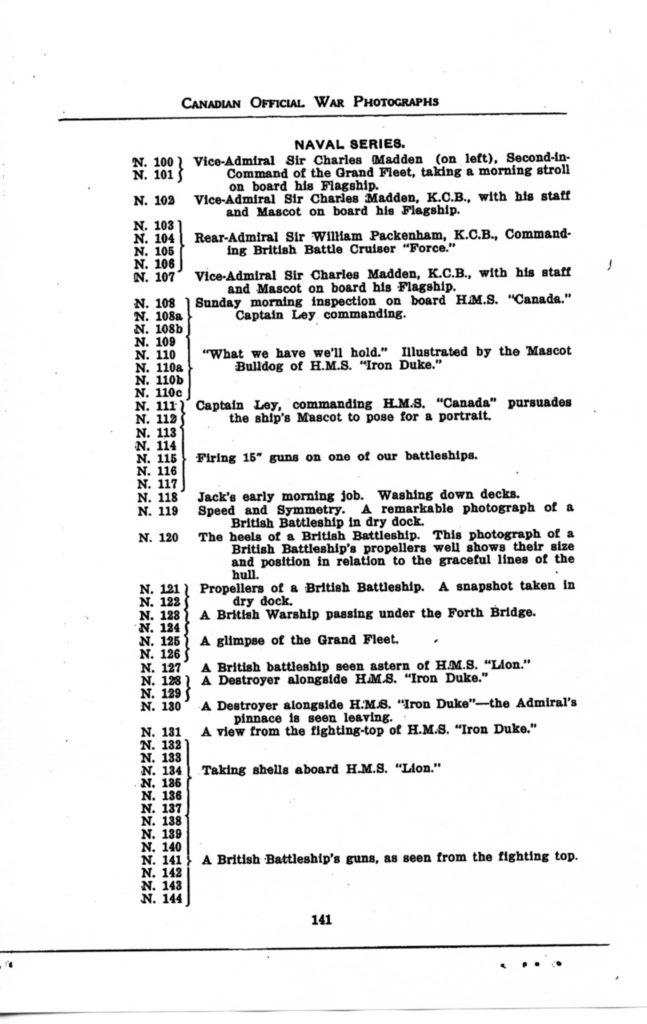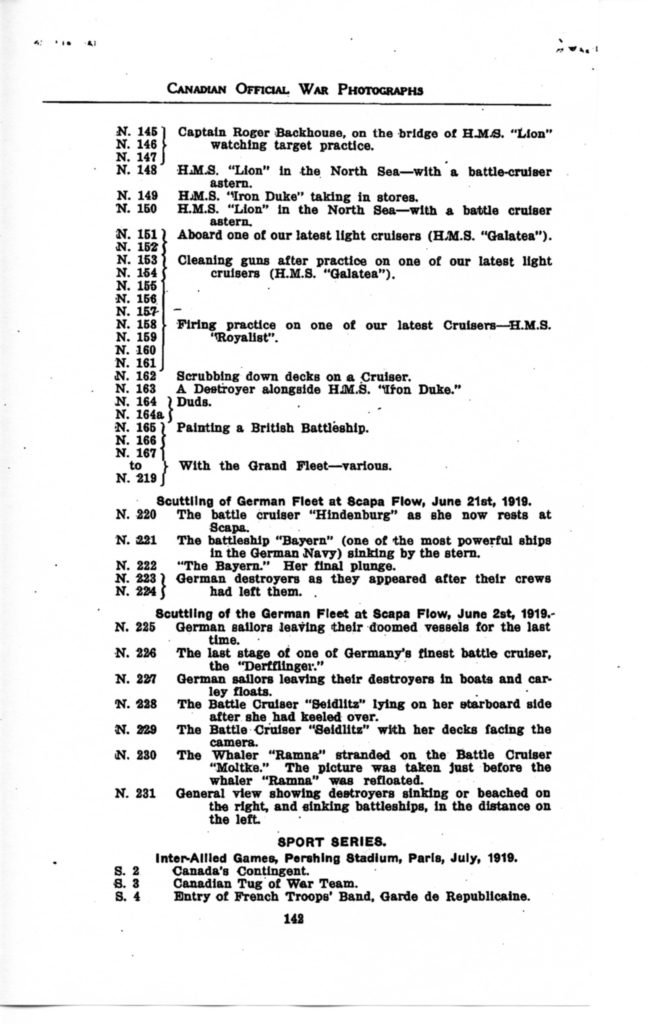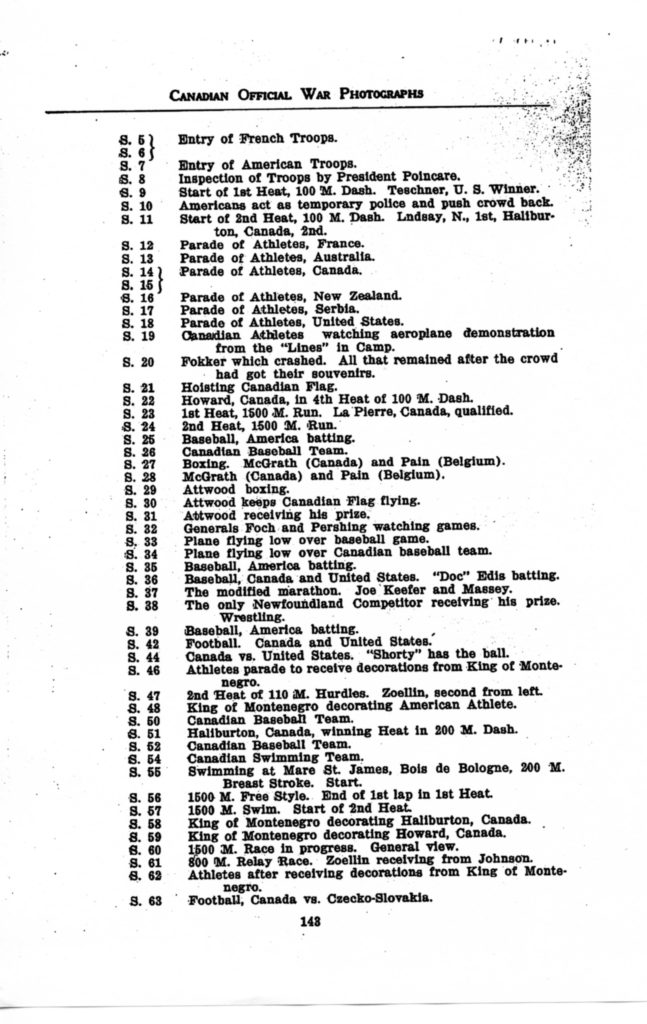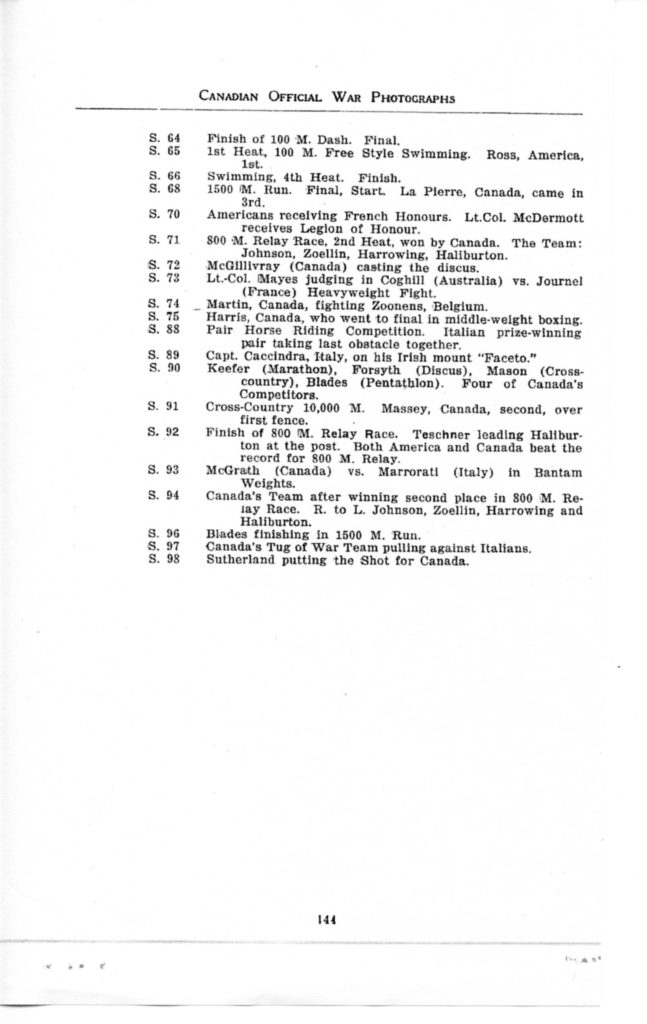 SOME OTHER WEB SITES (external this website)