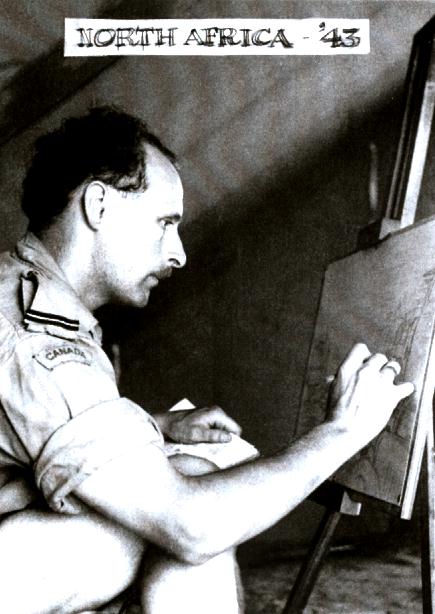 Paul Goranson (1911-2002), an Official Canadian WWII R.C.A.F. War Artist.

He served with the Royal Canadian Air Force (R.C.A.F.) during World War II in Canada, the UK, North Africa, Sicily, Italy, France, Belgium. Holland and Germany. He disobeyed orders and went right into combat to get many of his images by flying on bombing missions.

This web page is meant to pay honour to this man and his family.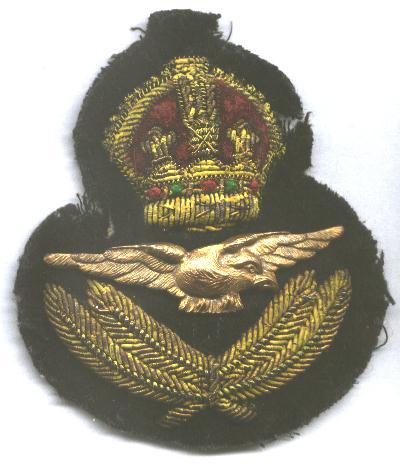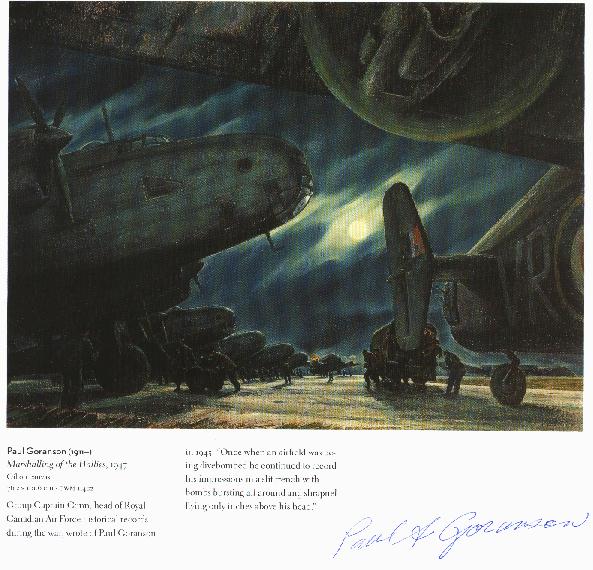 This is a page from a book which showed some his art work and I got him to autograph two of his images for me – this one "Marshalling of the Hallies" (i.e. gathering up the Halifax bombers) and "Posted to Newfie". Note his autograph with this picture in my book "CANVAS OF WAR". He also autographed his "Posted to Newfie" picture in the same book.
Paul Goranson and his wife lived two doors down from my mother in False Creek, in Vancouver, BC, Canada until his death at the age of 91. I was fortunate to have met him one evening at his home.. I only met him the one time, for about half an hour.
My mother and I attended his memorial service on 2002 August 13.
My memories of Mr. Goranson:
After "9/11" September 11, 2001, he displayed the US and Canadian flags hung vertically from an upstairs window.

He continued to paint and his home was filled with art. Over his fireplace hung a large painting he had done of Caen (or a similar town in Normandy). It showed the devastation and Canadian or British soldiers on the streets. In 2002, his widow told me that it was his last military painting, painted in 1999. It was called "The Twilight". After that he only did a few family paintings as a large one such as this could take him a whole year to do given his advanced age.

He was not impressed with Jack Shadbolt as a "war artist". Mr. Shadbolt had worked mainly in Canada and rear areas, whereas Paul Goranson had sought out the combat areas. The Shadbolts worked to keep Goranson out of the art scene in Vancouver.

He was already 90 or 91 when I met him. He was old and frail, but was still full of spirit. He was kind enough to show me an album of his original sketches he had done of various RCAF personnel etc.

Paul Goranson Wimpey (Wellington bomber) waist gunner drawing

One image caught my eye – it is my favorite. It was a well known drawing of a waist-gunner in a Wellington bomber. I have seen it reproduced in "A NATION FORGED IN FIRE" by Granatstein and Morton.

O

ne of his paintings in the hallway depicted a hotel and an elevated street railway, the "EL" in Chicago I believe.

I wanted to meet with Mr. Goranson again and to introduce him to an artist co-worker, but unfortunately Mr. Goranson had died a few days before the hopedvfor meeting. My mother and I attended his memorial service on August 13, and I wore my then current issue Air Force uniform (Cadet Instructor Cadre – Air) in honour of Flight Lieutenant Goranson.

Flight Lieutenant Goranson was twice recommended for bravery awards, but officials higher up refused to approve the awards.

He was a true "combat war artist".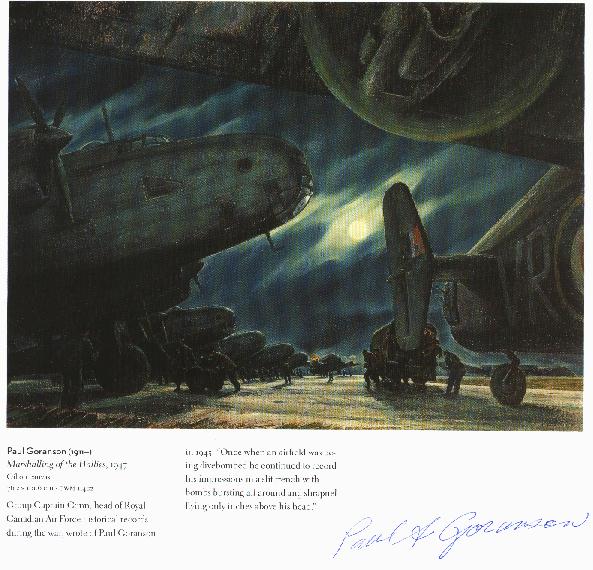 Paul Goranson kindly autographed this image in my copy of CANVAS OF WAR.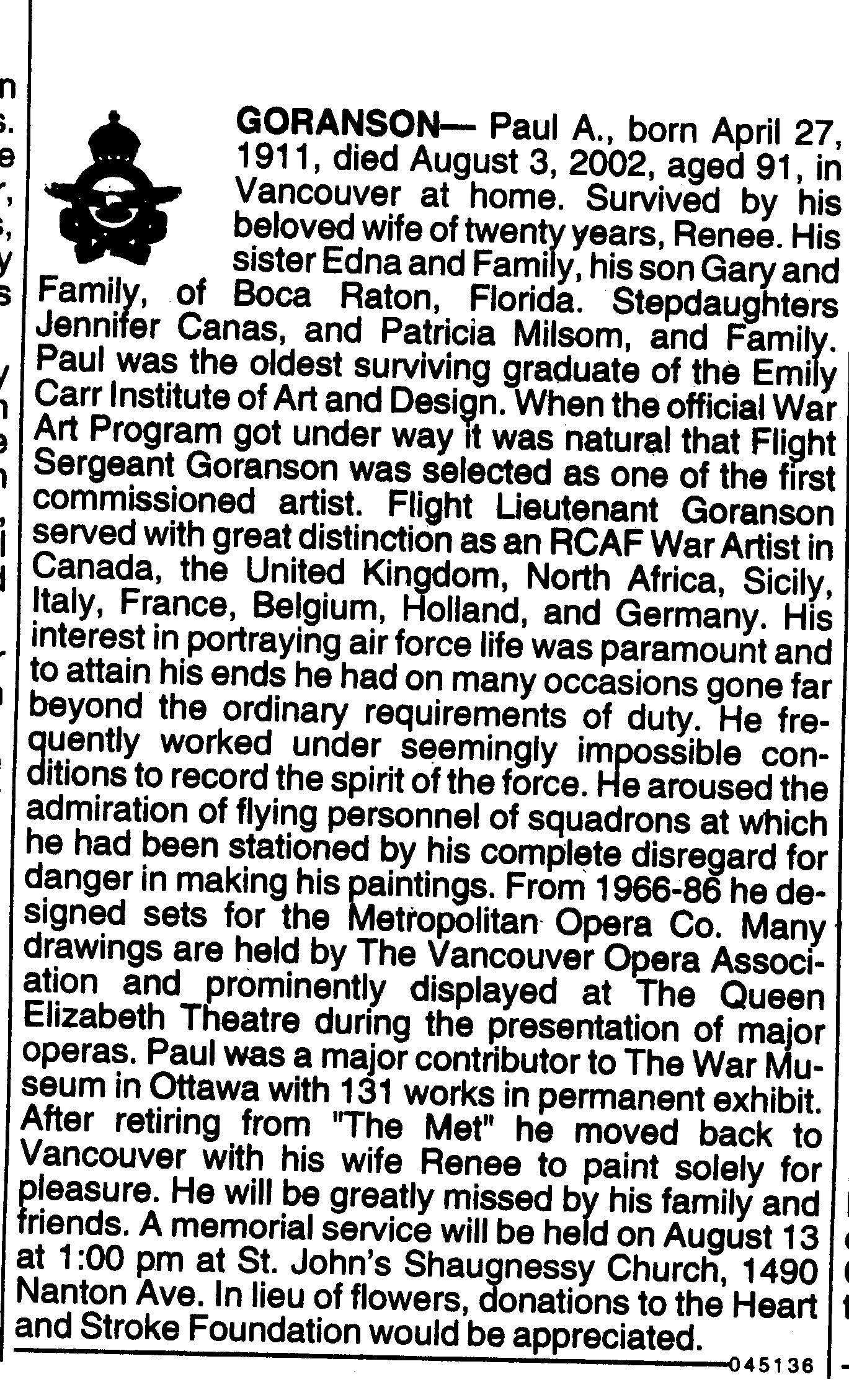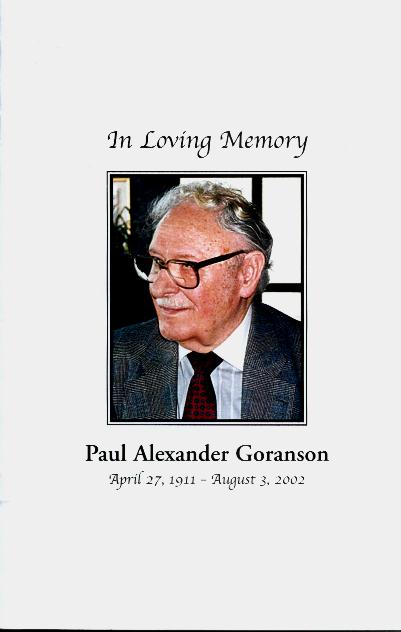 Cover of "In Loving Memory – Paul Alexander Goranson April 27, 1911 – August 3, 2002" booklet from his memorial service.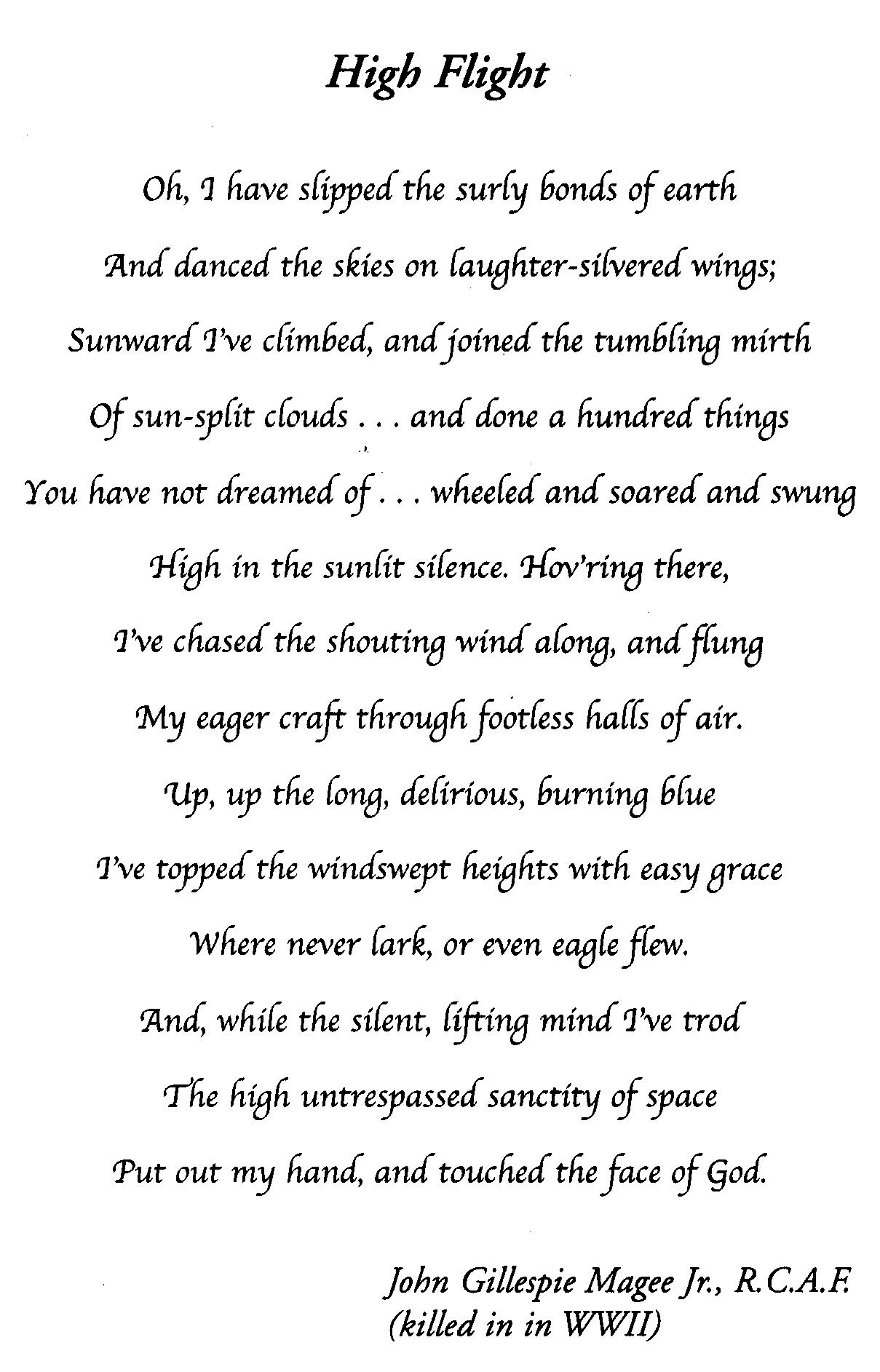 Poem "High Flight" (I cropped the white border when scanning this)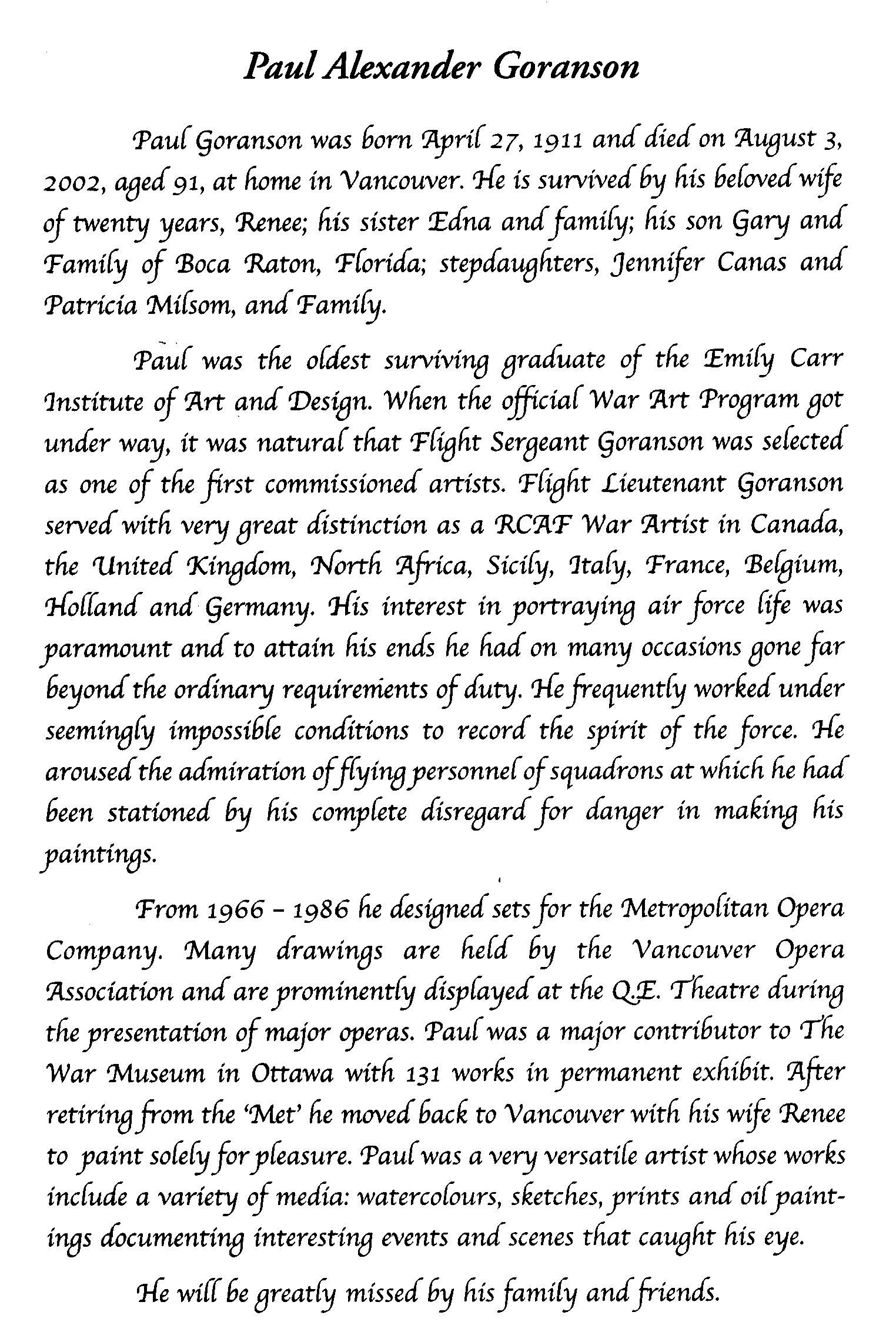 Brief story of Paul Goranson's life. (I cropped the white border when scanning this)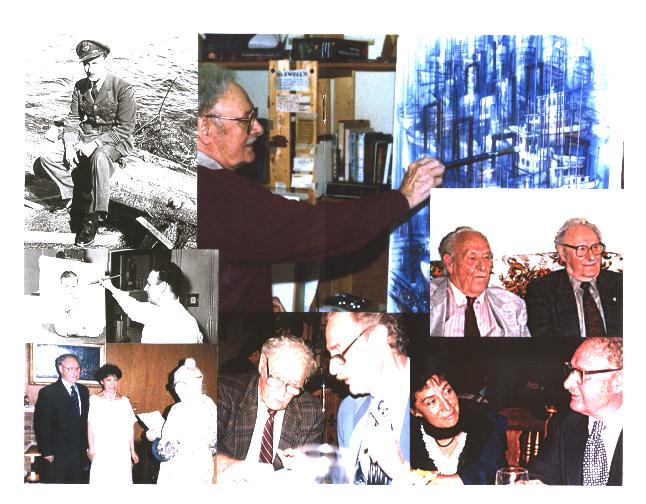 Montage of photos of Paul Goranson with family and friends. (2-page centre spread)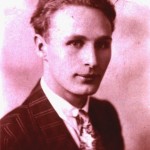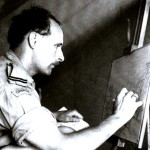 Paul Goranson as a young artist, and as a war artist in North Africa in 1943. (I cropped the white border when scanning these)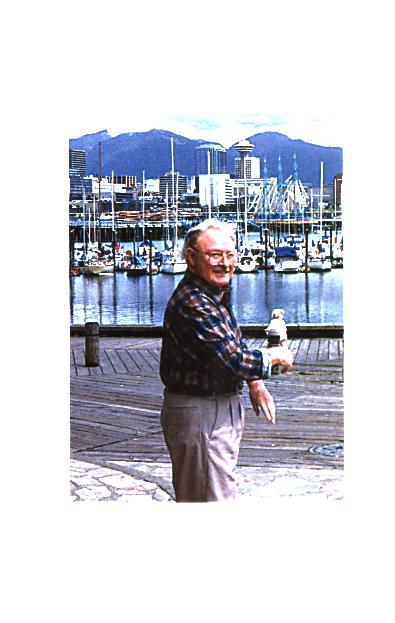 Paul Goranson's "backyard". He lived on False Creek in Vancouver, BC and is shown here just a few feet from his home.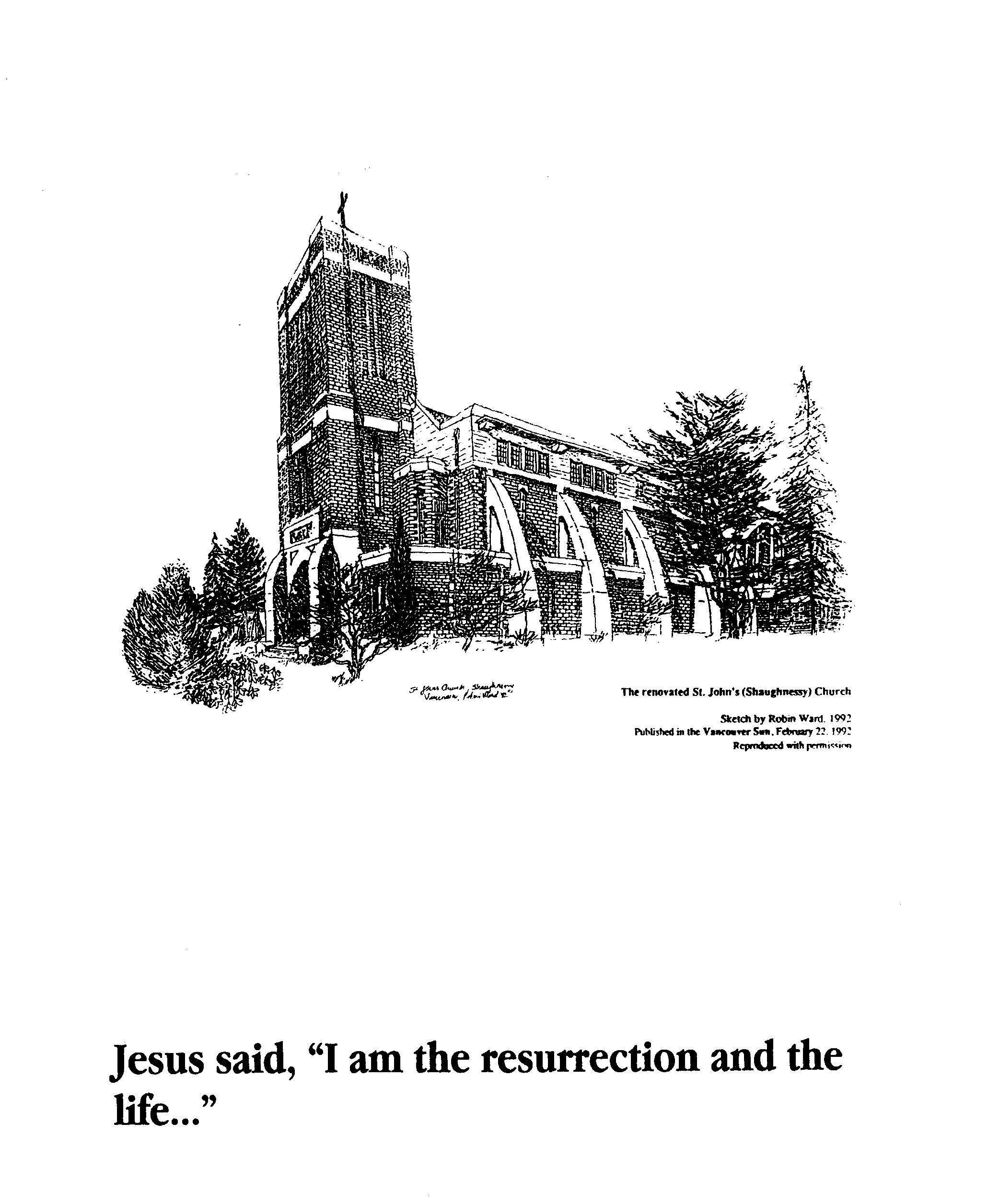 Cover of his memorial service program.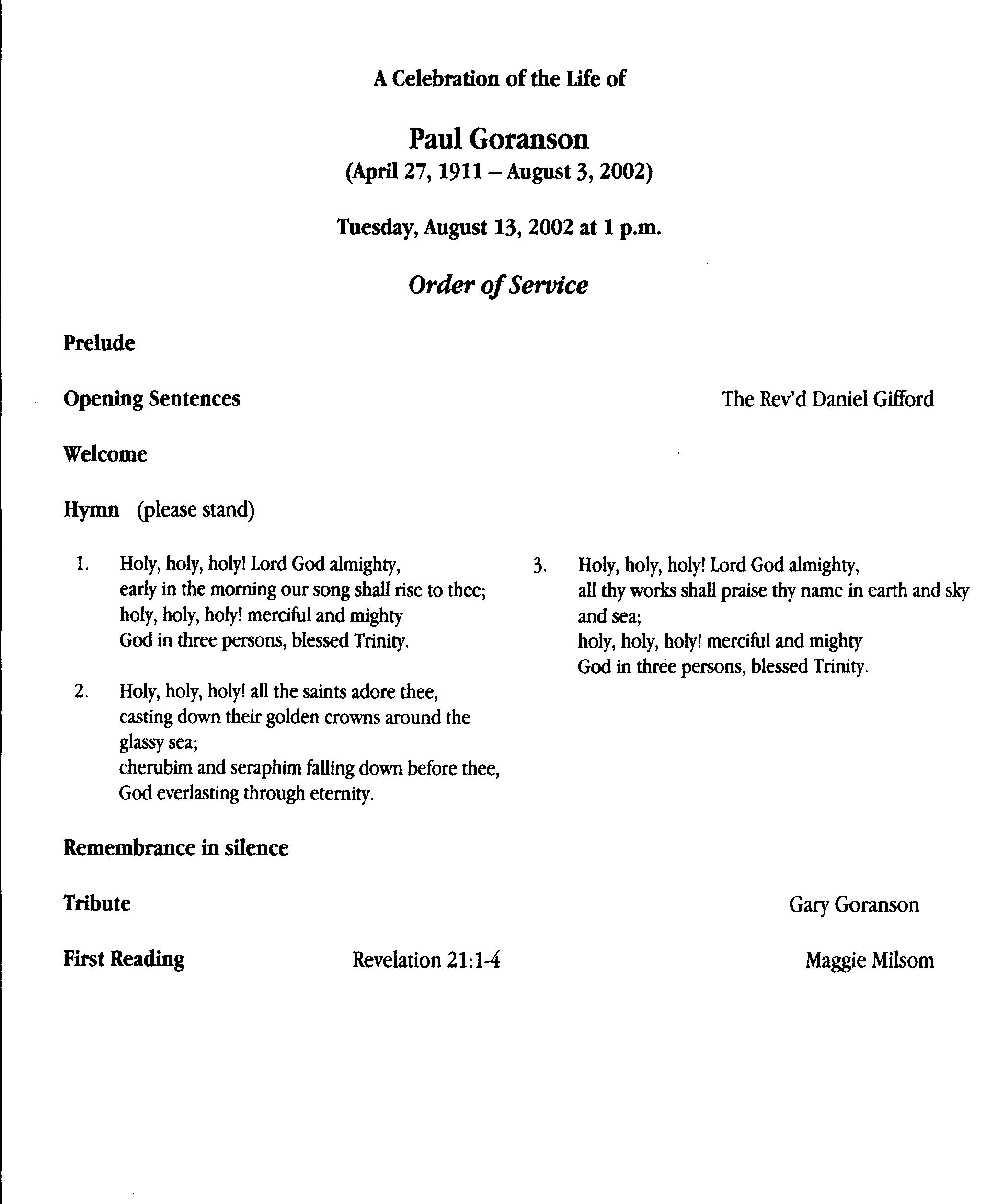 Memorial service program page 2.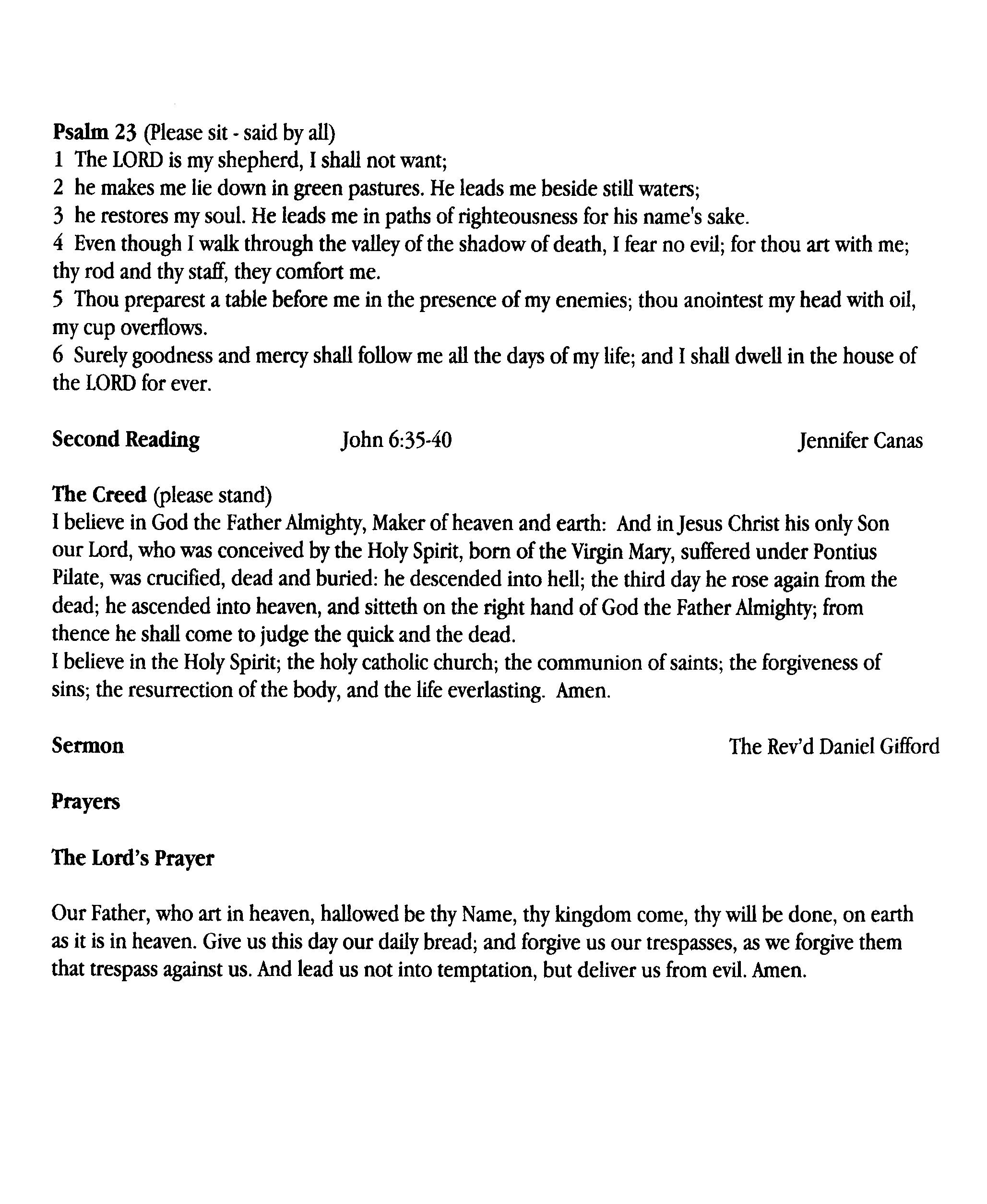 Memorial service program page 3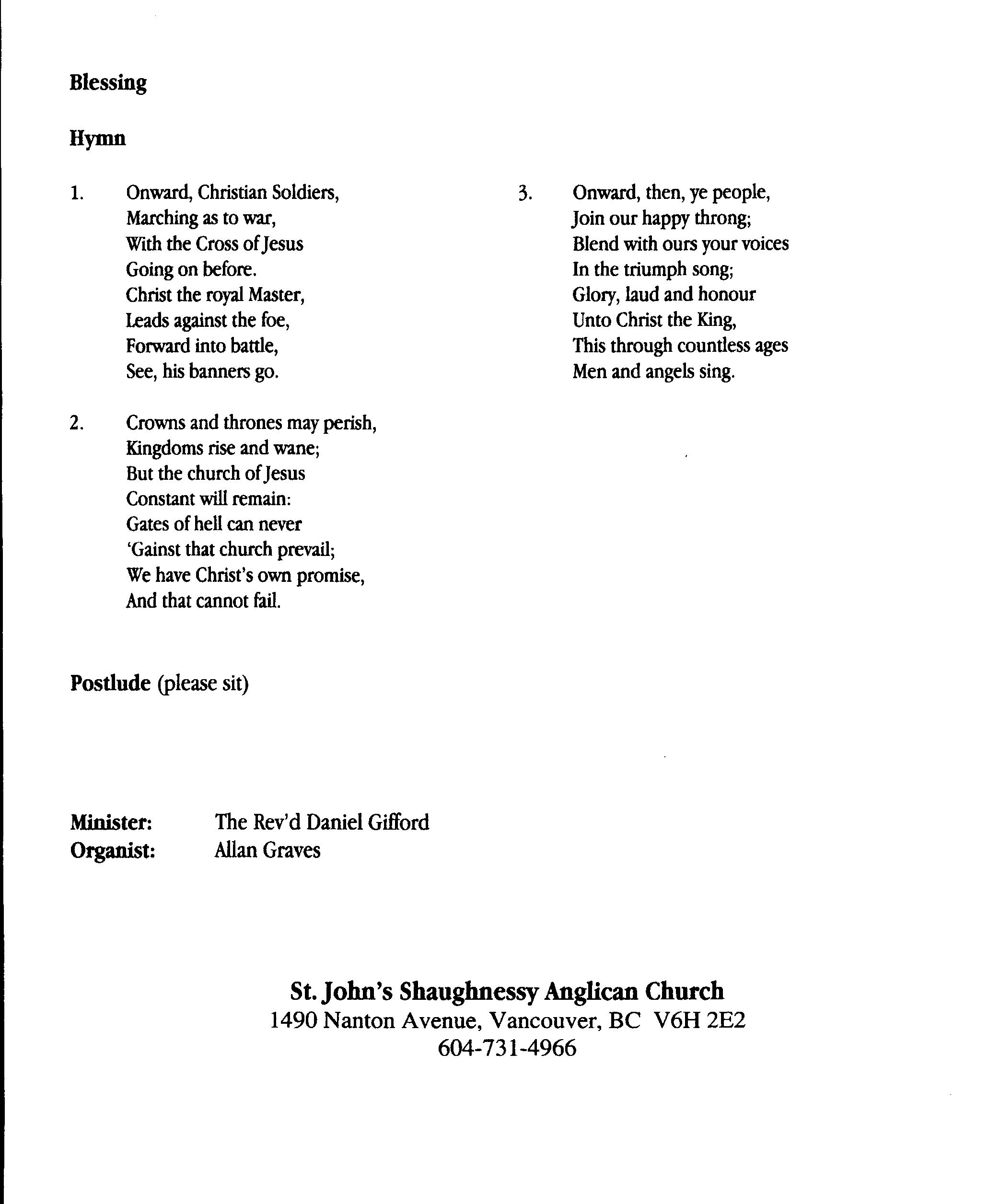 Memorial program – rear cover.
"We build not temples unto our martyrs as unto gods, but memorials unto dead men whose spirits with GOD are still living."
The church was built in the late 1940s as a memorial to the war dead, and there is a beautiful huge arched war memorial stained glass depicting male and female service members of the RCN, Merchant Navy, Canadian Army, and RCAF and Nursing Sisters. A souvenir booklet about "PAUL ALEXANDER GORANSON by RCAF historian Hugh A. Halliday was also given out. This summaries Mr. Goranson's life and RCAF career.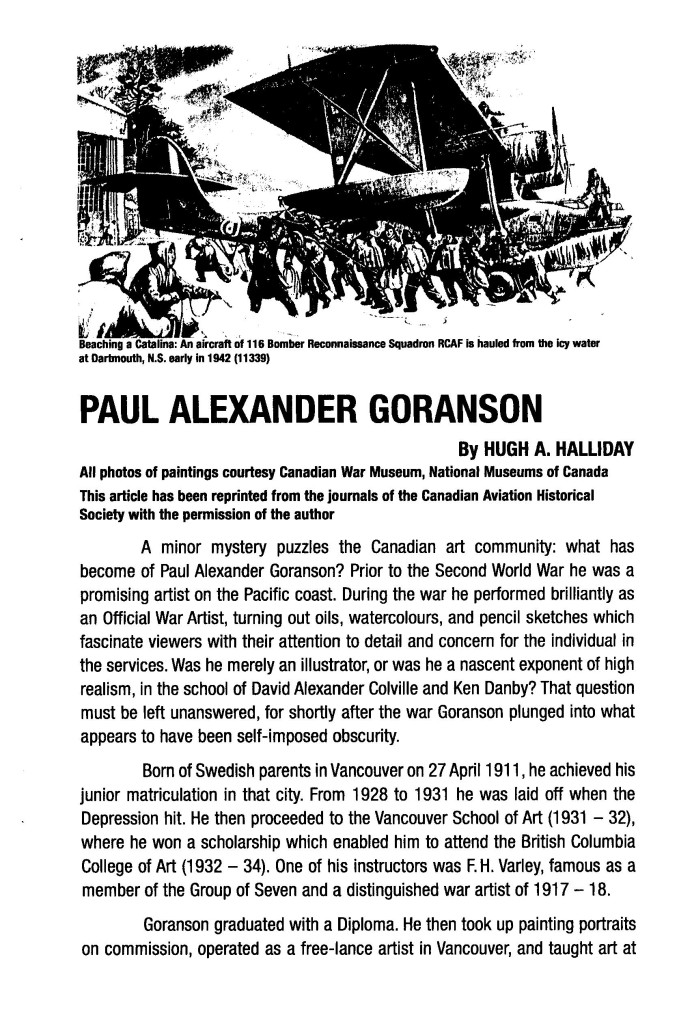 Page 1 of Hugh Halliday's booklet.
For copyright reasons I won't reproduce it all here, but here are some highlights:
1929-1932 – Member B. C. Hussars. (British Columbia Hussars, a unit in the Canadian Militia)
1941 Dec. enlisted in RCAF as an NCO War Artist
1942 Feb – to gander, Newfoundland
1942 June-July RCAF Station Mountain View
1943 Feb 26 – Promoted to Pilot Officer (Flying Officer?). later promoted to Flight Lieutenant.
1943 Mar 1 – Embarked on SS Tucurinca in Convoy HX 228 (Halifax convoy # 228). His ship was sunk by German submarine U-221 on 10/11 March. The sea battle raged around them and they were picked up later in lifeboat. Reached UK Mar 15.
1943 Apr to Middleton St. George sketching Wellington and Halifax bombers. He flew on some training missions and apparently on an operation to Dutch Coast.
1943 Aug to North Africa. 331 Wing. No. 424 and 425 Sqns (Wellingtons)
1944 Jan – North Africa No. 417 Sqn. Spitfires.
1944 Summer – Normandy with 2 Tactical Air Force. On 1945 Jan 1, he was at Eindhoven when the Luftwaffe made its surprise raid.
Recommended for the MBE (Member of the British Empire). Not approved. Recommended for an award a second time in 1946, but again turned down – without explanation.
1945 March – Back to London to work up his sketches into oils.
1947 Sept. – Finally discharged and returned home.
His memorial booklet says that from 1966 – 1986 he designed sets for the Metropolitan Opera Company in New York. He had told me that he worked with Marc Chagall at the Metroplitan Opera in New York. He retired in 1986 and moved back to his hometown of Vancouver, Britush Columbia, Canada.
A Double-Insult to the Goranson Family
Before moving into the "new" Canadian War Museum building, the CWM sent a huge travelling war art exhibit across Canada. This included giant murals as well as small paintings. Vancouver was the last stop of this travelling art exhibit which had travelled all across Canada. One of those paintings was by Paul Goranson. At the official opening, the Vancouver Art Gallery continued, in a pattern established by the Shadbolts, to shun Paul Goranson, a Vancouver born official War Artist. He had passed away by this time but his widow and son were NOT acknowledged even though they were present.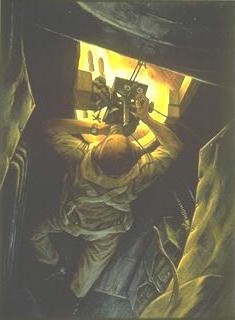 There was only one painting on display by Paul Goranson. It depicted a bombardier in a bomber, dropping bombs on a target in Italy. I thought it looks a bit odd. One thing I remembered from talking with Paul Goranson was his strict attention to accurate detail. The painting reminded me of a space shuttle photo as straps seemed to defy gravity and the falling bombs did not look right. I puzzled over it and then leaned over and looked at it upside down. Suddenly it made sense. To add insult to the injury of not acknowledging the artist's family who were present, the painting was hung UPSIDE DOWN in its frame! A few moments later Michael DesMazes came by and he too noticed that the painting was hung upside down in its frame. There was no signature on the painting itself as is usually the case. Instead there was a brass plaque attached to the bottom centre of the frame. I checked the Canadian War Museum web site and found an illustration of this painting. In that illustration the painting was mounted correct orientation in the frame. I hypothesized that the CWM's Conservators had removed the painting from its frame for condition reporting and possibly cleaning before it went on the cross-country travelling exhibit. When they reinstalled it in the frame, not having a signature to give them a clue as to orientation, they installed it upside down. We often hear of modern art being hung upside down in error, but in this case the painting was a very accurate realistic portrayal of a scene. This should be virtually impossible for such a painting to "work" upside down, unless the artist planned it that way, and he did not do so. The fact is that it did work well enough that the CWM staff did not notice, nor did art gallery staff and thousands of visitors across Canada on the tour, until I, and Michael DesMazes, noticed the mistake! I find that absolutely amazing! Bombs Away Goranson from CWM database, mounted the correct way in the frame. The CWM Director had left the reception early with his girlfriend, so I emailed him. He replied in a brief message saying in effect "We will look into it. If it is wrong, we will correct it." A week or two later I received a curt message saying that they had fixed it. Here the painting is, upside down and right side up.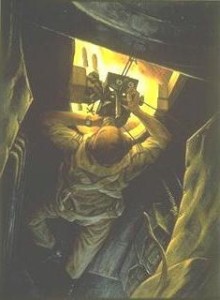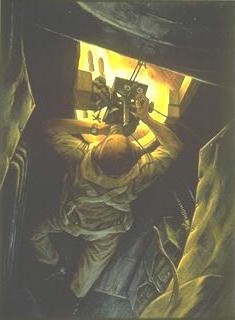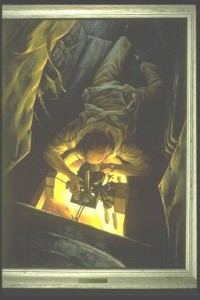 Return to my page on Military & Police