One of my ancestral families is ARNOTT. We have traced our ARNOTT / ARNOT family back to Brechin, Angus, Scotland. Some came to Brooklyn, New York, USA and some then came up to Ontario, Canada.
George ARNOTT (c.1778-1842) and his wife Margaret KINNEAR (1791-1839)
They are buried in the old graveyard, at Brechin Cathedral. Their stone is between the cathedral and the valley.
Their tombstone in relation to the old round tower (c. 900 AD)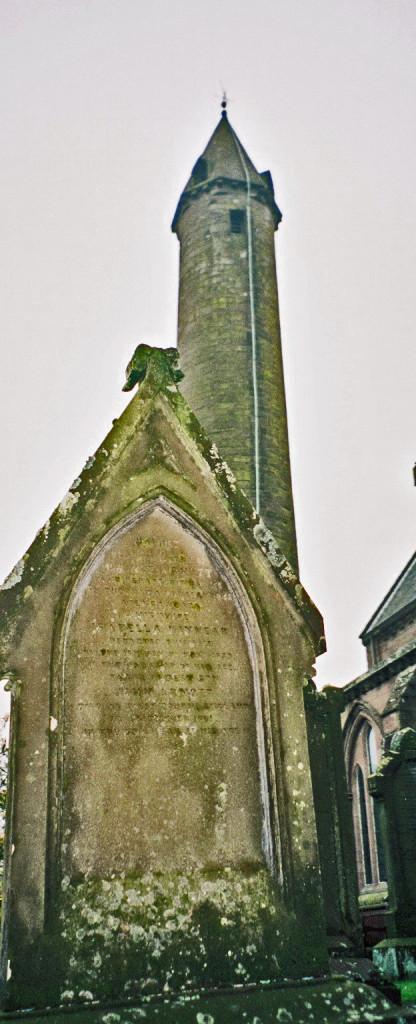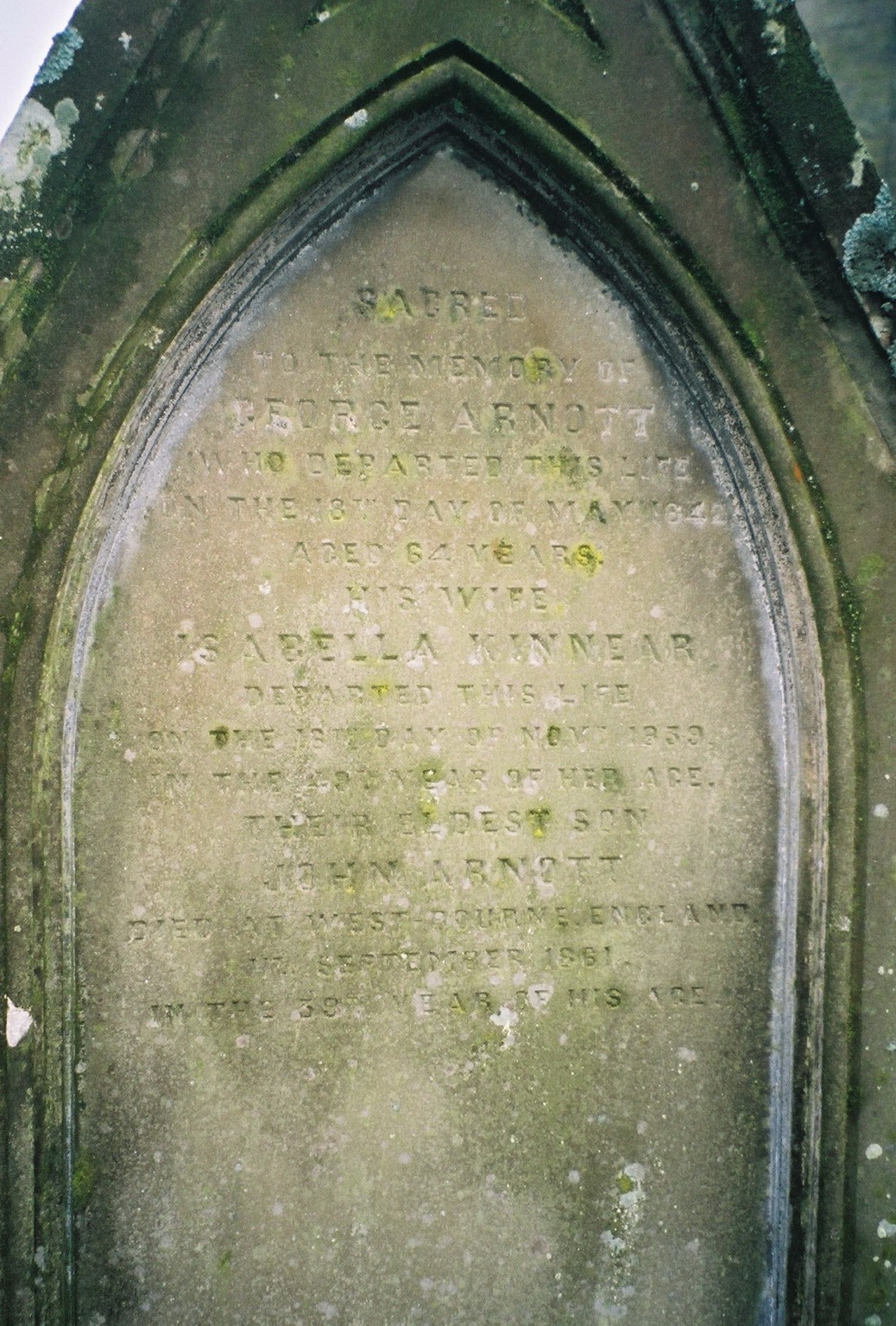 Inscription
NOTE: This gravestone has been moved since the 1960s. In "Pre-1855 Gravestone Inscriptions in ANGUS V.1 Strathmore … Brechin … 1979 Ed. Alison Mitchell for Scottish Genealogical Society it is listed as # 180 and on p. 17 is shown against the fence (directly to left of this photo, perhaps 20 feet? To the memory of GEORGE ARNOTT who departed this life on the 18th day of May 1842 aged 64 years — His wife Isabella Kinnear departed this life on the 16th day of Novr. 1839 in the 49th year of her age. — Their eldest son John Arnott died at West-Bourne, England. 11th September 1861 in the 39th year of his age. [Transcribed on-site by Colin Macgregor Stevens May 2005](John's age could have been 38 not 39 re: book above.I cannot be 100% sure from the photograph.)
Their daughter Margaret ARNOTT married William Steven in 1841.
This ARNOTT branch of our family was remembered with pride. My Grandfather's middle name was Arnott and my father's first name was Arnott. Having said that, why did my father go though most of his life being known as "Pete"? He told us that when he was a very young boy in school in St. Catharines, Ontario where he was born, a friend would come to walk to school with him. The friend would stand outside the kitchen window and call out to him "ARRRRRR-NUT! ARRRRRRR-NUT!" Dad said "Call me Pete." After that, everyone, including his parents ended up calling him Pete!