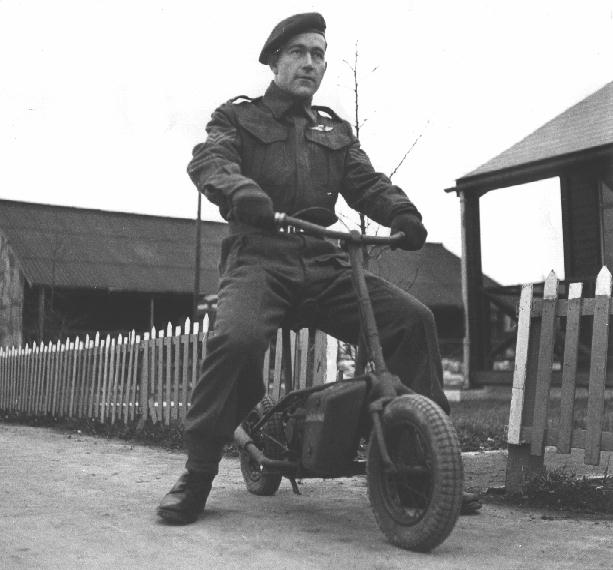 The Welbike is a folding miniature motorcycle and is one of the World's smallest military vehicles. It was invented by Special Operations Executive (SOE) at Welwyn (thus the "Wel" in the name) and they used a few but most were used by airborne troops, by Commandos and by beach assault troops.
PAGE  IS UNDER CONSTRUCTION – PHOTOS TO BE ADDED AND EDITING TO BE DONE.
To properly identify any military vehicle you need to know the make, model, serial number and military number. With Welbikes you need to distinguish between the post-war Corgi and the war-time Welbike. 
An article I wrote many years ago on the Welbike for the MAROON BERET magazine of the Canadian Airborne Regiment which was later disbanded in 1995.
I no longer live in Saskatchewan at that address.
British Airborne Forces Display in WWII including two Welbikes.
Mark I Welbike WD # C4658731 in its special container – end-on view. Right hand picture is Imperial War Museum photo H27060.
The same Welbike Mark I WD # C4658731  in a special container. Note that it says MOTOR CYCLE on the side of the container. Imperial War Museum photo H27061.
Welbike in its special container. Detail – Note that it is not the normal round CLE container.
Soldiers assembling a Welbike, likely during training.
Training with the Welbike before Nov 18 1943. Note the super rare Sten Mk. II bayonet carried by the man on the right in both photos. These photos are proof that they were issued. Circa 1943-44.
The same two airborne soldiers training and passing Welbikes over an obstacle – a fence. Circa 1943-44
Polish Paratroops equipped with Welbikes and BSA airborne (folding) bicycles. Circa 1943. They are carrying the Sten Mark II (T and Skeleton butt styles) which were replaced  by the Sten Mk. V for airborne use by mid-1944.
1943 Pathe news film of the manufacture of BSA Airborne Bicycles and Excelsior Welbikes Mark II:
WELBIKE NUMBERS AND MARKINGS
Vehicle Serial Number
Engine Serial Number
Welbike Mk. II serial number 3839   Engine XXE 4065 on Welbike Mk. II 3839
Colin Stevens' first Welbike Mark II – since sold to another collector
Serial Number: 1253
Engine Serial Number: XXE1463
Engine SN: 1463
War Department Census Number: C5152053 (?)
Second Contract, # S.1649 Ordered 19 Nov 1942 Delivery starting in Feb 1943 at 400 machines per month.
This Welbike was acquired in the Summer of 2006 from Brian Marshall of San Leandro, California. A previous owner had painted it blue with white trim and had the number "14" on the rear fender and on the added siren. It appears that it was used by the Shriners in parades. I would love to have photos and more history on the Shriners' use of these Welbikes – especially No. 14.  Welbike Mk. II SN 1253 as uncrated, August 2006. Note the spare parts that came with it. The seat is not original.
A virtually identical Welbike to 1253 except that this one has no siren fitted. This one was used by the Shriners in California and it is now owned by Brian Asbury in Ontario, Canada. A Mk. II. A third ex-Shriner Welbike is owned by Reg Hodgeson in Edmonton. Partly restored. A late Mk. II
The Welbike as it arrived in the shipping crate 2006 August.
Colin Stevens' second Welbike Mark II
My Second Welbike – was a very late production Mark II
Serial Number: 3839
Engine SN: XXE 4065
War Department number (original): C5154639
Third Contract, # S.1946 ordered 27 December 1942 and delivered 400 per month starting in May 1943.
Purchased from Mr. Massacci in Warren, Ohio in November 2006. He found it about 30 years ago when he was demolishing a house. He had the salvage rights and found this Welbike which had been sprayed with oil to prevent rust by a previous owner. The tires have split due to sitting on flat tires, the clutch lever is missing and the dome cover for the air filter is missing. Otherwise it is all there and all original – paint, decals and even the War Department number C5154639.
My second Welbike in between Brian Asbury's two restored Welbikes in Milton, Ontario. – November 2006.  Note the original brown colour on mine.
Colin Stevens' Third Welbike
A Welbike Mark II, purchased from Mr. Noel Soulsby in Australia, near Melbourne. The seller inherited it from his Uncle who bought it in new condition war surplus after WWII with the intention of his Aunt using it to drive between the house and the shop a few hundred yards away. Apparently it was used very little. The seller repainted it but left the WD number visible.
Frame Serial number 2348
Engine SN XXE 2606
War Department: C5153148
Contract:: It has a contract data plate but I do not yet know what that says.
Reference book "From Welbike to Corgi" by Peter Miller indicates that this Welbike was made on Second Contract # S.1649 dated 19 November 1942 for 1,400 Welbikes. 302 of these were boxed for export – likely this was one of those 302. The cost per Welbike on this contract was GBP 26.18.0 (26 pounds, 18 shilllings and 0 pence). These Welbikes were delivered on 16 March 1943.
WELBIKE PROTOTYPE OR PILOT MODEL
(Owner: ? Sold by George Clark to someone in Holland)
SERIAL NUMBER: 2
ENGINE SN: XXA 23191
WAR DEPARTMENT NUMBER: May never have had one.
For many years it was believed that Bob Coult had the only surviving prototype or pilot model Welbike to survive. Estimates were that 3 or 6 had been made. Evidence now suggests 13 were made before the army contracts.This Welbike was found recently (2005-2006) in Oregon at a collectors show. It was painted red, missing the rear wheel, grips, handlebar locking nut and some other items. George Clark recognized it and bought it. Rebuilt by Pat Papworth of Tsawassen, BC, Canada in 2006. Painted green with incorrect British airborne formation sign on one tank.Evidence indicating its prototype or pilot model status:
Distinctive rounded petroil tanks.
Serial number is simply a large " 2 " (painted over by chap who rebuilt it)
Round tubes for foot rests
XXA serial number of engine rather than production XXE number.
Front steering column release catch is fore and aft not angled to side as on later production models.
No doubt other differences will turn up.
Does anyone know the serial number of the prototype which survives in England?
NOTE: If you have original Dunlop Carrier tires with your Welbike, KEEP them even if you put modern tires on your Welbike as the original correctly marked tires are no longer available.
REPLICA WELBIKE MANUALS
Rob van Meel
(Groucho Publishing)
Fabriekstraat 10, 5038 EN Tilburg, Nederland
E-mail: rvanmeel (at) wanadoo.nl
Prices in Euros.
EXCELSIOR
100EM1   –             100/EM1         Welbike drivers handbook (30 p.)
101EM1   –             101/EM1         Welbike maintenance manual (37 p.)
43EM1     –             1649/2/1          Welbike spares; C1649 (Frame no's: 1214-2613) (12 p.)
46VI1       1946      –                      Villiers Junior-de-Luxe instructions & spares  (16 p.)
Maker
Excelsior
Vehicle Model
Welbike (Prototype or Pilot Models, Mark I or Mark II)
Manufacurer's Serial Number (equivalent of today's VIN)
A number stamped into the front of the Welbike e.g. 1253
IMGP5723_edited.JPG (794299 bytes)
IMGP5726.JPG (582882 bytes)
Maker's Transfer (decal)
Excelsior decal (transfer) on front under the handlebars.
Welbike&BSA_Polish_Paras_1943-09JPG.jpg (155287 bytes)
Engine maker
Villiers
Engine Model
Villiers "Junior-de-Luxe" 98 cc
Engine Serial Number
Stamped deeply on right sight of the engine. e.g. XXE 1234. One has been seen XXA prefix and another with XX prefix.
IMGP5720_edited.JPG (800700 bytes)
War Department Census Number
In the British Army the number painted on the sides of the gas (petrol) tanks for identification was called the War Department (WD) Census Number. The WD number starts with a "C" for Motorcycle. e.g. C5152014
Welbike Mk. I showing WD number on tank at an 1943 R.A.O.C. Display of Airborne Forces' equipment.
Welbike MkI C4658506 maybe - Airborne Display 1943 RAOC display TBS - Bouchery V1 pp102-103 hi res.jpg (766640 bytes)
Inspector's Mark? and/or Year of Issue Mark?
Stamped on the front of the motorcycle below the Serial Number. /|\M419 (?)
The arrow (called "Broad Arrow") is the symbol of British military issue. The M may refer to the code letter for year of issue re: David Gordon, where M = 1944.

Marking on my first Welbike Mark II
IMGP5736.JPG (469112 bytes)
Other markings
The Polish paratroopers marked some of their Welbikes with the international driving symbol PL in black letters on a white oval background.
Welbike&BSA_Polish_Paras_1943-09JPG.jpg (155287 bytes)
Welbike&BSA_Polish_Paras_1943-09JPG.jpg (155287 bytes)

This new page is under construction.