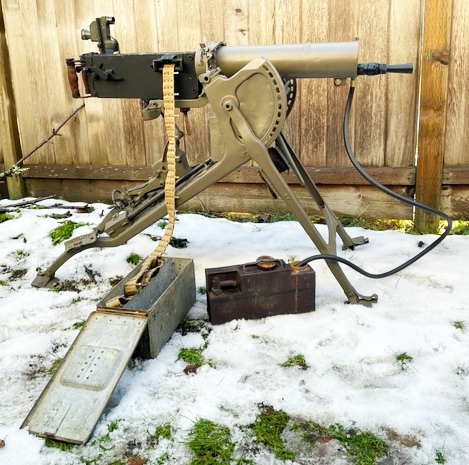 German machine gun M.G.08 serial number 3581c was made at SPANDAU in 1917, and was captured between 05:30 and 06:45 AM on 9th of April, 1917 in the capture of Vimy Ridge. It was captured by the 24th Battalion (Victoria Rifles), Canadian Expeditionary Force from the German 263rd Reserve Infanterie Regiment (Prussians). The location was just a couple of hundred yards East of Lichfield Crater on Vimy Ridge. It is now deactivated. It is now 99% complete for display. The ideal home for it would be where it was captured. It was offered for sale by the owner to the Vimy Ridge site in France but they do not have the funds to purchase it.
On 9 April 1917, the 24th Battalion in the 5th Brigade, 2nd Canadian Division, Canadian Corps captured:
1 Field Gun (cannon) 105 mm

3 Trench Mortars

6 Machine Guns (Serial numbers 3581c; 7357; 4996; 2297; 9435; 9435 (two the same number sent to two different locations in Canada)
THE FORMER OWNERS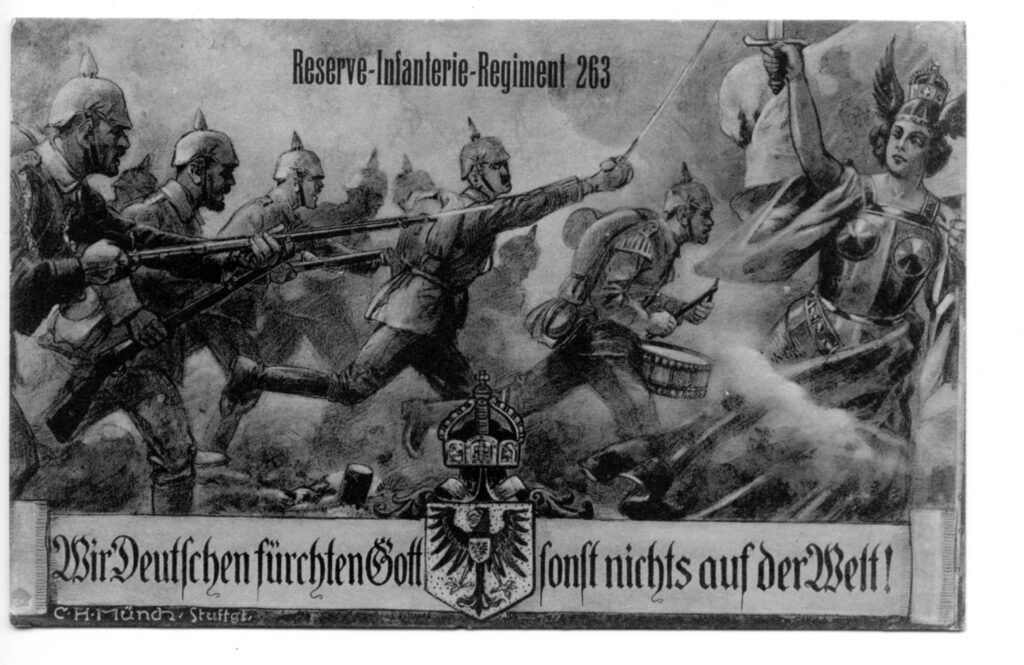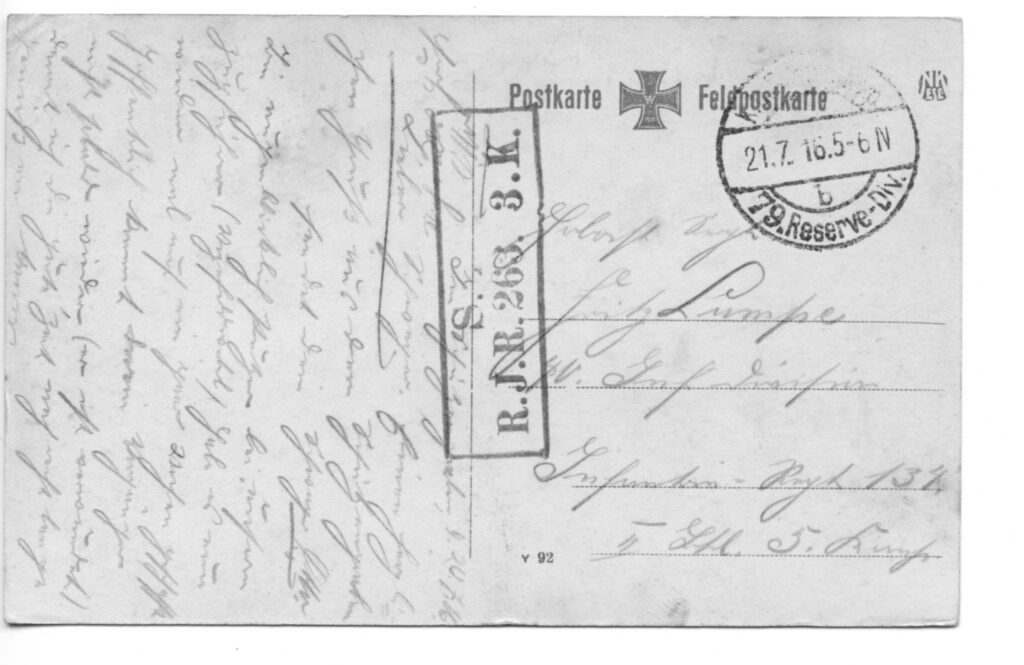 The capture of VIMY RIDGE in France in April 1917 was one of many significant battles for Canadian troops in World War I. This was part of the Battle of Arras, and although not a 100% Canadian effort, as there were British troops and British artillery, it was viewed as a Canadian operation and success. It was the first time that the Canadian Corps had fought together. The battle was a great success as the Canadians used all of the latest techniques such as rehearsals, maps for NCOs not just officers, creeping artillery barrage, briefing every soldier on what the objectives were etc.
When it came time to decide where to place Canada's main memorial on the battlefields, there were many possible locations: St. Julien; Vimy Ridge, Passchendaele, Hill 70, Cambrai etc. In the end, Vimy Ridge was selected as the site for Canada's national memorial. It now symbolizes World War I for all Canadians.
After World War I (1914-1919), Canada brought thousands of war trophies to Canada in the form of German aircraft, field guns and howitzers, trench mortars and machine guns, rifles, helmets, shell casings etc. and these were distributed to communities, schools, universities, regiments etc. all across Canada.
A few war trophies are from 1917 (Vimy Ridge, Passchendaele etc.), but most are from 1918 when the Allies broke through the German lines. It was hard to capture and retrieve big war trophies when the front lines were static. In the case of Vimy Ridge and the Last 100 Day, Canadian troops advanced, captured and held enemy positions. As such these heavy items could then be retrieved at leisure.

0-4446 or 4448 MG08 assy by POWs Camblain-l Abbe May 1917We have no idea how many of thew Vimy war trophies survive. 248 war trophies were logged in as having been captured at Vimy Ridge.
40 Guns & Howitzers (8 known to have survived; 7 known to have been scrapped)
73 Trench Mortars (12 known to survive, 10 known to have been scrapped; 5 likely scrapped)
135 Machine Guns (7 known to survive; 3-5 unverified possible survivors)
Why are these war trophies important? To the soldiers they represented several things. Success in overcoming the enemy, much like reaching the summit of a mountain. Once captured these weapons would not kill and more of their comrades, or themselves, much like a police officer disarming a criminal. Then there was the sad realization that these weapons had killed many Canadians and other Allied soldiers, and as such were reminders of their sacrifice and their bravery. The war was remote for the people in Canada, but every family had been touched by the war and many had lost family members. The bodies remained buried in the countries where they fell. To fill the void, memorials were set up in Canada. Cenotaphs, brass plaques in churches etc. These German war trophies, symbols of the sacrifice and victory, were often mounted flanking these cenotaphs. Indeed, today, some of them remain so over 100 years later.
During World War II, 20 years later, many of these German war trophies were recycled as scrap metal to aid the war effort. Sending the German metal back to Germany in the form of tanks bombs etc. was seen as being a patriotic thing to do. We do not know how many were scrapped, but it was probably over 50%. Fortunately, the Allies won that war too and some of the World War I trophies have survived. Many are incomplete due to souvenir hunters and many are in poor condition having sat out in the weather for decades, over 100 years in some cases. I found 7 in the attic of the Seaforth Armoury in 1972 and put them into the regimental museum which I started. Some were simply thrown away. Most of the best examples that survive were indoors in museums etc. and some still have original capture markings painted on them. Even these however are often missing parts.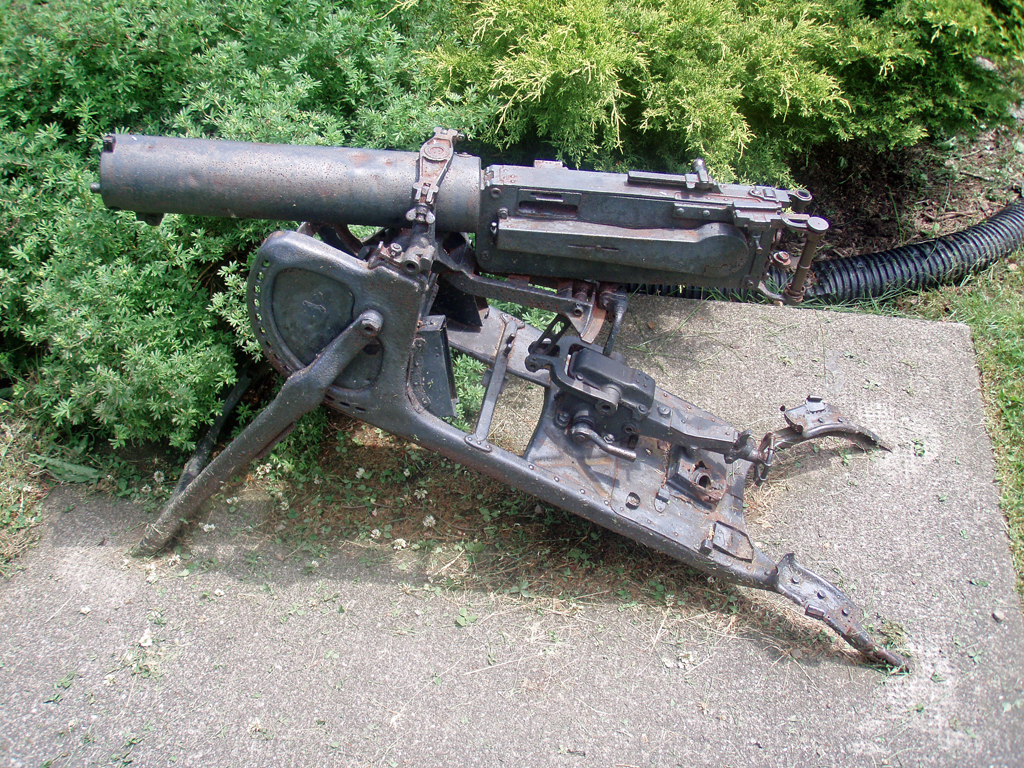 A dream of Museum Curators it to be able to find the history of artifacts. Usually, if it was not recorded at the time, that history is lost forever. Decades ago, as a military museum Curator, I wrote to the Public Archives of Canada (now renamed Library and Archives Canada) to ask if they had records of these war trophies. They said that they did not, but this was not true. Decades later, Lieutenant Colonel Bill Smy of Niagara Falls found the War Trophy Register in Library and Archives Canada, photographed the pages, and graciously shared them with me and others. Since then others have looked into the records including Bryan McConaghy who discovered that there are even more records in LAC.
In about 1/3 of the cases there was capture history recorded for the field guns, howitzers, trench mortars and machine guns. This particular machine gun, serial number 3581c is recorded as having been captured at Vimy Ridge on 9 April 1917 by the 24th Battalion.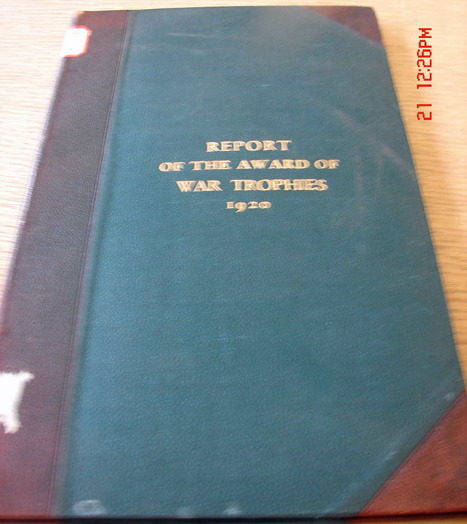 LIST OF THE 63 MEN OF THE 24th BATTALION C.E.F. KILLED ON 9 APRIL 1917 AT VIMY RIDGE
63 soldiers of the 24th Battalion were killed in this battle. Three German machine guns were captured by this battalion that morning, including this one. It is almost a certainty that some of them were killed by this particular gun. There would have been dozens of other men wounded as well. Of those killed, 17 have no known grave. The battle only lasted 4-days and their objective was captured within 45-minutes men, yet 17 bodies were never found, or else remained unidentified. Here are the men who were killed, information from the Commonwealth War Graves Commission.
Query – KIA 24 Bn CEF 1917-04-09 at VIMY RIDGE
| ServiceNumber | Surname | Forename | Initials | Rank | Cemetery | GraveRef | AdditionalInfo | Expr1 |
| --- | --- | --- | --- | --- | --- | --- | --- | --- |
| '488902' | BEAZLEY | | V L | Corporal | THELUS MILITARY CEMETERY | II. E. 11. | | |
| '842083' | McGRATH | | T | Private | ZIVY CRATER, THELUS | Panel 6. Col. 3. | | |
| '749318' | LEARIE | | J W | Private | ZIVY CRATER, THELUS | Panel 5. Col. 2. | | |
| '742161' | FAHEY | PERCY EDWARD | P E | Private | ZIVY CRATER, THELUS | Panel 2. Col. 3. | Son of Thomas Edward and Katherine E. Fahey, of Milltown, New Brunswick. | |
| '889855' | RABEY | | W | Private | LA CHAUDIERE MILITARY CEMETERY, VIMY | VIII. D. 10. | | |
| '841677' | HILL | | A E P | Private | THELUS MILITARY CEMETERY | II. A. 12. | Son of Jos and Kate Hill, of 3815, Gertrude St., Verdun, Montreal. | |
| '749254' | JOHNSON | EDWARD | E | Private | THELUS MILITARY CEMETERY | II. E. 13. | | |
| '841680' | McLACHLAN | | A | Private | THELUS MILITARY CEMETERY | II. B. 4. | Son of John and Marion McLachlan; husband of Elizabeth McLachlan, of 342, Hibernia Rd., Montreal. Born at Falkirk, Scotland. | |
| '841336' | MARSHALL | SAMUEL | S | Private | THELUS MILITARY CEMETERY | II. C. 2. | | |
| '842069' | BURGESS | VICTOR GEORGE | V G | Private | THELUS MILITARY CEMETERY | V. A. 3. | Son of Mrs. Isabella Burgess, of 3588, Veruille St., Montreal. | |
| '841897' | BUTLER | CHARLES ANDREW | C A | Private | THELUS MILITARY CEMETERY | II. B. 9. | Son of Mr. and Mrs. Charles William Butler, of 141, Glen Avenue, Ottawa, Ontario. | |
| '841667' | CALLAGHAN | EDSON ARTHUR | E A | Private | THELUS MILITARY CEMETERY | II. C. 1. | Son of James Callaghan and his wife E. Johnson, of Stanbridge East, P.Q., Canada. | |
| '748589' | THOMSON | JOHN | J | Private | THELUS MILITARY CEMETERY | II. E. 15. | Son of William and Jessie Thomson, of Beebe Post Office, P.Q. Canada. Born in Aberdeenshire, Scotland. | |
| '700725' | ROBERTSON | | C W | Private | NINE ELMS MILITARY CEMETERY, THELUS | III. D. 14. | | |
| '742185' | MAXWELL | | J G | Private | NINE ELMS MILITARY CEMETERY, THELUS | III. D. 13. | | |
| '141893' | DRAPER | FRANK | F | Private | THELUS MILITARY CEMETERY | II. B. 8. | Son of George and Emma Draper, of Clarendon Place, Brighton, England. | |
| '488956' | GALLAGHER | | E T | Private | NINE ELMS MILITARY CEMETERY, THELUS | III. D. 17. | | |
| '748318' | McCULLOUGH | WALLACE SCOTT | W S | Sergeant | NINE ELMS MILITARY CEMETERY, THELUS | IV. D. 18. | Son of James and Sarah T. Scott McCullough, of Windsor Mills, P.Q. Canada. | |
| '748693' | TERENTIEV | SAMUEL | S | Private | THELUS MILITARY CEMETERY | II. E. 14. | | |
| '470523' | McAULAY | | G H | Private | THELUS MILITARY CEMETERY | II. E. 12. | | |
| '701005' | LAWLOR | WILLIAM | W | Private | THELUS MILITARY CEMETERY | II. B. 15. | Son of John and Anne Lawlor, of Dudley, Stafford, England. | |
| '408565' | QUACKENBUSH | GEORGE DRAYPER | G D | Sergeant | THELUS MILITARY CEMETERY | II. B. 11. | Son of Philip and Joanna Quackenbush, of Kinburn, Ontario. Born at Whitney, Ontario. | |
| '124319' | RILEY | CHARLES GORDON | C G | Sergeant | THELUS MILITARY CEMETERY | II. B. 6. | Only son of Minta Brown Riley, of Inwood, Ontario, and the late Lawrence A. Riley. | |
| '186231' | ROSE | | S O | Lance Corporal | THELUS MILITARY CEMETERY | II. B. 10. | Son of Kontorchy S. T. Rose, of Faxe Ladyslads, Denmark. | |
| " | MACARTHUR | JAMES MacPHERSON | J M | Lieutenant | ECOIVRES MILITARY CEMETERY, MONT-ST. ELOI | VI. E. 19. | Son of Ada E. and the late John Macarthur, of 313, Piccadilly St., London, Ontario. | |
| '66237' | BARLOW | RONALD | R | Lance Corporal | ORCHARD DUMP CEMETERY, ARLEUX-EN-GOHELLE | III. H. 27. | Son of John Rigney Barlow and his wife, Margaret Coutts Darrach, of 578, Earnscliffe Avenue. Montreal. | |
| '65306' | EDGLEY | ERNEST LLOYD | E L | Private | ECOIVRES MILITARY CEMETERY, MONT-ST. ELOI | V. F. 3. | Nephew of Richard W. Lloyd, of 103, Oakwood Court, Kensington, London. He was an employee in the Montreal Office of the Canadian Pacific Railway. | |
| '841472' | JONES | | N H E | Private | ECOIVRES MILITARY CEMETERY, MONT-ST. ELOI | VI. C. 28. | | |
| '488970' | VICKERY | | C F | Private | NINE ELMS MILITARY CEMETERY, THELUS | IV. D. 19. | | |
| '743021' | SKINNER | ALBERT V. | A V | Private | THELUS MILITARY CEMETERY | II. B. 14. | (Served as VERNON), Son of Jeremiah and Mary Skinner, of Springfield, Long Island; husband of Maud Estelle Ulrich (formerly Skinner), of Wallkill, New York, U.S.A. | |
| '841944' | TERRAULT | JULIUS DANIEL | J D | Private | THELUS MILITARY CEMETERY | II. B. 13. | Son of Julius Terrault and his wife, Anna Kenny, of Cornwall, Ontario. | |
| '748646' | VUSACHENKO | DERNIAN | D | Private | THELUS MILITARY CEMETERY | II. E. 10. | | |
| '186280' | WALTER | | G H | Sergeant | THELUS MILITARY CEMETERY | II. B. 7. | Son of Joseph France Walter and Eliza Ann Walter. | |
| '247374' | GILMORE | JAMES ALEXANDER | J A | Private | VIMY MEMORIAL | | Son of Alexander and Lydia Jane Gilmore, of North Head, Charlotte Co., New Brunswick. | |
| '123091' | DAVIS | ROBERT | R | Private | VIMY MEMORIAL | | | |
| '440891' | COATES | FRANCIS FREDERICK (FRANK) | F F | Private | VIMY MEMORIAL | | Son of F. W. and Elsie Coates, of Shuswap, British Columbia. | |
| '124029' | JOHNSON | FREDERICK | F | Private | VIMY MEMORIAL | | | |
| '841012' | BRENNAN | | H V | Private | LICHFIELD CRATER, THELUS | Panel 1. Col. 1. | | |
| '842142' | L'ECUYER | AMEDEE | A | Private | LICHFIELD CRATER, THELUS | Panel 3. Col. 1. | Son of Mr. and Mrs. I. P. L'Ecuyer, of 326, Lagauchetiere St. East, Montreal. Born at Joliette, P.Q., Canada. | |
| '841168' | McKAY | WILLIAM ARTHUR | W A | Private | LICHFIELD CRATER, THELUS | Panel 3. Col. 1. | Son of Robert and Margaret Burns McKay, of 131, Longwood Avenue, Roxbury, Massachusetts, U.S.A. | |
| '171176' | NAYLOR | LEWIS | L | Private | LICHFIELD CRATER, THELUS | Panel 3. Col. 1. | Son of James Naylor, of 6, Wilson St., Commercial Rd., Halifax, England. | |
| '841919' | COAPLAND | GLENN | G | Private | VIMY MEMORIAL | | | |
| '488319' | BRUNDAGE | CLAUDE LIONEL | C L | Lance Sergeant | VIMY MEMORIAL | | Son of William T. Brundage, of Amherst, Nova Scotia. | |
| '748853' | BULLARD | MERLE FREDERICK | M F | Private | VIMY MEMORIAL | | Son of Frederick E. and Elma E. Bullard, of Magog, P.Q. Enlisted in 117th Bn. | |
| '842161' | PETERS | STANLEY WALLACE | S W | Private | VIMY MEMORIAL | | | |
| '415765' | ASTLE | GEORGE ESMONDE | G E | Private | LICHFIELD CRATER, THELUS | Panel 1. Col. 1. | Son of Oswald Astle, of 101, North Rd., Clayton, Manchester, England, and the late Alice Astle. Born at Northwich, Cheshire. | |
| '841237' | RENAUD | | J P | Private | LICHFIELD CRATER, THELUS | Panel 3. Col. 2. | Son of Austin Renaud and his wife, Jane Duboutt, of Harembega, Ontario. Born at Wier, Quebec. | |
| '841653' | MATHESON | | D C | Private | LICHFIELD CRATER, THELUS | Panel 3. Col. 1. | | |
| '743256' | GOLDIE | ALEXANDER JOSEPH | A J | Private | BOIS-CARRE BRITISH CEMETERY, THELUS | I. E. 14. | Husband of Johanna M. Goldie, of 17, Queen St., Saint John West, New Brunswick. | |
| '187619' | LAWLER | | W | Private | LICHFIELD CRATER, THELUS | Panel 3. Col. 1. | | |
| '742794' | ARBING | | H S | Private | BOIS-CARRE BRITISH CEMETERY, THELUS | III. B. 18. | | |
| '180096' | McKITRICK | | L P | Private | QUATRE-VENTS MILITARY CEMETERY, ESTREE-CAUCHY | III. B. 17. | | |
| '65932' | STAPLES | ARTHUR | A | Sergeant | VIMY MEMORIAL | | Eldest son of Elizabeth Alice Staples (nee McClellan), of 591, Villa Marie St., Montreal, and the late Edward Bird Staples. | |
| '186149' | HOURD | WILLIAM | W | Corporal | VIMY MEMORIAL | | | |
| '701258' | PARTON | WILLIAM | W | Private | VIMY MEMORIAL | | Son of Henry and Elizabeth Parton, of Garafog Farm, Pennenfford, Talgarth, Breconshire, Wales. | |
| '748123' | PAYNE | FREDERICK THOMAS | F T | Sergeant | VIMY MEMORIAL | | Husband of Charlotte C. Payne, of Montreal, P.Q. | |
| '742116' | KUCHAR | WASILI | W | Private | VIMY MEMORIAL | | Born in Russia. | |
| '66204' | McCUBBIN | ALEXANDER | A | Sergeant | VIMY MEMORIAL | | Son of Mrs. Mary McCubbin, of 4717, Delorimier Avenue, Montreal. | |
| '469302' | ROBINSON | LEVI | L | Private | VIMY MEMORIAL | | Son of Mr. and Mrs. John Robinson. | |
| '412440' | WHITE | | A | Private | VIMY MEMORIAL | | | |
| '437318' | WOODS | GEORGE | G | Private | VIMY MEMORIAL | | Son of Mrs, Hannah Jane Woods, of Cutknife, Saskatchewan. | |
| '187658' | MACIVOR | | J | Corporal | THELUS MILITARY CEMETERY | II. B. 5. | | |
| '749295' | KIMBALL | | H C | Private | LICHFIELD CRATER, THELUS | Panel 3. Col. 1. | | |
THE OWNER WANTS YJE FOLLOWING ITEMS TO COMPLETE IT:
M.G. 08 drain valve for under the muzzle.

M.G. 08 plug on chain or under the muzzle.

M.G. 08 armoured front plate for muzzle

One oil cap for containers built into sled

SPANDAU spade grip caps (with brushes) Mine are DWM.

SPANDAU fusee cover (mine is DWM)
Links to Other Pages: