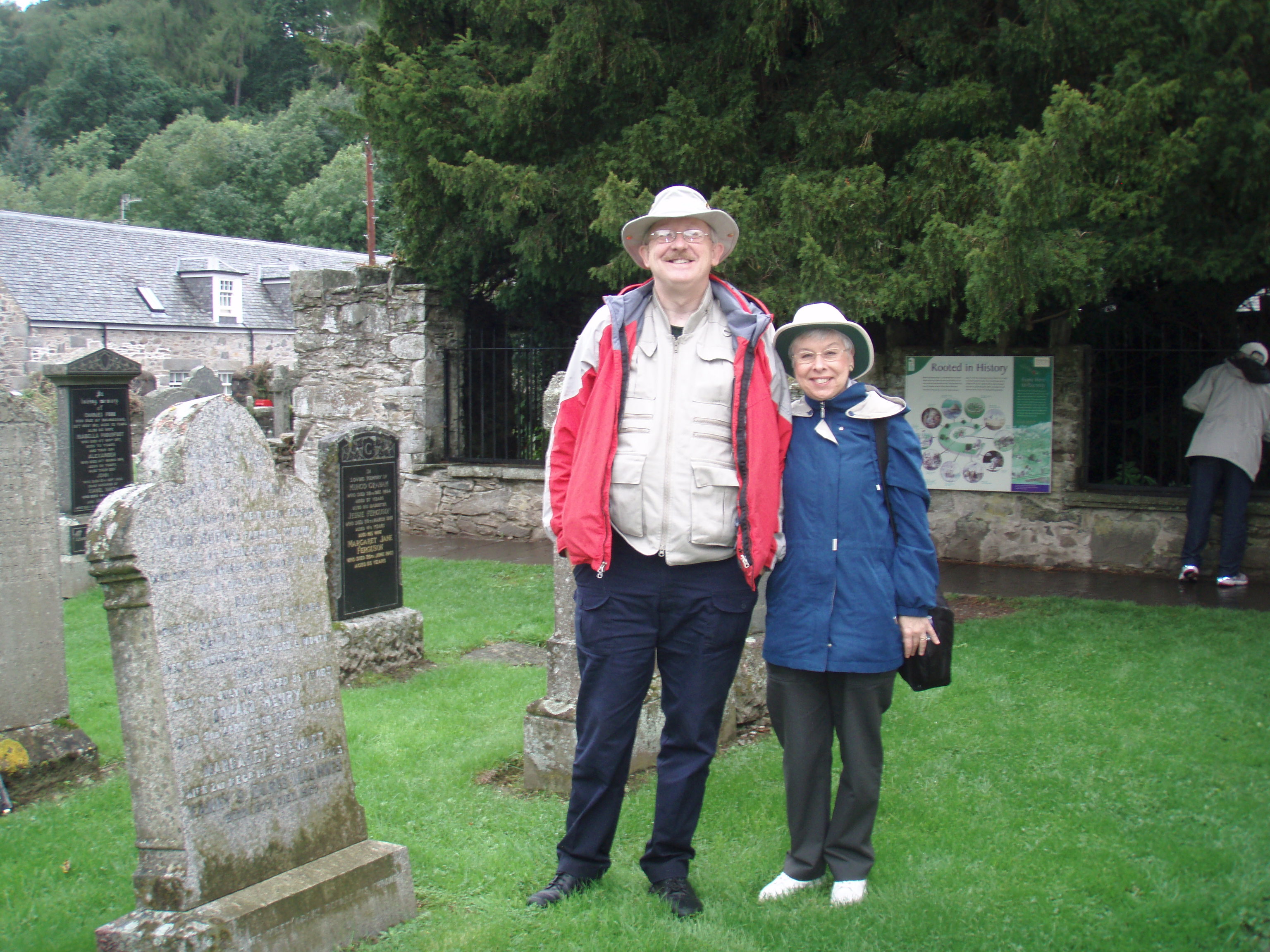 Fortingall is a village and also a parish in Perthshire, Scotland. It is located south of Kinloch Rannoch where my MacGregor ancestors lived in the early 1800s and probably earlier as well.
TEMPORARY NOTICE RE: PHOTOS: Due to my closing down my old website (1999-2016 March) and moving the content over to this new web site, I have to reload many of the photos and delete obsolete tables. I am working my way through the website replacing missing photos. Thank you for your patience.
The village is famous for its ancient yew tree which is estimated to be about 5,000 years old – older than the Pyramids of Egypt and older than Stonehenge. The village is also reputed to be the birthplace of Pontius Pilate, who condemned Jesus to death.
My MacGregor ancestors lived in this parish, but were located North over the hills in the next valley, at Kinloch Rannoch and Killichonan.
The graveyard of the old church has many MacGregor graves.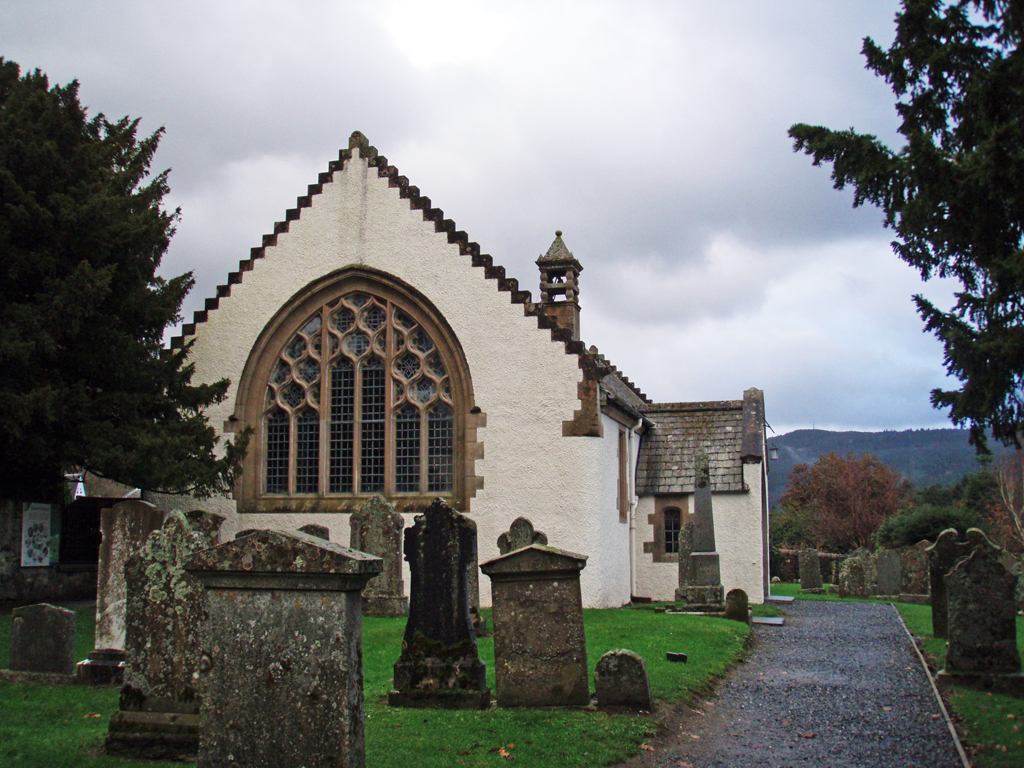 Intersection just West of Fortingall
===
//
West end of Fortingall looking East
=== // West end of Fortingall, looking South-East ===
//
===
//
===
//
West end of Fortingall looking South-East
=== // Map of Fortingall area. Red dot at upper right is Fortingall. Glen Lyon is to the left. ===
Duncan MacGregor Died 1st March 1878 Aged 65 and his Wife Katherine McKercher Died March 22 [3 weeks after her husband] Age 63 === // Jessie McEwen Died 11 May 1977, wife of Duncan MacGregor, JP [Justice of the Peace] Died 1980. Balnald, Fortingall ===
//
John MacGregor & Donald MacGregor
In
Loving Memory of
Jessie Stewart
wife of J W McGregor
Fortingall
Died 19th Nov 1932 (?)
Aged 25 years
Also the above
William McGregor
Who died 2nd Dec. 1981
Aged 82 Years
(Transcribed from photo)
=== //
In Loving Memory of Jessie (a MacGregor grave)
=== //
Erected by Donald MacGregor late of the 33rd Regiment in memory of his parents John MacGregor 17th August 1798 Aged 51 (?) years and wife Flora MacNaughton who died 13th March 1832 Aged 83 years.
=== // "In loving memory of Helen McGregor who died at Artrascart 1st Jany. 1927 At Rest" === // "Erected to the memory of Donald McGregor who died at Kirkton Fortingall 4th February 1927 Aged 70 and his wife Elizabeth Stewart who died at Kirkton Fortingall 29th February 1928 Aged 65" ===
//
_______?
"HERE-LIE-INTERRED
THE-REMAINS-OF DON
ALD-MCGRIGOR-SON
TO MALCUM-MCGRI
GOR-AND-CATHRI
NE-MENZIES-IN-DU
LL-HE-DIED-FEBRY
THE-9TH–1783-AT?-GU??"
(Transcribed from photo) [LOOK IN MONUMENTAL INSCRIPTIONS FOR INFORMATION AS IT IS PRE-1855]
===
//
"IN MEMORY
OF
DONALD McGREGOR
BROUGH GLENLYON,
WHO DIED 18TH FEBY 1881
AGED 81 YEARS"
(Transcribed from photo)
===
//
Right hand gravestone:
"IN
LOVING MEMORY
OF
DUNCAN ANDERSON
WHO DIED AT WHITEBRIDGE
3OTH DECEMBER 1873 AGED 69 YEARS
AND HIS WIFE
JANET MACEWAN
WHO DIED AT KILLIECHASSIE
8TH SEPTEMBER 1876 AGED 67 YEARS"
(transcribed from photo)
===
//

//
//
===
"A McG M McG
SACRED (?)
TO THE MEMORY
DONALD MCGRIGOR
SON TO ALEX ___
GORTENAND (?) ____
RIE-DIED-THE- ____
1793 (?) AGED 2__"
(Transcribed from photo)
WILLIAM McGREGOR d 1860 …CATHERINE McGREGOR d 1869 …INTERR….?REM-ID-1792 AGED 53 YEARS… //
… GEORGE DRYSDALE d 1842? JANET McGREGOR HIS SPOUSE d 1830?