Killichonan on Loch Rannoch, Perthshire, Scotland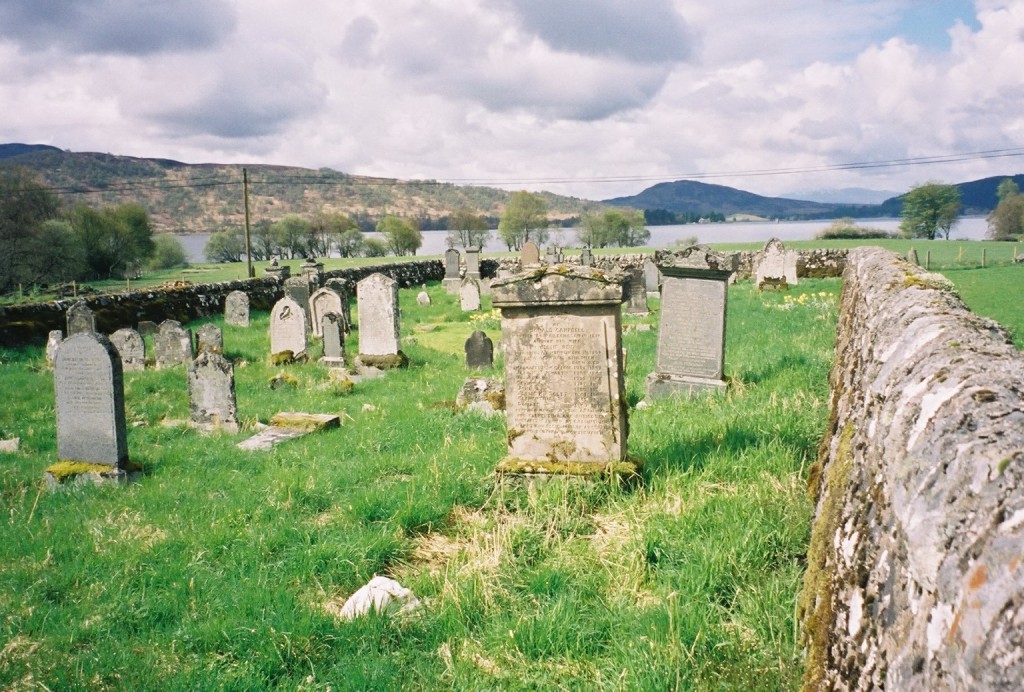 Killichonan (pronounced Kill-ee-hoe-nan) was a community on the North side of Loch Rannoch near the West end of the loch (lake). Today there is a walled graveyard, a few farms, and a power station. 
Many MacGregors used to live there and many are buried there. The diary of Niel MacGregor's cousin Patrick tells me the I have some ancestors buried there. 
Here are SOME of the graves at Killichonan Cemetery. I did not have time to write any inscriptions down, and only photographed those stones with " MacGregor" or believed to be MacGregor (e.g. "McG".. The transcriptions are done from my photos. Any corrections and/or additions would be welcomed. I have not been able to link any of the graves to my ancestors, however the diary of Patrick MacGregor indicates that some of our relatives are buried there.
The Cemetery at Killichonan
The excellent book "NORTH PERTHSHIRE – NORTH OF DUNKELD & ITS ENVIRONS monumental inscriptions pre-1855 Volume 2 edited by Alison Mitchell (1977 revised edition) " is published by The Scottish Genealogical Society 1997 ISBN 0 901061 76 X and is highly recommended.  Modern post-1855 stones were not recorded as there are paper records for those people.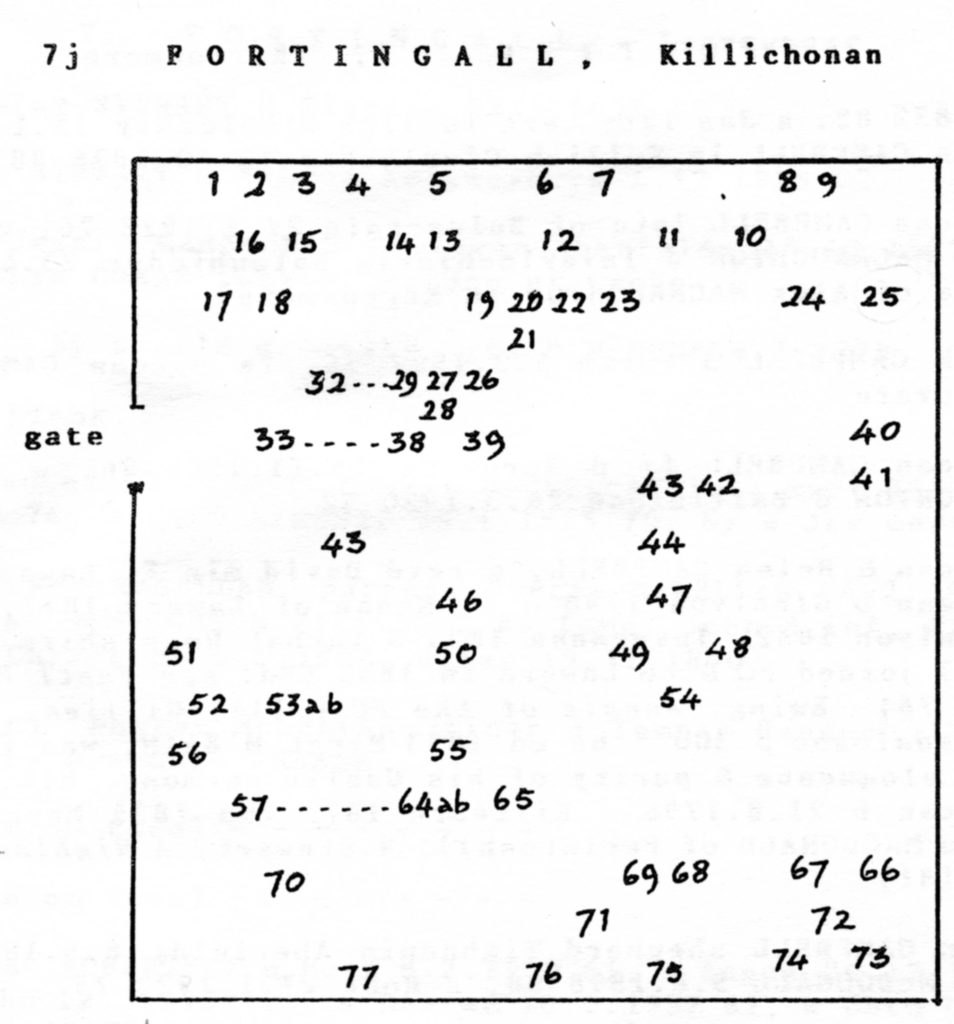 ===
///
IN
MEMORY of
DUN McGREGOR
Who died octbr
22 A.D. 1834
Aged 80 years
Also ~
his spouse         

 

LL
JANET CAMPbE-
Who died decr. 26 1824
Aged 61 years ~
 ===
////
Gregor McGregor
Who died 180?
His spouse A. McG
Died at Edinr 1835? Ero?  [erected?]
By their Grand-d[aughter?]
Ann Tainsh
Dn? McG[regor?] son of
???? McGregor ???
===
/////
IN MEMORY
OF
ROBERT McGREGOR
MERCHANT
KINLOCH RANNOCH
WHO DIED 5TH MARCH 1865
AGED 67 YEARS
[1865 – 67 = 1898. He would thus have been born about 1898. I have no such MacGregor in my known family tree as of 2017-07-03] ===
////
IN 
MEMORY OF
???  McGREGOR
???????????????
  Back of a leaning tombstone. The back has the raised relief of the MacGregor lion head. ===
///
IN
LOVING MEMORY
OF
MALCOLM MACGREGOR
WHO DIED AT PITCASTLE _____? [Pitcastle is near the River Tay, South-East of Kinlock Rannoch, about 51 minutes drive today]
10th

 

APRIL ____? AGED 99 YEARS
ALSO HIS WIFE
MARGARET MACGREGOR
WHO DIED AT KILCHONAN [sic i.e. Killichonan]
23rd

 

JANUARY ____ AGED 34 YEARS
AND THEIR SON GREGOR MACGREGOR
WHO DIED AT FINDYNATE FARM
STRATHTAY 9th

 

SEPT 1915 [Strathtay is slightly East of Pitcastle]
AGED ?7 YEARS
PETER MACGREGOR
J.P. 

 

F.R.C.S. 

 

ED.
DIED 16th

 

NOV 1916 AGED __(?) YEARS
MAJOR R.A.M.C. 1915-1917
JOHN MACGREGOR OF LONDON
L.R.C.P. (?) ED. L.A.C.S. ED. (?) 

 

N.R.C. 1 ENG. (?)
DIED AT ST. ____? LANC. (?)
27th

 

NOVr ____(?) AGED 69 (?) YEARS
DUNCAN MACGREGOR M.R.C.V.S.
DIED AT PRESTON ___ NOV (?) 1934 AGED 7? YEARS [Preston, England is NE of Manchester, near Blackpool]
ANNIE MCDOUGALL
DIED AT FINDYNATE FARM STRATHTAY 

 

17th

 

FEB 1939
AGED 77 YEARS
 ===
///
ERECTED
IN LOVING MEMORY
OF
GREGOR MACGREGOR
WHO DIED 1st

 

JUNE 1917
LOVED (?) ONE (?) AT REST
AND HIS WIFE
MARGARET BEVERIDGE
WHO DIED 2nd

 

(?) JANUARY 1921
AGED 58 YEARS
THE BURYING GROUND OF
DONALD AND CATHERINE MACGREGOR
AND FAMILY
=== D McG 1864 ===
///
  ===
///
ERECTD (sic)
BY JOHN McGREGOR
(Game ?) keeper
MOUNT (?) ALGY?N
II (?)
VERGER (?)
???????????
?????????
182?
===
///
ERECTED
BY
DUNCAN McGREGOR
IN AFFECTIONATE (?) REMEMBRANCE
OF HIS MOTHER
CHRISTINA McGREGOR
WHO DIED AT RANNOCH BARRACKS (?)
23 ??????? 1878?
AGED 71 YEARS
STONE IN BEHIND AND TO LEFT:
CHRISTINA McLEAN
WIFE OF
DONALD DRUMMOND
STYX (?) ABERFELDY
????????????????
===
///
MARY LINDSAY
McCANGE (?)
NEE MACGREGOR
1898-1965
GREAT GRAND DAUGHTER OF
LIEUT ALEXANDER MACGREGOR
VERY MUCH LOVED
===