COLT .45 ACP SEMI-AUTO PISTOLS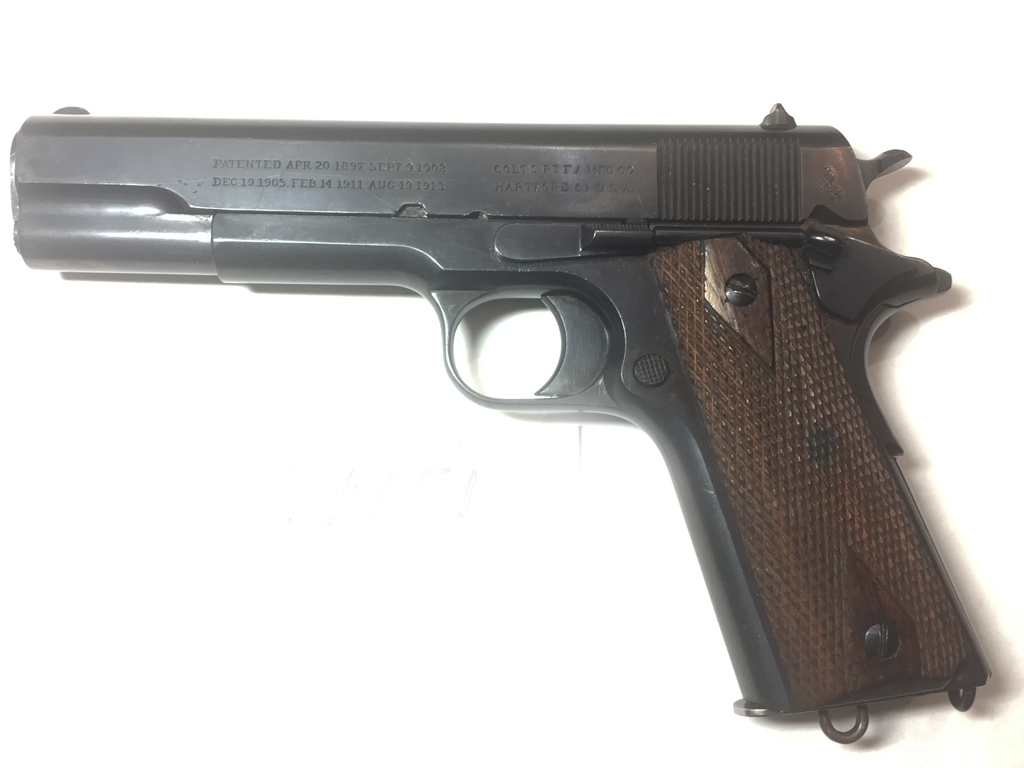 Commercial Colt Government Model .45 ACP, made in 1914
MAIN MODELS
Model of 1911

Colt Government Model .45 ACP

Model 1911A1
The United States Army adopted the Colt Model 1911 semi-automatic pistol which was in .45 ACP. There were various versions made and over 100 years later, some are still in service and new versions are being made.
In 1914, Canada bought 5,000 of the Commercial "Government Model" along with special Mills Equipment Company made webbing for use by the Canadian Expeditionary Force (C.E.F. , CEF). Although most collectors and shooters call these "Government Models" 1911s, as they are physcially identical, they are NOT Model of 1911s as they were NOT the U.S. Army model and were NOT so marked.
A rare complete and documented set is in the New Westminster Museum and Archives, New Westminster, BC. That pistol is serial number C13085. There are Canadian C/|\ (arrow inside the "C") signifying that it was Canadian issue. It has wartime issue markings on the front of the grip.
This particular set was issued to an officer from New Westminster. His name was Courbold as I recall. The 1914 dated MILLS webbing was very little used by him, but there is also a different very well worn holster that appears to be the one that he wore in action to carry this pistol.
This complete set consists of:
Pistol Serial number C13086

Three magazines

Web belt ("Pistol Belt" in U.S. terminology)

Holster

Twin magazine pouch

Shoulder strap

Cleaning brush
I photographed it in 2006 as I found it. The firearms had been hidden away by my predecessor who did not like historic firearms and they were all allowed to become rusty by neglect. I cleaned the firearms and applied oil, but sadly the damage was done to the finish.
WANTED! This thin shoulder strap for this type of set to complete my set.
Good news for Colt collectors. One can write to Colt to obtain a Colt Archive Letter which tells you where the Colt firearm was shipped to from the factory. The cost is about $100 U.S. The Canadian 1914 purchase of 5,000 pistols were NOT in solid blocks of numbers and the Colt Archive Letter is usually the only way to verify the Canadian issue.
The Canadian issued magazines were stamped the the C/|\ (arrow inside the C) Canadian issue mark, on the bottom, forward of the loop. The pistols however were not issue marked. Officers were expected to buy their own handgun. A nice benefit of this is that some chose to have their name engraved on the slide. Such named pistols are more valuable as the man's service history can be researched.
1911A1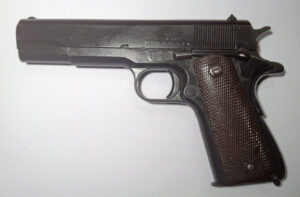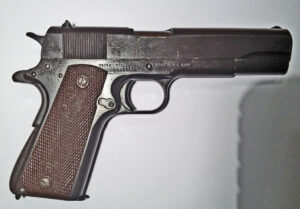 This was a slightly modified version of the 1911. It had a different trigger and an arched backstrap.