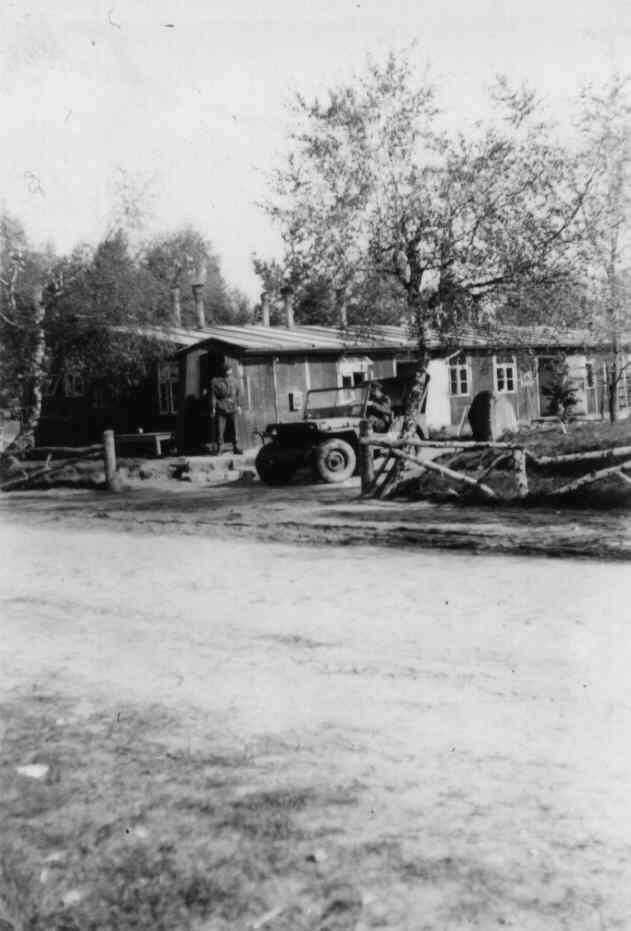 RECOMMENDED READING
"Billets we took over near Uzelen April 22nd 45" 1 Cdn Para Bn in Germany. There is a paratrooper standing guard with a rifle in front of a German sentry box. The jeep driving out is from another unit in the 6th Airborne Division and has the unit sign "81". The vehicles of 1 Cdn Para Bn had the unit sign "57".Photo by Pte. Doug Morrison ex-B Coy, then Vickers Platoon, HQ Coy, 1 Cdn Para Bn 1942-45.
On 1 Canadian Parachute Battalion
Out of the Clouds – The History of the 1st Canadian Parachute Battalion

 

by John A. Willes (assisted by Mark Lockyer) 1981 and newer edition which includes more photos including group company photos of Jan 1944.
Airborne – The Heroic Story of the 1st Canadian Parachute Battalion in the Second World War

 

by Brian Nolan 1995. ISBN 1-895555-77-9 Lester Publishing Ltd., Toronto, ON, M5E 1A7
Paratrooper 

 

(The Story of the 1st Canadian Parachute Battalion's First Regimental Sergeant Major, Warrant Officer Class 1, Wendell James (Knobby) Clark)

 

by  Colonel Gary H. Rice (Ret.) Mississippi Mills, Ontario.  Newly published in 1999 as a private venture in Ontario, Canada. [Note: There is at least one other book previously published with this title.] This web site editor has not seen the book so cannot comment on the book.
On British & Canadian Airborne
 Go To It!

 

– Peter Harclerode Story of 6th Airborne Division
Dropzone Normandy

 

– Napier Crookenden, Ian Allan 1976 ISBN 0 07110 0660 1
The Maroon Beret

 

Magazine of the Canadian Airborne Regiment   (especially 20th Anniversary Issue 1988)
A Bridge Too Far

 

– Cornelius Ryan, Simon & Shuster, NY 1974 ISBN 0-671-21792-5 (story of the Battle of Arnhem)
Tommy

 

– by David Gordon, Pictorial Histories Publishing Co., 713 South Third St. West, Missoula, MT, 59801 July 1998 (a basic introduction to W.W. II British and Canadian airborne troops equipment) ISBN 1-57510-042-8  Library of Congress 98-65347
The Red Devils

 

– G.G. Norton  Leo Cooper, 1971, 1973
Arnhem 1944

 

– Januz Piekalkiewicz, Ian Allan 1976 ISBN 07110 08264