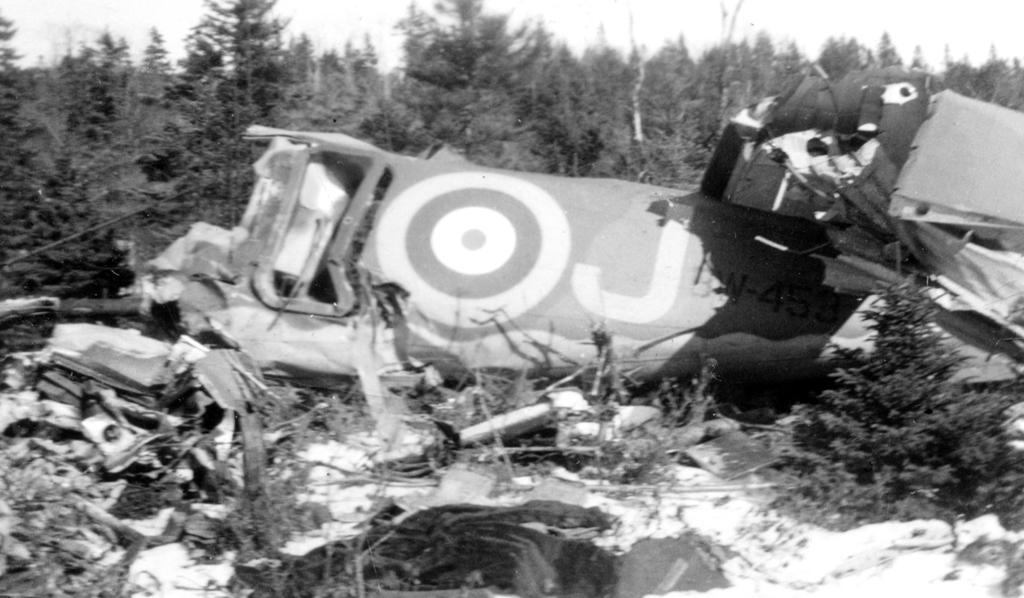 I have always had an interest in aviation. When I was an Air Cadet, my next-door neighbour, Mr. Tufts, gave me this photo. As I recall he was on the clean-up crew. 
Thanks to the RAF Commands forum I have been able to identify the aircraft, crew, date and circumstances. The following information has been extracted from the research provided  on that forum. The thread is located  at rafcommands.com , thread " Two Hudson of RCAF lost in the evening of 24 February 1943 " (Hudson was shown as singular. I have not provided a direct link as it is not secure.)
Royal Canadian Air Force Hudson III, BW453, aircraft "J"  of 11(BR) Squadron (Bomber Reconnaissance). It was delivered to No.m 11 (BR) Squadron, Royal Canadian Air Force at RCAF Station Dartmouth on 23 January  1943. 
On the "evening of 24 February 1943, four Hudsons of RCAF (presumably all of 11(BR) Squadron) returning from ASW(Anti-Submarine Warfare) patrol ran in bad weather. Two crew managed to land on Charlottetown airfield (Prince Edward Island) before it was closed by zero visibility, one crashed with no survivor while trying to land at Dartmouth and the crew of the last one bailed out over the Northumberland Strait, landed on the ice and was rescued some days later.
The crew of Hudson aircraft # BW 453 were returning from an anti-sub patrol and the pilot tried to land in poor weather. Arrived over the aerodrome after a sweep and was ordered to Debert, NS due to the bad weather. The aircraft crashed at 2320 hrs (11:20 PM) on 24 February 1943 and exploded on impact six miles east of #4 runway at RCAF Station, Dartmouth, Nova Scotia.   All four crew members were killed.
Crew:
R/98944 F/S JOHNSON, Harold C. (Pilot)
R/99614 F/S ROWE, Maurice M. (Navigator)
R/91216 W/O2 RHEA. David R. (Wireless Air Gunner – WAG)
R/125154 Sgt. MACMILLAN, Edgar  (Wireless Air Gunner – WAG)
The following is from "Canadian Military Aircraft Serial Numbers RCAF BW301 to BW600 Detailed List"  found at www.rwrwalker.ca/RCAF_BW300_BW600_detailed.html
BW453

Lockheed

Hudson

Mk. III

 

L-214

 
first date: 5 February 1942 – Taken on strength by Eastern Air Command

With No. 31 Operational Training Unit at Debert, NS when taken on RCAF books.  Noted on 12 February 1942 as one of 55 Hudsons released off a British Lend Lease contract.  Loaned to Home War Establishment in February 1942, for use by No. 11 (BR) Squadron, RCAF Station Dartmouth, NS, coded "L".  Category C1 damage at Dartmouth aerodrome at 19:00 on 16 March 1942.  Not clear if aircraft was still with No. 31 OTU, or No. 11 Squadron.  Category A crash while with No. 11 Squadron, at Dartmouth aerodrome at 23:20 on 24 February 1943.  Crashed and exploded while attempting to land in bad weather.  Pilot A/F/S Johnson and 3 other crew killed.  Ownership to No. 4 Repair Depot on 26 February 1943 for write off.

last date: 26 April 1943 – Struck off